Law & Order Fans Just Got The Best News Ever About Benson And Stabler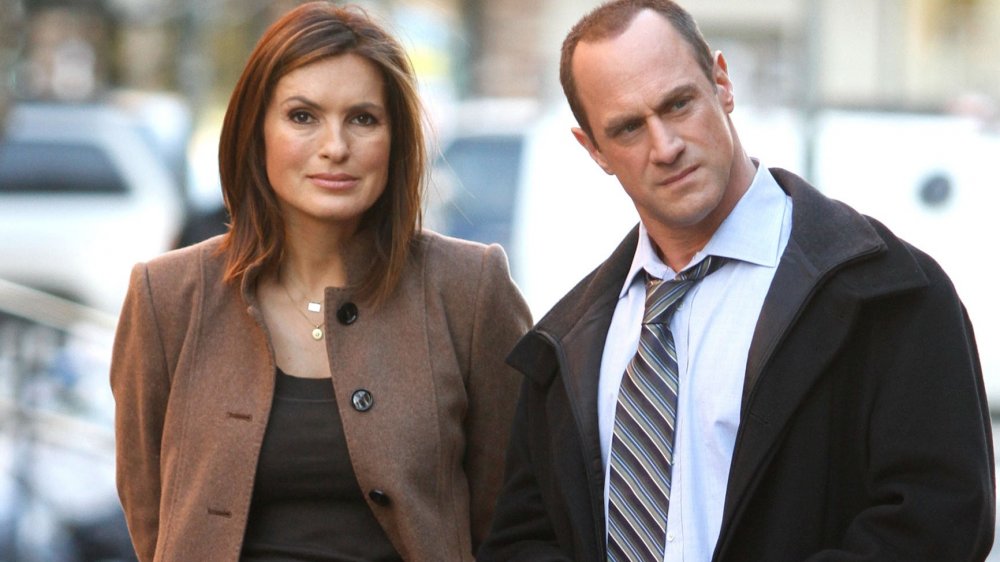 NBCUniversal
We've been waiting and wondering with hesitant hope, but it's true: Christopher Meloni has confirmed that his erstwhile Law & Order: Special Victims Unit character, Elliot Stabler, will reunite with Olivia Benson (Mariska Hargitay) in his solo-character revival series Law & Order: Organized Crime (via The New York Post). 
In typical Law & Order franchise tradition, this reunion will occur over multiple crossover episodes. It was already big news that Meloni was returning to the franchise at all, and fans everywhere are doubtlessly encouraged by this confirmation that the two detectives' long-standing on-screen relationship will play into these new stories as they are — as those 20-plus years of commercials say — ripped from the headlines. After a decade of breaking new acting ground and returning to other old roles, Meloni is ready to reprise the role that made him the household name he is today and revisit the relationship that drove so many fans to SVU in the first place. 
However, showrunner Warren Leight — who has in the past been in charge of both Criminal Intent and SVU – hinted to The New York Post in June 2020 that despite reuniting old characters, Organized Crime won't be business as usual from ye olde days of 2010-era SVU: "Throughout the series, we will follow Stabler's journey to find absolution and rebuild his life, while leading a new elite task force that is taking apart the city's most powerful criminal syndicates one by one." 
Roping Olivia back into Elliot's life is certainly a critical piece of that absolution for his character, and Meloni knows it. "It just has to be. Benson and Stabler are inextricably linked, locked and connected," Meloni told The New York Post in July 2020. "I think there is truly and deeply a worthwhile, inherent drama in exploring that relationship and the complexity of how Stabler left — the unresolved emotions both characters feel and how the fans feel." 
So, where did they leave off, and where will they be when this new series premieres?
Recouping from an old loss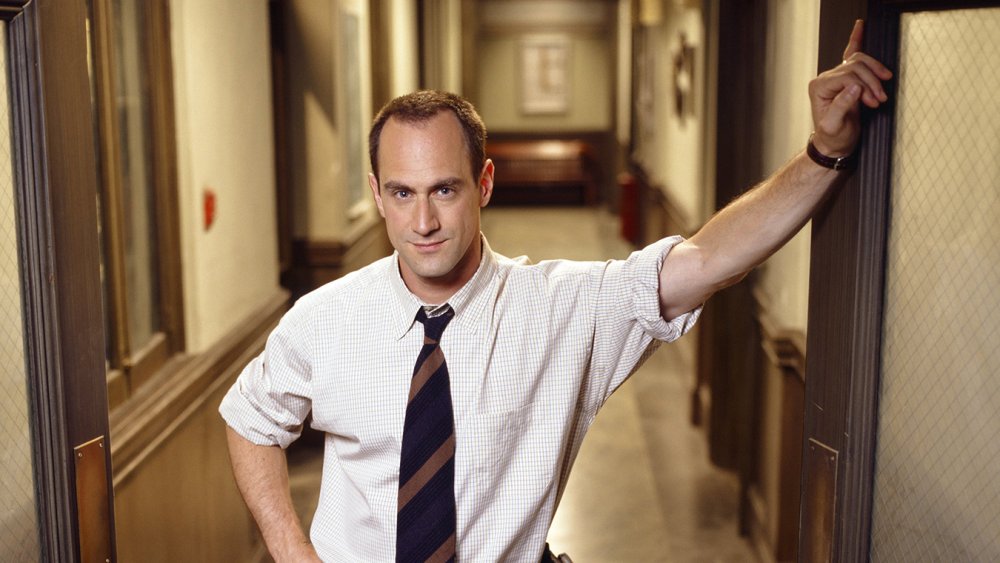 NBCUniversal
Meloni abruptly departed Law & Order: SVU back in 2011 after contract negotiations allegedly fell apart. It was messy, and Meloni's ultimate disappearance from the show was equally so. The 2011-2012 season premiered with him suddenly written off — with very little explanation and zero appearance from him on-screen — and fans have never forgotten it. Stabler is one of the perennial favorites of not just SVU, but also the Law & Order franchise as a whole; even up until the new series' announcement, fans bemoaned his absence almost ten years on. The nigh-evaporation of Stabler from Benson's life hung over her for a long time in the show, too.
Still, Meloni himself was pretty certain a return to the character would come to pass at some point. He told The New York Post that the call from big boss Dick Wolf was a huge surprise, but not an unwelcome one: "It truly came about by [series creator] Dick Wolf calling and saying he wanted to discuss a project. I was like, 'Oh, really? Okay.' I was shocked. I never thought this was going to happen, but the circumstances for me changed." 
Evidently, whatever happened in the spring of 2011 that ended with Meloni walking away from the negotiating table for what seemed like forever had little to do with the franchise end of the equation. Meloni explained, "How I left was a different issue and had nothing to do with the Law & Order people, the SVU people or with Dick Wolf. I left with zero animosity, but I did leave clearly and open-eyed in going forward and finding new adventures." 
SVU hasn't exactly suffered in his absence, but perhaps NBC heard all those fan pleas and decided the time was finally right to bring Meloni back — and, even more importantly, to patch up an old hole in both Stabler and Benson's characterizations.
Closure for the shippers' hearts?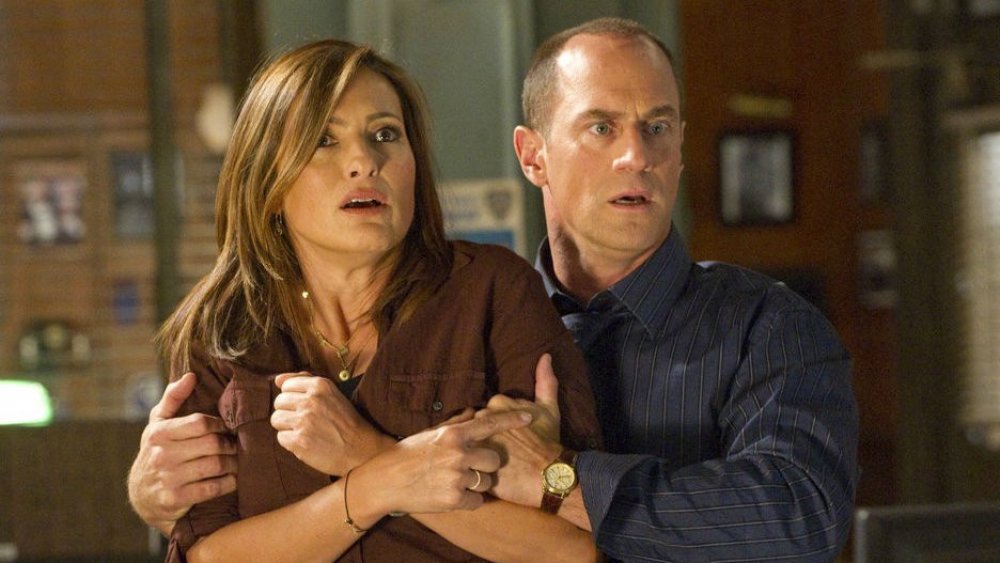 NBCUniversal
Of course, you can't talk about Olivia Benson and Elliot Stabler without mentioning the long-, long-, long-standing fandom hope that they would become an item. They are unquestionably best friends — or were at that time before Stabler suddenly disappeared — but it's hard to deny the underlying romantic tension between the two as well. 
If you're not caught up on SVU up to its 21st season, you might raise an eyebrow or two when learning that Benson has courted a few beaus during her ascent to captain-hood in the department, but she hasn't married. To date, Stabler is indeed still her "longest relationship with a man," as she stated jokingly back in 2003.
You might also recall Stabler got divorced at one point but ultimately reconciled with his wife, Kathy. Nobody's been willing to dish just yet on how much that might still be the case, but Leight also mentioned the original plot for the series' season 21 finale (which was canceled after all filming in New York City was halted due to COVID-19) was going to reintroduce Kathy on SVU as a backdoor pilot for Stabler's new show: "We were going to see Kathy Stabler come back, very upset — her son has been rolled by a team of ne'er-do-wells and may have been drugged."
There have also been teasers about Stabler suffering "a devastating personal loss," but it's unclear if that has anything to do with the abandoned finale plot. Nobody, not even Leight, is sure if all these same ideas will be rolled into the season 22 premiere, though he is relatively certainly Meloni will be a part of it. Ten years, endless traumas, and a whole lot of unanswered questions will be between Benson and Stabler when they're reunited. What changes, and what stays the same? Is the time right at last to fulfill the dreams of the thousands of fanfics written since 1999? Only time will tell.