Why This Character From Valerian Looks So Familiar
Dane DeHaan's name might not be on the A-list just yet, but the actor has amassed a pretty impressive and varied filmography to lead in to his title role in Luc Besson's adaptation of Valerian and the City of a Thousand Planets. So if you're wondering why it is that Major Valerian looks a little familiar in this sci-fi adventure, here's a look back at some of the likeliest places you've seen DeHaan on-screen before.
In Treatment (2010)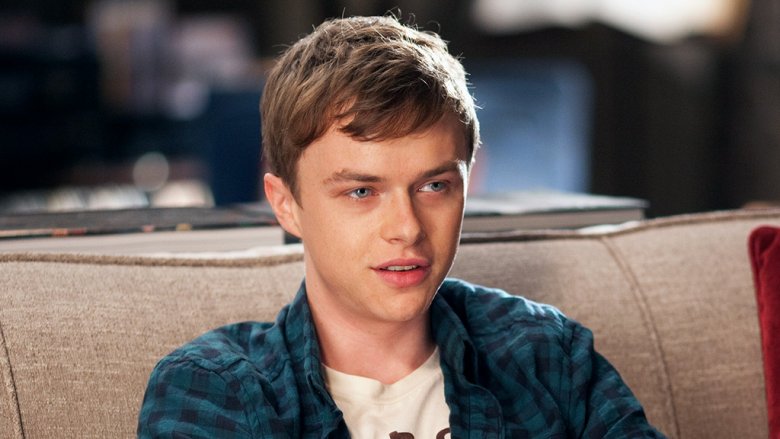 HBO
In HBO's ambitious psychological drama series In Treatment, DeHaan appeared in the third season as Jesse D'Amato, a young gay therapy patient who is both a budding photographer and a prescription pill peddler. Throughout his seven-episode arc, Jesse struggles to reconcile his identity as the adoptive son of the parents who raised him with the sudden re-entry of his birth parents into his life. All the while, he vacillates between accepting the stabilization efforts of his shrink and outright rejecting them as attempts at an even more unwanted authority figure controlling his behaviors. 
DeHaan was already in his mid-20s when he starred in the show, but it was his first regular television role and showed that he had an ability to tap into some serious emotional complexities from the get-go.
True Blood (2011)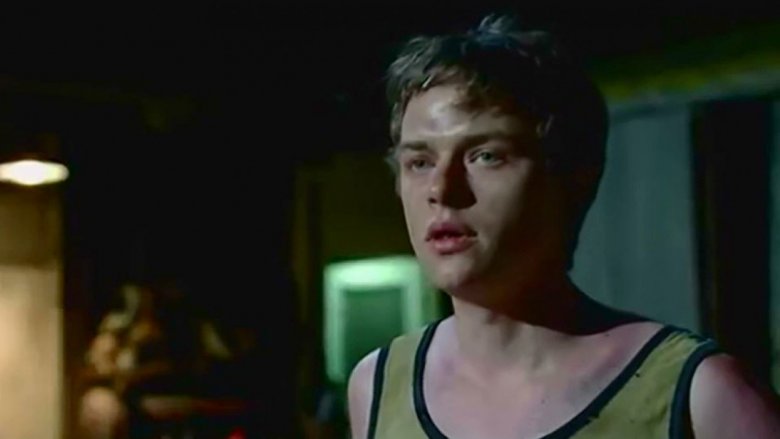 A lot of guest stars came and went from the Bon Temps, Louisiana scene in HBO's True Blood, but DeHaan's character Timbo is hard to forget from the fray. In the show's fourth season, he starred as a werepanther (yes, that's a cross between a werewolf and a panther) who relies on the area's resident playboy Jason Stackhouse to bring him and his family food. 
Most memorably, the character is compelled to lick his new pseudo-master's wounds, thanks to his animalistic instincts, and otherwise helps him in his time of need. In the show, DeHaan was scrawny, dirty, and played a part of a very, very bizarre community that raised the bar on the show's weirdness forevermore.
Chronicle (2012)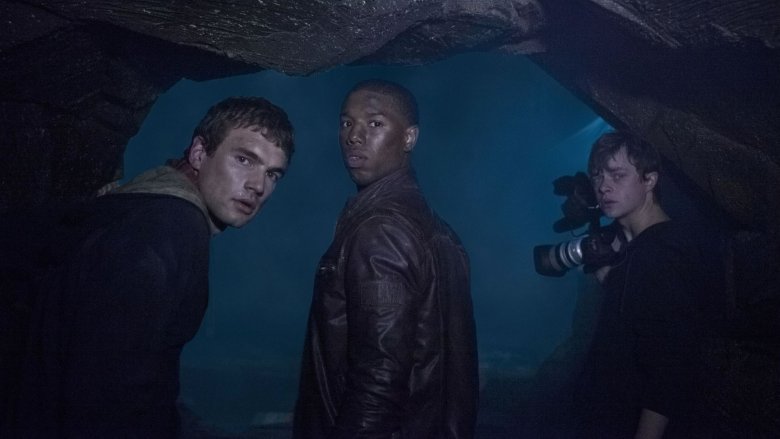 Josh Trank's surprise sci-fi thriller hit Chronicle marked a breakthrough in Michael B. Jordan's career, but DeHaan's role in the film was the most dynamic of all its trio of stars. In the film, DeHaan played a high school senior named Andrew Detmer, who'd endured endless bullying at the hands of his classmates. So, when he and two others happened upon an object that gave them all telekinetic powers, his use of his newfound powers became dark and twisted very quickly. 
His character arc—rising from victim to suddenly popular talent show winner to this withdrawn and moody force of nature—was meaty and showcased DeHaan's nimble ability to swing with the pendulum of on-screen personality traits. (Fun fact: the film also starred Anna Wood, who he would later wed and welcome his first child with.)
Lawless (2012)
In this prohibition-era crime drama, DeHaan portrayed a disabled man named Cricket Pake, who becomes wrapped up in the moonshine ring run by three brothers. Although Cricket's fate in the film isn't enviable, DeHaan's resulting notoriety was, as he found himself celebrating the film's debut at the 2012 Cannes Film Festival alongside his elite co-stars, including Tom Hardy, Guy Pearce, and Jessica Chastain. 
As DeHaan later revealed, it was one of the first scripts he'd gotten after starring on the small screen and moving to Los Angeles, and he credited it with being "the best script ever with the best cast ever," which is an auspicious start for any budding thesp to stumble into so early in the game.
The Place Beyond the Pines (2012)
Although it was director Derek Cianfrance's reunion with his Blue Valentine star Ryan Gosling (and the real-life romance that blossomed between Gosling and Eva Mendes) that made most of the headlines for The Place Beyond the Pines, the film also gave DeHaan a very meaty role to chew on. 
In the film he played Luke, the son of a man who was gunned down by a police officer and, without knowing his father's identity or fate, befriends the son of the same officer. Eventually, as the details of his parentage and his dad's questionable death start to come through, Luke is faced with a choice: follow in his late father's criminal footsteps (er, motorcycle treads) or choose a new path for himself. 
He certainly made an impression on his director, who later told The New York Times, "Movie stars have this charisma to them, this undeniable thing where you can't stop looking at them. I felt that same kind of magic as when I met Ryan [Gosling] or Bradley [Cooper] for the first time."
Lincoln (2012)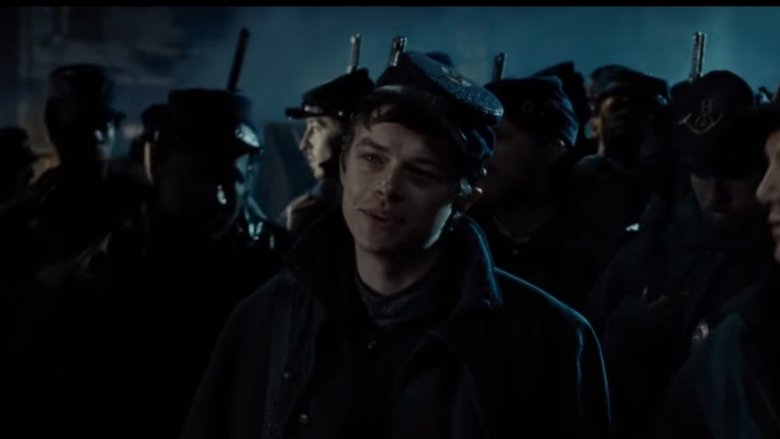 The cast list for Steven Spielberg's Lincoln was about as impressive as they come—from Daniel Day-Lewis to Sally Field to Joseph Gordon-Levitt, it was a veritable Who's Who of compelling movie stars. So, even though DeHaan was only featured in a very small role in the film—as one of two dim Union soldiers who nearly squander their precious opportunity to speak face-to-face with Daniel Day Lewis' Abraham Lincoln by rambling in with profanities and talk about his notorious height—it was still an impressive feat to appear in the buzzy biopic at all. Especially when he got the chance to rattle off Lincoln's immediately historic Gettysburg Address on cue in front of him.
Kill Your Darlings (2013)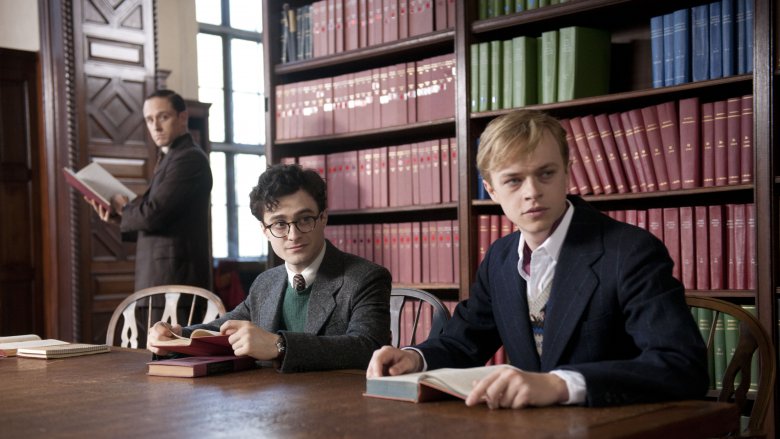 The Beat poet generation had a movie moment in the early 2010s, with On the Road and Kill Your Darlings revisiting the unusual adventures of these creative travelers through biographical dramas. Kill Your Darlings focused on the short-lived collegiate career of Allen Ginsberg, which was cut short thanks to his accidental involvement in the murder of a Columbia University professor. 
DeHaan portrayed the student-slash-killer, Lucien Carr, who was Ginsberg's fellow student and romantic interest and relied on the writer for a self-defense claim that would cost Ginsberg his place as a student. He and co-star Daniel Radcliffe were praised by critics for their palpable on-screen chemistry, and DeHaan in particular received warm reviews for his seductive performance in the role of Carr.
The Amazing Spider-Man 2 (2014)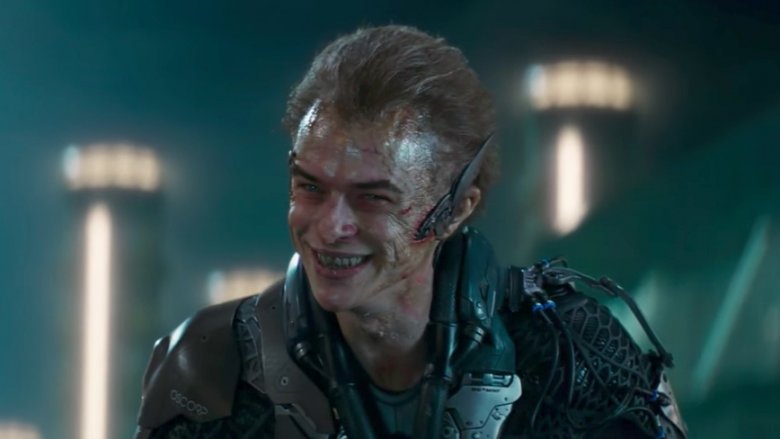 DeHaan's first run-in with a real tentpole, despite participating in several projects of note along the way, was in The Amazing Spider-Man 2, wherein he played Harry Osborn, the best friend of Peter Parker who eventually becomes his nemesis, the Green Goblin. 
And while the film itself was washed with poor reviews—so much so that the expected third installment of the series was eventually ditched and the franchise was rebooted—DeHaan was regarded as a standout in the pic for his marked ability to imbue some vulnerability in the villainous role. For DeHaan, it was just a fun experience when he got to "let it rip" thanks to the freedom his Green Goblin mask provided him.
Imagine Dragons' "I Bet My Life" music video (2014)
It's not always been about the small and silver screens for DeHaan. He also starred in the chaotic 2014 music video for Imagine Dragons' "I Bet My Life." In the vid, he's featured as a character who engages in a fist fight at Salt River in Arizona and ends up swimming into an underwater dream world where he falls asleep and wakes up captaining a dinghy that falls off a waterfall, floats in mid-air, and then lands him in a collegiate crowd surfing scenario. Ultimately, he wakes up to discover that his sparring partner has just saved him from the certain death of drowning, leading to a reconciliation between the two inexplicable foes. 
Like most videos from this particular band, the hows and whys of what's happening aren't as important as the emotional resonance of the characters involved, and DeHaan manages to pack a lot of visceral reactions into just a few short minutes.
Life (2015)
As eclectic as his career as been, DeHaan does seem to have a knack for portraying mysterious historical figures, especially the quiet, broody types like he portrayed as James Dean in Life. The film, which is not to be confused with the 2017 alien adventure movie of the same name starring Jake Gyllenhaal, focused on the relationship between the actor and Life Magazine photographer Dennis Stock, who captured some of the most iconic images of the gone-too-soon screen legend. 
Not only was DeHaan a dead ringer for Dean, but he also impressed with his ability to replicate the mannerisms and misunderstood, cautious demeanor of the man behind his public persona as One Speed Dean.
A Cure for Wellness (2016)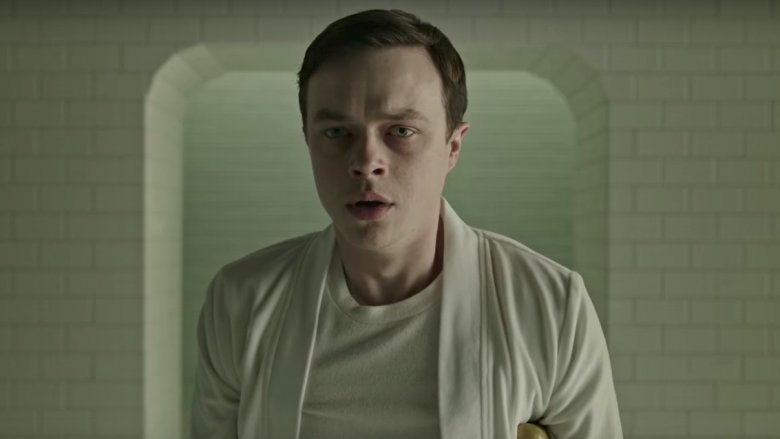 In this psychological horror film, DeHaan starred as Lockhart, an ambitious businessman who is charged with retrieving his company's CEO from a so-called wellness center in Switzerland and, after a car accident, awakes to find he is being treated at the facility ... but the place is not what it seems. With grisly medical experiments afoot and an ancient legend of familial cruelty informing the true nature of the center, Lockhart ends up in a fight-and-flight situation that left many viewers wondering what in the world they'd just watched. 
The film, while not the most revered of director Gore Verbinski's horror pursuits, certainly offered DeHaan a portfolio expansion by way of one excessively disturbing torture scene and proved he's not bound to any one genre at all.