The One Scene From The Invisible Man That Shocked Horror Fans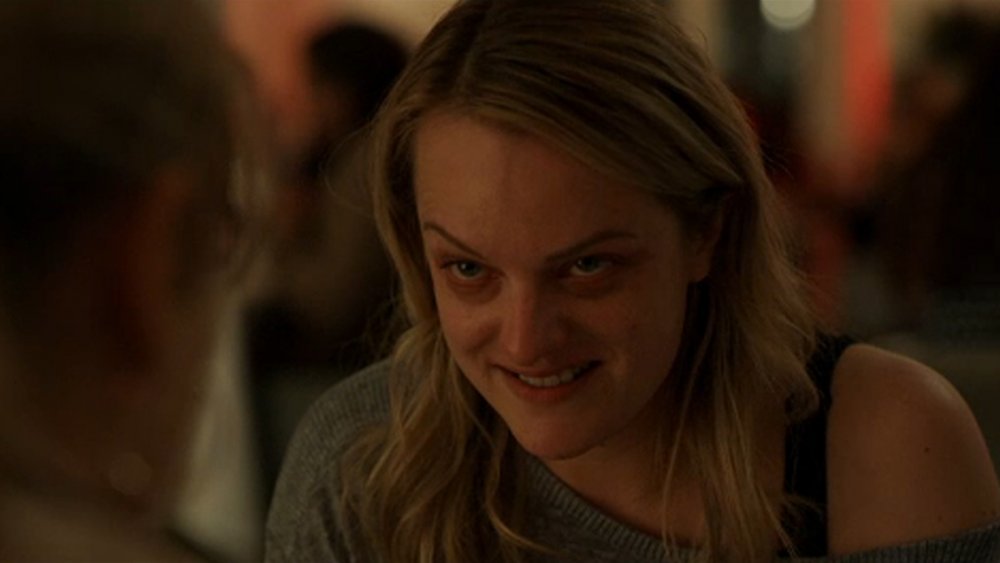 Universal Pictures
The original H.G. Wells story The Invisible Man dates back to 1897, when it was first released in Pearson's Weekly. In the intervening centuries, the story of the potential ills of an invisible man has been told countless times — from direct adaptations like the classic Universal monster movie The Invisible Man to director John Carpenter's off-beat dramedy Memoirs of an Invisible Man starring Chevy Chase to looser translations like Paul Verhoeven's Hollow Man.
In February 2020, Universal Pictures and Blumhouse Productions released a new take on The Invisible Man, one that explores domestic abuse and especially how damaging gaslighting is. This version of The Invisible Man is centered on Cecilia Kass (Elisabeth Moss) and her attempt to escape her violent and controlling partner, Adrian Griffin (Oliver Jackson-Cohen). After breaking out of the home she lives in with Adrian, a tech genius and billionaire who has the house outfitted from top to bottom with cameras and other equipment, and fleeing to safety at her friend James' (Aldis Hodge) place, Cecilia learns that Adrian has died in an apparent suicide. Except, of course, Adrian isn't dead at all — he's just invisible. Cecilia makes this discovery early on, and tries desperately to convince those around her that Adrian is alive and continuing to torment her.
2020's The Invisible Man has plenty of scares, but mostly it's about the creeping dread of never feeling safe. No matter where Cecilia is, Adrian can always be there, unseen. The worst part is that Cecilia can't prove what's happening to her — even to herself.
The Invisible Man is still a well-trodden story, but that doesn't mean there aren't any big surprises in the 2020 version. In fact, there's one scene in particular that even the most hardcore horror fans were blown away. As Cecilia descends further and further into madness, she seeks out the aid of her sister, Emily (Harriet Dyer). At this point in the story, Adrian has succeeded in separating the two sisters emotionally: Using Cecilia's email, Adrian sends a message to Emily as Cecilia, saying cruel and hurtful things. This is the set-up for the Invisible Man scene that shocked everyone. 
The death scene in The Invisible Man made audiences everywhere gasp in horror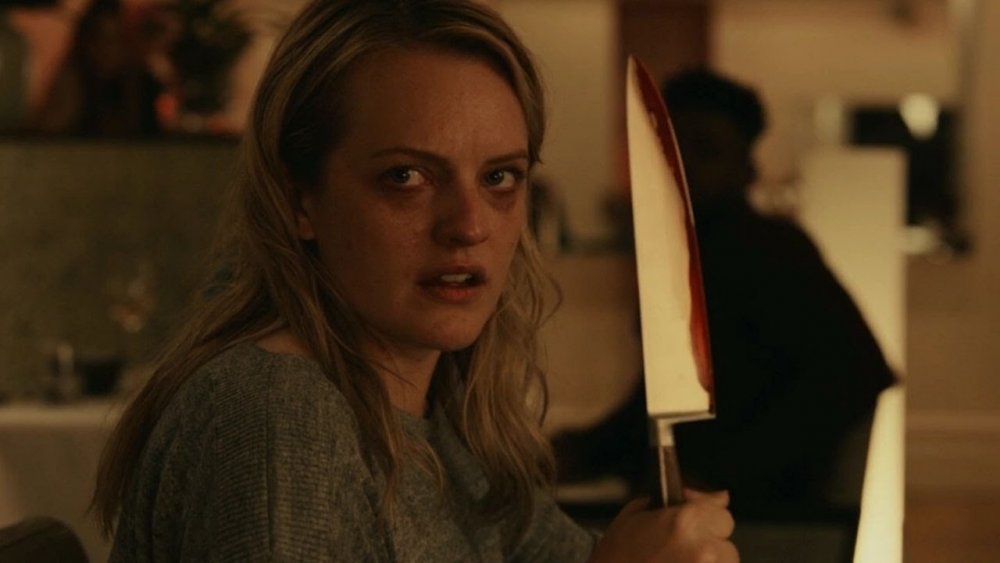 Universal Pictures
Finally able to convince her sister to talk to her and hear her side of the story, Cecilia meets Emily at a restaurant and pours her heart out. We see the sisters begin to bond again as Emily realizes Cecilia is telling the truth — but just as Emily is about to get the full story on how Adrian has made himself invisible, a knife suddenly appears, hovering before the two sisters. Before either of the sisters (or the audience) can process what's happening, in one motion, the knife — clearly held by an invisible Adrian — slices Emily's throat. The unseen Adrian then forcefully places the knife in Cecilia's hand. 
The other restaurant-goers see Emily's lifeless body slumped over and bleeding out on the table, and Cecilia clutching the murder weapon. They assume the worst, and Cecilia finds herself incarcerated, accused of murder, and thoroughly without escape.
This scene has been discussed extensively online, especially in the subreddit r/horror. "My god," wrote user u/FalconWithARedCap, "that one kill in the restaurant was so brutal in its simplicity and came so shockingly out of nowhere that my jaw literally dropped." 
Several others pointed out the tendency for a scene like this to end up not even counting in horror films, as they're so often revealed as dream sequences that don't impact the plot at all. "It reminded me of a shocking scene that turns out to be a dream but it just kept going," said user u/SRS1428.
One user, u/snort_cannon, pointed out that The Invisible Man would have been the perfect introductory installment into studio Universal Pictures' planned Dark Universe, which was meant to focus on classic Universal movie monsters. That franchise kicked off with the poorly received, Tom Cruise-starring The Mummy in 2017, and has been effectively shuttered since. "Honestly if this is what the Dark Universe would have been from the start, I would have been all over it," they wrote.
In addition to The Mummy and The Bride of Frankenstein (which would have starred Javier Bardem as Frankenstein's monster), the Dark Universe was also meant to have its own The Invisible Man story starring Johnny Depp. Instead, we got lead actress Elisabeth Moss and writer-director Leigh Whannell's take on the story — not a bad trade-off in the slightest.