The Unlikely Way Johnny Depp Became Famous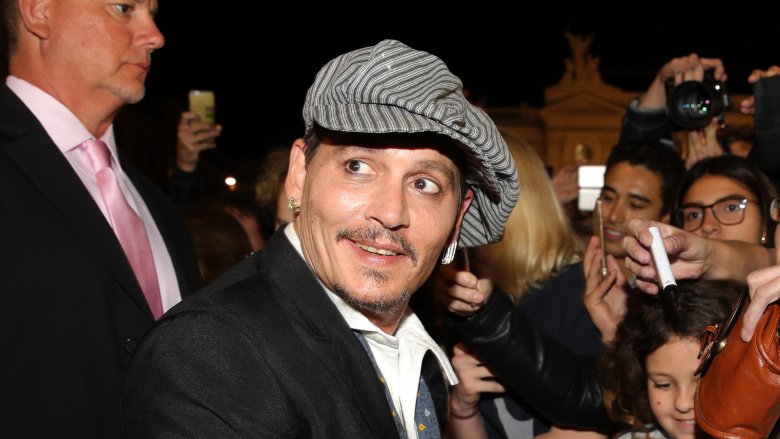 Getty Images
Johnny Depp has made a long, successful career for himself in Hollywood, ultimately becoming one of the most recognizable names in the industry and earning the title of sexiest man alive by People Magazine in 2003 and 2009. Aside from appearing on the silver screen, Depp has been on many television shows, award ceremonies, and has even performed on a few stages as a musician.
He's one of Hollywood's most eccentric — and often controversial — personalities. He's played everything from a vampire, to a film director, and even a literal chameleon. From his stranger roles like the Mad Hatter in Alice in Wonderland to more conventional performances like John Dillinger in Public Enemies, Depp has managed to capture the hearts of millions, making him a household name.
But every success story starts somewhere, and Depp's is no exception. From humble beginnings as a high school dropout to Hollywood superstar, Depp has had quite an interesting, albeit unconventional, ride to fame.
High school dropout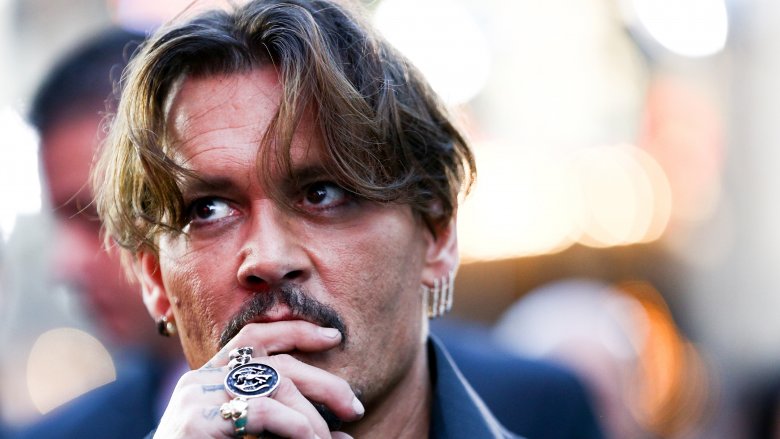 Getty Images
Like many kids, Johnny Depp spent his childhood loving music. In an interview with Rolling Stone, Depp revealed that it was his uncle playing guitar in church that first sparked his passion. At age 12, Depp finally convinced his mother to buy him a guitar when he showed an interest beyond just listening. By 13, he was part of a garage band, playing for small parties and even nightclubs that he would have to be snuck into due to being underage. 
On an episode of Inside the Actor's Studio, Depp told host James Lipton that around the age of 15 he dropped out of high school in hopes of becoming a rock star. According to Depp, he tried to reenter school to continue his education after just two weeks, but the dean of the high school told him to follow his passion instead of coming back. With guitar in hand and the dean's blessing, young Johnny Depp began to seriously devote himself to finding a career in the music industry.
Musical ambitions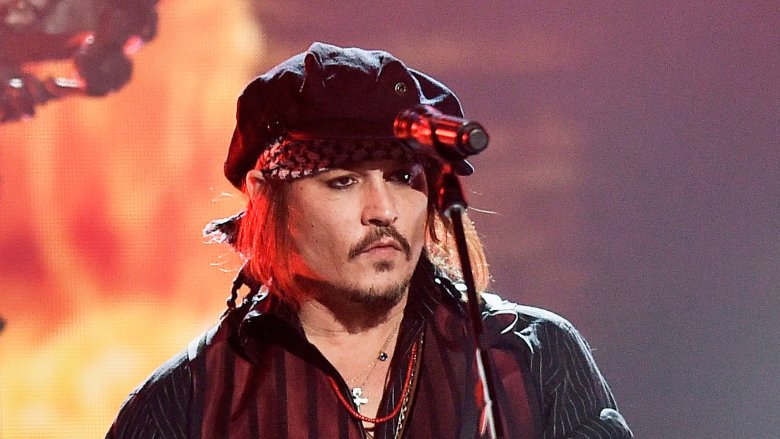 Getty Images
When speaking to Rolling Stone, Depp detailed his love for music and his quest to become a legitimate musician. After exploring different local garage bands, he eventually found a spot as a guitar player in a local group known the Kids. The group found some limited success playing at various venues in Miramar, Florida. According to Depp, the Kids decided that they had what it took and moved out west in search of a record label that would recognize their talent.
The path to stardom isn't exactly easy, however, and money became an issue for the band very quickly. Depp and his bandmates had to take odd jobs like selling ink pens over the telephone. Despite making the move to L.A., the group broke up without ever landing a record deal. Before disbanding, they did manage to open for a few bigger names like Iggy Pop and the Ramones.
Career advice from Nicolas Cage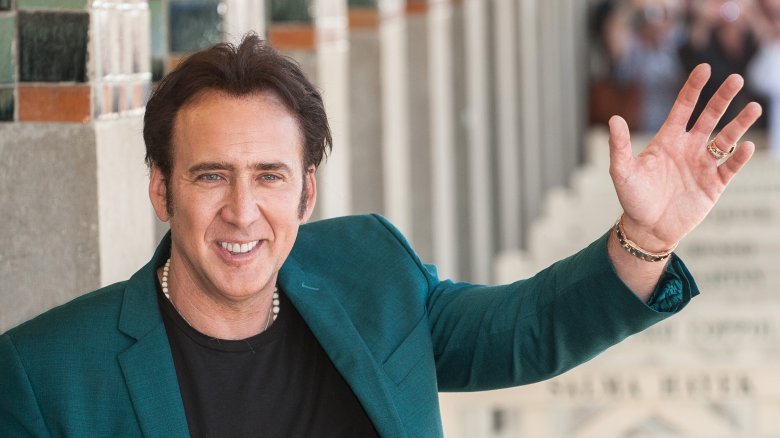 Getty Images
"It's not what you know; it's who you know." It's a popular adage in the entertainment business for a reason. Johnny Depp found one contact that certainly helped propel him from dropout to dreamboat and beyond.
In an interview with Oprah Winfrey, Depp explained that it was Hollywood actor Nicolas Cage who pushed him to consider an acting career. After moving to L.A. to establish himself as a musician, Depp was filling out job applications and struggling to make a livable income. Cage saw him applying for a position in a video store and thought Depp should consider acting. He even offered to get Depp in contact with his agent. Depp took him up on the offer, and Cage's agent sent him to the casting director for the upcoming film A Nightmare On Elm Street. After a successful audition, Depp landed his first acting gig and began a new career.
Hollywood dreams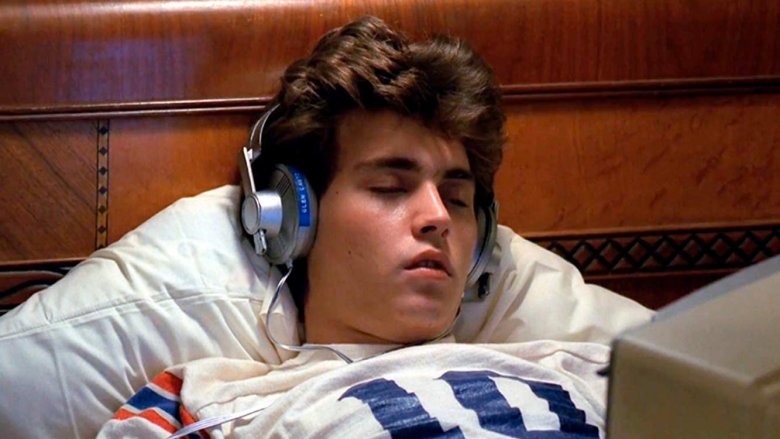 Johnny Depp's first acting gig was in Wes Craven's 1984 horror classic A Nightmare on Elm Street. This film introduced the horrifying Freddy Krueger (Robert Englund), a serial killer who haunts his teenage victims in their dreams and kills them in reality. The film's hero, Nancy (Heather Langenkamp), slowly begins to unravel the mystery behind Krueger while trying to survive the killer's constant pursuit. Unfortunately for the other teens in the story, not everyone makes it out alive.
Depp played the role of Glen Lantz, Nancy's boyfriend. His death scene, in which his own bed swallows him up before spewing a geyser of blood, made for one of the most horrifically surreal moments of the film. While Depp's role was minimal, imagery of his character's gruesome fate stayed with fans for years after the movie premiered. His brief but memorable performance in this franchise-launching hit was enough for the young actor to garner some attention and land other roles following the film's release.
Soldiering on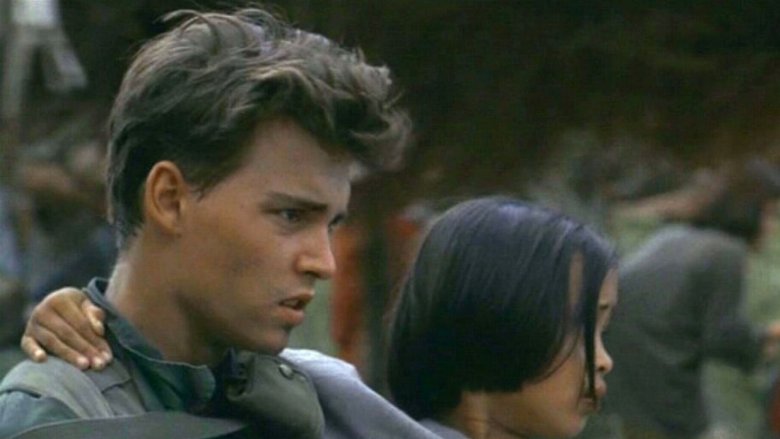 After Nightmare On Elm Street, Depp would go on to play small roles in several other films. Still trying to make a name for himself, he appeared in several short films and one-off television episodes through the rest of the 1980s. During this time, he did get his first chance to be a part of a major production. Oliver Stone needed actors to fill the roles of miscellaneous soldiers for his 1986 film Platoon, and Depp obtained a small part as a Vietnamese-speaking soldier who helps translate for a main character.
The film earned eight Academy Award nominations for the 1987 season. Platoon ended up winning four Oscars, including Best Picture, Best Director, Best Sound, and Best Film Editing. In the film, Depp worked with Willem Dafoe, who was nominated for Best Actor in a Supporting Role for his part. The two would reunite just a few years later for John Waters' 1990 film Cry Baby.
Glam rock diversions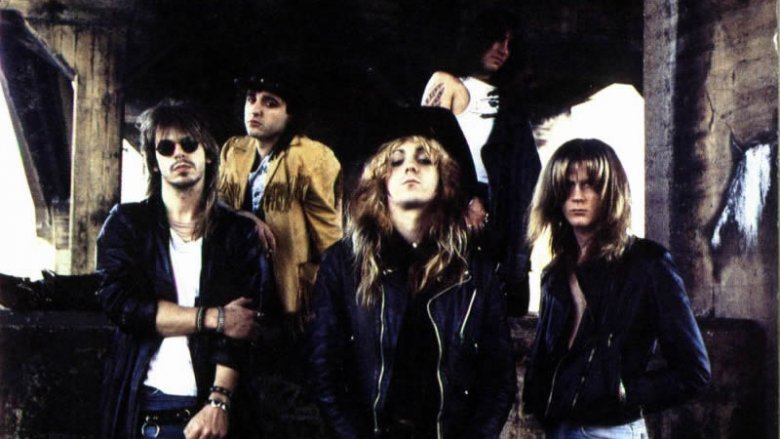 Though Depp landed a few acting gigs, he was still seeking out a career in music. In 1986, he joined the glam metal band Rock City Angels as a rhythm guitarist. According to Spotify, the band released one album while signed with Geffen Records, but they were dropped in 1992 due to the rising popularity of the alternative rock genre. While in the band, Depp co-wrote the song "Mary," which was included on the album Young Man's Blues in 1988. Though the band enjoyed some amount of success, Depp left shortly after joining.
Despite his departure from the group, Rock City Angels would not signal an end to Depp's musical ambitions. Aside from later appearing and performing in musical films such as 2007's Sweeney Todd and in 2014's Into the Woods, he also joined other musical groups over the years, even teaming up with Alice Cooper and Aerosmith's Joe Perry to form the Hollywood Vampires.
The dropout goes back to school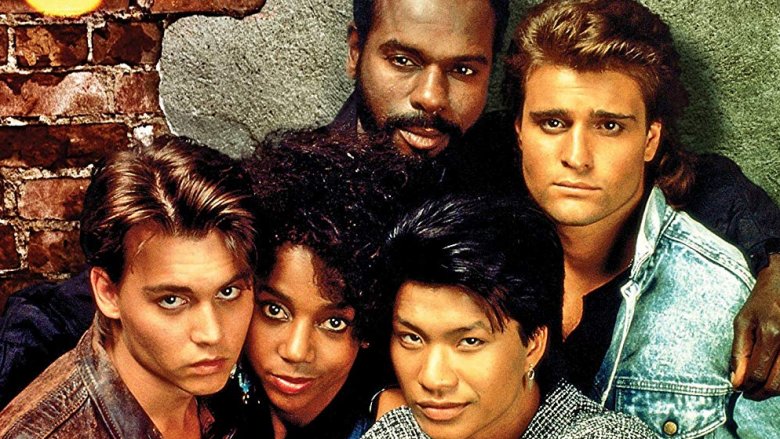 After playing some minor roles following A Nightmare on Elm Street, Depp's first brush with major screen stardom occurred when he joined the cast of the hit television series 21 Jump Street. Depp played Tom Hanson, a member of a special undercover police squad made up of several young officers. Depp's squad was specifically tasked with disguising themselves as high schoolers in order to stamp out crime while among the teenagers committing offenses.
Initially the role was played by actor Jeff Yagher, but Depp replaced him after the series' pilot episode. The popularity of the show helped to make Depp a popular name among his teenage viewers. According to a 1988 issue of Orange Coast Magazine, 21 Jump Street was the show with the biggest ratings on the Fox Network during its third season. Depp played a lead role until leaving the show at the end of its fourth season.
Getting selective with his roles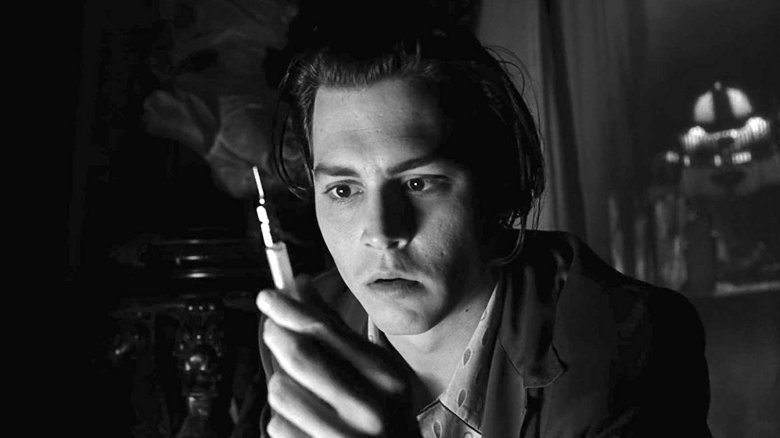 After his role on 21 Jump Street, Depp became a popular name and face with the teenage crowd. Orange Coast Magazine stated that at public events for the show, crowds made up of thousands of teenagers would show up just to steal a glance at their favorite undercover television cops. While many actors would be overjoyed at accumulating such an enthusiastic fanbase, Depp didn't want to fall into the trap of becoming so big that he couldn't work on smaller projects that appealed to him.
In a Rolling Stone profile during this time, Depp voiced his dissatisfaction with the teen idol lifestyle, saying, "I don't want to make a career of taking my shirt off." Depp further elaborated that he didn't want to risk getting big quick only to disappear into obscurity after a few years. Additionally, he wanted to have enough agency to choose which movies he would be a part of. In an effort to diversify his roles, Depp became more selective with what projects he decided to take on. This decision marked Depp's transition into a more unconventional, eccentric actor.
Returning to his musical roots... sort of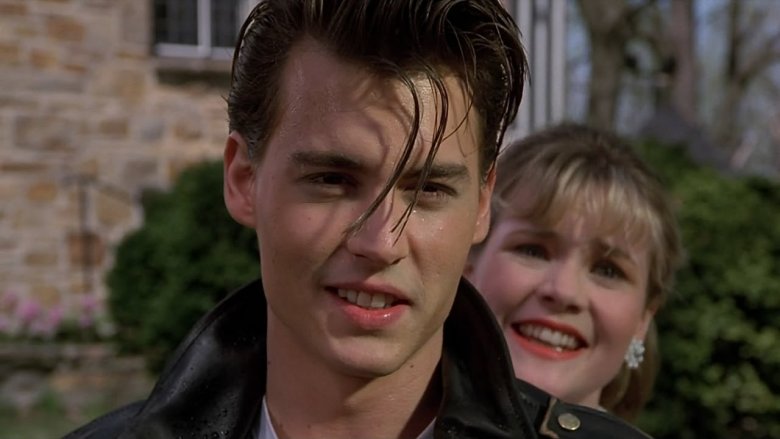 John Waters' 1990 film Cry-Baby casts Johnny Depp in the lead role of Wade "Cry-Baby" Walker, whose ability to shed a single tear makes him the most attractive greaser in town. Taglines for the film said, "He's a doll. He's a dreamboat. He's a delinquent." While on the surface, the role of Cry-Baby seems to be exactly the kind of teen stereotype from which Depp was trying to separate himself, the character has some strange quirks. For starters, both of Wade's parents were sent to the electric chair.
The film is a musical, featuring several song and dance numbers. However, despite Depp's past as a guitarist, he did not do any of the vocals in the film. Instead, James Intveld was tapped to dub over Depp as he danced on screen. Depp stated in a 2008 Rolling Stone that he was reluctant to sing when he was still playing backyards in his early teen years, owing to the fact that he did not like being the center of attention. 
Making the cut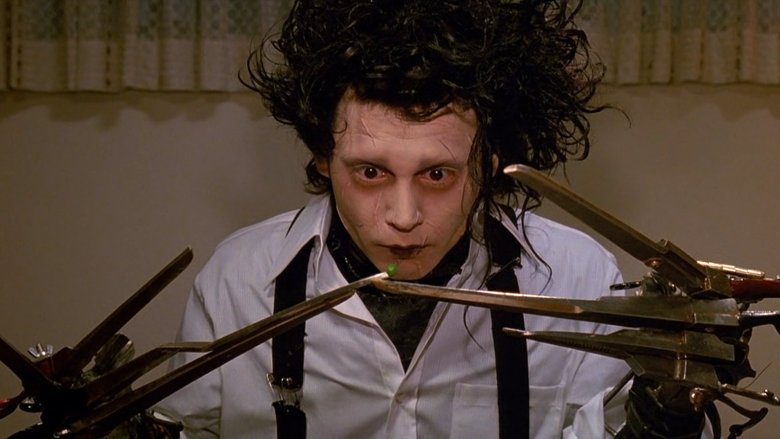 Today, any given movie pairing Tim Burton and Johnny Depp seems like par for the course, but every famous duo begins somewhere. The 1990 romantic fable Edward Scissorhands was not only the first Burton-Depp film, but also Depp's first leading role in a major film. Having grown sick of occupying the role of teen heartthrob, Depp decided to shake up his image. Here, he plays Edward, a quiet man clad in black with scissors for hands, who lives in an eerie castle above an all-too-idyllic suburb. The film was a box office hit and critical favorite worldwide. The success of Edward Scissorhands was a major turning point in Depp's acting career, proving that the actor was capable of playing a leading role.
Not only did he carry the title role himself, he was able to do so while shirking many of the conventions of other male leads in Hollywood at the time. Edward was meek, pale, skinny, and largely effeminate throughout the entirety of the film. This would set a standard for the rest of Depp's career, as he would return to this less-than-macho character type several times in future projects.
Solidifying a creative partnership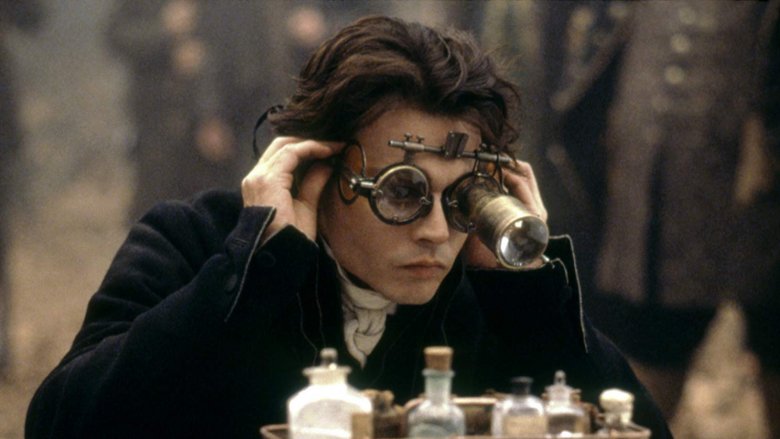 Having previously worked with Tim Burton for Edward Scissorhands and Ed Wood, Depp would once again collaborate with the director for the third time in 1999's Sleepy Hollow. The film did incredibly well, raking in over $206 million worldwide. Depp played the principal role of Ichabod Crane, a gangly, quiet man who is scared away from his love interest by the specter of the legendary headless horseman.
In the biography Johnny Depp by Michael Blitz and Louise Krasniewicz, Depp claimed to have loved the classic story in his youth, making him a natural choice for this adaption. But perhaps more than working on a story he loved as a child, Depp was looking forward to working with Tim Burton again. In the biography, Depp notes that working on 1999's The Ninth Gate was difficult, since he did not get along well with director Roman Polanski. "Working with Tim Burton on Sleepy Hollow was like an exorcism," he said in the biography. "It was a cleansing of my Ninth Gate experience."
Setting sail as an A-list star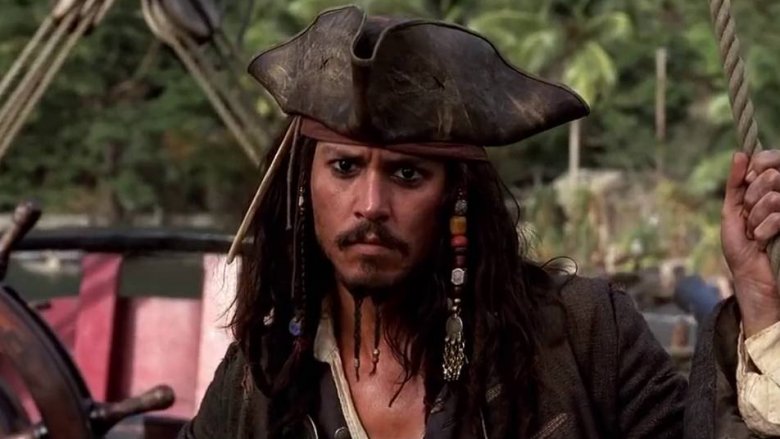 The film that solidified Johnny Depp as a Hollywood superstar pulled into port in 2003, when Disney's Pirates of the Caribbean: The Curse of the Black Pearl hit theaters. The movie was a massive critical and box office success and brought in a massive $654 million worldwide. In the film, Depp plays the role of Captain Jack Sparrow, a strange, comical pirate attempting to reclaim his ship, the Black Pearl.
The character's zaniness charmed audiences effectively, capturing the hearts of viewers young and old. For his performance, Depp won many awards, including Outstanding Performance by a Male Actor in a Leading Role at the 10th Screen Actors Guild Awards, Best Male Performance at the MTV Movie Awards, and Best Actor at the 9th Empire Awards. Most significant, however, was his first Oscar nomination, finally marking his complete transition from cult favorite to blockbuster leading man. Aside from awards, Curse of the Black Pearl began a franchise that has had five films, several video game adaptations, and a treasure trove of merchandise. Ever since, Johnny Depp has been one of Hollywood's most recognizable faces.