The Forgotten Eddie Murphy Comedy That's Killing It On Netflix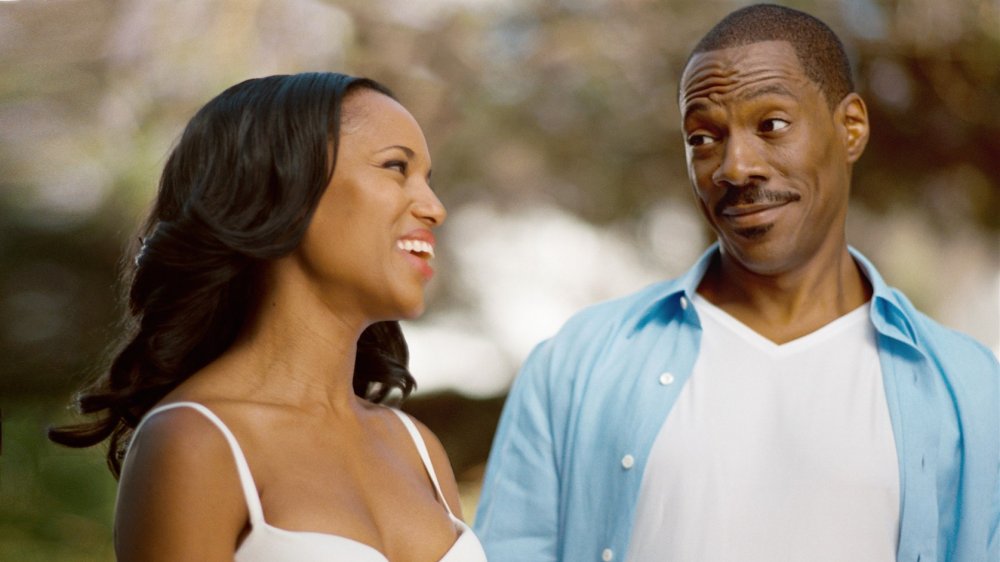 Paramount Pictures
While the Netflix charts are usually topped by the streamer's healthy flow of original content, every once and a while a surprising classic bubbles up to the surface. Comedy legend Eddie Murphy has starred in countless blockbuster films, but one of his oft-overlooked titles is the one currently garnering all the attention.
A Thousand Words is a 2012 film from director Brian Robbins (Norbit) that places Murphy in the lead role of Jack McCall, a high-powered literary agent with a disingenuous, fast-talking style that's as exhausting for his associates as it is effective in his industry. McCall is the king of the major book deal, but he gets a lot more than even he's prepared to handle when he signs New Age guru Dr. Sinja (Cliff Curtis) as his latest blue-chip client. 
Upon its initial release, the film was a major bust with critics. It fared even worse at the box office, earning only $18.5 million domestically against a $40 million budget (via Box Office Mojo). The week of its debut must have been cursed, because it hit theaters alongside Taylor Kitsch's John Carter, an even more disastrous performer. Such a low gross suggests that very few people actually saw the film during its theatrical run, so the fact that it's found new life on Netflix must be heartening for Murphy, who's certainly known a few flops in the course of his storied career.
Eddie Murphy learns that less is more in A Thousand Words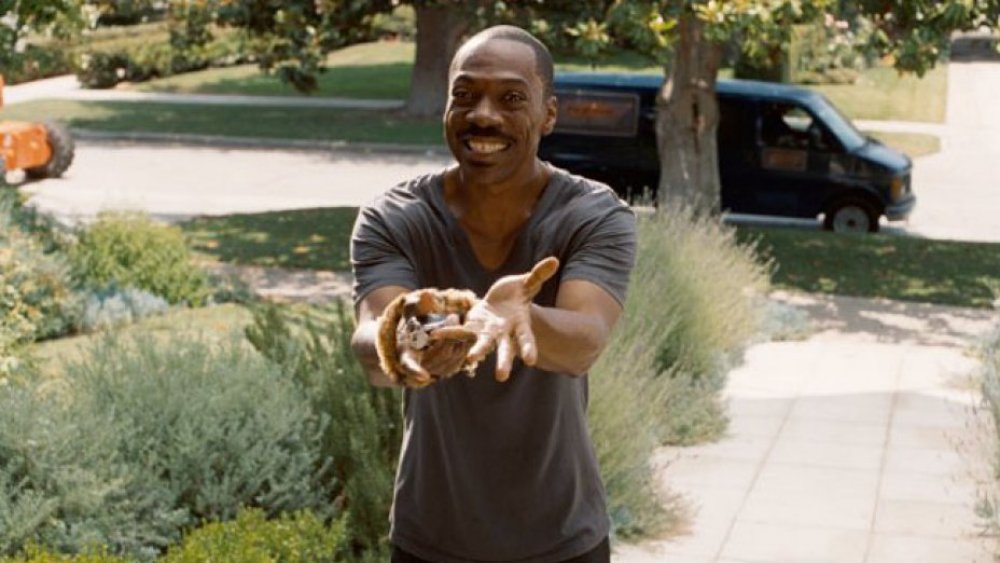 A Thousand Words is a bit of a morality play with a central plot device similar to the one deployed to better returns in Jim Carrey's Liar Liar. Instead of magically losing the ability to lie in his deceitful career, McCall loses the ability to speak — kind of. After signing Dr. Sinja, an enchanted Bodhi Tree erupts from the soil in McCall's backyard. Every time McCall speaks henceforth, a leaf dies and falls off the tree. Dr. Sinja concludes that the Bodhi Tree essentially works like the rose in Beauty and the Beast, except instead of turning McCall into a beast forever, the naked tree will actually kill him. This state of affairs forces McCall to practice a little economy of language if he wants to remain alive.
While the plot might sound a bit derivative, it does give Murphy the opportunity to display some hilarious moments of physical comedy. The complex pantomime sequences are predictably ridiculous, even if they occasionally make a scene seem like a bawdy game of charades. 
Netflix has proven a strong platform for films with fan appeal that suffered from a negative critical consensus. Despite the bad press, those fans who did see A Thousand Words had considerably more positive reactions even at the time of release, which likely explains why it's been such a hot property on streaming.