What Max From Liar Liar Looks Like Today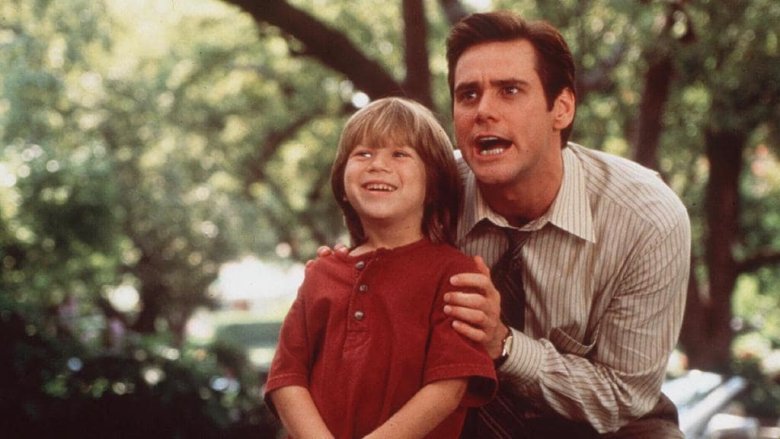 Jim Carrey was on absolute fire in the 1990s. From his movie breakout in Ace Ventura: Pet Detective, to The Mask, to Dumb and Dumber, Carrey used his expert physical comedy, moldable face, and wacky expressions to solidify himself as a reliably hilarious presence. He eventually started embracing more dramatic roles, but before he did so, he made a family-oriented comedy called Liar Liar in 1997, in which he played a lawyer suddenly and magically forced to always tell the truth.
How'd he get that way, you might ask? His son Max, played by the adorable Justin Cooper, makes a wish on his birthday that his estranged dad could no longer lie, and the shenanigans begin. Cooper was one of those cute little blond kid actors whose career could have taken off like the Olsen twins or Haley Joel Osment, but today, he's chosen quite a different path. Before we get into what Max from Liar Liar looks like today, and what he's been up to, let's take a look back at his childhood career.
Full House
Like many a '90s kid actor, Cooper made a small appearance on the hit sitcom Full House. He played a hid named Linus Plankton, which kind of sounds like it should be a character from Spongebob Squarepants or Finding Nemo. In a seventh season episode titled "Support your Local Parents," heartthrob Uncle Jesse (John Stamos) and Rebecca (Lorie Loughlin) have been married for a couple of years and have twin boys, Nicky and Alex. Rebecca thinks that Nicky and Alex need more socialization, so she asks Uncle Jesse to arrange a playdate. Enter Linus Plankton.
Linus is one of those unimpressed kids who always says things that are just a little too precocious and sound like adult words coming out of a little kid's mouth. He tells Uncle Jesse that he's been to better play dates, even though the other kids seem to enjoy the party just fine. His whole appearance is just a few moments of tete-a-tete with Stamos, whose sarcasm and swagger play off of Cooper's straight man nicely. The guest spot shows off how funny the very young Cooper could be while being completely serious.
The Boys Are Back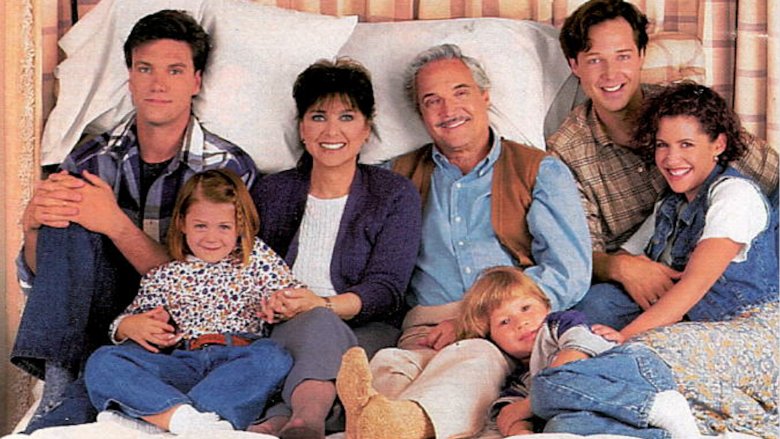 This 1994-1995 single-season sitcom starred Suzanne Pleshette and Hal Linden as parents Jackie and Fred Hansen, who are entering retirement, ready to relax, travel, and generally enjoy each other's company. That is, until their two adult sons move back in with them, one of whom has a wife and kids of his own in tow. This show may be be old-fashioned, but any millennial forced to move back in with their parents might view it as reflective of their own life.
Cooper played Nicky Hansen, one of the grandkids, who has a bit of trouble with wetting the bed. As Robert Leszczak writes in his book, Single Season Sitcoms of the 1990s: A Complete Guide, The Boys Are Back only lasted 16 episodes. Not only was it put up against the juggernaut of Beverly Hills 90210, but the premise was something that audiences had seen before, making it just a rehash of old sitcoms from the 1970s.
General Hospital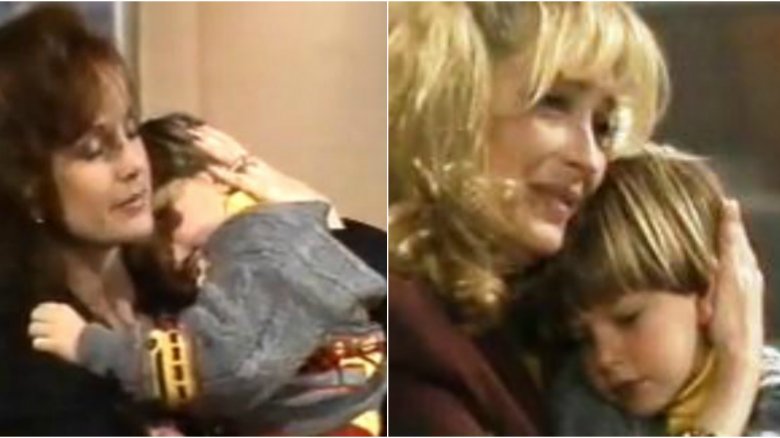 ABC
ABC's General Hospital is "now the world's longest-running daytime soap opera with the demise of As the World Turns," according to the Guinness World Records. For that reason, like in many soap operas, character arcs can span decades, and some characters have been played by multiple actors throughout the years. On GH, as it's called by fans, there's a character named Lucas Jones, whose very life has evolved over the course of the series.
Lucas, a doctor and one of the genre's revolutionary gay characters, is now played by an actor named Ryan Carnes, but back in 1996, Lucas was played by little Justin Cooper. Lucas' storyline begins with his birth in 1989. The son of a mob boss, Lucas gets wrapped up in an illegal adoption scandal and his childhood is plagued with threats of kidnapping from his biological father. Cooper played Lucas from 1996-1998, during the character's childhood years when things were, let's just say, a bit calmer, despite the potential kidnapping. In adulthood, Lucas' storyline includes being poisoned by his cousin, getting beaten for being gay, being held hostage at gunpoint, and slipping into a coma.
Boy Meets World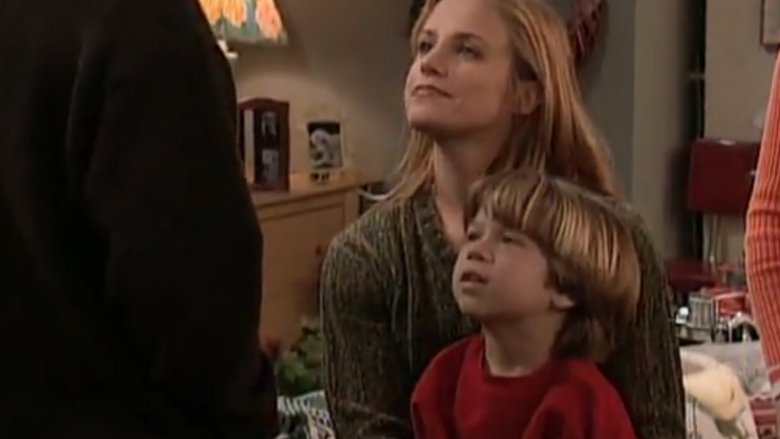 Just before Liar Liar hit theaters, Cooper made an appearance in an episode of the beloved '90s sitcom Boy Meets World. The series, which lasted for seven seasons, told the coming-of-age story of Cory (Ben Savage), his true love Topanga (Danielle Fishel), and his best friend Shawn (Rider Strong). Among '90s kids, Boy Meets World was a favorite, so much so that a sequel series, Girl Meets World, which focused on Corey and Topanga's daughter Riley, hit the Disney Channel in 2014.
Back in 1997, Boy Meets World was in its fourth season, and Cory's older brother Eric (Will Freidle) was just breaking into real adulthood. In the episode "Uncle Daddy," Eric begins dating a woman who has a young son, and he's tested on his abilities as a potential father. Of course, the cute little guy is played by Justin Cooper, and of course, Eric's abilities turn out to be not that great. But who can blame him when he's like 20 years old?
Liar Liar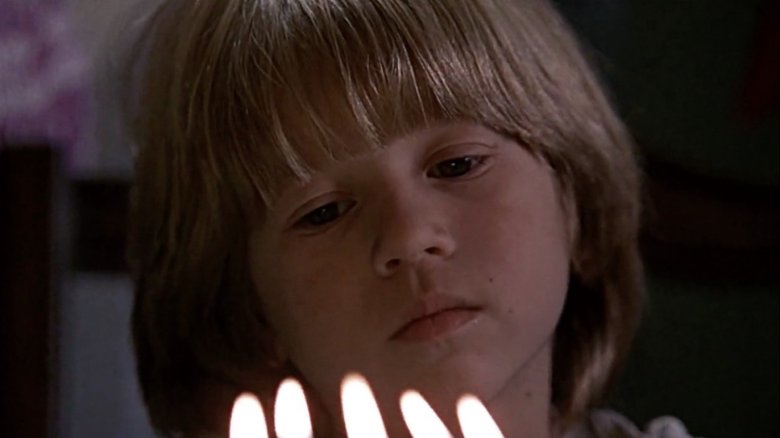 In addition to bringing the cute for Liar Liar, Cooper fulfilled the need for the movie's moral compass. While Carrey's Fletcher was lying his butt off, Cooper's Max would pout, sulk, and produce just enough tears to make his father feel like an ass and make the audience root for Fletcher to get better.
Liar Liar was Carrey's first dip into more family-friendly territory after years of seriously adult-oriented comedy. Ace Ventura, The Cable Guy, The Mask, and Dumb and Dumber all had definite adult streaks, but Liar Liar, with its kid character and happy family ending, was a jump into less racy territory, even though it was still PG-13. It marks a notable turning point in his career, after which more family films were in the pipeline, like How the Grinch Stole Christmas and Mr. Poppers Penguins, but the tender moments with Cooper in Liar Liar may have also prepped him for his dive into more dramatic fare, like Man on the Moon and The Truman Show.
Dennis the Menace Strikes Again!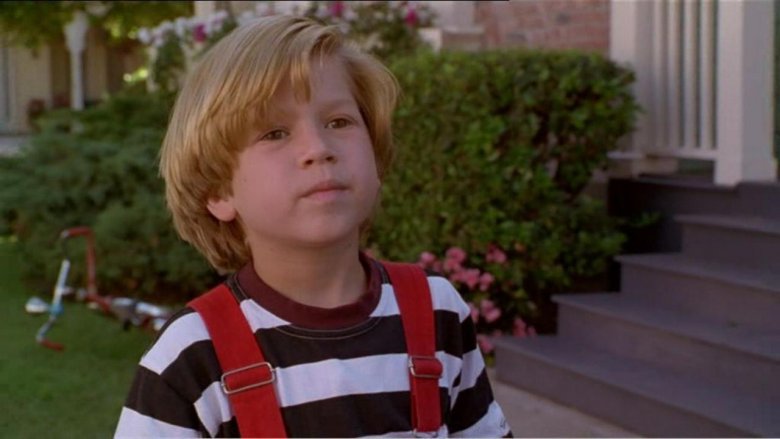 Were cute kid actors a dime a dozen in the '90s? It sure feels that way sometimes, with movies like Home Alone, My Girl, Matilda, and Dennis the Menace. It was a time when adorable children and their wacky adventures were a winning recipe for a movie. It worked so well, of course, for 1993's Dennis the Menace, that the studio called for a second round in 1998, only this one didn't hit the theaters.
Dennis the Menace Strikes Again! was one of those direct-to-video sequels that were so pervasive in the 1990s. The original Dennis the Menace starred Walther Matthau and Mason Gamble, but Cooper took over the role of Dennis here while Don Rickles joined the cast as the grumpy Mr. Wilson. Naturally, the two films aren't that much different in plot, with Dennis perpetually bothering Mr. Wilson to great annoyance, until his shenanigans end up saving the neighborhood from some shady con artists.
The Magnificent Seven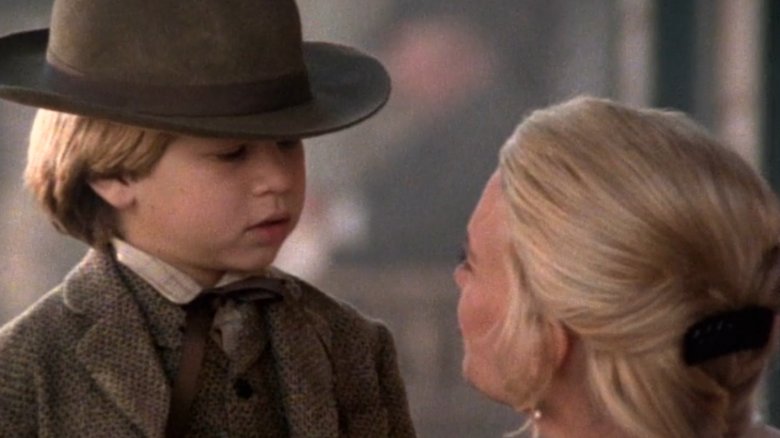 The Magnificent Seven was a CBS adaptation of the 1960 western movie of the same name, which in turn was an adaptation of the Japanese film Seven Samurai. The series ran for two seasons, and featured actors Michael Biehn, Eric Close, and Ron Perlman. If you're not familiar with the premise, The Magnificent Seven tells the story of a band of seven men — including an expert gunslinger, a con artist, a slave-turned-healer, a priest, a bounty hunter, a womanizer, and a young hothead — joining together to protect their Wild West town from the general lawless nature of the era.  
Cooper only appeared in one episode as Billy, the son of the series' lone female lead, Mary, played by Laurie Holden of The X-Files and The Walking Dead fame. Billy has been rather quiet since he witnessed the murder of his father, and the episode's story line revolves around his kidnapping at the hands of those very murderers. Of course, the seven ride in to save him, and the murderer is brought to justice. It's kind of mysterious, however, that Billy never really appeared on the show much again after that. 
The Adventures of Ragtime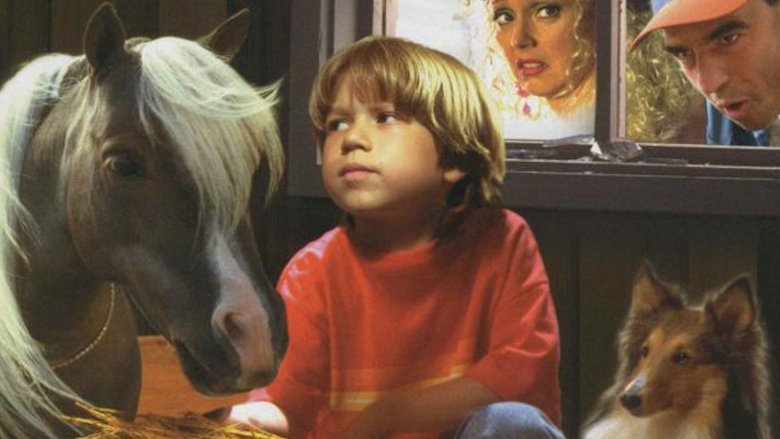 If you think cute kids are a winning recipe for movies, just throw in a cute animal to accompany the cute kid and you've got gold. Often times this works phenomenally, like in Beethoven, Andre, or Air Bud, but other movies made in the same vein with the same intentions weren't always so lucky. The Adventures of Ragtime, another of Cooper's direct-to-video movies, didn't pack the same punch as those other cute overload films.
The plot of The Adventures of Ragtime is absolutely ridiculous. Ragtime, the miniature pet horse, has made a name for himself by performing silly tricks. When bumbling crooks Sam and Lester (Shelley Long and Jay Thomas) see his abilities performed on television, they decide it would be a simple enough plot to kidnap the horse and somehow make money off of him. But Ragtime is smarter than your average miniature horse, because of course he is, and manages to outwit the crooks. The amazing thing is, they ended up making three of these Ragtime movies, though Cooper was only in the first. That mini horse must be a detective by now.
Touched By an Angel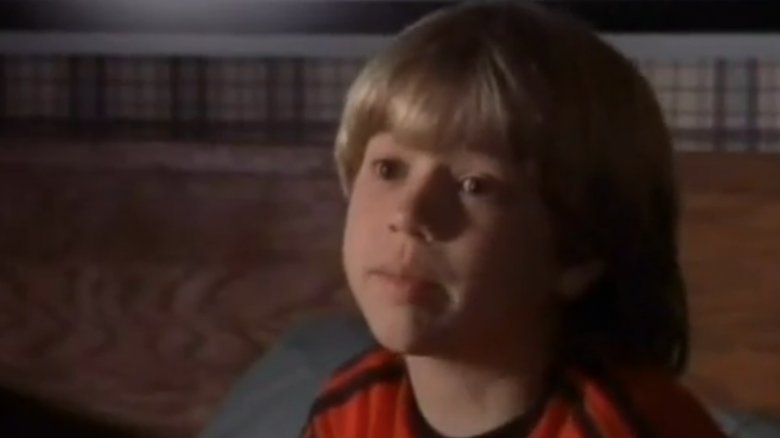 CBS' Touched by an Angel was one of those weirdly religious TV series that never actually specified which religion it was following, though there were definite Christian overtones and heavy adherence to Christianity in general. The series followed two angels, Monica and Tess (Roma Downey and Della Reese), who visit humans and help them with their problems.
Cooper appeared in the fifth episode "Full Circle," which revolves around a woman named Kate, played by Valerie Harper, whose son, Thomas, played by Anthony Michael Hall, returns home after being acquitted of murder. But Thomas isn't alone upon his return. He brings along his son, Dylan, played by the pouty Cooper. Man, this kid sure made a career out of being pouty, huh? As it turns out, Thomas is a former drug dealer, and Dylan's mom was abusive towards him, which the angels will surely help fix by changing hearts and moving spirits, or whatever the show was actually about. 
Brother's Keeper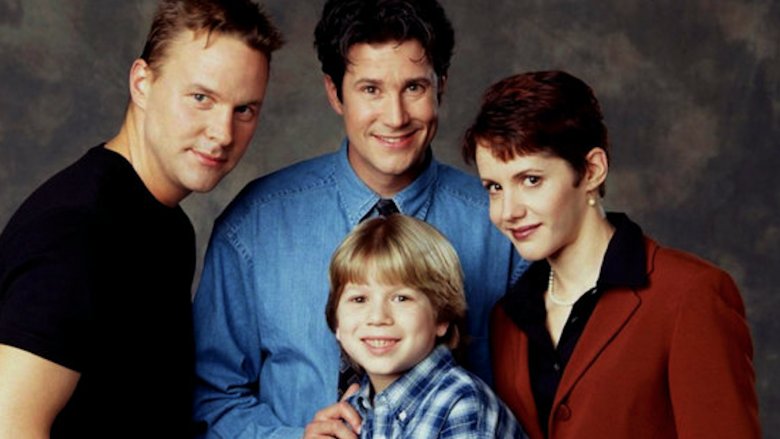 Sitcoms always seem to find a way to force many characters to live together in one house in order to maximize potential conflicts and story lines. The premise of Full House hinged on the very idea of too many people in one house, while The Boys are Back turned to adult children moving back in with their parents. Brother's Keeper was another one-season sitcom featuring a young Cooper that brought two unwilling roommates together.
Brother's Keeper revolves around Porter Waide (William Ragsdale), a professor who is raising his son on his own after his wife's death. In an extremely convoluted premise, Porter's pro football player brother, Bobby Waide (Sean O'Bryan), is forced to move in with him after a series of irresponsible incidents. Cooper played Porter's son, Oscar. Though this was another series that didn't last long, Cooper was acknowledged for his performance and he was nominated for Best Performance in a TV Comedy Series – Supporting Young Actor at the 1999 Young Artist Awards. 
The Practice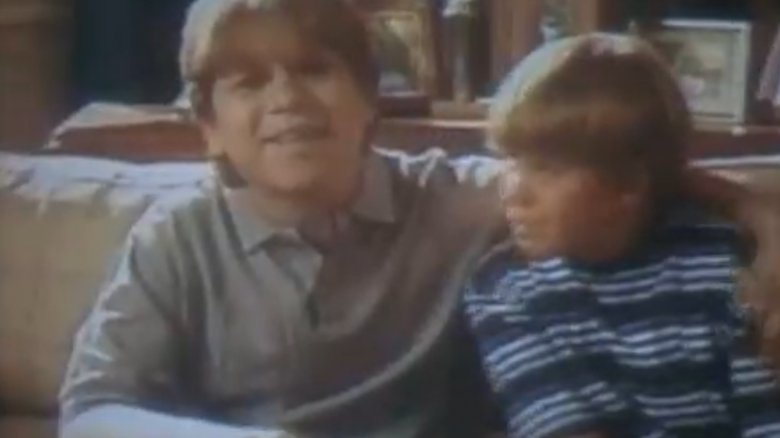 Long-running legal drama The Practice was a huge hit when it aired from 1997-2004, and was awarded multiple Emmys, including acting awards for Camryn Manheim and James Spader and the award for Outstanding Drama Series. The show also had a slew of famous guest stars, including William Shatner, Sharon Stone, and Betty White.
His appearance in the season 7 episode "Final Judgement" marks Cooper's last credited acting role before he headed out into the real world. He's only seen in a blurry court room video as an unfortunate murder victim. You can tell if you watch the episode that Cooper is heading straight into those awkward pre-teen years, his cherub cuteness a thing of the past. Why Cooper left the acting world is a mystery, but of course, it happens all the time. And it sounds like Cooper is pretty happy in his new life and a new role.
Today: Producer for Fox Sports
Cooper, now 31 years old, works as an Executive Producer for The Ben Maller Show on Fox Sports Radio. He's come a long way and grown up a lot since being the cute kid who frowns and guilt trips his dad into being a good person in Liar Liar. 
Cooper's Twitter page proves he's definitely fully transformed into a sports radio guy and has left the acting world behind him. His tweets mostly stay in the realm of sports, though you'll catch him commenting on things like music, movies, actors, and snacks. And his co-workers seem to have a little fun with him every now and then, with Fox Sports' Brian Noe referencing the Claw from Liar Liar in a past tweet. In any case, we wish Cooper the best of luck in his new career and thank him for the adorable and funny memories.