Harvey Guillén Shares What It's Like Working With Taika Waititi And Mark Hamill - Exclusive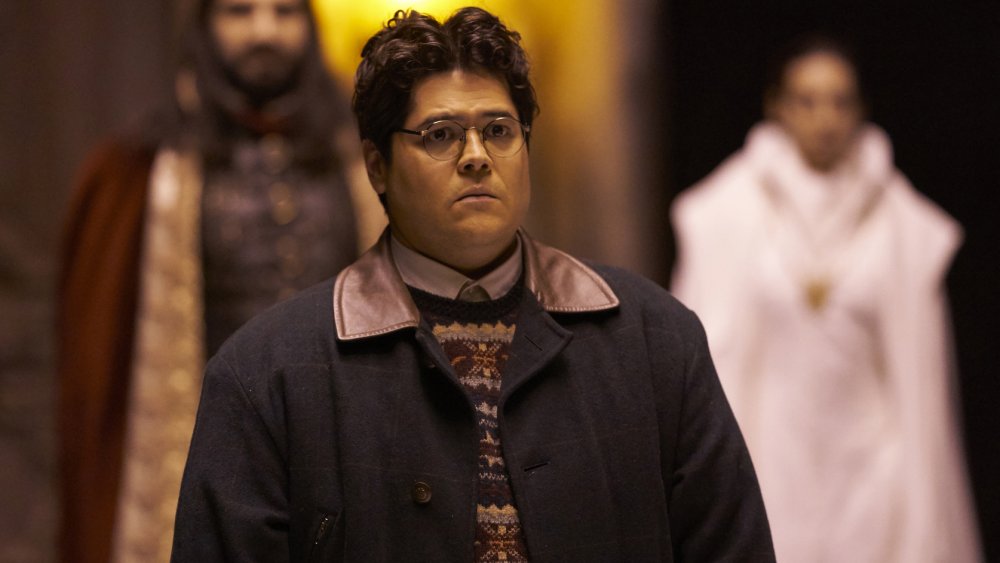 Russ Martin/FX
Jemaine Clement and Taika Waititi's 2014 horror-comedy mockumentary What We Do in the Shadows brings immortal, blood-sucking beings into the 21st century in all of its banality. The FX series of the same name — which premiered in March 2019, recently wrapped up its second season, and has already been picked up for a third installment – centers around a group of vampire roommates, much like the film does, but it differs from the OG What We Do in the Shadows in a few ways. 
For starters, there's an "energy vampire" in the mix: Colin Robinson (Mark Proksch), a vamp who can roam day or night, feeding off both humans and other blood-suckers until they're bored out of their minds or frustrated beyond comprehension. Additionally, this time around, What We Do in the Shadows' resident vampiric familiar stands up for himself in style. Played by Harvey Guillén, Guillermo de la Cruz — the familiar to Kayvan Novak's Nandor the Relentless — has a wonderful arc on the second season of What We Do in the Shadows, in which he gets some incredible action scenes and finally earns a little respect from his vampire compatriots. 
As if vampire-related shenanigans weren't enough, FX's What We Do in the Shadows also has some incredible guest stars. The season 1 episode "The Trial" is one of the best comedic episodes of television ever, with an all-star cast of famous vampires including Tilda Swinton, Evan Rachel Wood, and Danny Trejo, among others. But there are two guest stars in particular Looper wanted to know about when we spoke with Guillén in an exclusive interview.
Waititi, in addition to making an appearance on "The Trial," serves as an executive producer and has directed several episodes of What We Do in the Shadows. On season 2, none other than Star Wars legend Mark Hamill appeared — playing Jim the Vampire, who comes to the house to collect on a debt that Laszlo Cravensworth (Matt Berry) owed to him. During our conversation, Guillén spoke about what it was like working with the two incredible actors, and whether he may be seen in a certain space-centric franchise in the near future. 

Harvey Guillén on working with Taika Waititi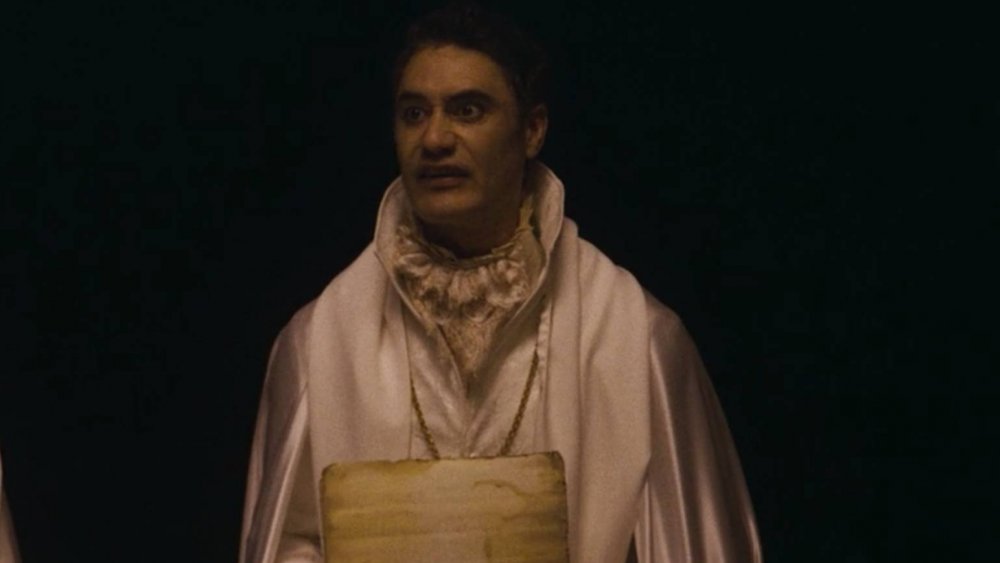 FX
Without the 2014 film, co-written and co-directed by Taika Waititi alongside his longtime creative collaborator Jemaine Clement, we would have no "Guillermo Biermo." In the original film, Waititi plays Viago Von Dorna Schmarten Scheden Heimburg, who returns on the FX series as part of the Vampiric Council. It's one of the most star-packed episodes of television ever — with Harvey Guillén's Guillermo coming front and center to give the Council his testimony regarding the murder of the ancient vampire Baron Afanas (Doug Jones).  
But Guillén worked with Waititi for more than just that guest appearance. Waititi was heavily involved in the first season of What We Do in the Shadows – and although he's gone on to other projects (like working as an episodic director on Disney+'s The Mandalorian and returning to the Marvel Cinematic Universe to write and direct Thor: Love and Thunder), Waititi helped steer the show in the right direction and leave it in good hands for season 2. 
As Guillén told Looper, "Taika, he's busy. He has so many projects that he's working on, so we were lucky enough to have Taika and Jemaine the first season, and then in season two, Jemaine as well. He's busy and is working on his project. So we got lucky enough that we could pull him away for a couple of months to come do the show."
Waititi truly is immensely busy these days. Not only is he working on the fourth Thor flick — which will mark the first time a character in the MCU has received more than the standard three solo movies — but he's also co-writing and directing a new Star Wars movie alongside co-scribe Krysty Wilson-Cairns. When we asked Guillén if he'd be down to work with Waititi on either project, the answer was a resounding, "Yes." 
"I would love that," said Guillén, who has a loyal fan base of his own hoping to see more of him in action. "Especially [since] someone just wrote that on Twitter. They tagged Taika and said, 'Taika, You need to give him a part in some action scene in the Star Wars movies because of the [season 2] finale.'"
Hopefully in the near future, Guillén will trade in wooden stakes for lightsabers. 
Harvey Guillén on working with Mark Hamill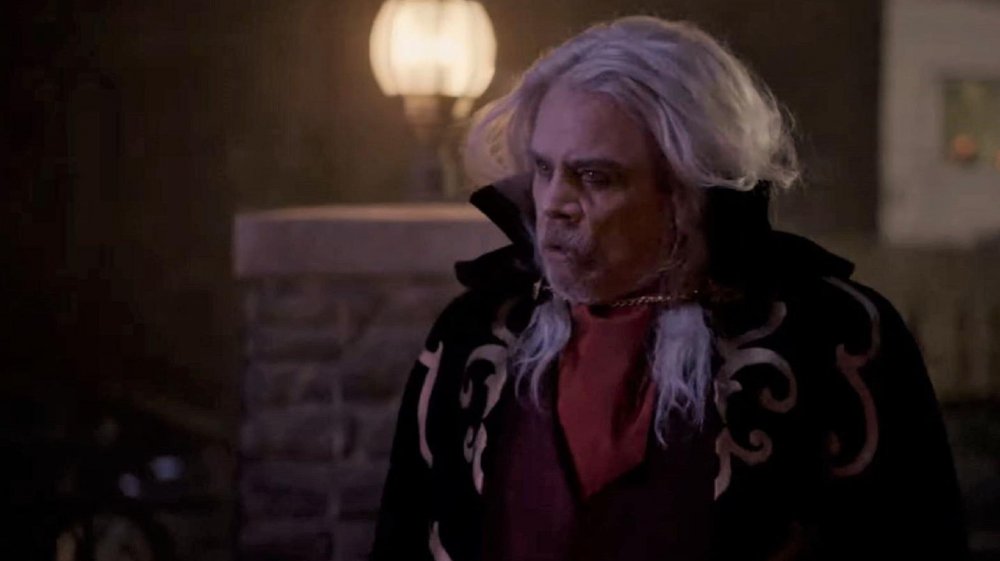 FX
Of course, you can't talk about Star Wars without bringing up Luke Skywalker himself: Mark Hamill. On the What We Do in the Shadows season 2 episode "On the Run," Hamill appears as Jim the Vampire. He rented Laszlo a room in San Diego, but Laszlo never paid, and thus, Jim returns to get his money. Although most of Hamill's scenes on the episode are with Laszlo actor Matt Berry, Guillén does get a scene with Hamill at the beginning of the episode. To hear Guillén describe the experience, Hamill was an utter delight on set. 
"Mark was so nice and amazing," said Guillén. "That was just like a walking icon to walk on set, and us to be in front of him. Matt Berry was so giddy, because what [are] the odds that [they're in] this world where they have a fight scene, and they break up a pool stick and they fight like [they have] lightsabers together? That is every kid's dream. To watch that, you can just see the smile on his face." 
And apparently, the pleasure was Hamill's as well. Turns out, he's a fan of the show. As Guillén told Looper, "He was so kind, and his daughter was also there, and they were just lovely. And they're fans of the show. They actually truly love the show."
With the popularity of What We Do in the Shadows only growing, it's safe to say there will be plenty of other famous faces popping up on the seasons to come.
What We Do in the Shadows seasons 1 and 2 are available to stream on Hulu right now.