Netflix Just Nabbed One Of Johnny Depp's Best Movies Ever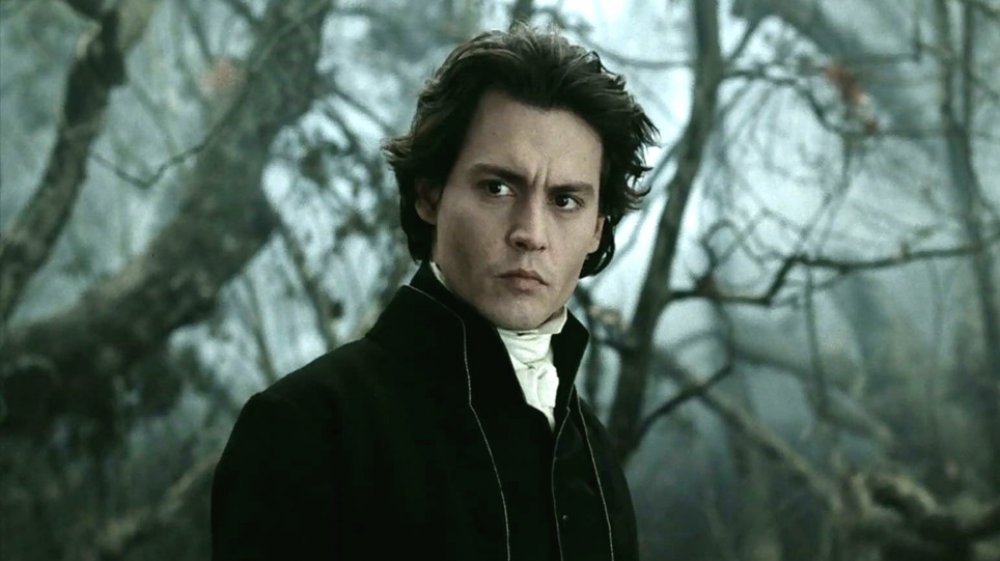 Paramount
If you're in the mood for a little midsummer spookiness, Netflix has got you covered with the only pure horror film from one of the most distinctive visual stylists of all time.
Sleepy Hollow, an adaptation of a classic Washington Irving story from the one and only Tim Burton, has hit the streamer as of July 1. The flick stars Johnny Depp as Ichabod Crane, an 18th-century New York City police constable whose investigation into a series of brutal slayings in a tiny burg puts him in the path of a marauding, ghostly, murderous horseman who doesn't seem to have his head on straight ... or, rather, at all.
Irving's "The Legend of Sleepy Hollow," published in 1820, has been adapted numerous times for film and television, with the most well-known of these likely being an animated short produced by Disney for its package film The Adventures of Ichabod and Mr. Toad in 1949. That short, of course, is a fairly lighthearted and comedic take on the decidedly dark story, but for his updated version of the tale, Burton leaned pretty hard into the darkness, as is his wont.
Depp gives a quirky but restrained performance, and he is supported by an absolutely stellar cast that includes the likes of Christina Ricci, Christopher Walken, Miranda Richardson, Michael Gambon, Christopher Lee, and Ian McDiarmid. The screenplay was penned by Andrew Kevin Walker (Se7en) from a story conceived by Kevin Yagher, a veteran visual effects and makeup artist who was at one point set to direct the film. Few could argue, though, that Burton's landing in the director's chair wasn't the right choice, because his creepy, Gothic-tinged visual style is a perfect match for the material.
What is Sleepy Hollow about?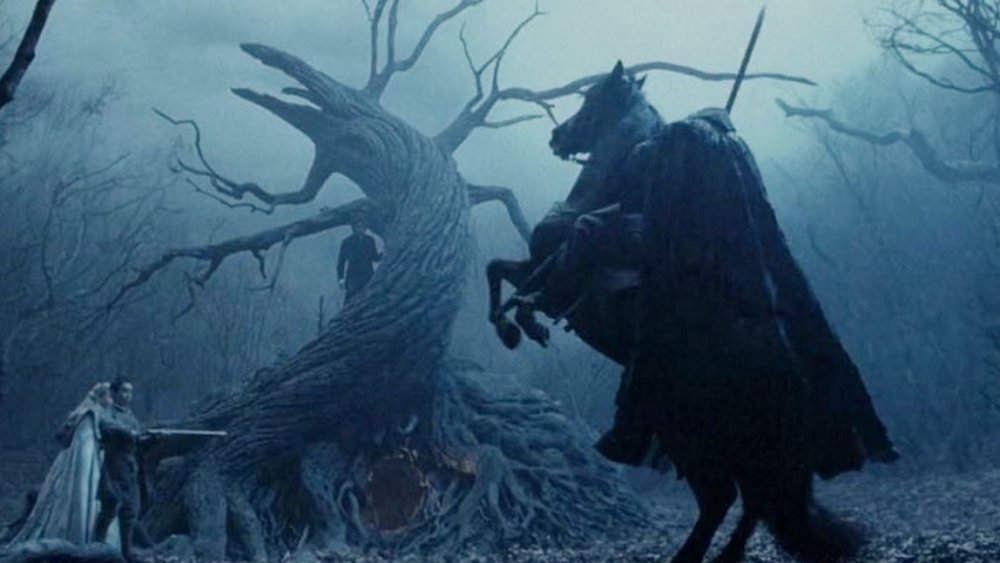 Paramount
Sleepy Hollow expands greatly on the straightforward narrative of Irving's story, and it also gives Depp's Crane a different profession. Rather than a skeptical school teacher, this Crane is a pragmatic policeman who is intent on getting to the bottom of Sleepy Hollow's mysterious murders. Their supposed perpetrator is the Headless Horseman, the ghost of a Hessian mercenary decapitated in battle, who roams the forest looking for his head.
Crane is taken in by local businessman Baltus Van Tassel (Gambon), his wife Mary (Richardson), and his daughter Katrina (Ricci). As the murders continue, Katrina leads Crane to a witch living deep in the woods, who directs them to a sinister location within the forest: The "Tree of the Dead," which is said to mark the Horseman's grave, and which Crane deduces might be a sort of bridge between the worlds of the dead and the living.
Soon, Crane begins to spot connections between the Horseman's victims, deducing that there is some manner of conspiracy afoot. It turns out, of course, that he is correct, but to get to the bottom of the mysterious goings-on, he'll have to do some unpleasant digging (of both the literal and figurative varieties), and as he gets closer to the truth, he'll also have to do everything in his power to make sure that his own head stays attached.
Was Sleepy Hollow a box office hit?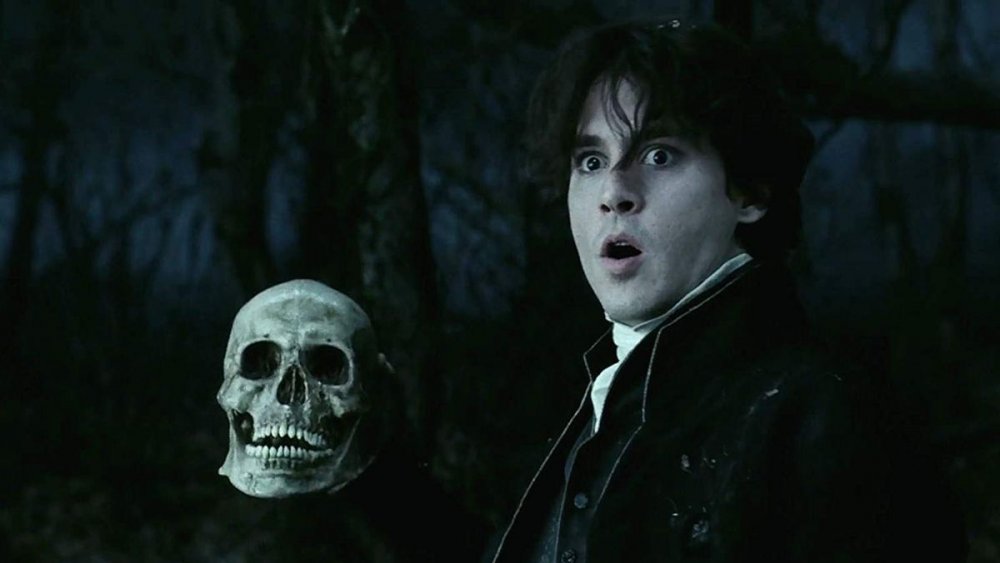 Paramount
Sleepy Hollow grossed about $206 million worldwide on a $100 million budget — not exactly a flop, but not a massive hit, either. The film received generally positive reviews, though, and has become a favorite around Halloween in the years since its release. In his three-and-a-half star review of the movie, the great Roger Ebert wrote, "Johnny Depp is an actor able to disappear into characters, never more readily than in one of Burton's films. Together they created Edward Scissorhands and Ed Wood, and now here is an Ichabod Crane who is all posture and carefully learned mannerism, attitude and fastidiousness. It's as if the Horseman gallops ahead in a traditional horror film, and Depp and Burton gallop right behind him in a satire."
As strongly as Burton's visual sense informs the film, the contribution of Yagher should not be dismissed. The idea of a modernized take on Washington's tale was his, but he was demoted to prosthetic effects artist when his warm-up directorial effort, 1996's Hellraiser: Bloodline, endured a ridiculously difficult production (via Bloody Disgusting). Yagher's work on display in the film is excellent, which should come as no surprise: He's the guy behind the makeup effects for such horror classics as Child's Play, Friday the 13th: The Final Chapter, and the second, third, and fourth installments in the Nightmare on Elm Street franchise.
At any rate, Sleepy Hollow is a visually sumptuous blast of quirky, gory spookiness, perfect for those of us who could a little Halloween in July. It's available for streaming on Netflix right now.