Quibi Just Announced A Princess Bride Remake You Never Expected To See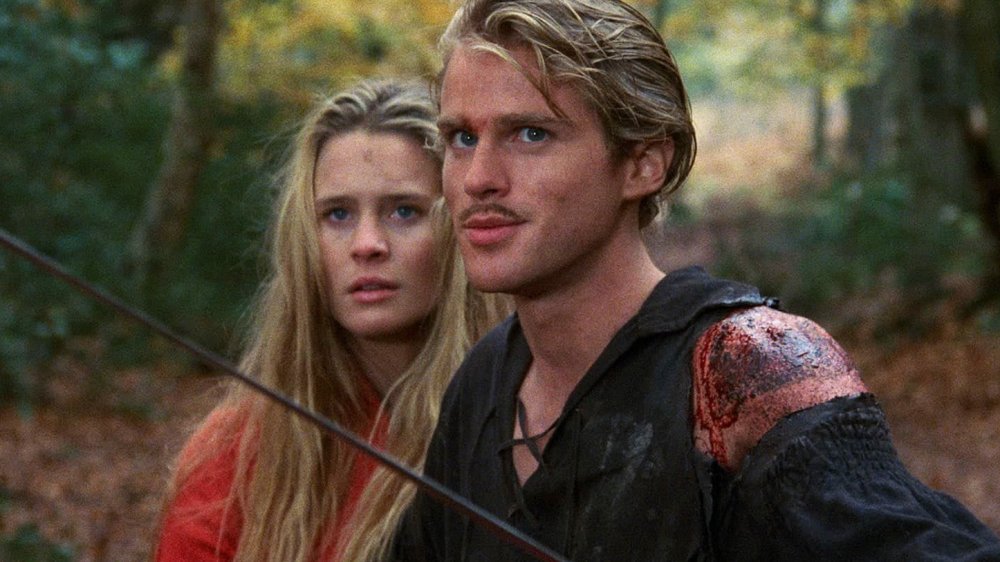 20th Century Studios
A new version of The Princess Bride? Turns out that it actually is conceivable.
According to an exclusive by Vanity Fair, several stars have come together to recreate the beloved fantasy adventure comedy The Princess Bride for Quibi, a new streaming service focused on short-form content. Since the film industry is at a stand-still due to a certain ongoing pandemic, the celebrities involved with the loose Princess Bride remake had to make do by filming the scenes from the privacy of their own homes — to hilarious results.
Thanks to a donation from Quibi, the entire project has raised $1 million for the World Central Kitchen, originally founded by philanthropic chef José Andrés after the 2010 earthquake in Haiti, which serves meals to those in any sort of crisis situation. In the wake of COVID-19, World Central Kitchen is helping those who need fresh meals during lockdowns across the world, making it an amazing charity for this group of stars to support.
Filmmaker Jason Reitman, known for movies like Up in the Air and Juno, led the effort to remake The Princess Bride in bite-sized, filmed-at-home segments. As he told Vanity Fair, "The week that the stay-at-home order came through in California, I just woke up one of the first mornings, I think like most people did, feeling as though, 'All right, I need to be able to do something of value.'"
Reitman continued, "I just thought, 'Can we remake an entire movie at home?' And I had seen that a fan-made Star Wars had been done. I just started reaching out to actors I knew, saying, 'Is this something you'd want to do?' And the response was kind of immediate and fast. It was like, 'Oh — that sounds like fun.'"
Who's in Quibi's remake of The Princess Bride?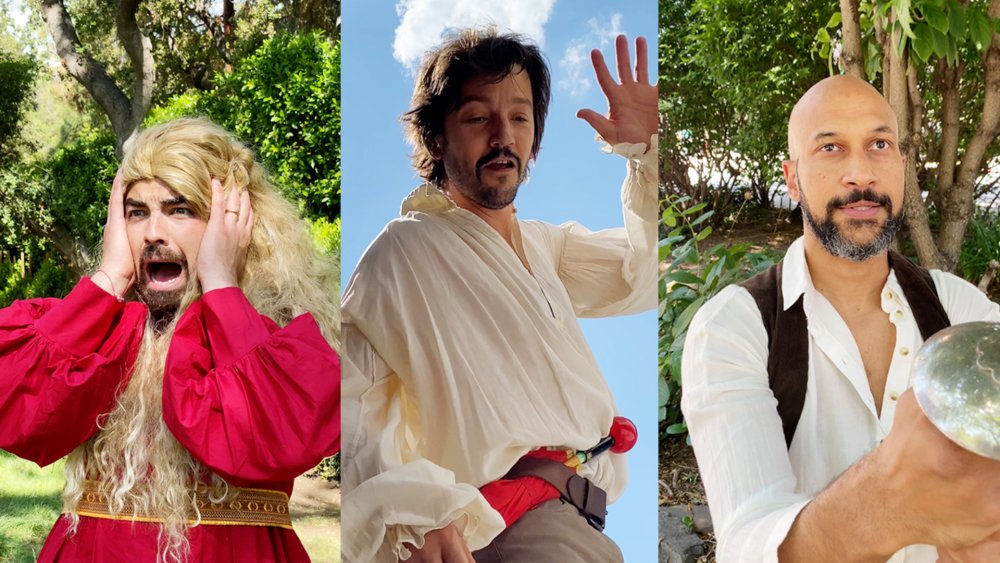 Quibi
It should come as no surprise that plenty of A-list stars lined up to participate in this endearing at-home Princess Bride remake, which recreates many of the film's most famous moments.
Throughout several different installments of the forthcoming Princess Bride remake, multiple actors play the same role, with some pretty huge names involved. At one point, the entire accounting section of The Office's Dunder Mifflin — Oscar Nuñez, Angela Kinsey, and Briam Baumgartner — play Inigo Montoya, Vizzini, and Fezzik, respectively. In other scenes, actors like Patton Oswalt, Rainn Wilson, and Nick Kroll stand in for Vizzini. Plenty of celebs take turns imitating Mandy Patinkin's famous fighter Inigo Montoya — including Star Wars franchise actors Diego Luna and Pedro Pascal, Stranger Things' Finn Wolfhard, and funnyman Nick Kroll. Meanwhile, Dave Bautista and Jason Segel do their best Fezzik impressions.
The rest of the varied cast of Quibi's recreation of The Princess Bride includes Retta as the Mother; Josh Gad and Fred Savage himself as the Grandson; Rob Reiner, J.K. Simmons, and Adam Sandler as the Grandfather; and Tom Lennon, David Oyelowo, and Hugh Jackman as Humperdinck. 
As for the story's central couple, everyone from Tiffany Haddish and Jenna Ortega to Leslie Bibb and Mackenzie Davis to Annabelle Wallis to plays Buttercup, the role originated by Robin Wright. Kaitlyn Dever, Common, Chris Pine, Jon Hamm, Sam Rockwell, and Jack Black all take on Westley — from his days as Buttercup's farm boy to his tenure as the Man in Black. Some real-life couples, like Sophie Turner and Joe Jonas, swapped roles: Turner plays Westley and Jonas portrays Buttercup. Elsewhere, Jennifer Garner plays two roles: Buttercup and the old crone who berates Buttercup for sacrificing true love.
What Quibi's Princess Bride remake has in store
Quibi
Perhaps the best part of this semi-scrapbook-style Princess Bride remake are the small details caused by the stay-at-home orders imposed by the COVID-19 crisis. As Prince Humperdinck, Jackman will don a bathrobe and a dim sum strainer as a crown. Many different household items will stand in for swords — including umbrellas, and, in Black's case, a Star Wars lightsaber. 
At one point, the film will use LEGO toys to reenact the famous scene in which Buttercup and her captors Vizzini, Inigo, and Fezzik scale the Cliffs of Insanity. As for each star's scene partner, social distancing forced the actors to get creative. While some had their spouses or children stand in as other characters, some — namely Segel — used Muppet props to great effect, a clear reference to Segel's 2011 Muppets reboot. Couples like Bibb and Rockwell and Jonas and Turner used their pets in their scenes as well.
Reiner, who appears in the Quibi project and directed the original Princess Bride, is thrilled to see his beloved movie resurface in these troubled times. "What's nice about it is that I made a film that's lasted so long. Now it's over 33 years," he told Vanity Fair. "And the biggest kick I get out of it is that kids who saw it when they were eight or nine years old have kids that age now, and they're seeing it and liking it. It seems to have stood the test of time."
If you're excited for this Princess Bride remake — which is definitely a product of these weird, uncertain times — you won't have to wait long to watch it. The bite-sized installments of the project kick off with the film's opening sequence on Monday, June 29 on Quibi.