Why Patrick From Crossing Swords Sounds So Familiar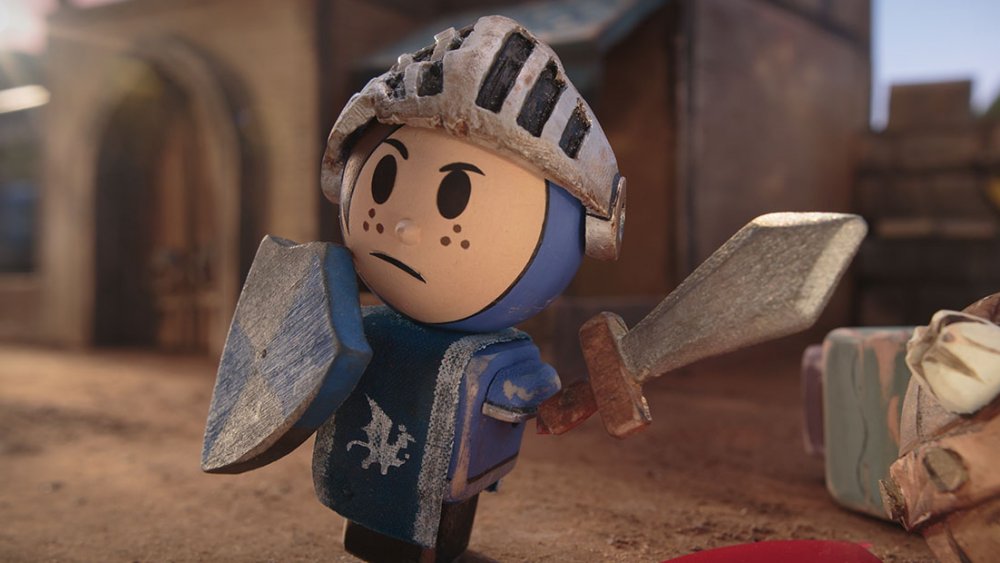 Sony Pictures Television/Hulu
South Park, Family Guy, and Robot Chicken watch out, 'cause there's a new foul-mouth band of animated antagonizers in town, and they're about to get medieval on you all. Ok, Robot Chicken can probably breathe a little easier because Hulu's new adult animation spectacular Crossing Swords was actually created by Robot Chicken gurus John Havartine IV and Tom Root. It even features voice work from their Robot Chicken co-pilot Seth Green, and pretty much follows the template of that infamously raunchy Adult Swim hit to the letter.
Unlike its predecessor, Crossing Swords abandons the anthology-style pop culture collage in favor of a serialized narrative, one about a noble-hearted peasant named Patrick whose dreams of knighthood are sullied when he finds out that his country is run by a bunch of uncaring, over-sexed incompetents. Patrick's tale unfolds with about as much vulgar language and crass humor as you'd expect from the minds behind Robot Chicken, though it likely features a bit more full-frontal nudity than you'd expect, considering the stars of the show are animated peg people. 

Vulgarities are all part of the fun in Crossing Swords, with series creators taking obvious pleasure in pushing the bounds of animated decency. The series benefits from a seriously stacked cast of voice talent including Luke Evans (The Alienist), Adam Pally (The Mindy Project), Alanna Ubach (Euphoria), Tony Hale (Harley Quinn), Alfred Molina (Angie Tribeca), and Natasha Lyonne (Russian Doll).
The voice of series star Patrick should sound more than a little bit familiar, as well. It belongs to Nicholas Hoult. And if you don't recognize that name, you'll almost certainly recognize his voice and face from dozens of big screen appearances over the years. Here's why Patrick from Crossing Swords sounds so familiar.

Nicholas Hoult wore a very serious wig for The Favourite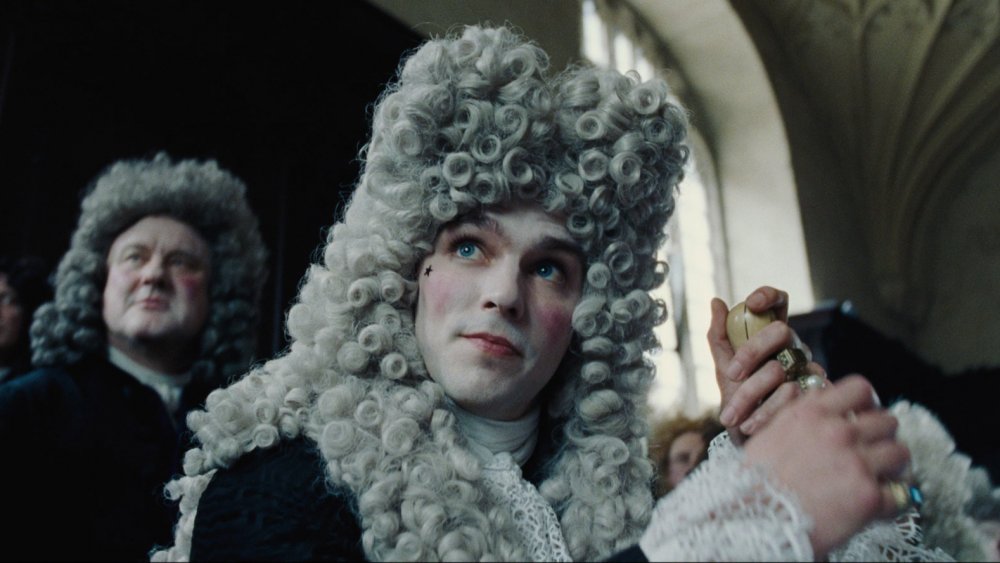 Fox Searchlight Pictures
Whether you realize it or not, Nicholas Hoult has actually been in showbiz for more than 20 years now, and has appeared in some of the last decade's biggest movies. He's also appeared in a number of memorable indies, first among them: 2018's underappreciated dramedy The Favourite. Directed by cinematic provocateur Yorgos Lanthimos, The Favourite finds Olivia Coleman (The Crown) delivering an Oscar-winning performance as the troubled 18th-century English monarch Queen Anne, who essentially allowed her close friend and lover Lady Sarah (Rachel Weisz) to run the country in her stead. This arrangement is thrown into upheaval when a young servant (Emma Stone) arrives and quickly gains the Queen's confidence.
As often happens when the balance of power shifts within a kingdom, power-hungry sharks start to circle, and no shark is quite as power-hungry — or quite as malicious – as the politicking opposition leader Robert Harley. That detestable character is played with noxious glee by Nicholas Hoult, who did so under some of the most fabulous wigs ever seen in the history of cinema.
Nicholas wore some very serious make-up to go full Beast in X-Men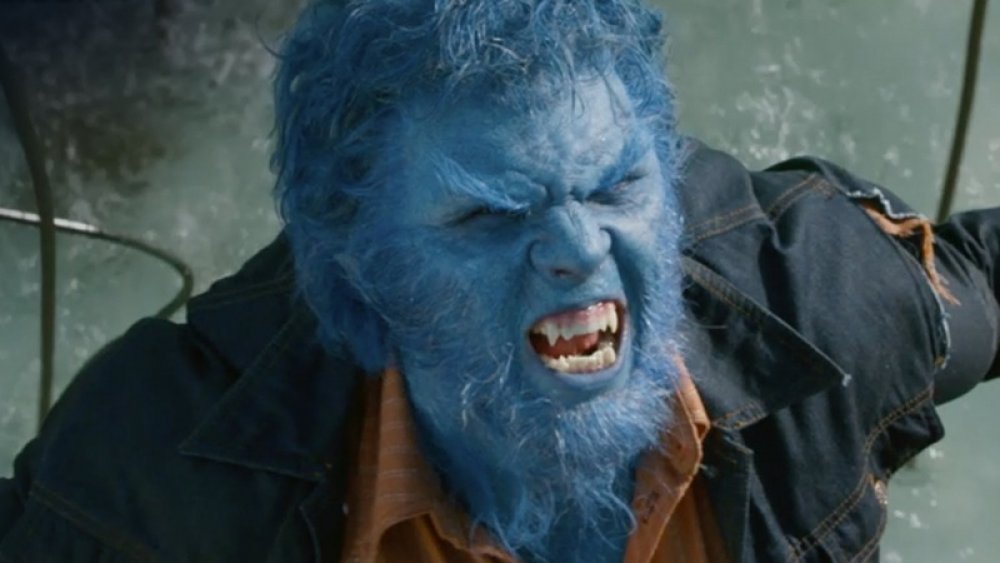 20th Century Fox
Even if provocative indie period dramas aren't your cup of tea, you've probably still seen Hoult's face and heard his voice at the multiplex recently. That's because both were front and center in one of the biggest superhero franchises of the past decade. That franchise is 20th Century Fox's X-Men series, beginning with First Class. If you're wondering which of the super-powered mutants Hoult portrayed in that big screen saga, we'd advise you to look behind the furry blue skin of the one and only Hank McCoy a.k.a. Beast. 
Hoult made his X-Men debut as the beloved, genius mutant with tragically ungainly feet in 2011's franchise reboot X-Men: First Class, joining the likes of James McAvoy (Split), Jennifer Lawrence (Hunger Games), Michael Fassbender (Prometheus) and many more. Since then, he has appeared in every X-Men film including 2014's Days of Future Past, 2016's Apocalypse, and 2019's much-reviled Dark Phoenix. While the quality of those films has been in steady decline since the brilliant Days of Future Past, we can confirm with all certainty that Hoult's work as Beast has continued to hold up — so much so, that we really wouldn't mind if Hoult reprised the role in the inevitable MCU X-Men reboot.

Nicholas Hoult never quite got to Valhalla in Mad Max: Fury Road
Warner Bros. Pictures
While appearing in the X-Men universe has more than raised Nicholas Hoult's profile in Hollywood — and the films undoubtedly rank among his highest-grossing offerings — he has one recent project that was arguably an even bigger cultural landmark. Hoult played a key role in the blockbuster film that critics the world over recently voted as the best movie of the 2010s. That film was George Miller's dazzling, 2015 action extravaganza Mad Max: Fury Road.   
No, Hoult did not appear in the film as Max. That coveted role went to Tom Hardy, who brought the iconic character (originally played by Mel Gibson) back to life for a new generation of cinephiles. Hoult played the drugged-up War Boy-turned-lover boy, Nux, one of Fury Road's most intriguing characters and an important source of the film's lauded pathos. The actor is all but unrecognizable with a shaved head, facial prosthetics, and loads of eye-shadow, so you'd be forgiven if you misidentified him. 
What truly sets Fury Road apart from other spectacle-driven big-screen treats is the staggering amount of world-building and surprisingly character-driven narrative Miller brought to the mix, with Charlize Theron's Furiosa instantly becoming one of the directors' most beloved creations. Hoult's Nux is likely right behind the renegade imperator in the pecking order of fan favorites, which isn't a bad place to be.
Nicholas Hoult killed us softly with his song in About A Boy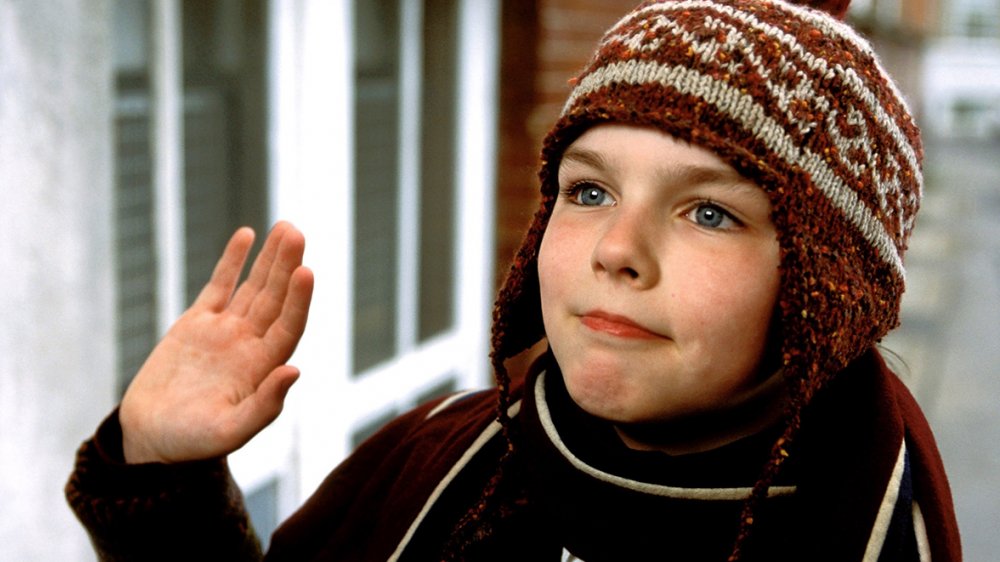 Universal Pictures
One of Hoult's earliest roles came in this heartwarming comedy from the early 2000s — the Hugh Grant-starring charmer About A Boy. And yes, that really was a baby-faced Nicholas Hoult starring as the adorably awkward pre-teen Marcus.
If you've never seen About A Boy (or read the Nick Hornby book on which it's based), the film follows a tragically shallow man (Grant) whose empty existence is upended when he meets a kind-hearted youngster whose chronically depressed mother (Toni Collette) has recently attempted suicide. 
That synopsis makes the film sound a bit dramatic for a comedy, and compared to typical big screen laughers, About A Boy is heavier than most; it's also a clever, heart-rending little character study with charm and wit to burn. The film is largely held together by the endearing work of Hugh Grant (in one of his best roles) and the disarming earnestness of young Nicholas Hoult. Fair warning: grab the tissue box before Hoult's rendition of Roberta Flack's "Killing Me Softly With His Song" in the film's final moments.