Why Nate From The Wrong Missy Looks So Familiar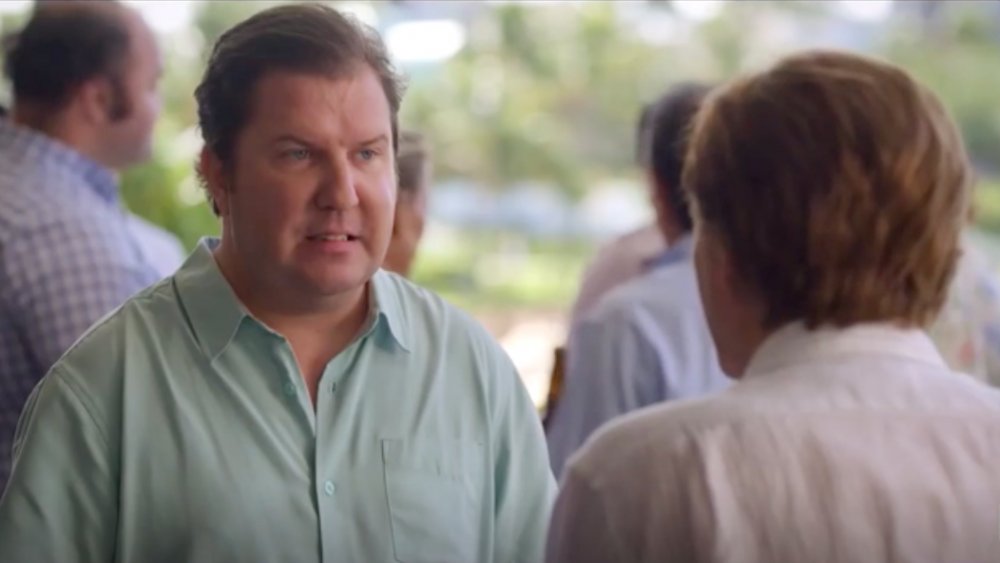 Have you ever been on a bad first date that ended with you hoping you'd never, ever see that person again? Now, imagine if you accidentally invited said person on a Hawaiian retreat with you. That's exactly what happens in Netflix's new romantic comedy The Wrong Missy, in which David Spade and Lauren Lapkus (Orange Is the New Black, Jurassic World) play an amusingly mismatched pairing.
When lonely office worker Tim meets the woman of his dreams (Molly Sims) in an accidental encounter, he goes out on a limb and texts her an invitation to join him on a romantic company retreat ... only to find out too late that he sent it to the wrong number, leaving him stuck with a woman from a nightmare blind date he went on a few weeks earlier. The mix-up leads him down a hilarious path of awkward moments, self-discovery, and, maybe, even love.
While Spade and Lapkus offer the bulk of laughs, one of the movie's hidden gems comes in the form of Tim's obnoxiously funny co-worker, Nate, who always seems to say all the right things at exactly the wrong time. Enter comedian Nick Swardson.
While Swardson's name may not instantly ring a bell, you most definitely know his face. With numerous high-profile films, a cult classic TV show, and plenty of stand-up under his belt, here's why Nate from The Wrong Missy looks so familiar.
Nick Swardson is a Happy Madison regular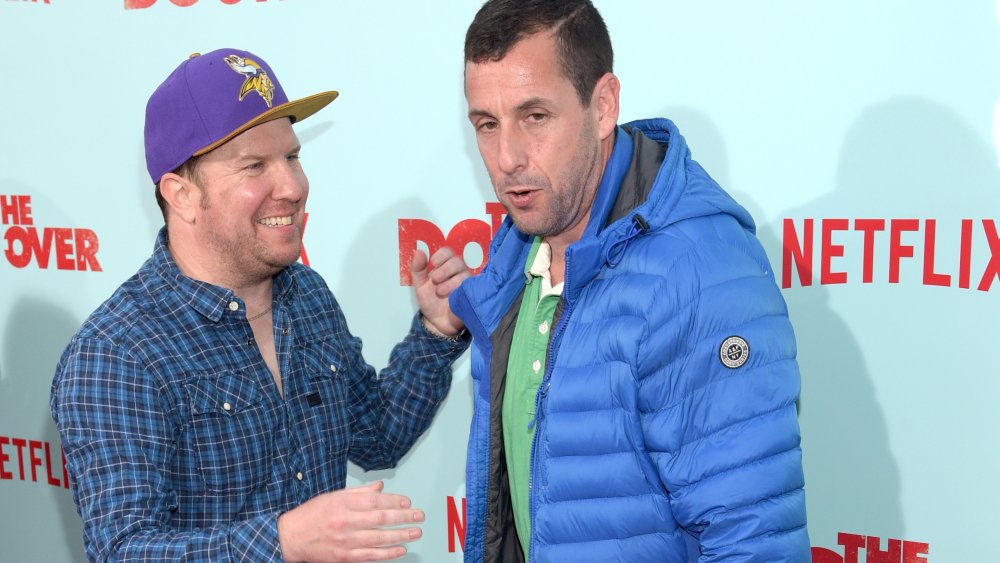 Jason Kempin/Getty Images
The main reason you know Swardson is from his work in Happy Madison movies. The Adam Sandler-owned production company has dozens of films in its roster, and Swardson has been in almost 20 of them – yes, 20, including The Wrong Missy.
Swardson first appeared in 2006's Happy Madison production Grandma's Boy as a socially awkward friend after Sandler saw him in a stand-up comedy special and reached out to him about collaborating. The two quickly hit it off, with Swardson co-writing, co-producing, and co-starring in Grandma's Boy, and the parts in Happy Madison films kept rolling in, often as the funny sidekick.
While Swardson's Happy Madison roles aren't always big, they're usually memorable, like his character in The Benchwarmers, an agoraphobic who lives in a closet and is afraid of the sun. There's also the goofy cousin in Just Go With It who pretends to be "Dolph Lundgren" as part of a dating scheme. Outside of Sandler-centric productions, Swardson has appeared in Blades of Glory and 30 Minutes or Less, among others.
Swardson's résumé includes several other small roles in Happy Madison films, such as Click and I Now Pronounce You Chuck and Larry, but he graduated to leading man in Bucky Larson: Born to Be a Star, about a not-so-well-endowed guy trying to make it as porn star. Unfortunately, the film was a flop and critically panned, and Swardson went back to sidekick status.
He has since appeared alongside Sandler in such Happy Madison productions as Jack and Jill, That's My Boy, The Ridiculous 6, and Sandy Wexler, proving the pair shows no signs of slowing down.
Nick Swardson appeared on Reno 911!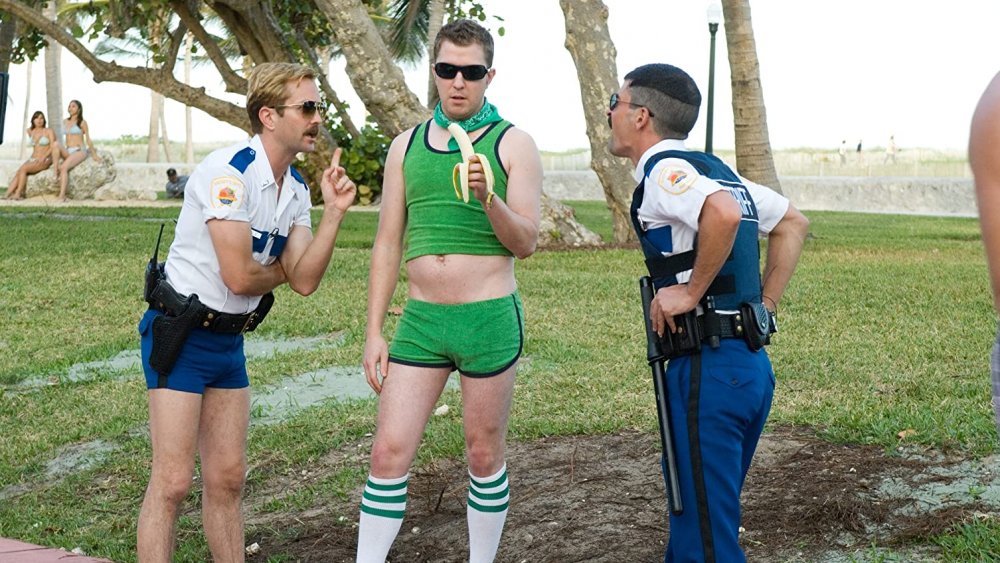 As the recurring character Terry Bernadino on Reno 911!, Swardson plays a flamboyant gigolo who has run-ins with the law, often wearing hot pants, crop tops, and roller skates. Some of his best skits include seductively eating a banana on the sidewalk, stealing a cop car while high on coke, and running — or, actually, skating — from police after being questioned about a report of indecent exposure at the local Piggly Wiggly.
The original Reno 911!, which ran on Comedy Central from 2003 to 2009, is a mockumentary-style parody of the live-action law enforcement show Cops. It features incompetent police officers from the fictitious "Reno Sheriff's Department" and politically incorrect humor, often pushing the boundaries of what's socially acceptable. In addition to the main cast, which includes Thomas Lennon, Robert Ben Garant, and Wendi McLendon-Covey, there's a revolving door of guest stars playing perps, eccentric locals, and everything in between.
In 2007, the series crossed over into film with Reno 911!: Miami, in which Swardson once again appeared as Terry. And 2020 saw a revival of the series on the newly-launched streaming platform Quibi. 
Nick Swardson is a stand-up comedy pro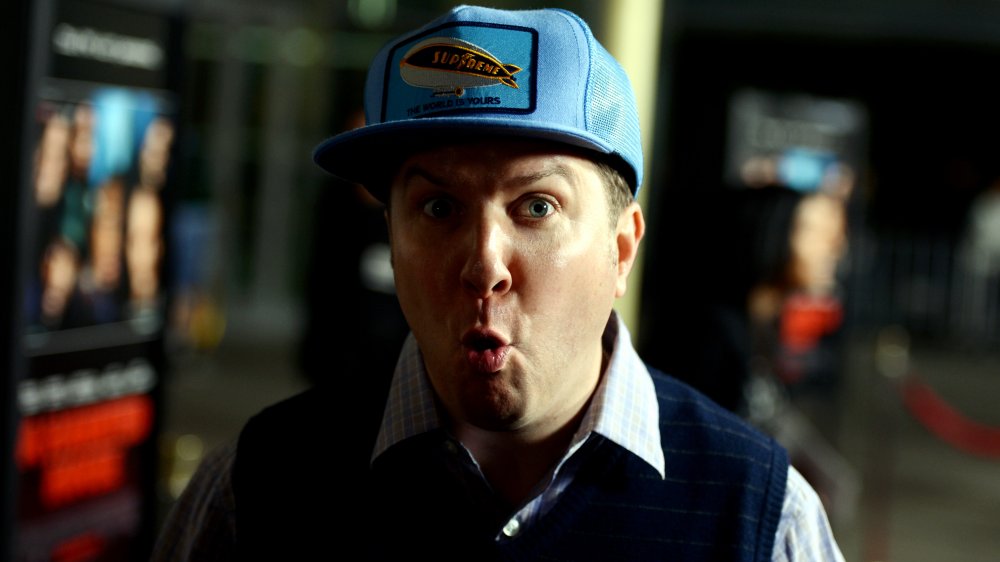 Kevin Winter/Getty Images
Swardson began acting and performing improv comedy in his teens around his hometown of Minneapolis, skipping college in order to pursue his dream of becoming a comedian. He started at local open mic nights, and quickly gained attention for his occasionally lewd humor.
After moving to Los Angeles, Swardson appeared on his first Comedy Central Presents half-hour special in 2001, at the age of 25. He went on to appear as a guest on The Tonight Show With Jay Leno, Late Night With Conan O'Brien, and Jimmy Kimmel Live. It was during this time that he caught Sandler's attention.
Swardson has had two headlining Comedy Central stand-up specials: 2009's Nick Swardson: Seriously, Who Farted? and 2015's Nick Swardson: Taste It. And he starred in his own sketch comedy series, Nick Swardson's Pretend Time, for two seasons, starting in 2010. The show was produced by Happy Madison and featured a mix of live stand-up and taped sketches.
In 2016, Swardson teamed up with Sandler and fellow Happy Madison stalwarts David Spade and Rob Schneider for the Netflix Presents: Here Comes the Funny stand-up comedy tour.
Nick Swardson has guest-starred on popular TV shows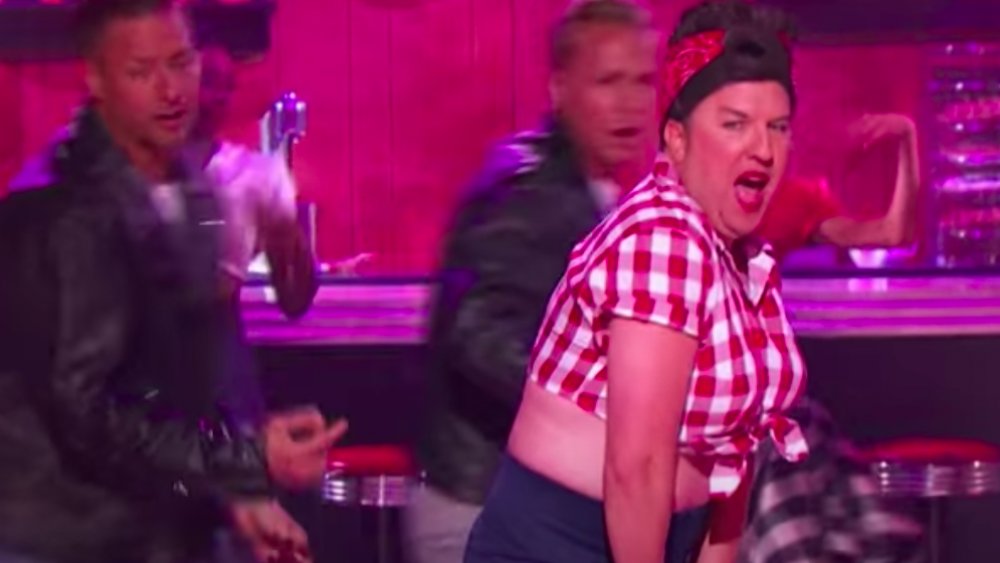 In addition to Reno 911! and Pretend Time, Swardson has appeared on several other popular TV shows over the course of his 20-year career.
In 2014, Swardson appeared in an episode of Portlandia, the kooky IFC sketch comedy show starring Fred Armisen and Carrie Brownstein, as one-half of a slovenly, "disappointing gay" couple.
The following year, Swardson was seen on the hit ABC comedy The Goldbergs as a shady underground toy dealer from whom the matriarch of the show (McLendon-Covey) tries to buy a must-have '80s toy for her kids.
Perhaps his most memorable TV appearance, however, was on Paramount's Lip Sync Battle, where he turned his improv and stand-up skills into a hilarious performance of Elle King's "Ex's and Oh's," complete with a 1950s pinup girl outfit.
Swardson also starred in Comedy Central's Typical Rick, and has done significant voice-over work for such series as Chozen, TripTank, and Star vs. the Forces of Evil.
So, yes, you may not know Nick Swardson's name right off the bat, but chances are you've seen him in something — and he's made you laugh.