Jamie Foxx Is Getting Seriously Ripped To Play Mike Tyson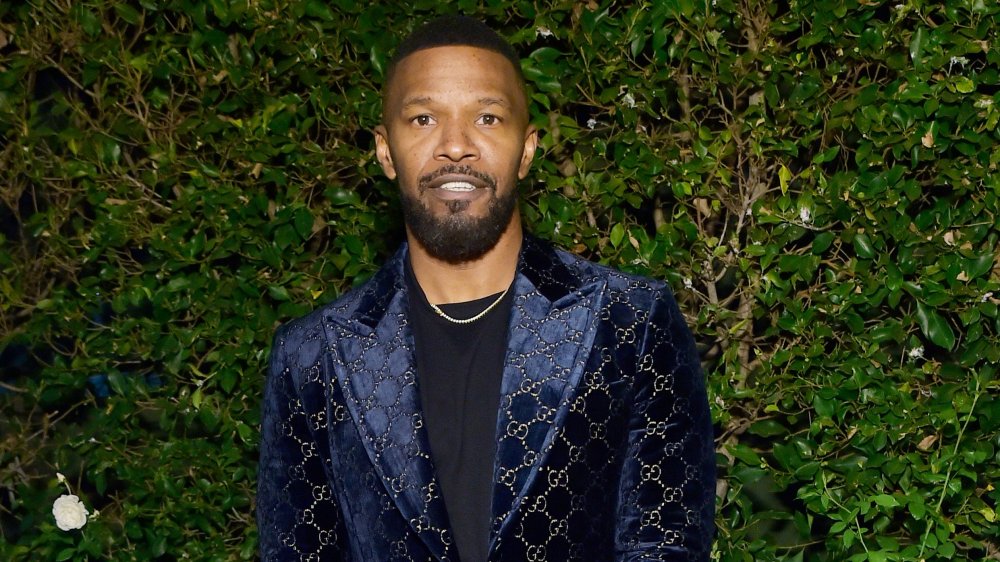 Stephanie Keenan/Getty Images
Jamie Foxx's long-gestating Mike Tyson biopic is finally moving forward, and the star is already getting into fighting shape to play the controversial former heavyweight champ.
Foxx has been trying to get his Tyson-centric biopic, Finding Mike, before cameras for years now, and per an appearance on Mark Birnbaum's Instagram Live series Catching Up, it seems the project has officially been given the green light. So certain is Foxx that the film is really going to happen, he's begun transforming his body to closer match Mike Tyson's intimidating physicality. Turns out, Foxx's physical transformation is further along than we might've expected, as seen in a series of photos the actor recently posted to his Instagram account. 
Though Foxx was hardly out of shape before he began his training regimen, those Insta pics clearly show a dramatic transformation in the actor's upper body — he noted in the caption that he's started off with "a regiment of pull-ups dips and push-ups" – and signal he may prove as imposing a figure in the ring as Tyson himself once did. Foxx went on to tease in the caption that Finding Mike will explore the life of the enigmatic Tyson in enlightening ways. "I think when we lay the layers on Mike Tyson in this story," wrote Foxx. "I think everybody from young and old will be able to understand this man's journey."
That journey found the hard-hitting Tyson on a meteoric rise to boxing superstardom in the late '80s and early '90s, when he held multiple heavyweight titles for several years before relinquishing them in a shocking 1990 loss to James "Buster" Douglas. That sent Tyson's career and personal life into a very public tail-spin that eventually found him spending three years in prison on a sexual assault conviction. 
His life since has also been marked by dramatic ups and downs that should make for equally compelling drama. If Foxx's physical transformation is any indication, the actor is out to ensure Tyson's tale is told with as much authenticity as possible. 
Finding Mike is hardly Jamie Foxx's first biopic, or his first turn in the boxing ring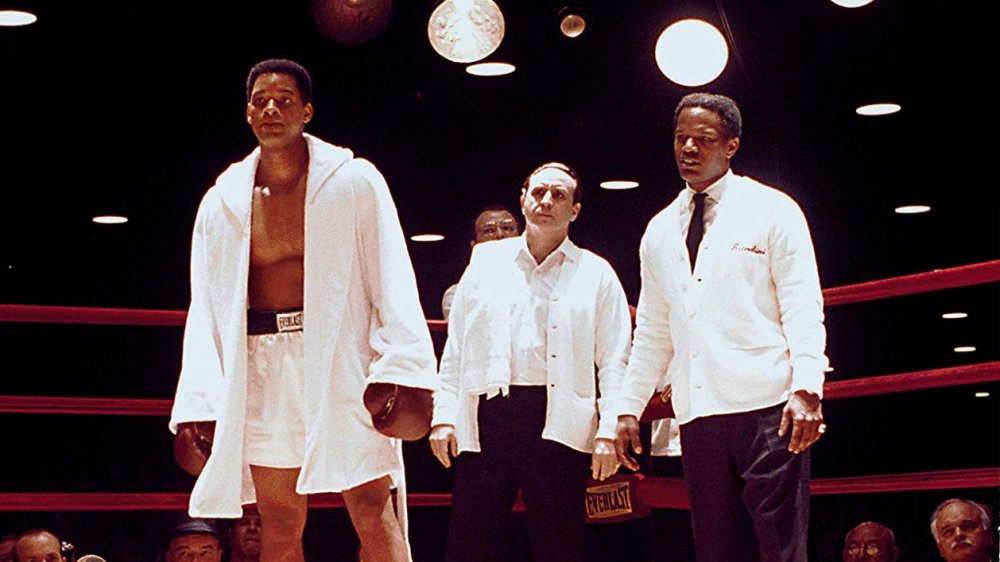 Columbia Pictures
Even if you're not familiar with Tyson's wild life story, seeing a fully-ripped Foxx dancing around the ring in "Iron Mike" mode should easily land the flick on your must-see list. That's especially true as Foxx has so far shown a dynamic ability to bring the stories of real-life characters to life on screen. 
Foxx is probably best known for winning the 2005 Academy Award for Best Actor for his stunning turn as Ray Charles in the musical biopic Ray. He also portrayed troubled cello prodigy Nathaniel Ayers opposite Robert Downey Jr. in the 2009 drama The Soloist. Foxx most recently delivered a show-stopping turn in 2019's Just Mercy, in which he portrayed Walter McMillian, a wrongfully convicted Black man who spent several years on Alabama's death row before eventually having his conviction overturned.
As it happens, Foxx's penchant for portraying real-world individuals actually landed him in the boxing ring almost two decades ago. That role came in Michael Mann's underrated biopic Ali. The film didn't find Foxx throwing a single punch in the ring — it put him opposite Will Smith's Muhammad Ali as famed trainer Drew "Bundini" Brown.
Five years prior, Foxx had made another memorable appearance in a very different sort of boxing flick, one that wickedly satirized the boxing world without featuring any real-world characters. That film was The Great White Hype, and found Foxx sharing scenes with the likes of Samuel L. Jackson, Jeff Goldblum, and Cheech Marin in a biting, racially-fueled ringside romp for the ages. 
Finding Mike will no doubt take a far more serious approach to the boxer's battles both in and out of the ring, of course. We already know Fox can handle the weight of the drama, but we're genuinely intrigued to see what else he'll bring to his role as Mike Tyson.