The Pineapple Express Sequel You'll Probably Never Get To See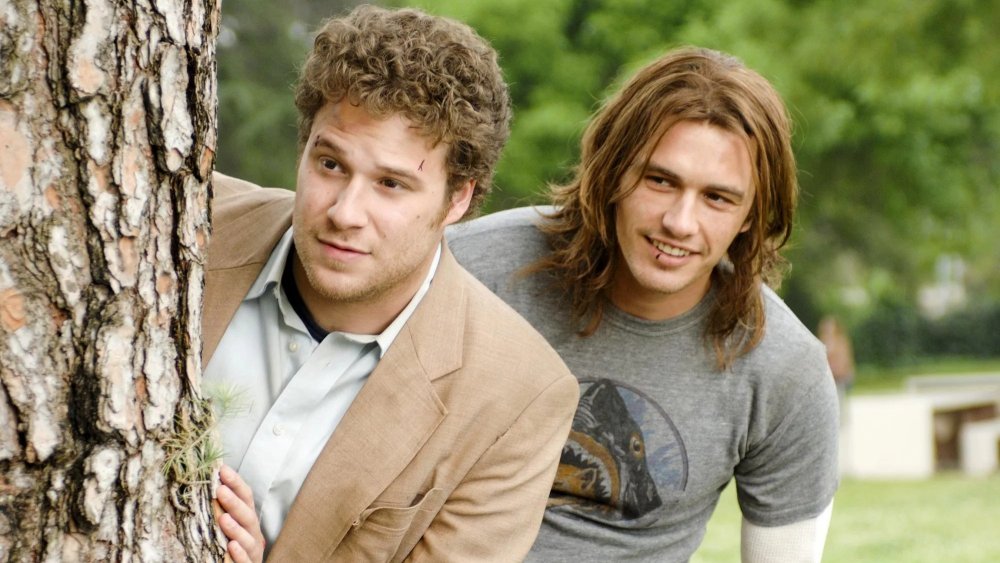 Sony Pictures
Fans of stoner comedies may want to fire one up in honor of what could have been an immortal classic: the lost sequel to Pineapple Express.
We never did get a follow-up to the hilarious 2008 action comedy, which helped make a household name out of Seth Rogen and served as a showcase for the easy comedic chemistry between him and his co-star, James Franco. As it turns out, though, the story for a sequel has been floating around through the intervening years inside the head of one of the flick's producers, the legendary Judd Apatow.
A bit of background: in a lot of ways, Pineapple Express was a bit of a throwback. It sends its two main characters, laid back process server Dale (Rogen) and his weed dealer buddy Saul (Franco) on the run, after Dale witnesses one of his customers committing a murder with the help of a crooked cop. Dale, however, leaves behind a clue: a roach containing a bit of the titular rare strain of weed, one that the baddies instantly connect to Saul.
The back half of the flick is filled with almost as much action as weed smoke, recalling the increasingly complicated and ridiculous events of such stoner classics as Cheech and Chong's Up in Smoke and Friday. The ending of the movie didn't exactly beg for a sequel — but while stoner comedies don't typically do dynamite box office, Pineapple Express performed respectably, raking in just over $100 million globally on a modest $27 million budget.
One would think that studio Sony, which produced the picture through its Columbia imprint, would have been psyched to get a sequel in the pipeline — especially with Apatow having come up with a pretty killer idea for one. This, however, does not appear to be the case.

What is Judd Apatow's big idea for Pineapple Express 2?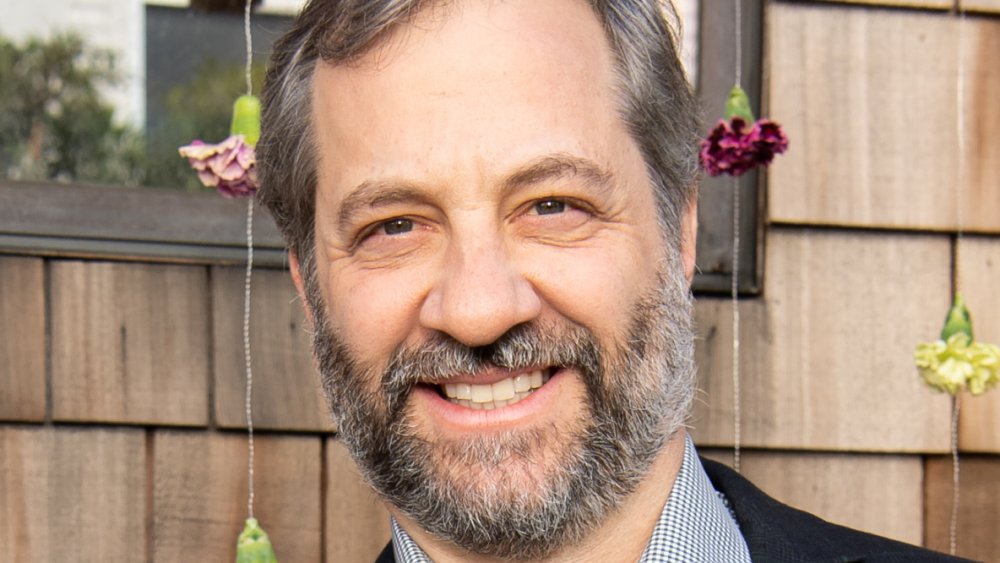 Emma Mcintyre/Getty Images
Apatow dropped this bomb during a recent discussion with LADBible, revealing that he's been trying to grease the wheels to get Pineapple Express 2 made for quite some time now. "I fought so hard to make a sequel to Pineapple Express for many years. I was a big proponent of it and I never could get it to fall together," he said. "I have an amazing idea for it and it deserves to happen, but I don't know if it will."
One could make the case that, with weed having been legal for recreational use in California since 2016, the time for a sequel to a movie with a dealer for a main character has come and gone. Apatow, though, explained that his idea for Pineapple Express 2 is specifically centered on that development.
"There was so much happening with the legalization of marijuana in California and we thought there was a funny story about how they would deal with it," he said. "The pot dealer community having to handle the fact that suddenly it was legal."
Yep, we're picking up what Apatow is putting down; we would love to see how Franco's Saul deals with this brave new world in which even the most kickass strains of the green stuff can be picked up with little hassle at your neighborhood dispensary. As to whether the producer thinks a sequel is an actual possibility, though, all he would say is, "My phone isn't ringing, let me say that, but I want to do it."
Seth Rogen has been talking about Pineapple Express 2 for years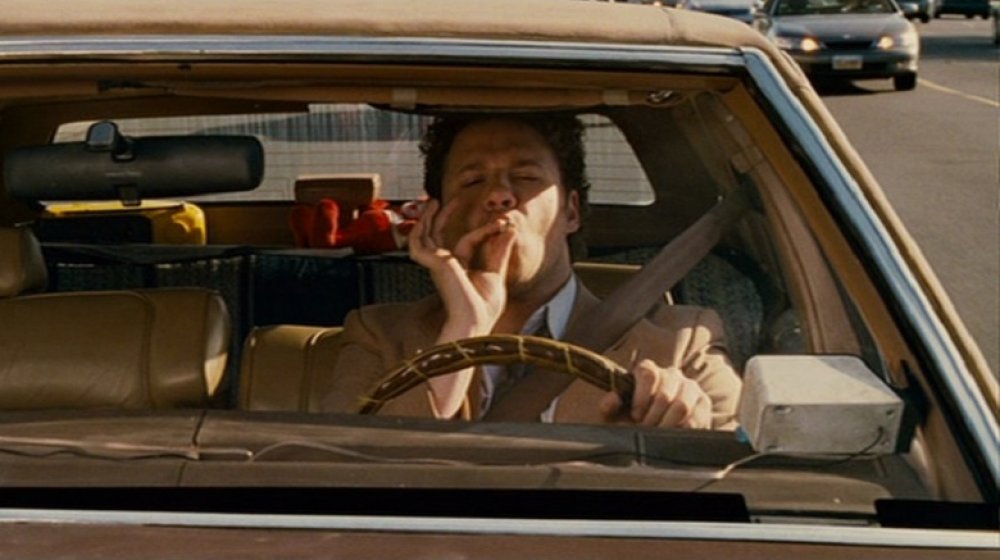 Sony Pictures
That doesn't sound all too promising, and unfortunately, Rogen has been whistling this same tune for years. Way back in November 2015, the star took part in a Twitter Q&A during which a fan asked about the possibility of a sequel to Pineapple Express. Rogen responded with the obligatory "I hope there will be one day," before making reference to an incident which was huge news in the entertainment world at the time — the infamous Sony Pictures hack.
As you may recall, in late 2014, a hacker group spilled a metric ton of info that the studio decidedly did not want going public. Strangely, the hackers only released the info after Sony failed to comply with their demand: pulling the release of The Interview, the controversial comedy about a failed plot to assassinate North Korea's Kim Jong-un, which also happened to star Rogen and Franco.
During his Q&A, Rogen said, "I think in the Sony hack, you can literally read the email where one of the executives decides not to make [Pineapple Express 2] — I know I did. So yeah, that's a fun little behind-the-scenes glimpse of why there's no Pineapple Express 2 right now" (via Entertainment Weekly).
This is mostly accurate. According to The Hollywood Reporter, the hack revealed that all systems were go for the sequel for a hot minute — until then-Sony Pictures co-chair Amy Pascal and executive Doug Belgrad balked at Apatow's proposed $50 million budget. Apparently, the brass were willing to spend not a penny more than $45 million — a difference that the two sides were never able to iron out.
Pascal and Belgrad have since departed Sony to found their own production companies, and Apatow has also moved on, creating the hit TV series Love and writing, producing, and directing the upcoming feature The King of Staten Island. The more time that goes by, the less likely it is that we'll ever get to partake of another round of Pineapple Express — and that's a pretty big bummer, dude.