Is The Eric Andre Show On Netflix, Hulu, HBO Or Prime?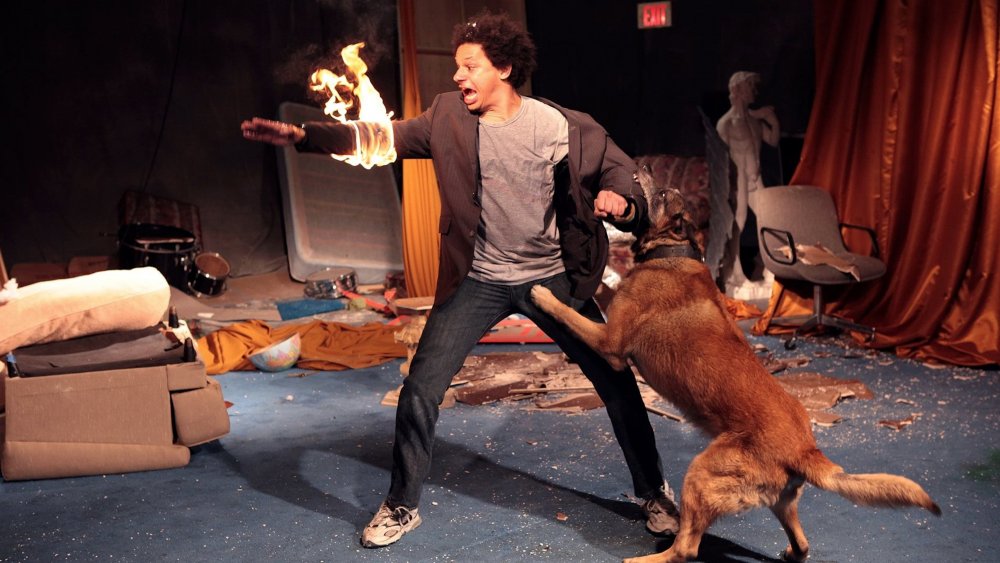 Adult Swim/Cartoon Network
Over the course of the last eight years, funnyman Eric Andre has made it his personal mission to set fire to the world of late-night talk shows via his Adult Swim series The Eric Andre Show. In doing so, he frequently sets fire to himself, the set of his series, occasionally his co-host Hannibal Buress, and pretty much anything else in sight. And even when Andre isn't actually setting things on fire, he's still pulling some seriously wicked burns on his unsuspecting celebrity guests (which have included Jack Black, Jimmy Kimmel, Krysten Ritter, a few hilarious impersonators, an infamous appearance from fashionista Lauren Conrad, and many more). 
The series has aired all of its 42 episodes on Cartoon Network's late-night Adult Swim block, which means Andre and company have essentially been given carte-blanche in terms of not just pushing, but wholly obliterating the boundaries of decency in their pursuit of comedic anarchy. And anarchy is exactly what viewers can expect from one moment to the next, with Andre and Buress testing the mettle of any and every guest who's ever turned up on their set.
As much as we'd like to tease a few of Andre's most over-the-top moments on The Eric Andre Show, there really aren't words to fully convey the gut-busting, desk-smashing insanity that unfolds literally by the second on the show. The only way to fully understand the comedic genius at work is to watch a few episodes for yourself. If you want to start your Eric Andre Show education from the very beginning, you're gonna have to track the show down in streaming land, of course. 
Fans of The Eric Andre Show can stream the series on a couple of platforms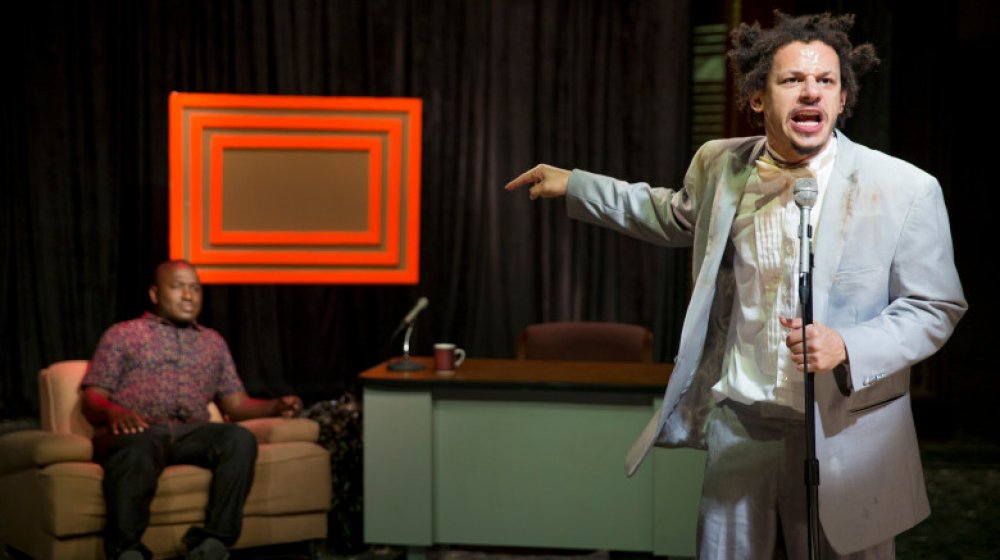 Adult Swim/Cartoon Network
You can get your Eric Andre Show fix on Amazon Prime Video. Unfortunately, the series is currently not included in Prime's streaming package, so it'll cost you about $2 per episode (or $15 per season) to jump down the gonzo rabbit hole that is The Eric Andre Show. Likewise, those who seek the show on iTunes will need to pony up $3 per episode (or $20 per season).
With four seasons and 42 episodes under its belt (and more on the way this year), that could obviously make purchasing The Eric Andre Show a little cost prohibitive for some. The good news is there are a couple of options to binge the series on a streaming platform you might already be paying for. All four seasons of The Eric Andre Show are currently available in their entirety via Hulu. So if you're ready for a good laugh (or a good fake cry) or you're just looking to cringe to your twisted heart's content, you can do all that and more by finding The Eric Andre Show on Hulu.
Of course, you can always hit up Cartoon Network via your cable provider and catch Eric Andre's particular brand of crazy whenever reruns air on Adult Swim. If you're among the growing set of viewers who've cut the cable cord and gone full-streaming, it's possible you've done so by adding YouTube TV and its live-television features to your streaming slate. If that's the case, you've got access to Cartoon Network via that service; which means you can now catch The Eric Andre Show whenever it's airing there as well.
But before you begin that binge, understand that, while The Eric Andre Show is all but guaranteed to make you laugh until you cry, the reality-twisting show is essentially designed to test the mettle of its viewers as much as its guests. Don't say we didn't warn you.