Doctor Who's Eleventh Doctor Could Have Looked Much Different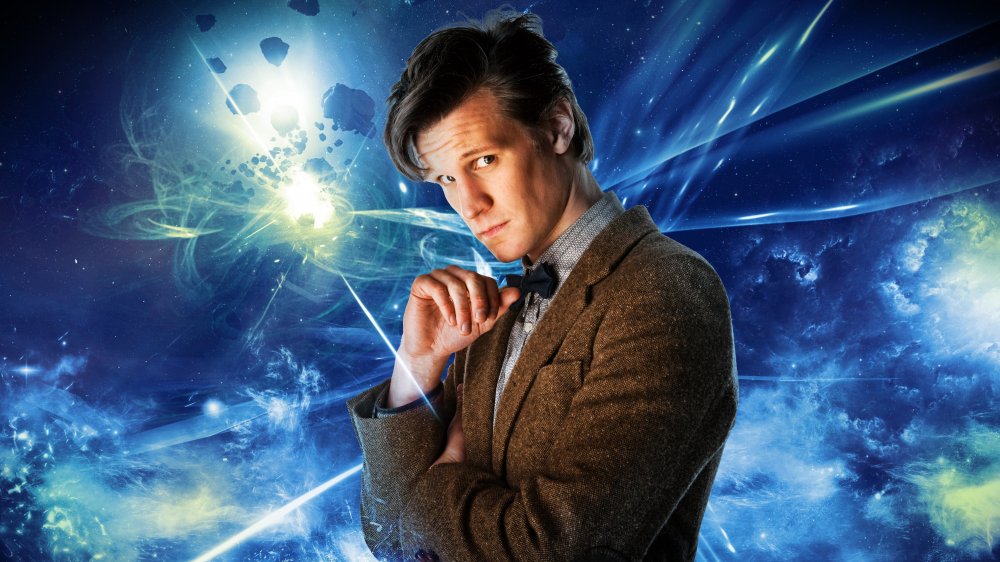 BBC
Just about any Doctor Who fan will tell you that, outside of a casting announcement, one of the most exciting parts of a Doctor's regeneration is their wardrobe.
In general, regeneration isn't an easy process. Former Doctor Who showrunner Steven Moffat explained to the Radio Times that, while the act does prolong the Gallifreyan's life, it's a painful transformation that requires both physical and emotional sacrifice. Speaking to the Doctor's twelfth incarnation, played by Peter Capaldi, Moffat said the alien gets "frightened and horrified that yet again he has to do this ghastly thing where he won't know what he looks like, won't know how he sounds, what'll he'll end up with."
Still, every ending is a beginning, and within that metamorphosis is another chance to be not just different, but distinct. To help with that, the Doctor gets an entirely new look that not only serves as a first impression for fans, but also as an essential way to set the tone for a new run. According to series costume designer Ray Holman, because the wardrobe so defines a Doctor, the Time Lord's new threads are heavily influenced by the actor playing them. Holman was behind the wardrobe design for Capaldi and the Doctor's most recent incarnation played by Jodi Whittaker, as well as one of the titular character's most beloved regenerations: Matt Smith's Eleventh Doctor. 
Several photos of the star's costume fittings have emerged, revealing how Smith's famous tweed jacket and bowtie look almost wasn't. Flannel, peacoats, suspenders, and suit vests abound, with one completed look seeing Smith take on a more Sherlock-ian aesthetic, while another feels like a tribute to pirate-inspired fashion. Ultimately, the images offer a glimpse of how different the Eleventh Doctor could have been. 
Fans had mixed feelings about Matt Smith's other Who looks
Several of the possibilities for Smith's Doctor garnered approval among fans, with Redditors noting their favorites among the showcased outfits. Still, for others, the options confirmed that what Doctor Who settled on for the Eleventh regeneration was the right way to go. "It looks good for a regular guy, but it's not nearly quirky enough for the Doctor," one Redditor said of a darker, layered look. Another fan called out an unmemorable outfit. "... A little too matchy and well-fitting for the Doctor," u/wirthmore explained. "The Doctor's wardrobe should make him look like a person 'out of place, out of time' by missing or mismatching elements."
Smith's ultimate look became well-loved and is one that Holman said came entirely from the actor. "There's a lot of pressure dressing this 2,000-year-old alien, but my secret to designing a new Doctor is dressing the actor appropriately — doing the right thing for that person," Holman told the Radio Times. "It's never about my ego — the actor always has a huge say on what direction to take." 
As fans noted, the entire ensemble makes a statement about who the Doctor is, but in Smith's case, the most distinctive wardrobe element of his turn as Doctor Who was a straightforward accessory. It was also something for which The Crown and Morbius actor said he had to fight, as Moffat initially rejected the idea. 
Math Smith played a major role in deciding the look of the Eleventh Doctor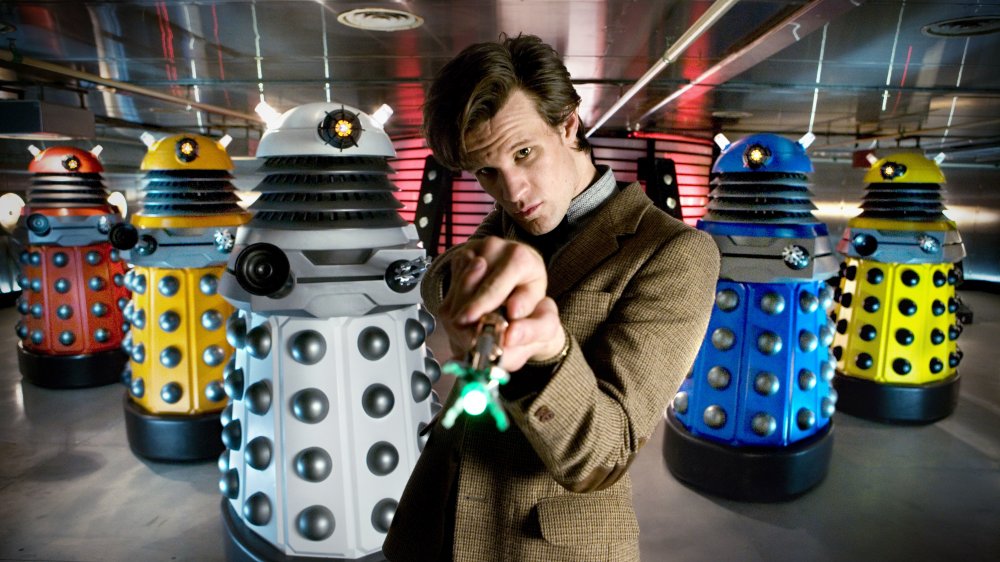 BBC
Holman told Radio Times that the actors playing the Doctor "have the final say," in what their regeneration dons. In that spirit, fans have Smith to thank for his Doctor proudly sporting a bowtie — a fashion element for which the Eleventh Doctor is most often remembered. 
While speaking at a Fan Expo event in Toronto, Smith recalled his various fittings, and the moment he realized something about his wardrobe was missing (via Space). When he broached adding a bowtie, Moffat initially waved it off, telling the English actor he couldn't wear it. "I tried so many costumes on and at first, he was quite pirate-y — he was in stripes and like a long coat and he looked a bit like Johnny Depp in Pirates of the Caribbean," Smith said. "Once we got the whole costume on, it felt like something was missing, and I was like, 'Can I try a bow tie on?' and Steven Moffat was like 'No, you can't wear a bow tie,' but I tried it on and suddenly it sort of lifted the whole outfit."
But the bowtie wasn't the only part of the Doctor's look into which Smith stumbled. His first meeting for the series, during which he wore a "tweed blazer," inspired the Time Lord's tweed jacket for the series. Smith told his Fan Expo panel crowd that the decision to add it to his Doctor's closet was based on the character's age and a personal desire to make him "feel kind of professional." While it may have pleased both fans and Smith in the end, the actor shared that going with the tweed had drawbacks. 
"I had a tweed blazer which I loved and which, obviously, I can never wear again," he said. "I was really annoyed at the time because I thought I looked really cool in it."