The Ending Of Control Z Explained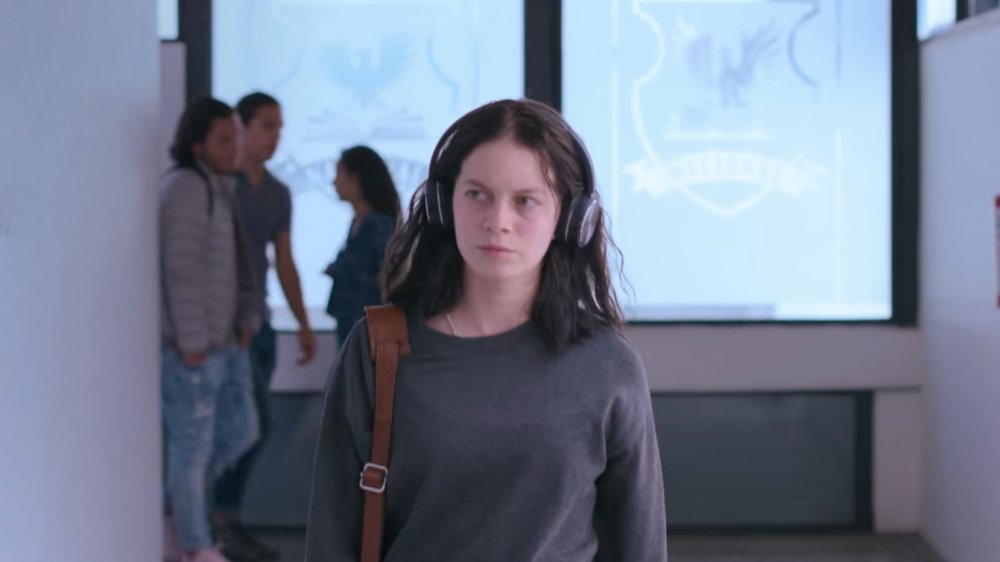 Netflix
Netflix likes to give its viewers what they want, and what they want is salacious teen dramas. In May, the streaming service dropped a new one: Control Z, a Netflix original series from Mexico that combines the mysterious nature of Riverdale with the intense social commentary of 13 Reasons Why.
The show follows students at an elite high school in Mexico City that is being disrupted by a hacker who keeps leaking students' secrets. We follow Sofía (Ana Valeria Becerril), a loner dealing with the death of her father who is in a unique position to observe her fellow students and put together clues to the hacker's identity. She teams up with the new kid at school, Javier (Michael Ronda), and one of the hacker's victims, Raúl (Yankel Stevan), to figure out who is snitching and why. Of course, neither of Sofía's allies turns out to be exactly who they say they are, and we come to learn that Sofía has some secrets of her own.
Who is the hacker? Why are they hell-bent on ruining the lives of their fellow students? And what cliffhangers did the show leave us on going into season 2? We're getting into it all as we explain the ending of Control Z season 1.
The identity of the Control Z hacker is revealed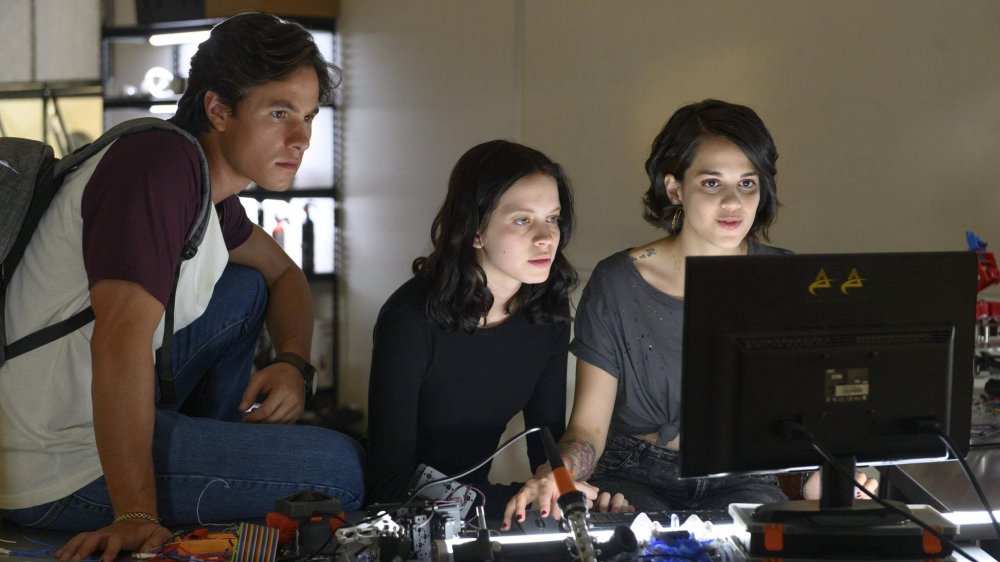 Netflix
Midway through the season, Sofía is kidnapped by the masked hacker. She manages to escape, and picks up a few vital clues along the way. Not only does she discover that IT guy Bruno (Mauro Sánchez Navarro) has been assisting the hacker in his schemes, but she also finds a sticker from Javier's backpack in the hacker's lair. Later, she finds a bracelet that she lost during her kidnapping in Javier's locker.
Sofía also learns exactly why Javier transferred schools in the first place. At his old school, Javier was the captain of the soccer team, which involved him hazing new recruits. During one incident, a student jumped from a high ledge, intending to land in a pool. Instead, they hit the ground and died.
After these revelations, Sofía is convinced that Javier is the hacker. She resolves the love triangle that has been developing between her and her two fellow sleuths by sleeping with Raúl. When she does so, however, she finds the mask the hacker has been wearing in his videos under Raúl's bed, revealing the big twist that he was the hacker the whole time.
We find out why Raúl leaked his classmates' secrets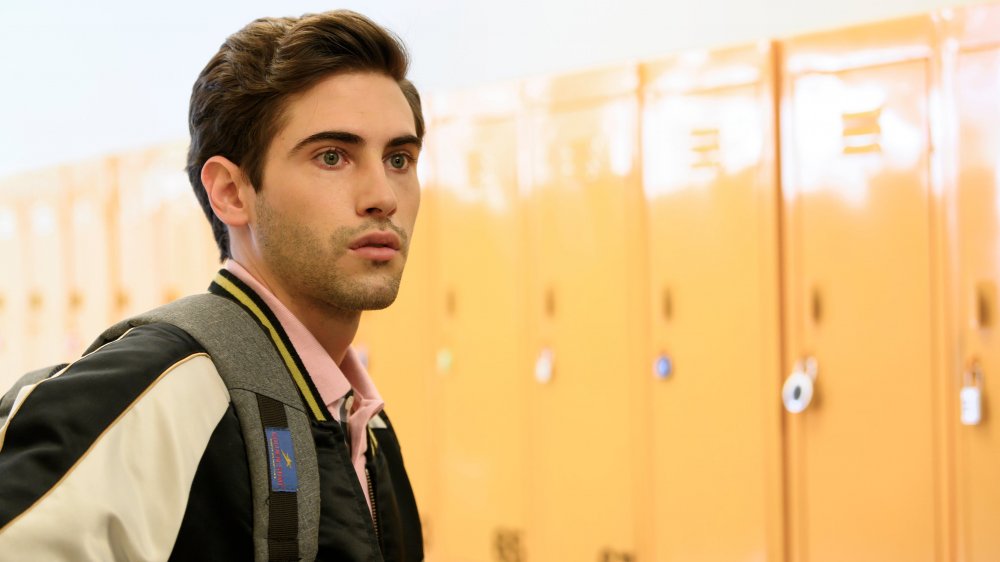 Netflix
With Raúl unmasked, we are now left with one question: Why? In a flashback episode, we see exactly what led to the character exposing the intimate details of his classmates' secret lives. While at a party, his friends — the fellow popular and rich kids who had their secrets leaked — take pictures with the valuable possessions that Raúl's father acquired thanks to his status as a corrupt politician. They then used those photos to attempt to blackmail Raúl for the money they know his family has.
Angry at being used by people he thought were his friends, Raúl comes up with the hacking scheme as revenge. He teams up with Bruno to do the hacking, and even releases information on himself to throw off everyone's suspicions. He also blackmails another student named Luis (Luis Curiel) into falsely admitting to being the hacker. In one of the earlier episodes, we saw Luis get beaten into a coma by Gerry (Patricio Gallardo), who believed him to be the one leaking his secrets. Of course, Raúl also used the kidnapping to frame Javier.
Sofía and Javier discover Raúl's plan and trick him into confessing on video. They play this confession for the school at a big end-of-year dance to expose Raúl. The hacker, however, has one more round of secrets up his sleeve.
Raúl is exposed and chaos erupts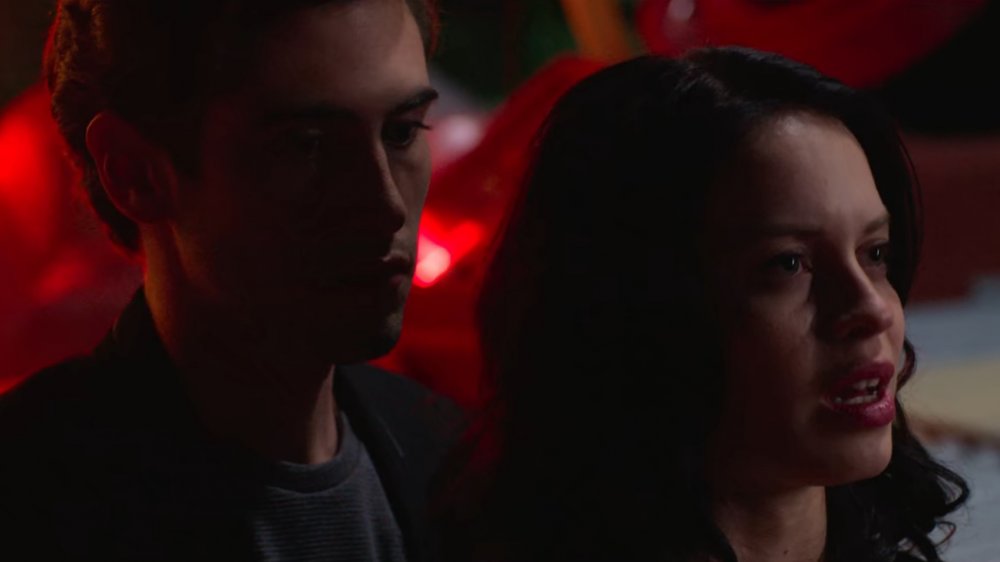 Netflix
After he's exposed as the hacker, Raúl uses the same projector set up by Sofía and Javier to unleash the latest round of secrets, including the fact that Sofía's dead father is, in fact, still alive. Chaos erupts and, in the midst of it, Gerry arrives with a gun. He reveals that Luis died from the injuries he sustained after Gerry beat him. Gerry blames Raúl for blackmailing their now-deceased classmate into confessing to a crime he didn't commit, which led Gerry to attack him in the first place.
Javier attempts to deescalate the situation, but ends up getting accidentally shot by Gerry in the process. The season ends with him alive, but bleeding out on the ground while the rest of the school crowds around.
Will Javier survive his gunshot wound? What consequences will Raúl and Gerry face? And what is the deal with Sofía's father faking his own death? With all these unanswered questions, it will be a relief to anybody to know that Netflix has already ordered a second season of Control Z (via CNet). We'll hopefully get some answers, but given the twisty nature of the series, don't be surprised if the new season also comes with even more questions.