Black Widow Movie Will Explain Natasha's Endgame Sacrifice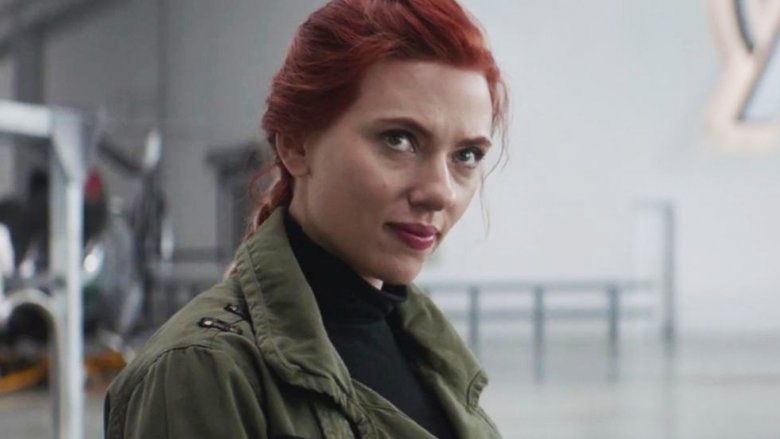 If you're still reeling from the heartbreaking decision Black Widow (Scarlett Johansson) made in Avengers: Endgame, you'll get a bit of relief with the heroine's upcoming solo movie.
According to Black Widow actor David Harbour, who plays Alexei Shostakov (a.k.a. Red Guardian), the Cate Shortland-directed film will explain Natasha Romanoff's choice to sacrifice herself during Endgame so that her fellow Avenger Hawkeye (Jeremy Renner) could snag the Soul Stone on Vormir, head back to the present day, and power up Professor Hulk's (Mark Ruffalo) Infinity Gauntlet. 
Harbour told ComicBook.com in an interview following Marvel's panel at San Diego Comic-Con 2019, "It's great because you get to go back a little bit in time with her, right? And you get to explore these events ... One of the things that was interesting to me in the movie was because you know the events of Endgame, so you get to explore how she got there and how she got there to make that choice. I think that's the interesting part of her narrative is that we get to go back and explore this period of time between the events of Civil War and that particular arc."
He continued, saying that another important part of the Black Widow narrative is his character's relationship with Johansson's Natasha. The actor shared, "One of our things is we've known each other for a really long time and that relationship plays into the stuff that's come beyond. The great thing about knowing the end of an arc, you get to go back and either foreshadow or play against it and it's very joyful for fans to see these moments or prepped character beats come in at times."
Often described as Russia's answer to Captain America, Red Guardian first appeared in 1967's Avengers #43 as a Cold War creation made by the Soviets, who wanted Russia to have its own superhero. Since we know that Black Widow is set after the events of Captain America: Civil War and before the events of Avengers: Endgame, it should be quite interesting to see what dynamic Natasha and Alexei have. 
That Black Widow will explain the experiences and emotions that informed Natasha's choice to give up her life for the greater good should be relieving for fans who were devastated over her death in Avengers: Endgame. Though it may not fully squash sadness over her being the one to die rather than Hawkeye (whom many felt deserved death more than Black Widow did, given that he spent five years straight-up murdering people as Ronin after the Snap), Black Widow's promised explanation of her decision may help extinguish arguments that Natasha was fridged — a term to describe the trope of killing off a female character to push the plot or motivate a male character — in Avengers: Endgame. 
Since Natasha's one of three of the six original Avengers who never got her own solo trilogy prior to her Avengers: Endgame death, Black Widow as a whole is exciting for fans. Getting to see more of her on the silver screen, watching her personal arc come to a close, and having her be the kick-off for Phase 4 of the MCU? Couldn't ask for much better.
Black Widow will spin its web on May 1, 2020.