The Real Reason Animaniacs Was Canceled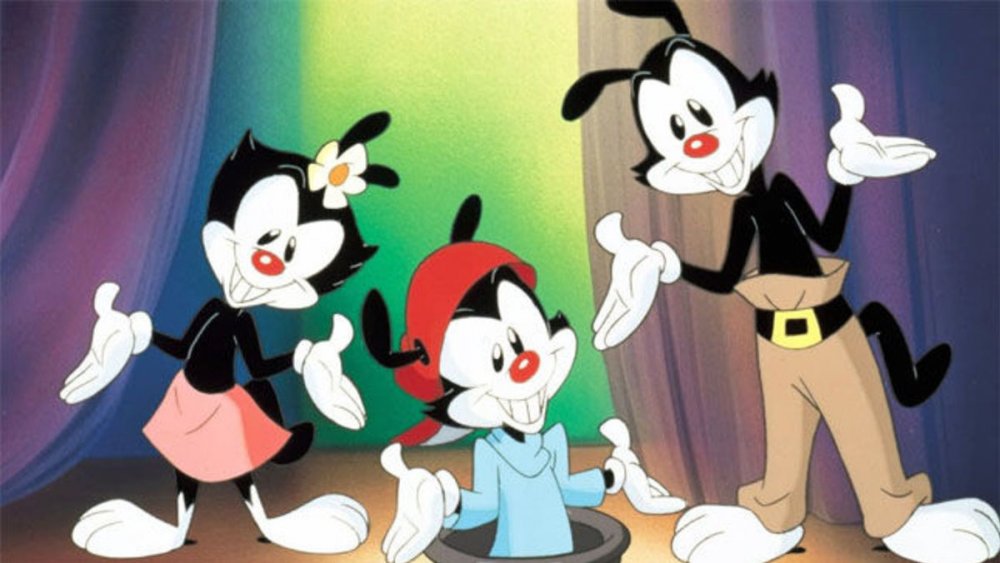 Warner Bros.
For five wild and wacky seasons in the '90s, Animaniacs blazed its own highly original path through the cluttered landscape of daytime animated programming. At once a throwback to the golden age of Warner Bros.' classic Looney Tunes shorts and a mishmash anthology series that anticipated trends in adult animation for literally decades to come, Animaniacs endeared itself to viewers of all ages by the sheer force of its bombastic personality, and those of the three characters at its center: The "Warner brothers" Yakko and Wakko, and their cute-as-a-button sister, Dot.
Each episode contained shorts of varying lengths, featuring a number of recurring characters. In addition to the Warners themselves, audiences were periodically treated to the adventures of sardonic veteran 'toon Slappy Squirrel and her nephew Skippy, gangster-y pigeons the Goodfeathers, good girl Mindy and her dog Buttons, alternately sweet and volcanic teenager Katie Kaboom, and of course, a pair of mice on opposite ends of the intelligence spectrum who share a common goal (we think) to take over the world, Pinky and the Brain. 
Co-produced by Warner Bros. Animation and the legendary Steven Spielberg's Amblin Entertainment, Animaniacs debuted on the Fox Kids programming block in 1993, immediately displaying a willingness to lovingly skewer any and all facets of popular culture. Its sense of humor ran the gamut from "awww, how sweet" to, "I can't believe a kids' show just got away with that," and everything in between. While this was a huge part of the show's charm, however, it was also (as it turns out) part of the reason for its eventual cancellation.
In January 2018, it was announced that Hulu would reboot the series — with the original cast — for at least two seasons, and fans around the world rejoiced. Now, as we wait for the streamer to offer up the first new episodes of Animaniacs in over 20 years, we thought we'd take a look back to discover why such a beloved, hilarious show was ever canceled in the first place.
Fox lost interest in the show for a pretty understandable reason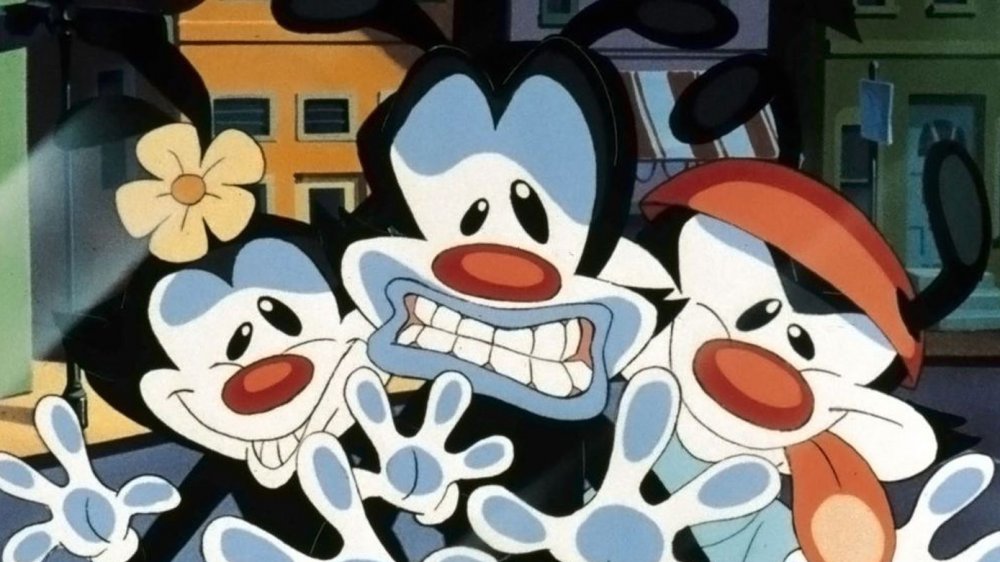 Warner Bros.
Animaniacs was incredibly successful right away when it debuted on Fox Kids, not that smaller numbers would have made an immediate difference to the show's fate, since Fox had ordered a first "season" of a whopping 65 episodes; enough to keep the Warner brothers (and sister) plying their wackiness for quite some time. Those episodes aired throughout 1993 and 1994, but when they dried up, a funny thing happened in that Fox chose to start airing reruns, rather than ordering any new episodes.
The reason for this was pretty simple: The undisputed king of Fox Kids was Mighty Morphin Power Rangers, to which Animaniacs had always played second banana. Fox suspected (correctly) that Warner Bros. might have designs on moving Animaniacs over to its new network, the WB, which had been announced in late 1993 and was set to hit the airwaves in early 1995. There, it could finally have the spotlight that Warner Bros. and Amblin felt it deserved.
A second season, such as it was, was cobbled together from unused scripts, producing all of four new episodes during 1995, but these would be all of the new episodes of Animaniacs to come out of the show's run on Fox Kids. In September 1995, the show officially made the move to Kids WB, and a proper 13-episode season was ordered. It finally looked like Animaniacs was back on track for the long haul, but as it turned out, it became a victim of its own success in a way that not many series ever have.
Animaniacs suffered for being popular outside its target audience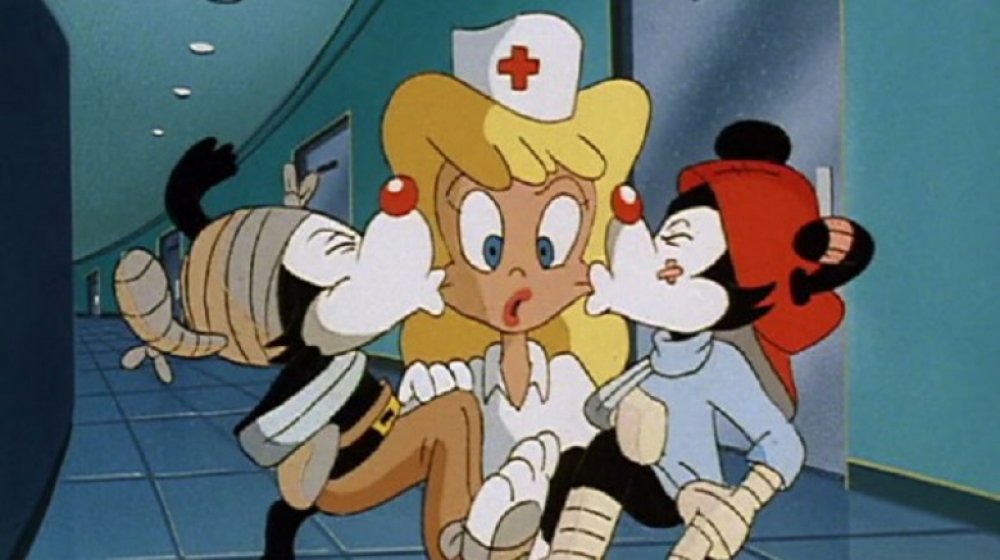 Warner Bros.
Animaniacs had always been extremely popular with college and adult audiences, which was by design, since a great deal of its pop culture references, double entendres, and sexual innuendo would fly right over the heads of its supposed target demographic. Fox had embraced this aspect of the series, but Kids WB wasn't too keen on letting in all of those older audiences. Warner Bros. had specifically pitched its kids' programming block to its advertisers as being great for very small children, which Animaniacs was decidedly not. As a result, executives found themselves in a quandary as to what to do with the series.
Unfortunately, it became clear pretty quickly that the answer was "nothing." In 1996, a new, 18-episode order was suddenly reduced to eight, raising eyebrows among the series' fandom. Soon after, the show's head writer-producer Peter Hastings departed Warner Bros., and nobody replaced him. New episodes were once again thrown together using unproduced scripts over the course of two additional, truncated seasons.
According to the show's creator Tom Ruegger, who was asked what went wrong during a 2016 Reddit AMA, the final nail in the series' coffin came when Warner Bros. struck a deal with production house 4Kids Productions to air Pokémon on the cheap. When it became a massive hit, the network decided it was no longer cost-effective to pony up for original programming, and Animaniacs was among the first casualties. The 99th and final episode aired in November 1998.
Well, the Warners have been locked away in that water tower for long enough. We can't wait for the return of Animaniacs, and as soon as Hulu announces an official premiere date, we'll be first with the news.