The Old Guard Trailer: Charlize Theron Stars In Netflix's Newest Superhero Film
Forever is harder than it looks.
On Thursday, May 21, Netflix dropped the first trailer for The Old Guard, a superhero film based on the comic book series of the same name by writer-creator Greg Rucka and artist Leandro Fernandez. 
Academy Award-winning actress Charlize Theron leads The Old Guard as Andy (otherwise known as Andromache of Scythia), a warrior who heads up a group of mercenaries. But these aren't just any mercenaries — they're immortal, and have been tasked with the duty of protecting mortal Earth for centuries on end. Their indestructibility serves them — and the fragile humans who can die in any which way — well for years on end, with nary a soul outside the crew knowing of their abilities. Things take a sudden turn and the stakes get cranked up to 11 when the team embarks on an emergency mission that accidentally exposes who they really are. With an enormous threat looming overhead in the form of people hoping to replicate their immortality — and with a fresh immortal, Nile Freeman (KiKi Layne), having just "awakened" into her powers — the team must fight to protect themselves no matter what it takes to do so.
Why you should be excited for The Old Guard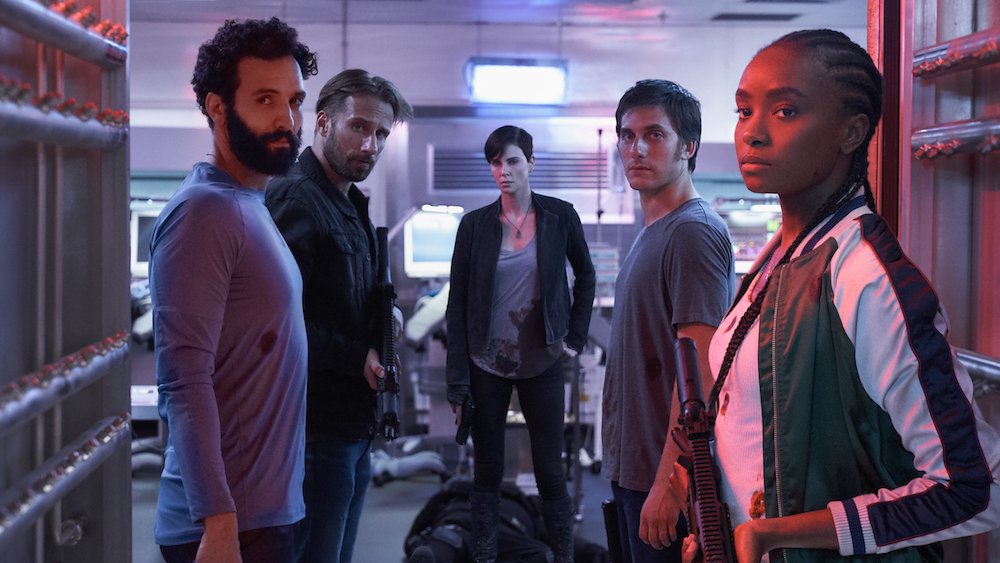 It's something of an unwritten rule of media that movie trailers are the single piece of promotion that will either draw people into the film in question, piquing their interest and sending them running to their group chats to drop the video link and tell their friends they all "have to watch this!", or will push them away and have them writing the flick off as garbage without ever having seen more than three minutes of spliced-together footage from it. In the case of The Old Guard, the trailer most definitely achieves the former. It packs in action and grit, sprinkles in some well-timed humor (like Nile telling Andy that the mercenaries should "start a band" since they're an "army of five"), and teases what's bound to be a faithful adaptation to the comic book source material. Doesn't get much better than that, now, does it?
Beyond the trailer, though, there are a couple of other reasons to get hyped about The Old Guard. 
Firstly, its cast features heavy-hitting talent. Alongside Theron and Layne, whom you'll recognize from her breakthrough performance in director Barry Jenkins' If Beale Street Could Talk, The Old Guard stars Aladdin actor Marwan Kenzari as Joe (a.k.a. Yusuf Al-Kaysani), Doctor Strange and 12 Years a Slave star Chiwetel Ejiofor as Copley, Red Sparrow and A Hidden Life actor Matthias Schoenaerts as Booker (a.k.a. Sebastian le Livre), and Trust star Luca Marinelli as Nicky (a.k.a. Nicolo di Genova). 
Secondly, The Old Guard has two outstanding creative forces at the helm. Gina Prince-Bythewood — the filmmaker known for Love & Basketball, The Secret Life of Bees, and Beyond the Lights — directs The Old Guard... from a script by comic creator Rucka himself. Remember what we said about The Old Guard staying true to the comics upon which it's based? Yeah, Rucka likely guaranteed that would be the case. 
All in all, The Old Guard looks to be a superhero flick you won't want to miss. Mark your calendars for The Old Guard to hit Netflix on July 10.