She-Ra And The Princesses Of Power Revival Photos Unveiled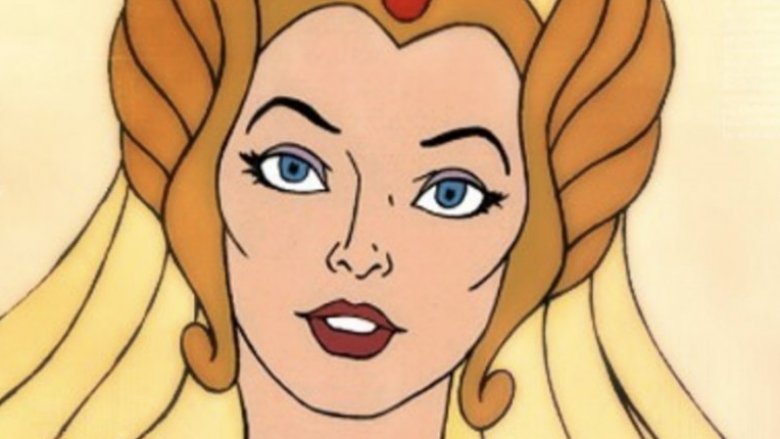 For the honor of Greyskull, she is She-Ra! 
And now, thanks to Entertainment Weekly, we have the first look at the newest iteration of the Princess of Eternia in DreamWorks Animation Television and Netflix's She-Ra revival, She-Ra and the Princesses of Power. 
The snaps feature a glowing Princess Adora as her superhero alter ego She-Ra (voiced by Elena of Avalor actress Aimee Carrero), as well as redesigned versions of the "Princesses of Power" Glimmer (Suicide Squad's Karen Fukuhara), Bow (black-ish star Marcus Scribner), and Catra (The Goldbergs' AJ Michalka). One image also shows a glimpse at Etheria's capital of Bright Moon Castle, which also serves as the Great Rebellion's base. 
Eisner Award-winning author, executive producer, and cartoonist Noelle Stevenson (Lumberjanes, Nimona) created the new She-Ra series, which, like the original 1985 show, follows the orphaned Adora, who was kidnapped as an infant and raised by the nefarious Hordak to become the Force Captain of his Evil Horde. It isn't until later in her life that Adora discovers her real identity: she's the twin sister of Prince Adam (also known as He-Man), and is the daughter of King Randor and Queen Marlena of Etheria. 
Once she embraces her origins, Adora unlocks her hidden powers, takes possession of the magical Sword of Protection, and transforms into the super-strong She-Ra to team up with the Great Rebellion and a group of princess who fight the forces of evil. 
She-Ra and the Princesses of Power will offer a modern spin on the iconic character — and that starts with the updated animation style. But sadly, not everyone is pleased with the way the new She-Ra show looks. 
Many have argued that Stevenson's take on She-Ra isn't feminine or "sexy" enough — one Twitter user said she "looks like Tom Holland" — and that the reboot series is making a mockery of its predecessor. "It is beyond disturbing how there is this need to take something that had an amazing art design and make a joke out of it," one critic wrote on Twitter. "The new She-Ra has NOTHING feminine about her." Another tweeted a photo of the '80s She-Ra next to the 2018 She-Ra with the caption, "They really won't rest until the entire history of human civilization has been plundered and stripped of all beauty and wonder." 
On the flip side, some are huge fans of She-Ra's youthful, eye-catching, and much more realistic design. (She-Ra, the Princesses of Power, and He-Man are just teenagers after all, so it might not make a whole lot of sense for them to look like full-grown adults as they did in the original series.) Artist Jordan Gibson tweeted after seeing the photos, "How could anyone not be 1000% into that She-Ra redesign?" And Molly Danger comic creator Jamal Igle had perhaps the best response: "She-Ra is a children's cartoon. If you're complaining that it's not sexy enough for you... rethink your lives."
Featuring a stacked voice cast including Lorraine Toussaint (Orange Is the New Black), Sandra Oh (Killing Eve), Keston John (The Good Place), and more, She-Ra and the Princesses of Power is set to hit Netflix on November 16.