The Sopranos' Kathrine Narducci Reveals What It's Like To Work With Hollywood's Biggest Stars - Exclusive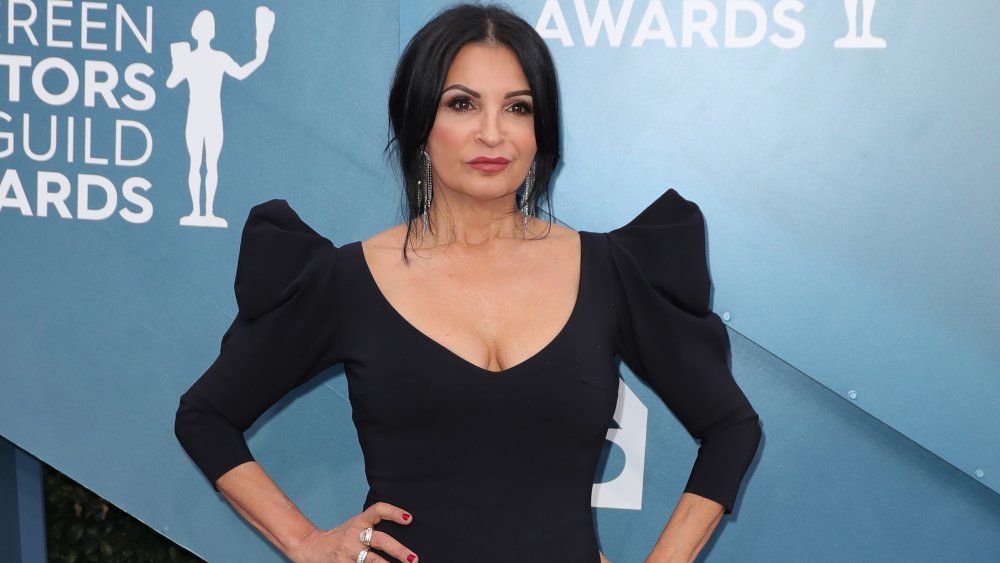 Leon Bennett/Getty Images
Actress Kathrine Narducci's first feature film role was in Robert De Niro's period piece A Bronx Tale, which explored the lure of organized crime for a young man growing up in 1960s New York City. Since then, she's cropped up in several more films thematically centered on the shady side of life, and while she expresses no personal proclivity for the genre, it has led to her crossing paths with some of the bigger names plying their craft on the screens both big and small.
In the late '90s, Narducci landed the part of Charmaine Bucco on HBO's The Sopranos, putting her in the orbit of the show's dearly departed leading man, James Gandolfini. More recently, she's crossed paths with a trio of Hollywood icons. First, she played the wife of Joe Pesci's character in Martin Scorsese's decades-spanning crime epic, The Irishman. Then, she shared the screen with Hugh Jackman as the Aussie ex-X-Man fronted the tale of suburban shenanigans that is HBO's Bad Education. Finally, she's co-starred with Venom's Tom Hardy in Capone, a film from writer-director Josh Trank that explores the end of the infamous gangster's life.
In an exclusive interview with Looper, Narducci shared her experiences working with some of the biggest names in the business.
Kathrine Narducci says James Gandolfini was a good fella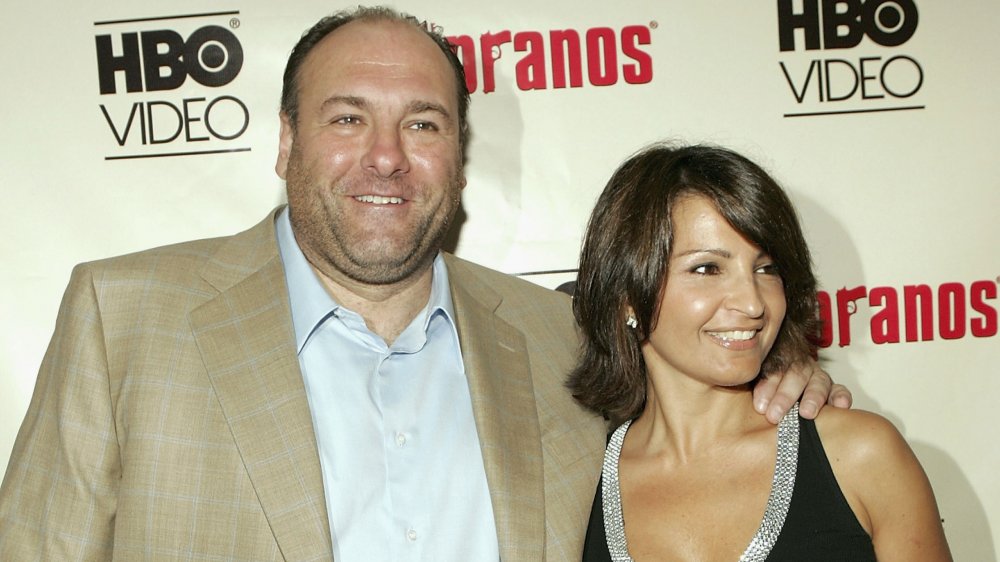 Paul Hawthorne/Getty Images
During our conversation, Narducci waxes nostalgic about her time on The Sopranos, citing it as "not like any other set." Apparently, a big part of the specialness of that experience came thanks to Gandolfini, whose larger-than-life persona helped define the show. "The guy was such a big presence," says Narducci. "He was bigger than life, Jimmy. And he was like our leader. He was who everybody looked up to. He was who called the shots. He was the best."
The loss of the actor, who passed away of a heart attack in 2013, hit the cast hard, and colored a 20th anniversary reunion that took place on Good Morning America in 2019. Narducci describe the event as "bittersweet," saying, "For us to all be together that day and seeing each other in the waiting room, when we got there, the green room, I mean, we were crying. Everybody was crying. It was, it would have been so different if it was the reunion and Jimmy was still alive. But getting there and everybody knowing what we're thinking of, it was very bizarre. Very bizarre without James."
Tom Hardy, not-so-method man
In the Josh Trank-directed Capone, Narducci shares the screen with Tom Hardy, who plays the notorious gangster, Al Capone, near the end of his life. While Hardy has something of a reputation for being intense, Narducci says the experience of working with him countered her expectations. 
"I thought Tom was going to be more method and more– I thought he was going to be living it the whole time," she says. "And I had my idea of what I thought he was going to be, because he's so good. I think he's such a great actor. And I thought that he was going to be the character on and off, in-between takes, and he was more light. He was funny. He had a great sense of humor. And it was very light."
This isn't to say that Hardy didn't bring his A game to his performance. According to Narducci, when the cameras rolled, Capone came out: "I liked the process. It was a very easy, chill set. Everybody was very chill ... And some days, when it was really intense scenes, like there were some dark scenes in the movie, you felt that. People were doing their job. The actors were working. But other than that, Tom was very, very fun to work with. I love Tom. I feel so blessed that I am able to say that I was able in my career, no matter what size, the scale of the role, that I got to work with these people, even be in the same movie as these people."
Hugh Jackman's generosity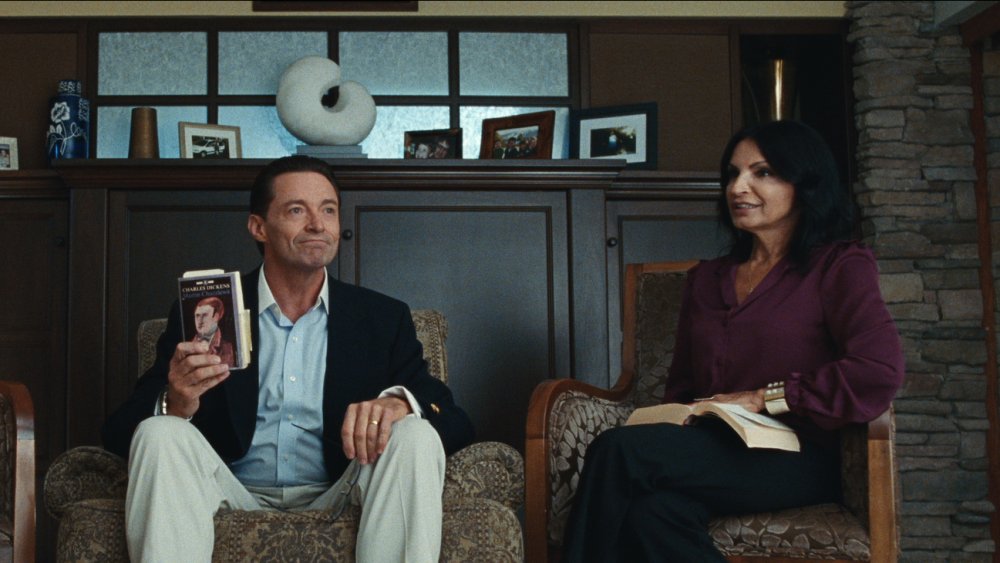 JoJo Whilden/HBO
As Wolverine, Hugh Jackman also brings the intensity to the big screen, but stories in Hollywood abound about what a nice guy he is. Narducci had the opportunity to cross paths with him when the two shared a scene in Bad Education, the Cory Finley-directed film that dramatizes real-life behind-the-scenes shenanigans at a Long Island's Roslyn High School. The actress played a character named Sharon Katz; Jackman starred in the movie as school superintendent Dr. Frank Tassone — a role that, if it didn't quite require Weapon X-level fury, still played into the actor's ability to work with extreme emotional dynamics.
That said, Narducci paints Jackman as very giving, both off-camera and on, which continues a tradition we've heard about before. "Hugh Jackman is a very generous actor. I can tell he's probably a generous person in life," says Narducci. "The second day, he bought everybody a lotto ticket. He gave lotto tickets out on set. So, just to say what the set was like, very kind, very ... And most of the time, just so you know, the bigger the actors, the less ego, I think. And the less trying to prove. So, I love working with the big guys, because the set's always like there's no ego, I feel."
Kathrine Narducci plays off a very different Joe Pesci performance
Of course, when it comes to sharing the screen with some of the bigger names, it doesn't get much more epic than acting with the likes of Joe Pesci and Robert De Niro in a film directed by the masterful Martin Scorsese. That's just what happened for Kathrine Narducci when she was cast in the role of Carrie Buffalino, wife to Pesci's reserved-but-deadly mob boss, Russell Buffalino, in the Netflix epic The Irishman. It was a very different part for Pesci, who played against his usual, over-the-top type in a simmering, sinister performance. In what seems to be a pattern, Pesci as every bit as nice as his character was nasty.
"When I spoke with him, he was funny. He goes, 'This guy is a very quiet guy. It's not like the usual role that I play.' And I was happy for him, because I know that's something he'd want to do, you know?" Narducci shares with Looper. Pesci also, apparently, had a hand in bringing Narducci's character to life. As Narducci tells it, "So he said, 'So, I'm thinking, I would probably have married a very quiet wife.' So, I was, like, "Oh, okay. I get it.' And I loved working with him. He wrote that scene for me coming down the stairs. He added that. That wasn't in the script, which I will forever be thankful for."