The Mandalorian Character That Was Supposed To Die Early In The Show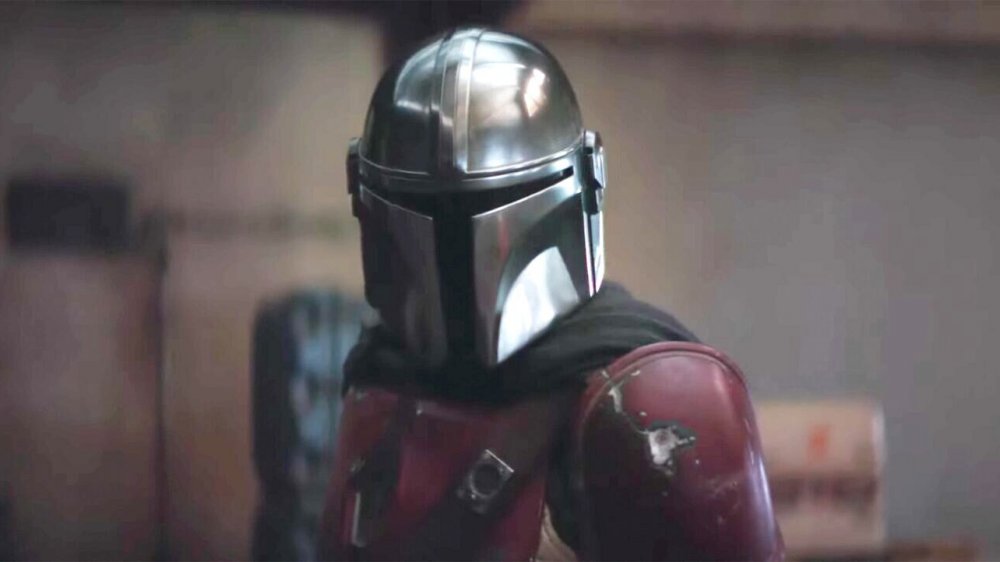 Lucasfilm / Disney
The Disney+ original Star Wars series The Mandalorian is full of memorable characters, one of whom almost didn't stick around for very long.
Creator and showrunner Jon Favreau dropped the bomb during a roundtable discussion featured in an episode of Disney Gallery focused on the show's cast. According to Favreau, the character of Greef Karga — the Bounty Hunters' Guild leader who gives "Mando" the assignment that sets the events of the series in motion — was originally set to be killed off in the third episode. What saved the character? Well, the fact that he's portrayed by the legendary Carl Weathers didn't hurt.
Favreau and Mandalorian co-creator Dave Filoni also revealed that the character was intended to be non-human, and that the semi-retired Weathers was coaxed into participating in part with the promise of limited involvement and no on-screen face time. "Carl wasn't supposed to be in the whole show. Carl was in episode 1, and then got knocked off in episode 3. He was gonna be in full prosthetics, as a different alien race," Favreau said."It was like a favor. I said, 'Just come in and do this one.' He said, 'Fine, I don't really act much [any more], but fine.' So Carl's supposed to come in, he's gonna be in 101 and then 103, he gets shot, he's out."
Filoni then remembered that, once Weathers arrived on set, all of those plans went out the window, as he and Favreau quickly realized that hiring Weathers only to make him unrecognizable would be ridiculous. "So ... he can't be an alien," Favreau said. "Like, how [are] you gonna cover that? Because they did a drawing with Carl with the makeup on, and I said to Carl, 'We can't cover you up.' And he's like, 'I figured as much.'"
Carl Weathers describes the challenges of working on The Mandalorian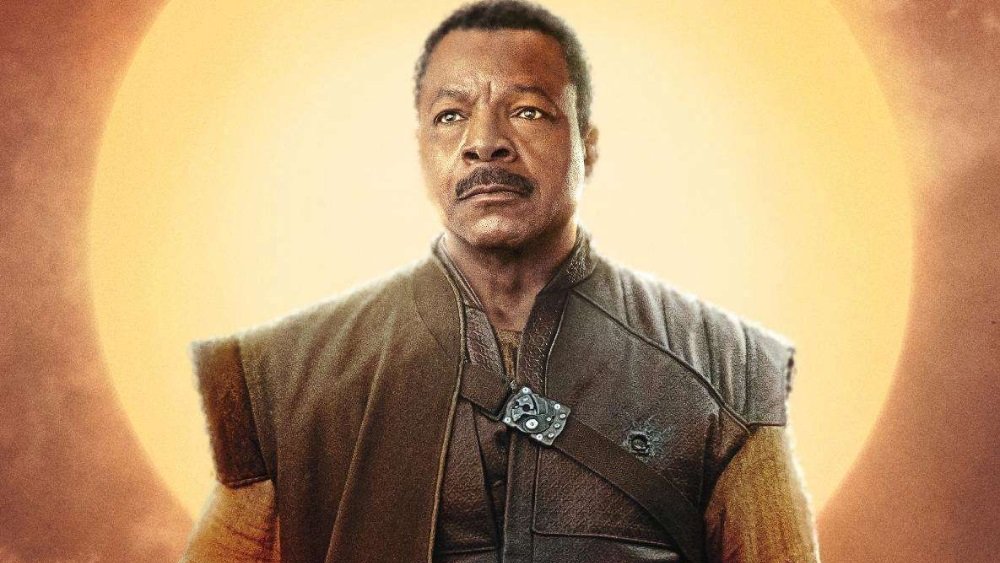 Lucasfilm/Disney
Weathers probably also figured that he would be called upon to do a bit more than pop up in a couple of episodes and get shot, and indeed, the character of Karga proved to be one of the more interesting and complex in The Mandalorian's first season. Initially presented as duplicitous and opportunistic, he turned out to have a strong moral code and, by the end of the season, he'd developed into a strong ally of Mando — an arc that appealed to Weathers, who has played his share of complicated characters.
"You can paint a character as an antagonist, as the bad guy, and I've never approached roles that way, ever," the actor said in describing his approach to playing Karga. "I find tremendous flaws in human beings and, at times, those flaws can lead a person astray — lead them to the dark side."
For Weathers, the toughest part of his role by far wasn't sketching out Karga's traits and flaws, though — it was acting opposite an expressionless helmet. "I found it really a challenge," he said. "When you're across from somebody, they're throwing all kinds of body language at you. And ... you can be saying one thing, but [your eyes] tell me something completely different. And what am I responding to? I'm responding to what you're throwing. You're hitting the ball this way, [and] whatever it's doing, I've gotta adjust for it. And that helmet ... it is flat. There is nothing. So ... I have to listen so acutely to the voice, and hope that that voice is gonna cue me to what this person is. Not just the words, but what they're really saying under it."
Will Greef Karga return for The Mandalorian season 2?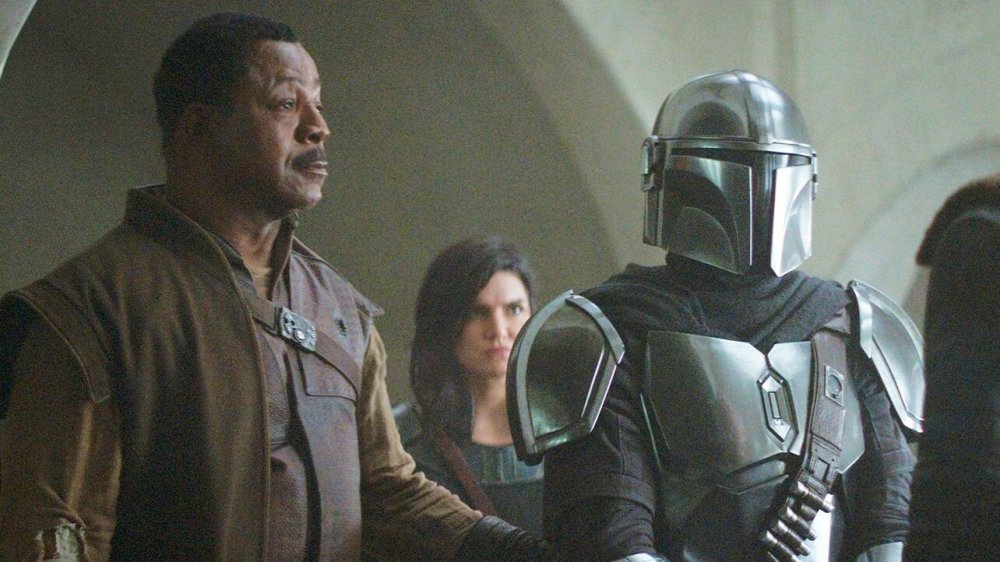 Lucasfilm/Disney
We already know that there's plenty more of The Mandalorian on the way, as the second season will hit Disney+ in this fall, with a third is already known to be in the works. As Favreau explained, however, Weathers had been slowing down quite a bit in recent years. His voice role as Combat Carl in last year's Toy Story 4 was his first feature film since 2007 and, for the last couple decades, he's mostly been popping up in small guest roles on TV series like Law & Order: Special Victims Unit, Psych, and Magnum P.I. With that in mind, will the actor saunter back off into semi-retirement, or will he continue to extend his stay in the galaxy far, far away?
Signs point to the latter. Not only have multiple outlets reported that Weathers will return for season 2 of The Mandalorian, but some are even saying that he'll step behind the camera to direct an episode. This wouldn't be anything new for the star, as he's directed a ton of TV episodes over the past 25 years, most recently helming an installment of Hawaii Five-O in 2019.
His return will be welcome, and let's face it — with the dastardly Moff Gideon on the hunt for Mando and Baby Yoda with Darksaber in hand, the helmeted one is going to need all the help he can get. Season 2 of The Mandalorian will begin streaming on Disney+ in October 2020.