The Important Thing Bill Murray Wants Everyone To Remember About Space Jam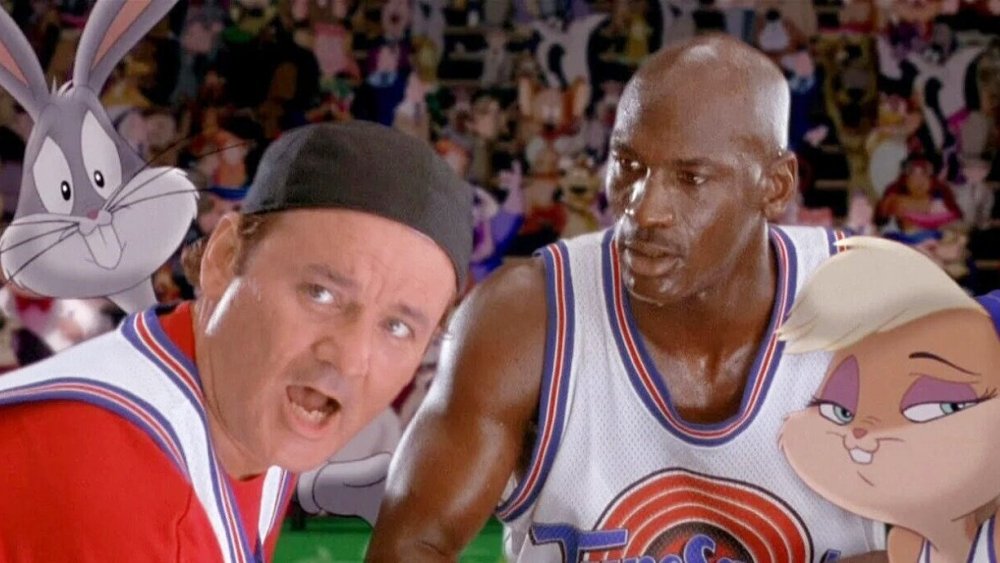 Warner Bros.
Everybody loves the 1996 classic Space Jam, but one of its cast members thinks that we're all forgetting a vital detail about the live action-animation hybrid.
In an interview with Jimmy Kimmel conducted from the bathtub of his South Carolina home, Bill Murray decided that the world is due for a reminder that in the flick's climactic basketball game — in which the great Michael Jordan and a team of Looney Tunes all-stars faced off against the alien "Monstars" to decide the fate of the beloved cartoon critters — Jordan couldn't have sunk the winning shot without an assist from another key member of the team. That team member? Murray himself, of course.
In that game, the Monstars played exceedingly dirty, and with Tune Squad down by one point late in the game, everybody on the team was panicking. With the Tune Squad missing one player, it even seemed for a moment that they might have to forfeit. But then, Murray arrived to save the day and fill the empty spot on the roster. The ball suddenly in his hands, Murray did what anybody in his (extremely weird) situation would have done: He passed the ball to Jordan, who made the game-winning point (with a little assist from cartoon physics). 
As Murray told Kimmel, it's a crime that everyone remembers Jordan's shot — but not who fed him the ball. "People forget that I got the assist on the game-winning basket," Murray said. "So easily forgotten... I stole the ball, I made the pass, I got nothing. I wasn't even interviewed after."

He's got a good point. After all, without his astute play, Bugs, Tweety, Sylvester, and the rest (along with Jordan) would all be attractions in some alien amusement park right now. But has Bugs ever so much as offered a public "thank you" to Murray? We don't believe he has.
Bill Murray originally wasn't a part of Space Jam's big basketball game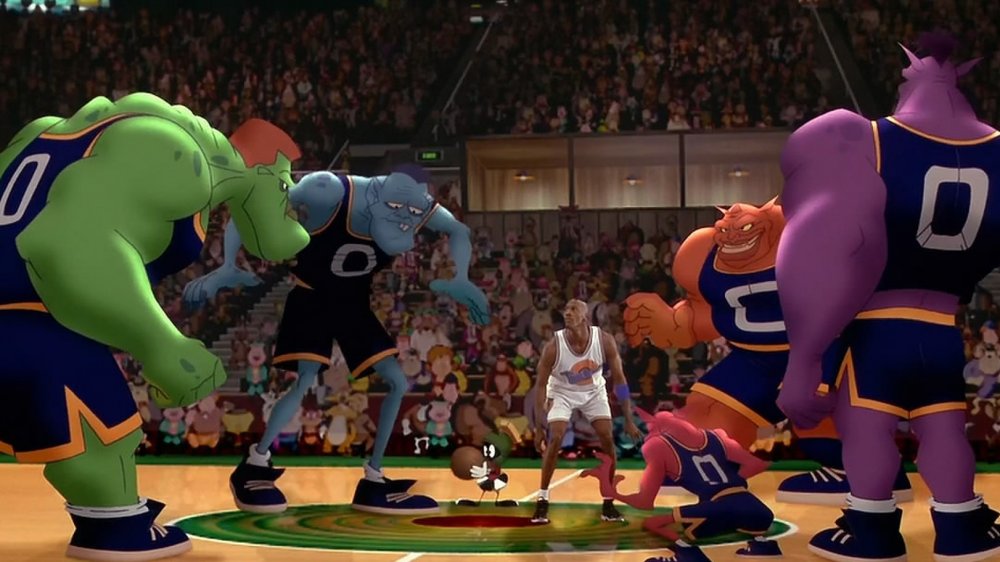 Warner Bros.
Murray first appeared near the beginning of Space Jam, playing golf with Jordan before the basketball great was sucked down the rabbit hole (so to speak) into the cartoon world to help out Bugs and crew with their game. In a November 2016 conversation with Entertainment Weekly, the flick's director, Joe Pytka, revealed that originally, the golf course scene was to be the only one that Murray was in.
"I'm glad Murray showed up," the director said. Bill only came in for the golf course stuff because he didn't like the idea of working in animation. While we were shooting the golf course scene, he asked how I was dealing with the actors dealing with the animated characters." 
Apparently, Pytka's description of how he planned to combine the animated and live-action elements of the climactic game was so fascinating to Murray that he decided he wanted to be a part of it. "When [Murray] found out how we were doing that, we wrote a couple of extra scenes for him at the end of the movie, when he comes back to the basketball game," he shared.
Pytka went on to explain that while he had been offered a chance to direct the upcoming Space Jam: A New Legacy, he had turned it down — for one simple reason. "I've worked with LeBron [James, the sequel's star]... and as good a player as [he is]... [he's not] Michael Jordan," Pytka said. "We will never see another player like him. He was a transcendent figure, much like Muhammad Ali. He was beyond his sport."
As true as this may be, we submit that even Jordan needed players like Bill Murray to make him truly great in Space Jam. While we don't yet know if Murray will return for the Space Jam sequel, our hopes are high; after all, is Don Cheadle gonna make that clutch assist? Yeah, right. Fat chance, War Machine.