Get A Look At John Wick BTS Photos You've Never Seen Before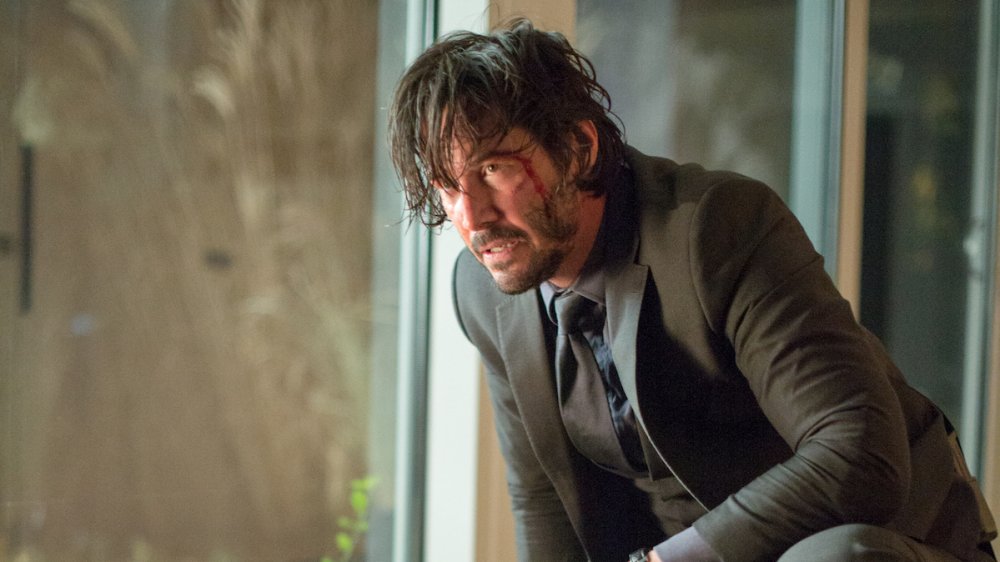 Lionsgate Films
Yes, we're all a bit down after learning we'll have to wait an extra year before we get our eyes on John Wick: Chapter 4. But it appears the man who's broken a thousand bones and gun-fu'd half the world is indeed back — this time for a free online screening.
The momentous event is happening this very evening (Friday May 8th, at 9pm ET) via Lionsgate Live, a virtual theater experience set up by John Wick franchise producers Lionsgate Films. The Lionsgate Live series has been ongoing since the onset of social distancing efforts which have, sadly, left theaters closed and many in the film industry without work. Prior screenings have seen the likes of The Hunger Games, Dirty Dancing, and La La Land drumming up support for industry workers, but tonight's John Wick screening could outdo them all because, well, people really love the John Wick movies. 
While tonight's screening is indeed free, viewers are urged to make a small donation that, through the Will Rogers Motion Picture Pioneers Foundation, will help ease the financial troubles of furloughed theater workers. To help celebrate John Wick's charitable return to the world, Lionsgate has released a handful of never before seen behind-the-scenes photos from the franchise (exclusively via Collider) that'll prove fun for the entirety of the Wick fandom. 
The first of these pics finds director Chad Stahelski and series stars Ian McShane and Keanu Reeves cutting up over an impressive cache of prop guns on the set of John Wick Chapter 3: Parabellum. The second finds Stahelski and McShane talking over a scene in the offices of the Continental, the most impressive set to ever enter the John Wick cinematic universe. The third pic sees a battered and bruised Reeves kneeling over a vanquished foe in the original John Wick flick, which should be more than enough to get Wick fans pumped for tonight's free screening.  
There's also a stunning behind-the-scenes John Wick video accompanying those pics
Just in case those killer John Wick pics aren't enough, you should know tonight's screening is also set to be hosted by Jamie Lee Curtis, and promises to feature appearances from franchise stars Keanu Reeves, Halle Berry, Lance Reddick, and Asia Kate Dillon, along with O.G. John Wick co-directors Chad Stahelski and David Leitch.
And if the promise of appearances by that wily bunch still isn't enough to tempt you to truck on over to Lionsgate Live at 9pm EST tonight, the team has sweetened the promotional pot by including with those behind-the-scenes photos an equally revelatory video, serving as a sort of love letter to the crew who brought 2014's first John Wick film to life on screen. We'd describe some of those images for you, but the video is a breezy two minutes and 44 seconds long, and it's probably best you just kick back and watch the behind-the-curtain madness for yourself. 
Rest assured knowing, however, that there's some serious love being thrown in the direction of the cast and crew of John Wick throughout, as best evinced by Keanu Reeves' touching words in the video's final moments. If you're really moved by the good vibes, you can show John Wick some love for free tonight via that Lionsgate Live screening. And in doing so, you can also show some support for the hardworking folks tasked with making your every trip to the local movie house worth remembering.
So go ahead and get your popcorn, Sour Patch Kids, or spicy nachos ready, because John Wick will hit Lionsgate Live tonight (Friday, May 8th) at 9pm EST, and you certainly don't want to be among the poor souls who miss Wick's bone-shattering return to action.