The Real Reason Kate Beckinsale Won't Return For Underworld 6
Lakeshore Entertainment/Screen Gems
As it crashed into cinemas at the tail end of 2003's summer movie season, Underworld vividly re-imagined what vampire fiction could be by positioning its blood-sucking beasts square in the middle of a full-blown action epic. In the process, it made a legit action superstar out of actress Kate Beckinsale. Perhaps more surprisingly, Underworld launched the vampires vs. werewolves franchise the cinematic world never knew it needed, and essentially put low-budget genre shingle Screen Gems on the Hollywood map.
To date, Screen Gems and their partners at Lakeshore Entertainment have produced three sequels and one prequel for their flagship franchise, and Kate Beckinsale has appeared as "Death Dealer" Selene in every single one of them. The most recent Underworld flick, subtitled Blood Wars, hit theaters in 2016, and, well, let's just say it wasn't particularly well received by either critics or audiences. While some believe Blood Wars' failure might ultimately signal the end for the franchise, Underworld mastermind Len Wiseman still announced plans for a seventh film, and even went so far as to claim Beckinsale would once again appear as Selene.
Per a 2018 Variety interview, however, Beckinsale soundly put that rumor to rest. That interview found the actor also addressing rumors she'd once been tapped to portray DC's Wonder Woman for a big-screen adaptation. As candidly as she addressed that rumor, saying, "It would have been a terrible movie based on the script that I read," she was equally candid when asked about the possibility of making another Underworld movie. Her position? "I wouldn't return. I've done plenty of those."
Even by Hollywood standards, that curt response doesn't leave much wiggle room for Underworld producers to try and tempt their franchise star back into the latex for another round of Lycan throw-downs. 

It appears Kate Beckinsale may be ready to get back to her indie roots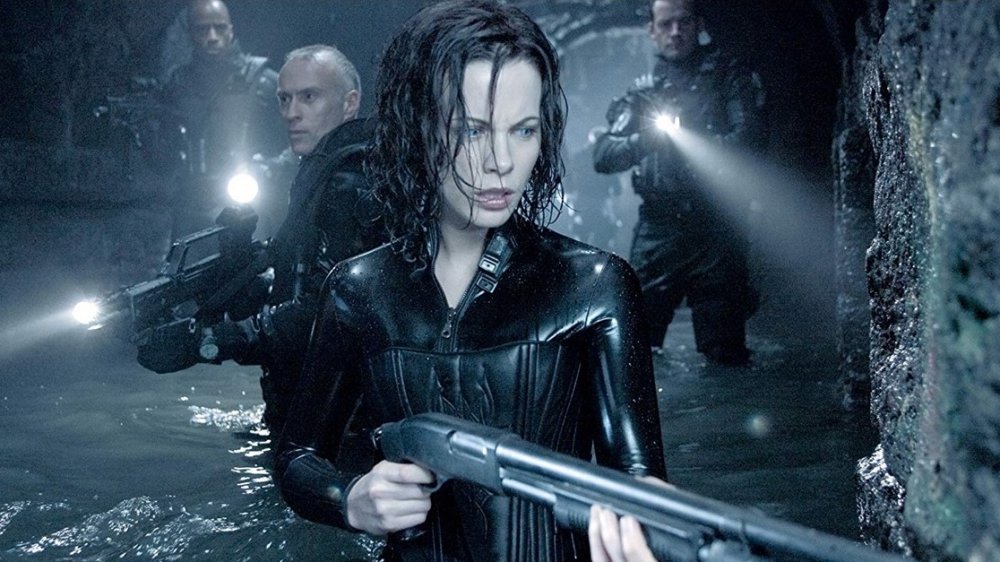 Lakeshore Entertainment/Screen Gems
If you're among the few Underworld fans who actually bought a ticket and experienced Blood Wars in theaters, you probably aren't too heartbroken over Beckinsale's outright dismissal. The truth is, Blood Wars really was a bit of a mess and, if we're being completely honest, the franchise, itself, has felt a bit long in the fang for some time now. Perhaps more to the point, it really didn't look like Beckinsale's heart, nor that of much of the cast, was in the film at all.
While Beckinsale never fully addresses exactly why she's ready to move on from Underworld for good, save for that "I've done plenty of those" dig, it's a safe bet that she's grown as weary of the franchise's neo-gothic insanity as audiences clearly have. That's hardly a surprise given that the actor was never really the blockbuster franchise sort. 
It's easy to forget, but Beckinsale actually came up in showbiz on the strength of her work in smaller-scaled projects like Much Ado About Nothing, The Golden Bowl, and Laurel Canyon. In the years since her Underworld breakout, Beckinsale has returned often to the world of indie cinema, balancing those projects with larger-scale fare like Click. Most recently, Beckinsale earned raves after re-teaming with her The Last Days of Disco director Whit Stillman for 2017's tragically underrated period piece, Love & Friendship. As Beckinsale has a couple of similarly smaller-scaled projects on the horizon, one has to wonder if it isn't just Underworld she's had enough of, as much as the blockbuster world, itself.
Those 'rubber trousers' may be why Kate Beckinsale leaves Underworld behind for good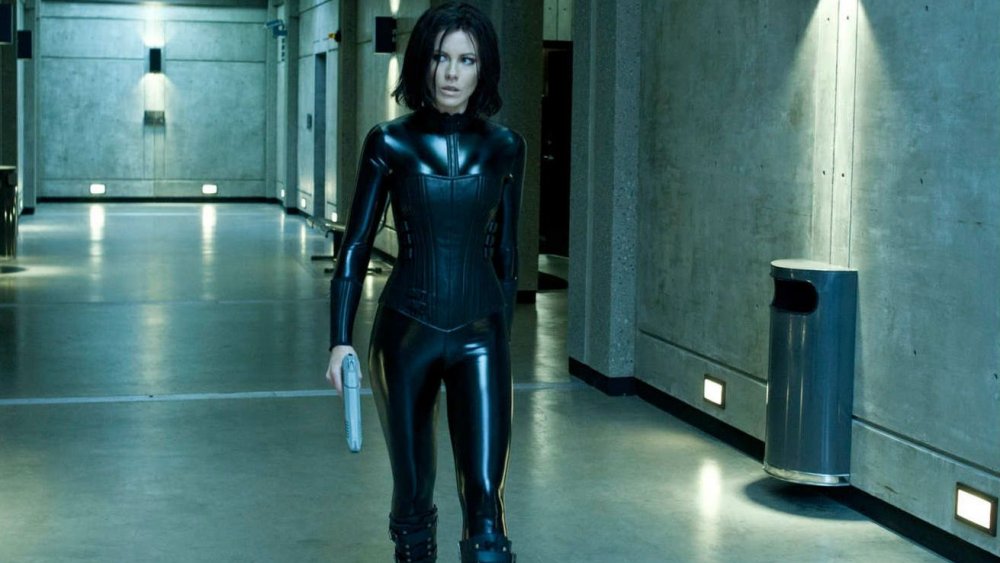 Lakeshore Entertainment/Screen Gems
That being said, Beckinsale clearly has some fight left in her, as she's set to kick a little more ass in Tanya Wexler's upcoming action flick, Jolt. So, outside of her apparent desire to go slightly smaller for future big-screen projects, there may be another reason she's not keen on returning to the Underworld fray for more gunplay. That reason might be related to the latex suit Selene sports throughout the franchise.
Per a 2017 interview with Yahoo, while again addressing the rumors of her possibly playing Wonder Woman, Beckinsale is quick to note she is indeed a mom, and that her desire not to appear in Princess Diana's famously short-skirted outfit and embarrass her daughter for all eternity was just part of why she passed on the role. In her statement, Beckinsale clearly addresses her Underworld getup, as well.
"I don't know if I was desperate to be in a leotard. I'd already done the rubber trousers. You have to take in that you have a child at some point and how much could you possibly embarrass them."
It would seem then that Kate Beckinsale wasn't too keen on those "rubber trousers" throughout her Underworld tenure. Whether or not the thought of squeezing back into that skin-tight ensemble another time fueled Beckinsale's decision to leave the franchise for good remains a mystery, but it clearly factored into the process.
Not surprisingly, Beckinsale's Underworld departure will likely signal the end of the franchise, and that may ultimately be a good thing. Whatever the case, we're still beyond excited to see what she does with herself with the world of vampires, Lycans, and "rubber trousers" now firmly in her past.