Is Black Panther 2 Star Chadwick Boseman Training For A New Movie?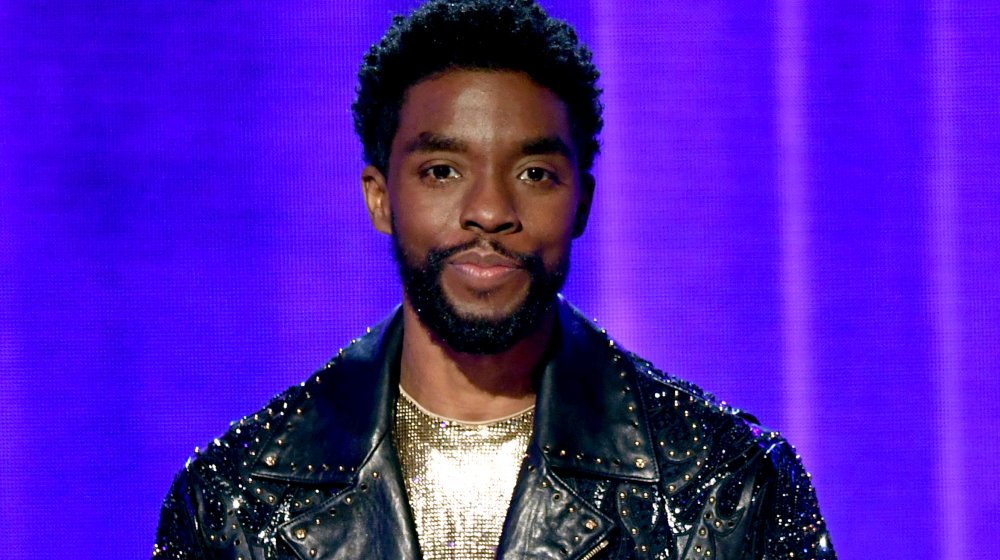 Kevin Winter/Getty Images
Black Panther star Chadwick Boseman is lined up to make a return to Wakanda — and to the throne of that technologically advanced country existent in the Marvel Cinematic Universe — in the upcoming sequel film written and directed by returning movie mastermind Ryan Coogler. As set in stone as that sequel and Boseman's place within it are, Black Panther 2 isn't scheduled to open in theaters for another two years; it's currently marked for a May 6, 2022 launch. With the state of the entertainment industry being what it is in this, the year of the coronavirus pandemic 2020, pre-production hasn't even begun on the second Black Panther film. 
And yet, Boseman was recently photographed making use of what appears to be a martial arts staff (which was, incidentally, one of the tools the actor used to get ripped for the original Black Panther). Looper has obtained these photographs, courtesy of Backgrid, and they appear to suggest that Boseman may be training for another new movie — one that most likely isn't Black Panther 2 based on the above-listed facts.
The snaps show Boseman wearing a dark blue-gray T-shirt and standing outside what looks to be a house. He's seen moving a wooden staff between his hands, ostensibly striking the air with precision. Another photograph finds Boseman with that same staff, this time taking it with him on a walk around the streets of California.
What's going on here, and what movie might Boseman be getting ready for?
Chadwick Boseman could be prepping for Yasuke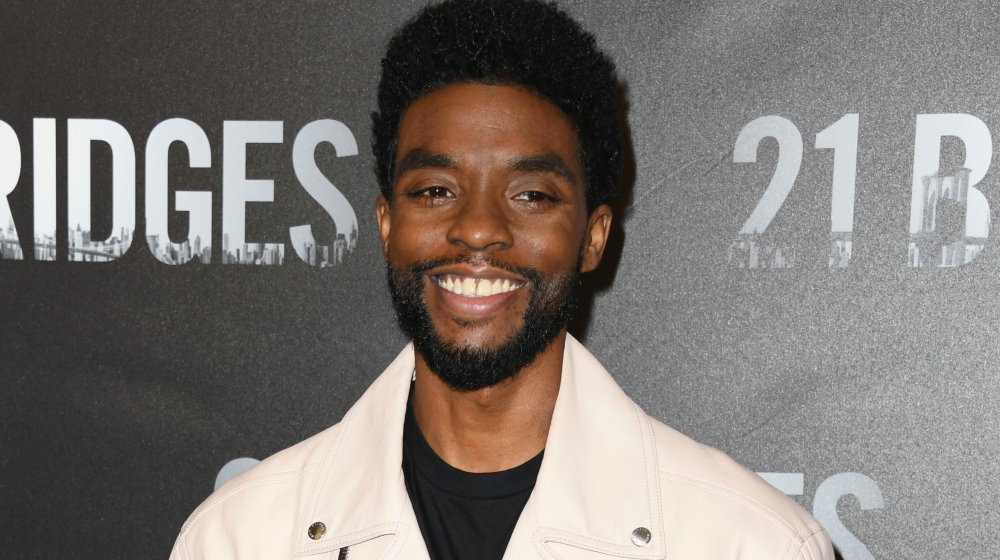 Jon Kopaloff/Getty Images
Given that Black Panther 2 is listed merely as "announced" on Chadwick Boseman's IMDb page — as opposed to marked as being in pre-production — it's difficult to be convinced that the actor could be doing some sort of prep work to reprise his role as the King of Wakanda, T'Challa. But it does appear that there's a chance Boseman is gearing up for a future project, one that actually is in pre-production and has an overt connection to martial arts (as opposed to the behind-the-scenes link Black Panther has to martial arts by way of Boseman's pre-filming preparation). 
That film is Yasuke, written by Doug Miro and Gregory Widen. It tells the story of Yasuke, the first African Samurai in Japan, who met the powerful warlord Nobunaga Oda in the 16th century. At the time of his arrival in Kyoto, Japanese citizens "climbed over one another to get a glimpse of him," according to historian Lawrence Winkler (via BBC). African Samurai: The True Story of Yasuke, a Legendary Black Warrior in Feudal Japan author Thomas Lockley has explained that Nobunaga Oda thought Yasuke was a god — specifically a Daikokuten, a god of prosperity — and when he realized that he was real, the warlord threw a massive celebratory feast for him (via CNN). Yasuke is said to have got along well with Nobunaga, with the two telling one another stories and fighting alongside each other in battle. Eventually, Yasuke was made a Samurai, and his legacy lives on today, mostly in Japan.
Boseman said at the time it was announced he'd be playing Yasuke in an upcoming feature film, "The legend of Yasuke is one of history's best kept secrets, the only person of non-Asian origin to become a Samurai. That's not just an action movie, that's a cultural event, an exchange, and I am excited to be part of it" (via Deadline).
His involvement in Yasuke could explain why Boseman was seen both apparently practicing martial arts and carrying a staff around in his day-to-day life. Perhaps he's taking necessary steps to embody the character and get into the proper mindset in advance of filming. The actor's lead role in the flick could also be the reason for what many have considered dramatic weight loss; Boseman recently emerged looking much thinner than he does in Black Panther, causing fans to become concerned that he was physically unwell. Plenty have come to Boseman's side to say that he's naturally "a skinny dude" — which may be the case, though it wouldn't be surprising if he was put on a special diet to prepare for Yasuke as well, thus resulting in an extra-slim physique. 
Black Panther 2's Chadwick Boseman could have just been working out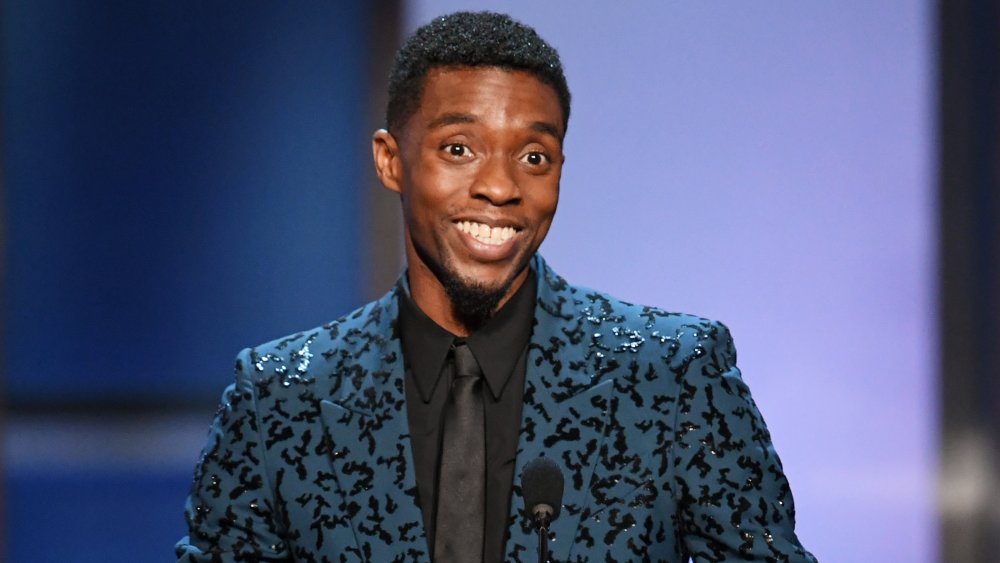 Kevin Winter/Getty Images
A less exciting explanation as to why Boseman was spotted on two separate occasions carrying a wooden staff is that he was... just working out. 
Considering he's familiar with the physical and physiological benefits of practicing martial arts — Boseman actually reached out to Marrese Crump and asked him to train him in martial arts while preparing for Black Panther, and has been a student under Brooklyn-based Grandmaster Bill McCloud — the actor may very well have been getting in some exercise using a favored method. According to Crump (via Kung-Fu Kingdom), "Chadwick is an athlete. He stays active all the time, [and] that made training him easier." He also has "a good understanding of martial arts principles and philosophy," Crump previously noted. Combine those two Chadwick Boseman fast facts, and one could easily surmise that the actor might just enjoy breaking a sweat on a regular basis, and has some techniques he prefers over others. 
Exercising regularly is important to maintain a healthy body and mind (though you can suffer some surprising side effects if you exercise too much). It's arguably even more crucial for actors to do so given that they put themselves in front of a camera to be judged by the world for a living — and because some gigs require them to sport a particular physique, or have a certain level of strength to pull off physically demanding stunts. 
All that said, it seems most plausible that Boseman is doing what he can during safer-at-home orders amid the coronavirus spread to prepare for his role in Yasuke. Until the actor himself confirms this, however, it'll have to remain something of a mystery.