BossLogic Reveals What It's Really Like To Work With The Russo Brothers - Exclusive
Not many fan artists can envision when they start out playing in the sandboxes of their favorite comics, movie, and TV creators that they'd one day end up called on by those very people to bring their work into the official canon. Then again, not many fan artists are Kode Abdo, better known by his social media handle, BossLogic. Starting out by creating some Photoshopped takes on the CW's Arrowverse, BossLogic has risen to be one of the most-followed and universally hailed fan artists in the game — with his clever mashups, fan-casting creations, and other work racking up millions of engagements on Instagram and beyond.
Given that level of exposure, it's no surprise that BossLogic found himself on the radar of bigwigs like Joe and Anthony Russo. The brothers are, after all, deeply involved in the world of superhero fandom — having helmed the Marvel Cinematic Universe movies Captain America: Winter Soldier, Captain America: Civil War, and the era-capping duo that was Avengers: Infinity War and Avengers: Endgame. 
Still, there's a difference between being noticed and being asked to collaborate on a promotional poster for what would become the highest-grossing movie of all time. BossLogic found himself on the rarer side of that fence when Joe and Anthony Russo dropped him a line, an experience the artist notes in an exclusive interview with Looper as "surreal." Things took off from there, and soon, BossLogic was working with one of the hottest directorial teams in Hollywood.
BossLogic and the Russos level up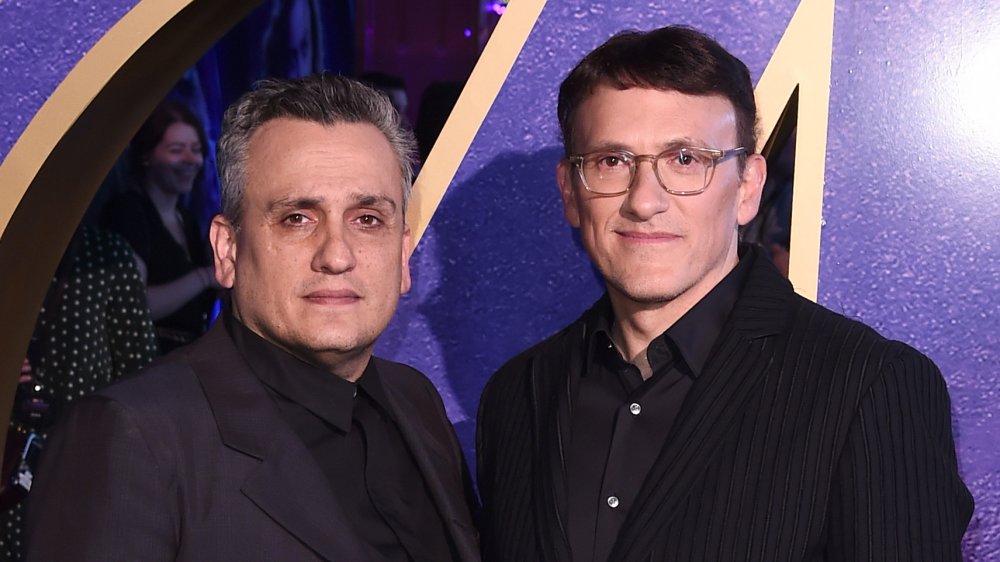 Eamonn M. Mccormack/Getty Images
It all started, innocently enough, with an email after BossLogic had been creating fan edits featuring Earth's Mightiest Heroes. He recalls, "The Russo Brothers reached out to me after I was making mock-up posters for the Avengers. [They] reached out to me and told me to come visit them when I'm in L.A."
Things, however, would rapidly escalate from there. "It was messaged in an e-mail, so it didn't feel like it was too crazy," says BossLogic. "But when I went to L.A. and I got there and went into their studio, I went into their office and stuff." 
That might seem like sacred ground for fans of the MCU, but apparently, Joe Russo isn't the kind to play high and mighty. "He was the most chill dude, Joe Russo. We just talked shop. He was telling me how much he loved my work, and he put me in contact with the heads of Disney, and got me on Endgame," BossLogic recalls. "And from then, we've done a few jobs together."
This embrace of an artist who's made a name working with copyright-protected characters and content is a fairly new thing for Hollywood. In the past, big corporations like Disney — which owns Marvel Studios — would come down on fans creating their own takes on properties such as the Avengers, but there's definitely been a shift in recent years. To what does BossLogic attribute the change that would lead to the Russos enthusiastically embracing his work? "I think it was the social network age," he says. "Studios pay thousands and thousands, even millions, to advertise their stuff, and people are just advertising it for them, I think some studios may actually like that [...] For instance, if a TikTok influencer took something about a movie and that goes global, gets a million hits, that's millions of hits that they didn't pay a cent for, and that's money for them."
BossLogic and the Russo Brothers: A match made in fan art heaven
There's no doubt that the team-up between the Russo Brothers and BossLogic has bore awesome fruit. Obviously, there's the promotional poster the artist created for Marvel and Atom Tickets (seen in the previous slide), which was distributed to early purchasers for Avengers: Endgame. The Russo Brothers also twice commissioned BossLogic to create official banner art for their social media presence — resulting first in a dazzling spread that highlighted the legendary character-actor combos that had come to define the MCU (shown above), and then in a post-release panorama that showcased one of Endgame's most awe-inspiring moments (seen below).
BossLogic, for his part, has continued to play in the Russos' world. He most recently posted a mashup of the new Netflix action film Extraction, which both Russos produced and which Joe Russo wrote, with the popular John Wick franchise.
What's more, the artist's success in working with the Joe and Anthony Russo is leading to even bigger things down the line. BossLogic teases to Looper that his time with the MCU is far from over. 
"I got a few upcoming projects with them as well," he says. "It's all NDA for now. They're exciting projects, though. You guys would dig them." If the creative chemistry continues to shine the way it has in his past efforts with and on behalf of the Russo Brothers, there's little doubt in our minds that we will.