What It Was Really Like To Work With Chris Evans On Defending Jacob - Exclusive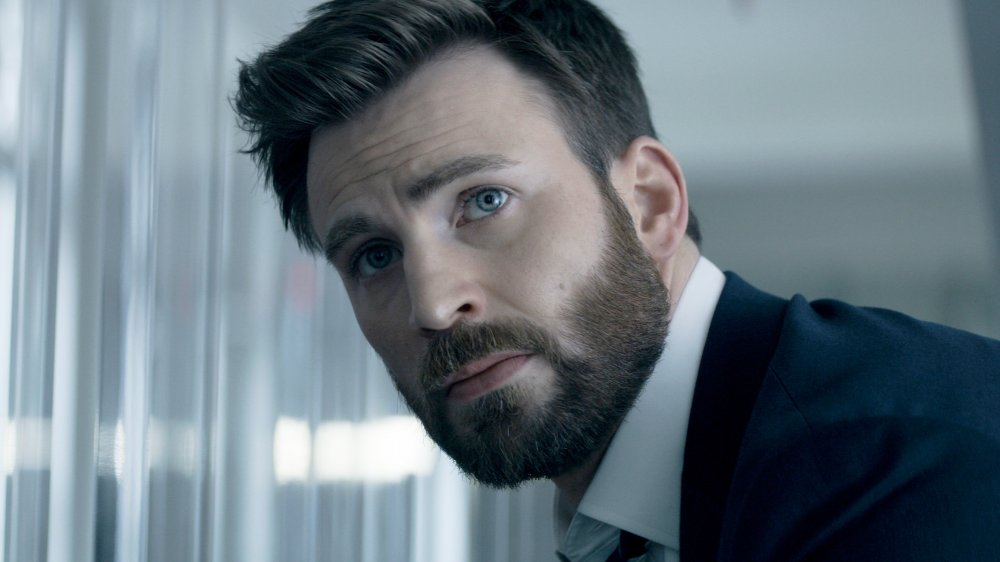 Apple Inc.
Chris Evans is best known for playing Captain America in the Marvel Cinematic Universe, but after appearing in 11 films as the all-American super-soldier, he laid down the iconic shield and stepped away from the character through 2019's Avengers: Endgame.
One of Evans' first roles after saying goodbye to Steve Rogers and his bad-guy-fighting alter-ego is on the new Apple TV+ miniseries Defending Jacob, which premieres on April 24. The eight-episode crime drama, based on the 2012 novel of the same name by William Landay, tells the story of a Massachusetts couple dealing with the accusation that their teenage son, Jacob Barber (Jaeden Martell), committed murder. Evans stars as Jacob's father, Andy, while English actress Michelle Dockery acts opposite him as his wife, Laurie.
Defending Jacob was created and written by Mark Bomback, whose credits include such films as The Wolverine and Dawn of the Planet of the Apes. In an exclusive interview with Looper, Bomback opened up about why Evans was the right choice for such a dramatic role and how the actor treated the cast and crew of the upcoming miniseries. Here's what what it was really like to work with Chris Evans.
How Chris Evans exceeded expectations on the set of Defending Jacob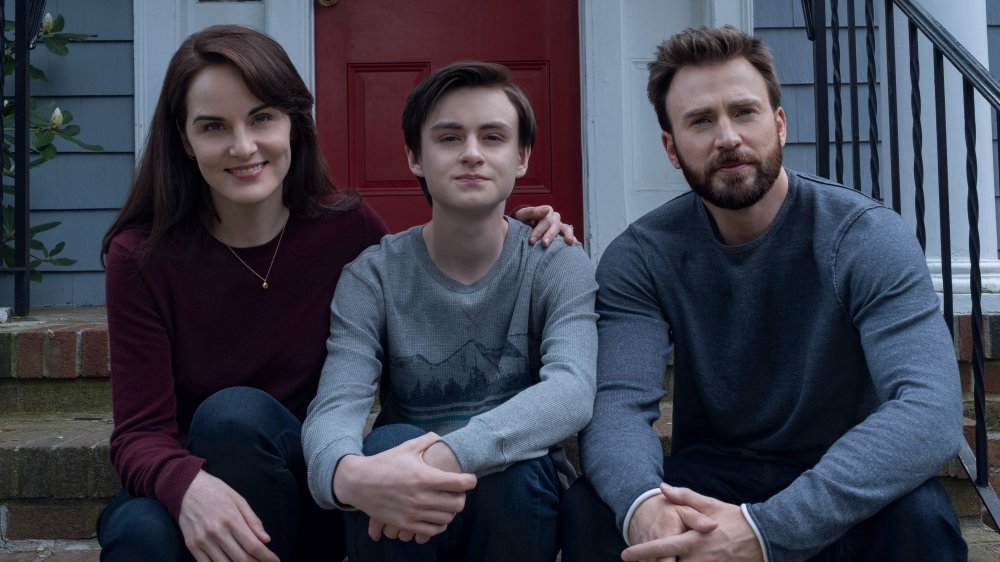 Apple Inc.
While Bomback was writing the second episode of Defending Jacob, Evans was cast in the role of Jacob's father, who also happens to be the local assistant district attorney. But Bomback didn't necessarily write the role with Evans in mind, saying, "I've been a screenwriter for a long time, so I've learned the hard way not to fall in love with the idea of any one actor playing a character."
Luckily, Evans fit the part to a tee. "I knew him as an actor," Bomback shares, "but I will confess that he exceeded my expectations on the first day of shooting. He embodied the character in a way that I was hoping for but didn't know was actually possible."
While it's a different kind of role for Evans — much more serious and subdued than his time as Captain America — he slipped into it effortlessly.
"Chris, as a human being, is a very interesting guy. He exudes a certain amount of warmth, but there's also a bit of distance with him. And that was a very useful way of seeing the character," says Bomback. "He also exudes a very sharp intelligence, which was something that we wanted to really lock in on. Another interesting thing is, he doesn't have kids, but he's very close to his family, and I think he was really excited about the prospect of playing a dad, which got me excited to see what we could write for him."
During the shoot, Evans also proved to be an indispensable collaborator when it came to honing the tone of Defending Jacob. "I would run a lot of things by him because I felt he understood the character in ways that even I didn't sometimes," Bomback admits. "He was really perceptive. If I had written the character to get a little angry in a certain scene, he would say, 'I'm not too sure that's what he would do here; let me try it this way.' And he was inevitably right. He just had really great instincts."
And Evans proved to be just as connected to the cast and crew, too. "We shot for 115 days, and he was incredibly generous to the cast and crew," recalls Bomback. "He has a house not far from where we shot [in Massachusetts] and he would have everyone over who worked on this show, from production assistants who were just out of college and everyone in between. In many ways, he functioned as the ambassador for suburban Boston for us. He was the local. And he just couldn't have been a more gracious host."
Defending Jacob is set to premiere on Apple TV+ on April 24.