Why Carrie Bufalino From The Irishman Looks Familiar
This content was paid for by Netflix and created by Looper.
The Netflix original film The Irishman was a lot of things: an acting masterclass, an at-times dubious portrayal of real-world events and figures, and yet another fantastic addition to director Martin Scorsese's sterling catalogue. While the movie's focus was mostly kept tight on its central figures of organized crime leading figure and eventual accused murderer Frank "The Irishman" Sheeran (Robert De Niro), International Brotherhood of Teamsters president Jimmy Hoffa (Al Pacino), and crime boss Russell Bufalino (Joe Pesci) of an Italian-American Mafia family, The Irishman was also populated by a number familiar faces among the women in its cast, which included Anna Paquin (True Blood), Stephanie Kurtzuba (The Wolf of Wall Street), and Marin Ireland (Piercing).
Also among the esteemed women of The Irishman is veteran character actress Kathrine Narducci, who portrayed Carrie Bufalino, the wife of Joe Pesci's big boss character Russell. 
If you found yourself wondering where you may have seen the woman behind Carrie Bufalino before, you're not alone. Narducci has carved out a widely varied body of work in feature films over nearly three decades, proving herself to be one of the most versatile and reliable supporting players in the business. She's also popped up early and often in guest spots and recurring roles on television; Narducci's even accustomed to projects centered around mobsters, having appeared on one of the most acclaimed crime drama TV series of all time.
Let's take a deep dive into the career of Kathrine Narducci, and discover just why Carrie Bufalino from The Irishman looks so familiar.
Kathrine Narducci has guested on some of your favorite TV series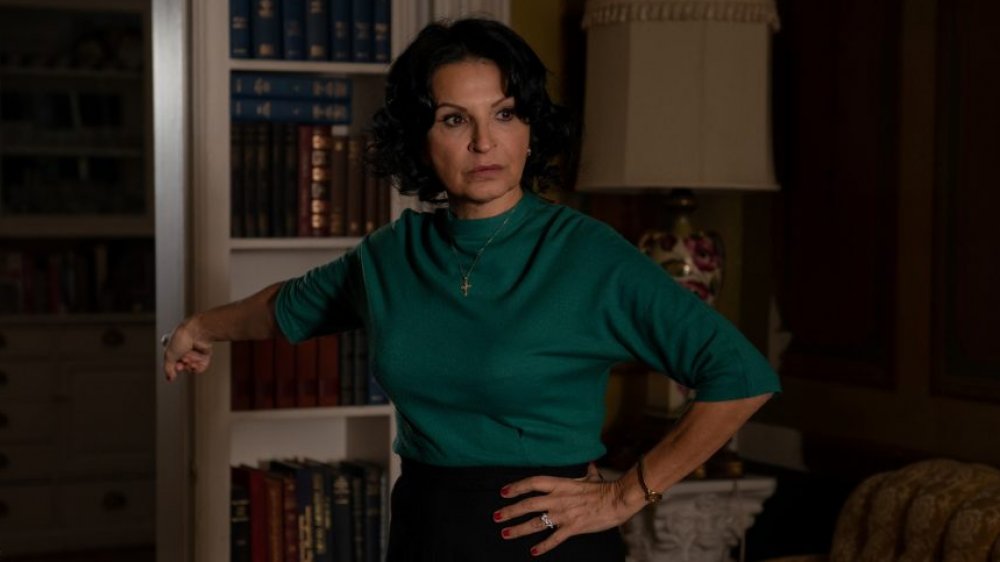 EPIX
As captivating as she is on the silver screen, Kathrine Narducci brings just as much fire power to television — so much so that even if you haven't sat down and watched the entirety of every television show she's been on, you're probably still familiar with her striking visage.
Fans of network television — legal procedurals in particular — may remember Narducci from her guest roles on the original Law & Order. She appeared three separate times — during the venerable series' fourth, seventh, and eighth seasons in 1994, 1997, and 1998 — in three different roles: Vicky Grant, Mrs. Marsh, Mrs. Louisa D'Angelo. Her multiple turns on Law & Order, no matter how small they were in the grand scheme, were an impressive appetizer to Narducci's future success, as she was just warming up as supporting player on police dramas.
Narducci has also made appearances on NYPD Blue (once as Ann Marie Fusco and another time as Angela Biaggi), Third Watch (as Jayme Mankowicz), Without a Trace (as a nurse), Cold Case (as Brenda), Dellaventura (as Celeste Roberti), In Plain Sight (as Felicia), Law & Order: Special Victims Unit (as Adrianna Vidal), Major Crimes (as Kate Kotero), and Blue Bloods (as Anna Bianco). Other non-crime drama guest spots that Narducci has held include appearances on the Lifetime dramedy Wild Card, on which she portrayed Maria Antonello; the Comedy Central sitcom Workaholics, on which she popped up for two episodes as Maria; and the HBO series Hung, on which she had a one-off gig as Bernice. Narducci also had a featured role as Frankie Lavarro the Starz network drama Power opposite Omari Hardwick, Naturi Naughton, and Curtis "50 Cent" Jackson.
Most recently, she played Eleanor Squillari in the Robert De Niro-starring, Barry Levinson-directed TV movie The Wizard of Lies, which chronicled the rise and fall of the infamous white collar criminal Bernie Madoff. In 2019, Narducci portrayed Olympia Gigante on the EPIX crime drama serial Godfather of Harlem, a prequel series to the 2007 feature film American Gangster.
You probably recognize Kathrine Narducci from The Sopranos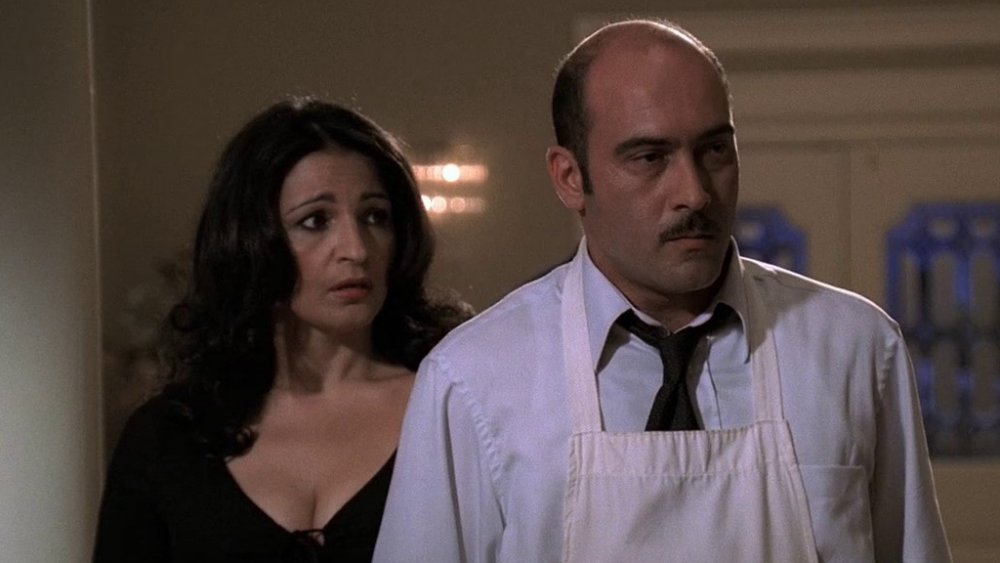 HBO
If those roles don't ring a bell for you, it's a pretty safe bet that you recognize Kathrine Narducci as a recurring character on one of the greatest hour-long dramas of all time. On the HBO series The Sopranos, Narducci played Charmaine Bucco, the wife of Artie Bucco (John Ventimiglia), a childhood friend of Tony Soprano (James Gandolfini). Charmaine couldn't abide by Artie's infatuation with his buddy's gangster lifestyle, though Artie never himself became a full-blown mobster. She a co-owner of Artie's restaurant, the Nuovo Vesuvio, and it's eventually revealed that she has a shrewd business mind. With her dedication to hard work and her strong sense of community, it soon became clear that Charmaine and Artie — whose primary motivation always seemed to be material success — were on different paths.
The pair were recurring characters on The Sopranos' first two seasons, but Charmaine and Artie both were promoted to regulars starting with season 3. They separated for a time, and Artie unwittingly inserted himself further into Tony's world when his restaurant became the center of a scam involving stolen credit card numbers; Benny Fazio (Max Casella) and Nuovo Vesuvio hostess Martina (Manuela Feris) ran the scam behind Artie's back. Artie and Charmaine eventually reconciled, and they continued to figure peripherally into The Sopranos' storyline through the show's final season.
Kathrine Narducci has been in a ton of feature films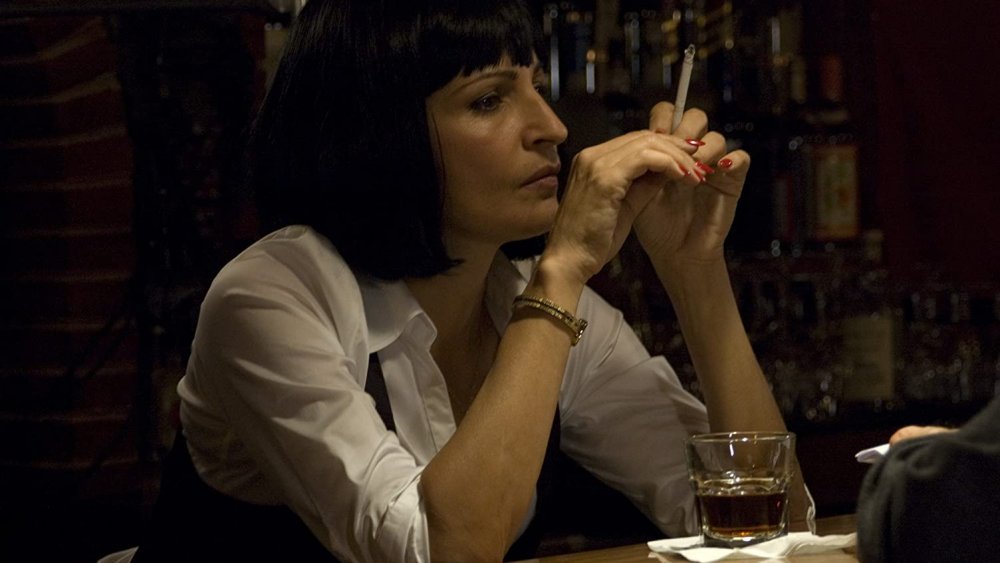 After The Sopranos ended, Narducci split her time between television and feature work, having apparently caught the attention of Hollywood casting directors with her nuanced and sympathetic portrayal of Charmaine. While Narducci continued to rack up the TV guest spots, her appearances on the big screen became more frequent after 2007; that'll happen when you turn in a standout performance on one of the most acclaimed television series in history.
Many of the feature gigs Narducci landed were comedies — such as the anthology Made in Brooklyn, in which she played Anna Sciacca, and The Deported, in which Narducci portrayed the character Cynthia. She also appeared as Brenda Marshall in the 2009 drama Blue, and as Lorraine Lionello in the 2009 indie actioner Chicago Overcoat. 
These roles served to prepare her for a supporting turn in a feature from an absolute giant of cinema: director Clint Eastwood's Jersey Boys, a biopic of the legendary pop group the Four Seasons. In the 2014 film, Narducci portrayed the mother of Frankie Valli (John Lloyd Young), the pop icon with the towering falsetto.
Since then, she's popped up in featured roles in flicks like the 2018 drama Cruise from director Robert Siegel, the crime drama First We Take Brooklyn from the same year, and the 2019 HBO comedy feature Bad Education, opposite Hugh Jackman and Allison Janney. 
Next on tap for Narducci is a supporting role as Rosie in the Tom Hardy-starring biopic Capone, written and directed by Josh Trank, and a role as Faith in the drama film Two Ways to Go West, the sophomore feature from Trace director Ryan Brookheart.
We're sure that Kathrine Narducci's veteran chops will keep her on casting directors' speed dial for many years to come.