The Ending Of Code 8 Explained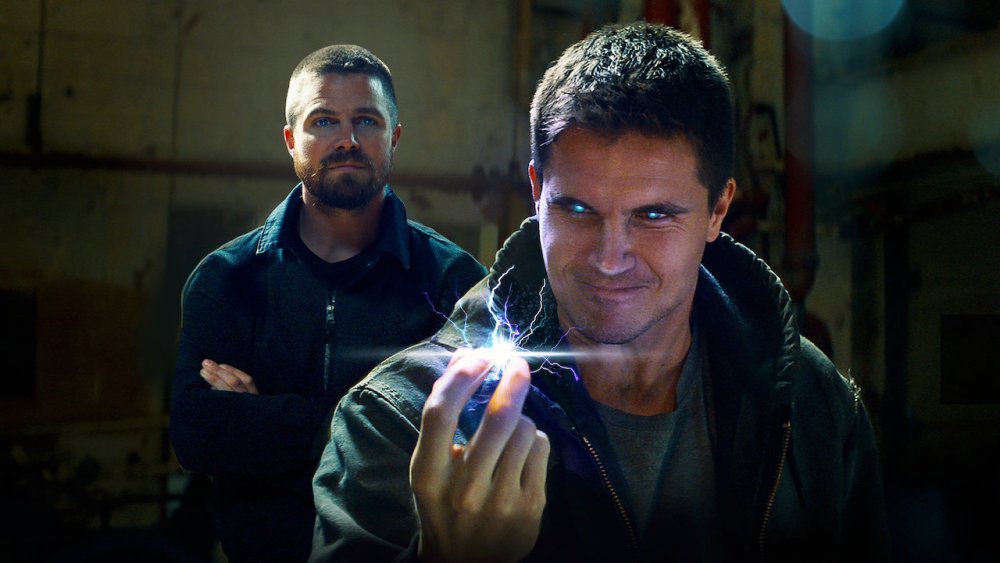 Contains spoilers for Code 8
With the bombing of X-Men: Dark Phoenix in 2019 and the uncertain future around the completed-but-in-limbo New Mutants movie, there's been a gaping hole in superhero cinema for stories about people with powers they don't quite understand navigating a society that hates and fears them. Fortunately, Code 8 is here to scratch that particular itch. 
The film arrived on Netflix on April 11, 2020, telling a story of a world in which four percent of the population is born with extraordinary abilities ranging from electrical to telekinetic to psychic to healing. Produced by and starring Arrowverse alums Robbie and Stephen Amell, Code 8 has proved a popular choice on the streaming service for those looking to explore a different take on the genre.
Based on a 2016 short film created by the Amells, writer Chris Pare, and director Jeff Chan, Code 8 was a labor of love, funded through an Indiegogo campaign that blew through its initial $200,000 goal to rake in a whopping $3.4 million. Look no further than the closing credits' four minute-long scroll through contributor names — just a portion of the 30,810 donors who funded its production — to see proof of the passion behind Code 8. And there's more to come, with a spin-off series in the works at the short-form streaming service Quibi. So, what kind of launching pad does the film provide? 
Let's take a look at what the ending of Code 8 really means.
Code 8 makes way for the superior human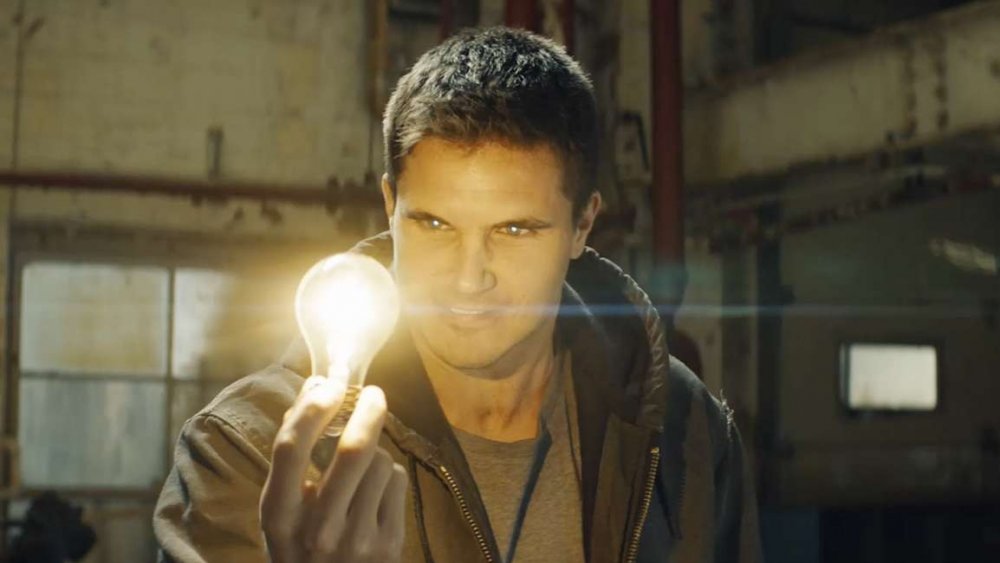 Code 8 posits a world in which superhumans, known as Powers, appear at the beginning of the 20th century. At first, they're key to the economy, facilitating the construction of the movie's main setting, Lincoln City. After a second Industrial Revolution, Powers are marginalized, becoming second-class citizens and living in constant fear of violence from the non-Power citizenry. Meanwhile, a crime syndicate called the Trust begins distributing a highly addictive drug known as Psyke, distilled from the spinal fluid of Powers. Things get so bad that the Lincoln City government is debating a city-wide Powers ban, sending its armed drones and android Guardians to combat the spread of Powers-related wrongdoing.
Into this world steps Connor Reed (Robbie Amell), whose potent electrical abilities are put to menial use in day labor while his mother (Kari Matchett) faces terminal brain cancer. Desperate for a means to save her, Connor falls in with a local gang of Trust Powers and begins living that criminal life, developing a particular relationship with a telekinetic named Garrett (Stephen Amell). Garrett, who possesses a Magneto-like view of Powers' relationship to normal humans, takes Connor under his wing, training the younger man to better use his abilities and promising to help him earn enough money for his mother's treatment. Meanwhile, the crew's efforts draw the attention of Lincoln City detectives Park and Davis, who are battling the Trust and its Psyke trade.
Code 8's bleak future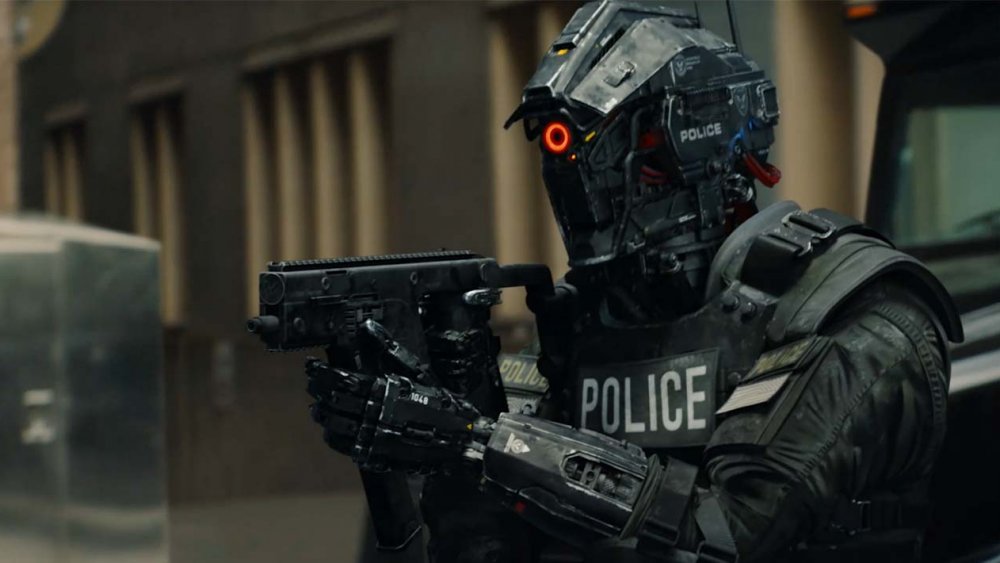 Unfortunately, the old adage that crime doesn't pay is as true in Code 8's world as it is in our own. Intra-Trust mistrust breeds animosity between Garrett, his superior, Sutcliffe (Greg Bryk), and the local Trust boss-man, Cumbo (Peter Outerbridge). This leads to disaster, as Connor's idea for a heist on a police shipment of confiscated Psyke gets dismantled due to a Sutcliffe double-cross on Garrett and his crew. Connor and Garrett, however, manage to escape and get their revenge on Sutcliffe by first turning his team over to the cops, then personally taking care of the turncoat.
The movie ends on something of an open-ended note. Possessed of too much empathy to force a Healer to cure his mother at her own expense, Connor turns himself over to the police. Garrett takes on the drug trade for the Trust in Lincoln City. Park, whose own daughter is secretly a Power, reluctantly accepts an award for his work. All the while, the city government debates and votes on a legal ban that would outlaw Powers outright.
Can Code 8 power up?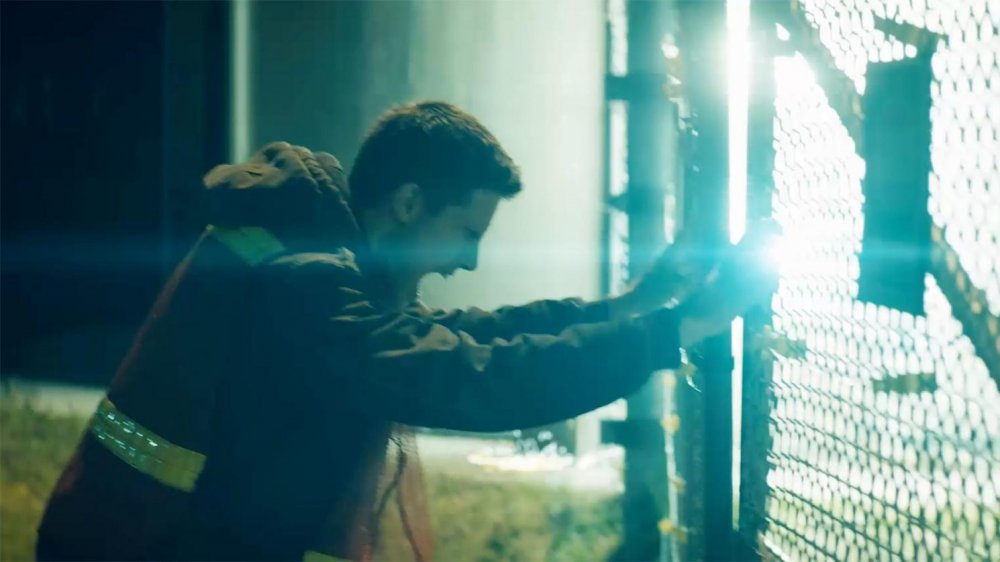 Code 8 has a healthy cult following, so the issue of whether it'll be watched on Quibi isn't up for debate. More important is where the property goes from here. 
Pare, the Amells, and Chan put a ton of effort into world-building, creating a slew of different Powers powers and a setting in Lincoln City that feels lived-in. The different elements of the series' world — Powers, the police, the Trust — are clearly defined, yet complex enough to contain multiple dimensions. In Connor and Garrett, Code 8 offers up two intriguing and nuanced characters played convincingly by actors whose chemistry goes beyond their familial bond. (Robbie and Stephen Amell are cousins, for those not in the know.)
It's a great recipe for further storytelling, and Quibi's abbreviated episodic format recalls the short-form arcs of individual comic issues. Plus, it appears the spin-off show's producers are going to make use of a mechanic that, when played properly, can take a property in exciting directions: the time jump. Code 8 on Quibi will take place years after the film, with Connor having served his time and teaming up once again with the drug-dealing Garrett to take down a criminal conspiracy between the police and Lincoln City's upper class.
It's a compelling setup, made all the more so by the loose threads the Code 8 film left waiting to be pulled. While Quibi is live now, we'll have to wait for an as-yet-undetermined premiere date to see if the Code 8 spin-off series can weave them into another super-powered obsession.