How Luther Might Have Doomed The World In The Umbrella Academy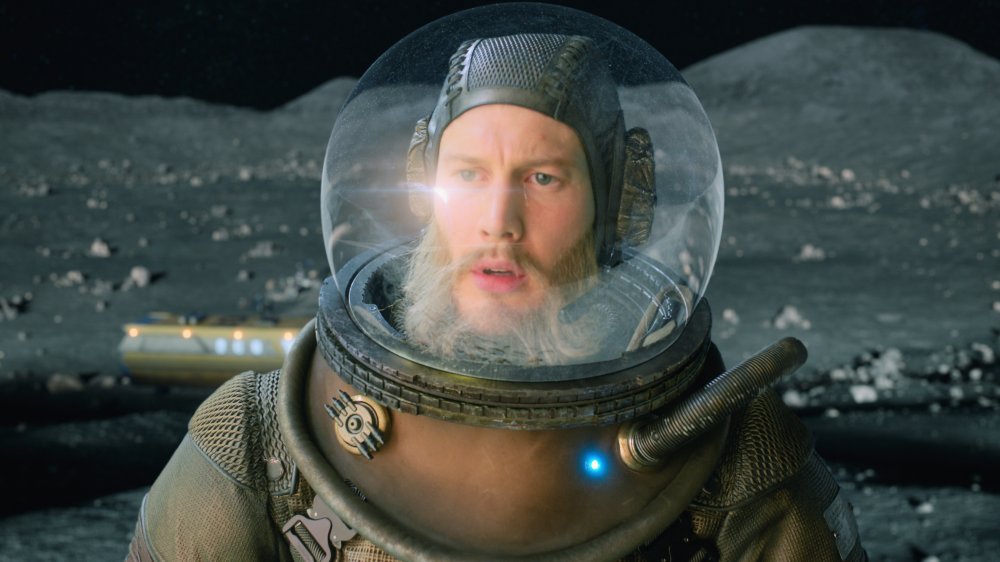 Netflix
The season 1 finale of Netflix's The Umbrella Academy signaled the end of the world as the Hargreeves' siblings knew it, and nobody seemed fine. 
To be fair, things weren't fine between the series' seven siblings before Vanya's (Ellen Page) powers blasted the Moon, sending chunks of it hurtling to Earth and engulfing the planet in apocalyptic flame. But for precisely that reason, the world ended. At the end of the first season, viewers discover that like her siblings Luther (Tom Hopper), Diego (David Castañeda), Allison (Emmy Raver-Lampman), Klaus (Robert Sheehan), Number Five (Aidan Gallagher), and Ben (Justin H. Min), Vanya has powers — despite being told otherwise their entire life. 
Who Vanya truly is and what her place in the Umbrella Academy really was was denied to her by their adoptive father, Sir Reginald Hargreeves (Colm Feore), after she exhibited some frighteningly strong powers at a young age. Sir Reginald adds Vanya's abilities to his mountain of secrets, restraining her powers out of fear of what she might do. While he believes he's doing the world a service, Vanya's belief that she's powerless creates a chasm between her and the rest of the family — the crescendo of which plays out during The Umbrella Academy's apocalyptic season 1 finale. 
Looking at how the first ten episodes unfold, it's clear that each of the Hargreeves siblings influenced that fateful ending, even in small ways. Still, one Reddit user believes that the true blame for Vanya's catastrophic outburst should be placed on the Umbrella Academy's Number One — and the only sibling who went to the moon: Luther. 
A theory from u/hobbitqueen poses that one decision by Luther may have set the apocalyptic event, which had seemingly been stopped at one point, back into motion. 
Luther was cruel to Vanya in a terribly familiar way
While everyone had a hand in Earth's end, someone who played a significant part in Vanya's dark turn is Leonard Peabody (whose real name is Harold Jenkins), played by John Magaro. According to the Commission, the organization responsible for overseeing and managing the space-time continuum, Leonard Peabody will spur Earth's destruction, and it's the job of agents Cha-Cha (Mary J. Blige) and Hazel (Cameron Britton) to ensure he isn't harmed so that can happen. Meanwhile, Leonard has tracked down Vanya in adulthood after being turned away from the Umbrella Academy in his youth.
On The Umbrella Academy season 1, episode 6, entitled "The Day That Wasn't," Number Five gets a hold of a message to "protect Harold Jenkins" before the agents do, and works diligently to prevent them from completing their mission. His efforts are nearly successful when Cha-Cha and Hazel never reach Leonard, and Vanya instead discovers that Leonard was not only manipulating her but also knew the truth of her abilities. He'd been using Vanya's strained relationship with her family and the secret of her powers to enact a revenge plot after Sir Reginald humiliated him when he was younger. Vanya pieces together what Leonard has been doing after finding one of her father's journals in his possession, igniting an argument that turns deadly. Though it's too late to stop Vanya from nearly killing her sister Allison at a cabin in the woods thanks in part to Leonard's actions, it's not too late to put an end to him. 
However, once Vanya stops the man who tried to hurt her family, Luther sees his sister as someone who needs to be contained, not helped. Vanya's actions convince Luther to use his own powers of strength to lock her up — just as their father did to her when she was young. Klaus, Diego, and Allison try to argue against it, but Luther doesn't budge — one of the reasons so many fans hate him.
As posited by u/hobbitqueen, it's this decision that causes Vanya to feel abandoned yet again, tilting her back towards her apocalyptic path. Despite all of Number Five's maneuvering, Luther's decision here seals the world's fate.