Why Luther From Umbrella Academy Looks So Familiar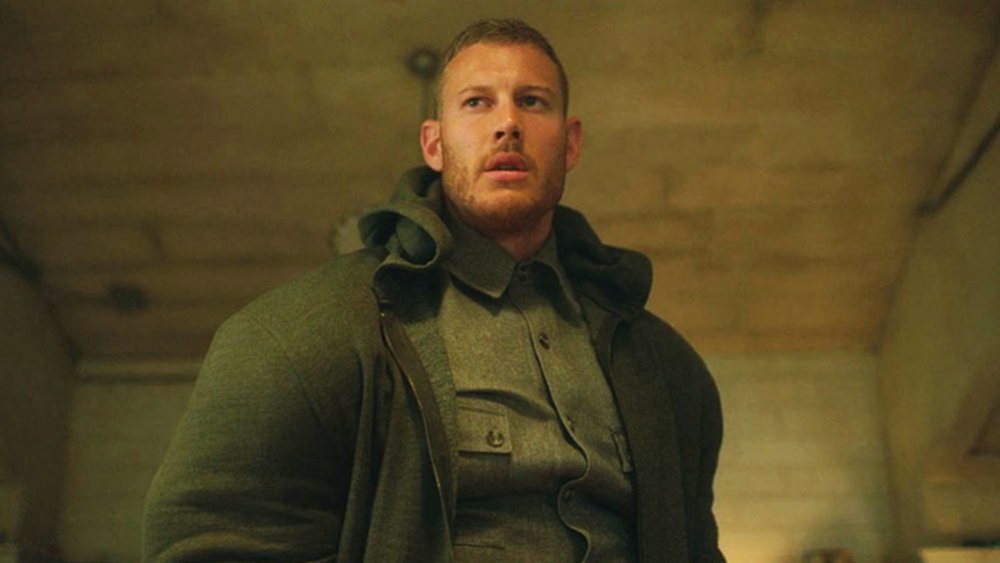 Netflix
Throughout the inaugural season of Netflix's breakout, anti-superhero series The Umbrella Academy, he was the Hargreeves sibling most directly involved in the unfolding of the on screen insanity. As it happens, he was also the most frequently reviled of the Hargreeves kids, because, well, he really didn't make many good decisions in season 1 of The Umbrella Academy. Yes, we're talking about that big, hairy lunkhead we've all come to know, love and/or loathe as Luther. And while we don't condone, or entirely agree with all the Luther hate that's been popping up of late, we can't help but also think he contributed more than most to, ya know, that apocalyptic finale.
That's not entirely his fault, of course. While good old Number One made some truly bone-headed mistakes during the first season of The Umbrella Academy, it's worth noting that more than any of the other Hargreeves kids (save for Ellen Page's tragically doomed Vanya), Luther really did have a tough time of things throughout. In fact, he spent much of the season in freefall after learning that his life was a lie, and his adopted father had essentially exiled him to the moon for years by assigning little more than a fool's errand. 
On top of that, the woman he loved (his adopted sibling Allison) had long ago married another man, had a kid, and become a movie star. So yeah, life wasn't exactly great for Luther in The Umbrella Academy's inaugural season. While Luther himself didn't always handle matters well, the actor who played him, Tom Hopper, was quite solid in conveying both the childish naiveté and tortured inner world of the not-entirely-ape man. If his face seems familiar, it's because it undoubtedly is — and here's why. 
Tom Hopper hit the high seas under Black Sails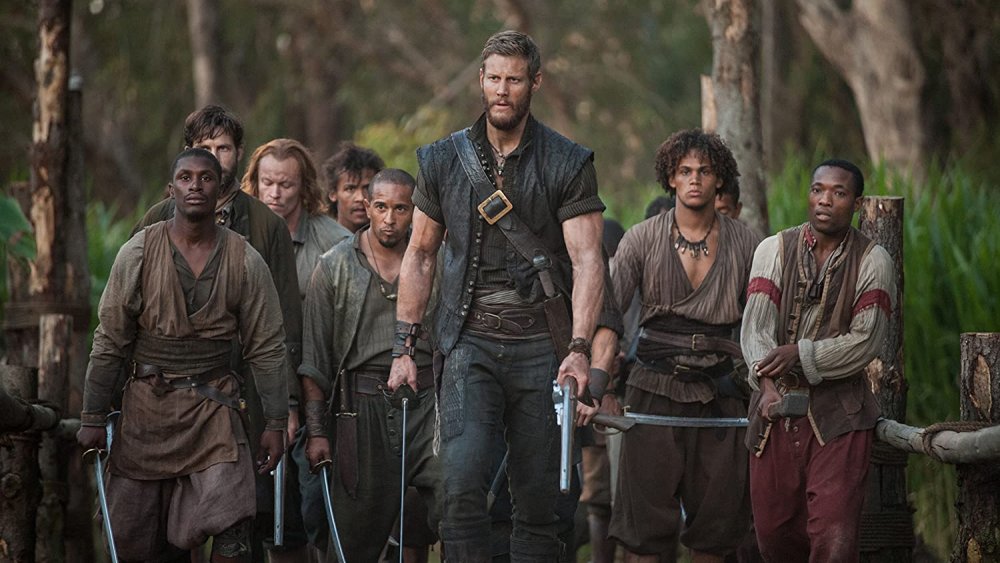 Starz!
While Tom Hopper has quickly made a name for himself with his work on The Umbrella Academy, the actor first landed on the radar of genre fans after portraying Sir Percival on the mostly great, but short-lived fantasy series Merlin. Though that show went the way of the Dodo in 2012, Hopper wasted little time in lining up a role in another epic series, this time under the guidance of cinema's auteur of bombast, Mr. Michael Bay. The series in question was Starz Network's swashbuckling adventure saga Black Sails, on which Bay served as executive producer for the entirety of its four season run.
If you missed Black Sails when it was airing on on Starz from 2014 to 2017, the series was conjured by creators Robert Levine and Jonathan E. Steinberg as a sort of prequel to Robert Louis Stevens' landmark adventure Treasure Island. As such, Black Sails is set two decades prior to Stevens' novel, and is focused on a few key characters from that tale — most notably Captain Flint, Billy Bones, and the infamous pirate Long John Silver. Fans of the series no doubt recall that Hopper appeared on Black Sails as the fiercely loyal Billy Bones; you might also remember how good Hopper was in the complex role, imbuing the character with a true-hearted humanity that was not-so-easily forced to the background when matters got out of hand on the show, which was admittedly quite often. 
Tom Hopper met The Mother of Dragons in Game of Thrones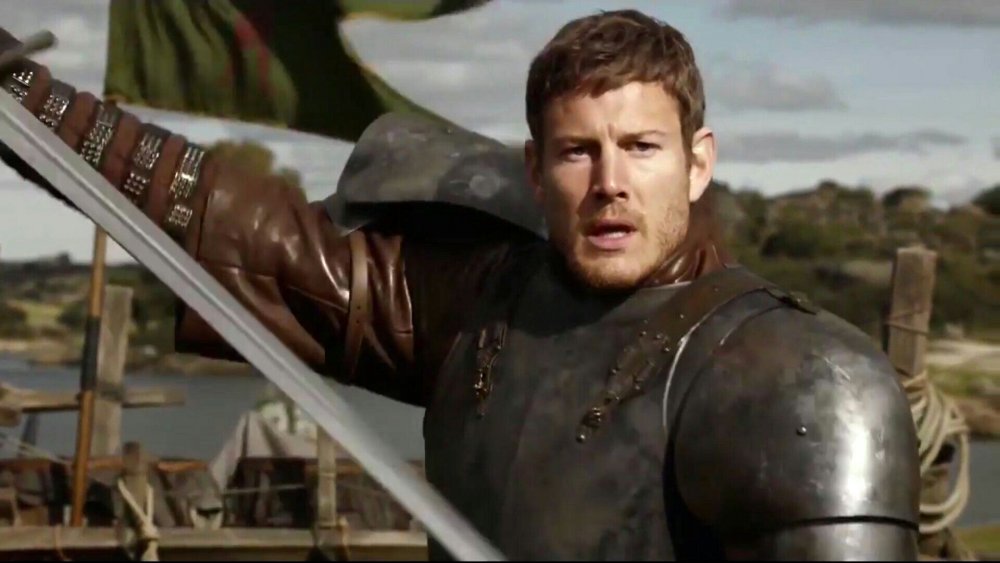 HBO
After a successful run on Black Sails, Hopper's career got a much needed boost. In fact, his profile was raised enough that he caught the eye of producers on a little HBO series called Game of Thrones, the very one that stole the hearts and minds of millions before, um, smashing them into little bits with a final season that — while often quite brilliant — left much to be desired. Luckily, Hopper's run on Game of Thrones came in one of the series' better executed runs of episodes, those that formed the show's penultimate season 7.
If you need a bit of a refresher on what madness unfolded in Game of Thrones' seventh season, that was the one which saw the presumed conquerer of Westeros, Daenerys Targaryen (Emilia Clarke), finally return to her fabled homeland to begin laying siege to the throne of the vile Lannisters. Along the way, she ended up waging war with a few notable folks who'd made only brief appearances on the series before. One of those characters was the kid brother of Samwell Tarly (John Bradley). 
Game of Thrones fans no doubt remember that Dickon Tarly made his first appearance on Game of Thrones in season 6. You may also remember that Hopper was not the actor who played the part in that season 6 episode. The role was recast ahead of season 7, with Hopper taking over as Dickon for his most vital time on the series. En route, Hopper also got to share a little screen time with the Mother of Dragons herself, though he also met a most brutal end after falling in line with his spiteful father and refusing to bend the knee.   
Tom Hopper fought the future in Terminator: Dark Fate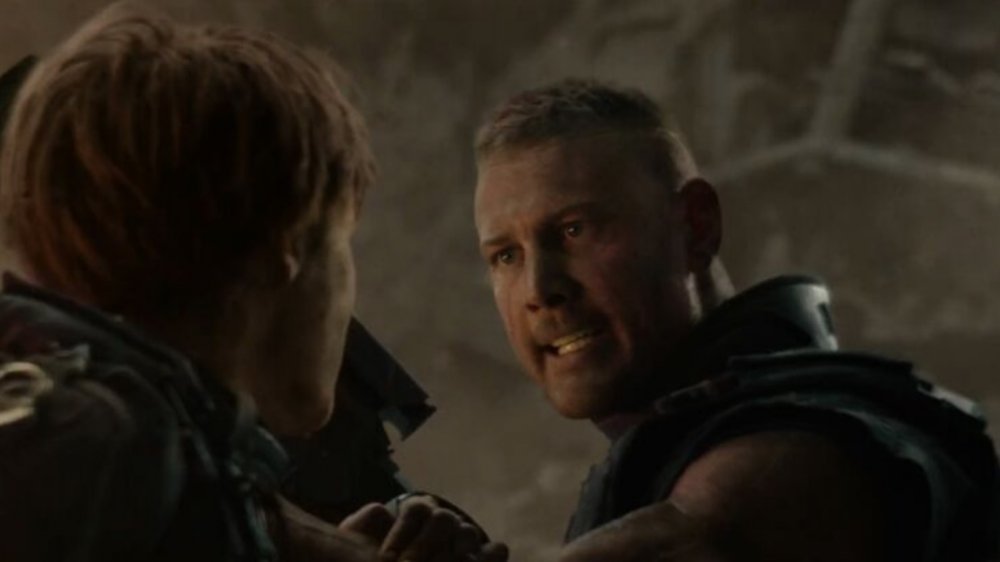 Paramount Pictures
Though he's got classic Hollywood looks and onscreen presence to burn, Hopper still hasn't had a ton of luck to date booking work in big screen projects. One exception: a memorable turn opposite comedienne extraordinaire Amy Schumer and Michelle Williams in the 2018 romantic farce I Feel Pretty. Perhaps looking to build on an increasingly impressive resume full of fantasy and sci-fi fare, Hopper again went genre in 2019 when he joined the resistance and fought the machines in Terminator: Dark Fate.
Okay, there's a pretty good chance you missed Hopper's appearance in that flick, because most of you missed the movie altogether when it hit theaters. While we'd be the first to admit that Dark Fate was a flawed addition to the Terminator franchise, it probably didn't deserve the "box office bomb" tag it eventually earned. In fact, even in spite of its flaws, it was still a hell of a lot of fun, and sort of a perfect summer movie that suffered largely because it leaned a little too heavily on nostalgia for the franchise's groundbreaking original films (1984's The Terminator and 1991's Terminator 2: Judgement Day). 
With that in mind, we're sincerely hoping some of you will give Dark Fate a chance now that it's hit VOD platforms. If nothing else, the film will give fans of The Umbrella Academy a chance to see Hopper in action as a leader who actually puts the good of the many ahead of his own selfish desires. Not for nothing, but Luther Hargreeves could probably learn a few valuable lessons by checking out Terminator: Dark Fate himself.