What To Watch On Netflix If You Love Locke & Key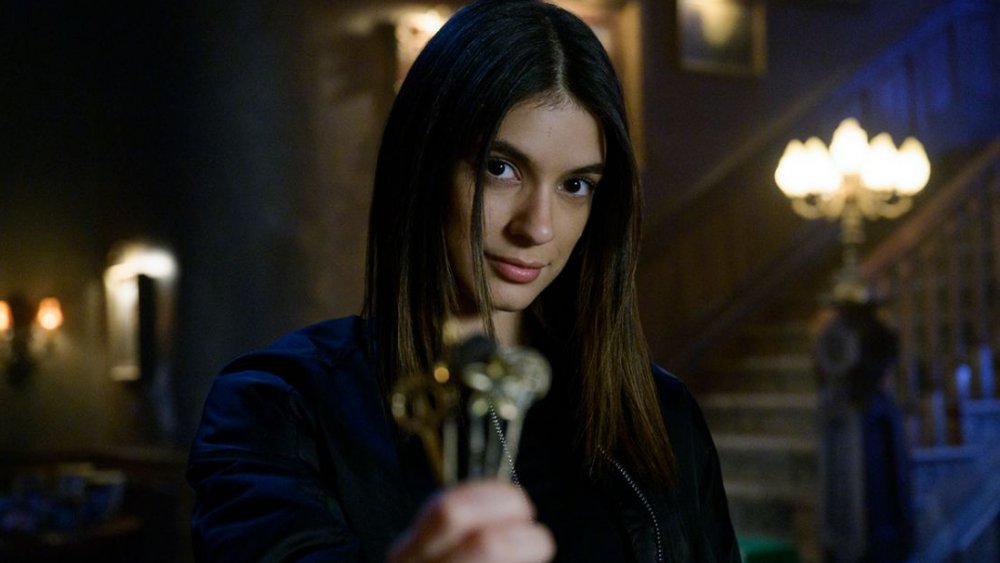 In early February of 2020, Netflix released the first season of Locke & Key, a fantasy series that walks several lines between horror, science fiction, and teen melodrama. Based on the comic series of the same name by writer Joe Hill and artist Gabriel Rodriguez, Locke & Key tells the story of the Locke family — mom Nina (Darby Stanchfield) and siblings Tyler (Connor Jessup), Kinsey (Emilia Jones, and Bode (Jackson Robert Scott) — who move into their father's family mansion following his tragic death. When Bode discovers a mysterious key — and unwittingly sets free a demon trapped in the family's well house — the Locke kids have to work together to both discover the secrets buried in their family home and defeat the evil set loose upon the world.
The series certainly isn't the first of its kind on Netflix. Over the last few years, the streaming giant has dedicated a significant portion of its original programming to the comic industry, and while it'd be easy to lump Locke & Key in with any number of other comic-based properties, the show's wide-ranging appeal and ability to float between genres makes it a standout. But with only ten episodes currently available to stream, fans have one question on their minds: What now? Luckily, Netflix's current catalog is vast, and with so much to love about Locke & Key, there's plenty to choose from that'll feel at least a little bit like Keyhouse.
October Faction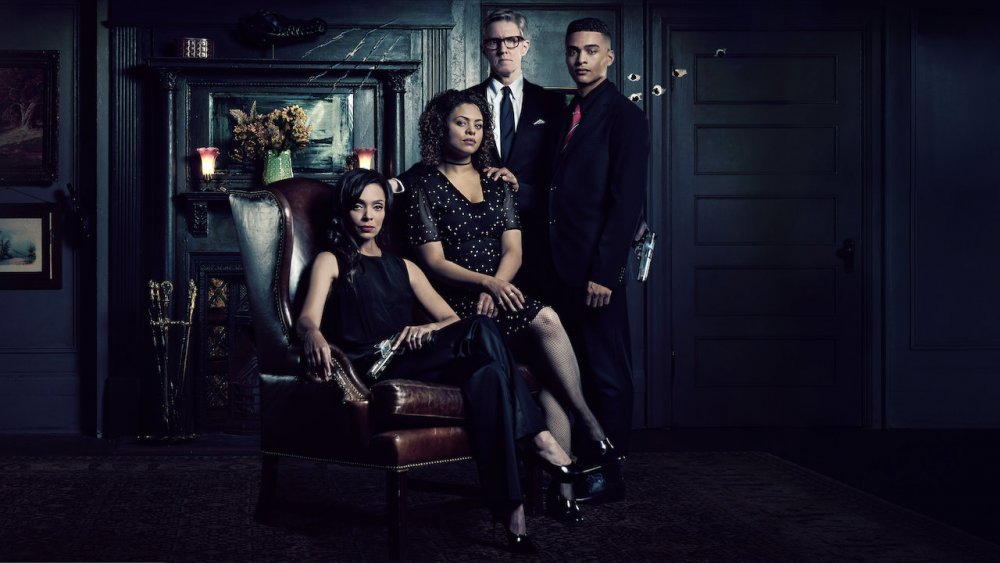 Like Locke & Key, October Faction is based on a comic series, the popular IDW title by writer Steve Niles and artist Damien Worm. And, like Locke & Key, October Faction also places a family with inherited secrets at its core: the Allens, parents Fred (J. C. MacKenzie) and Dolores (Tamara Taylor) and teen twins Viv (Aurora Burghart) and Geoff (Gabriel Darku). Fred and Dolores are monster hunters who work for Presidio, an organization with a worldwide reach and sinister secrets of its own.
October Faction is a slick, stylish series that boasts a well-rounded, talented cast. While its premise may not be the most original out there — we've seen plenty of parents-as-secret-agents stories, and monster series aren't going anywhere anytime soon — October Faction has enough twists and turns to make its ten-episode run worth a viewing. What it lacks in pacing can certainly be chalked up to first season stumbling blocks. Had the show been given a sophomore run (Netflix announced on March 30 that it would not be renewed), October Faction could have become a real gem for the streamer. Alas, we'll never get the chance to find out.
Horns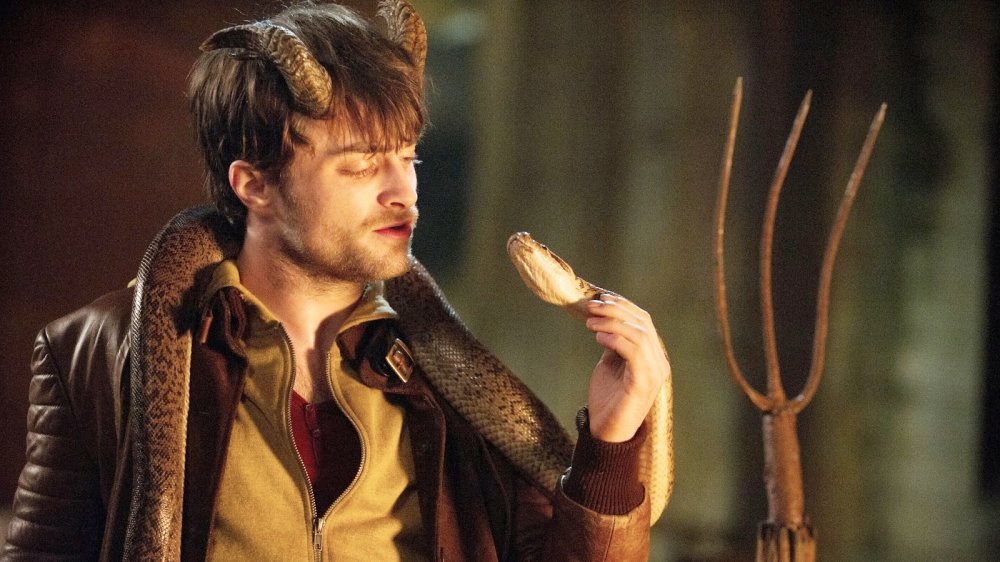 When Ig (Daniel Radcliffe)'s girlfriend Merrin (Juno Temple) is murdered, he shoots straight to the top of the suspect list. He isn't responsible, of course, but Merrin's death is only the beginning of this twisted horror fantasy. While Ig's search for the real killer would be enough to push Horns' story forward, things get weird — and insanely wonderful — after he discovers a pair of horns protruding from his forehead... horns that somehow have the ability to force the people around him into confessing their darkest secrets.
Horns is based on the novel by Joe Hill, the writer of Locke & Key and son of horror legend Stephen King. Like its Netflix series sibling, the film straddles a number of genres. Unfortunately, the result is that at times it feels as though it's having a sort of identity crisis. It's also one of Radcliffe's first films since leaving the Harry Potter franchise behind, making it one of the first of many "against type" characters he would go on to play. But it's actually Radcliffe's portrayal of Ig, a mostly decent guy who sometimes lets his newfound power get the best of him, that makes Horns so worth watching. He's incredibly talented, and Horns is exactly the right kind of weird that works.
Lucifer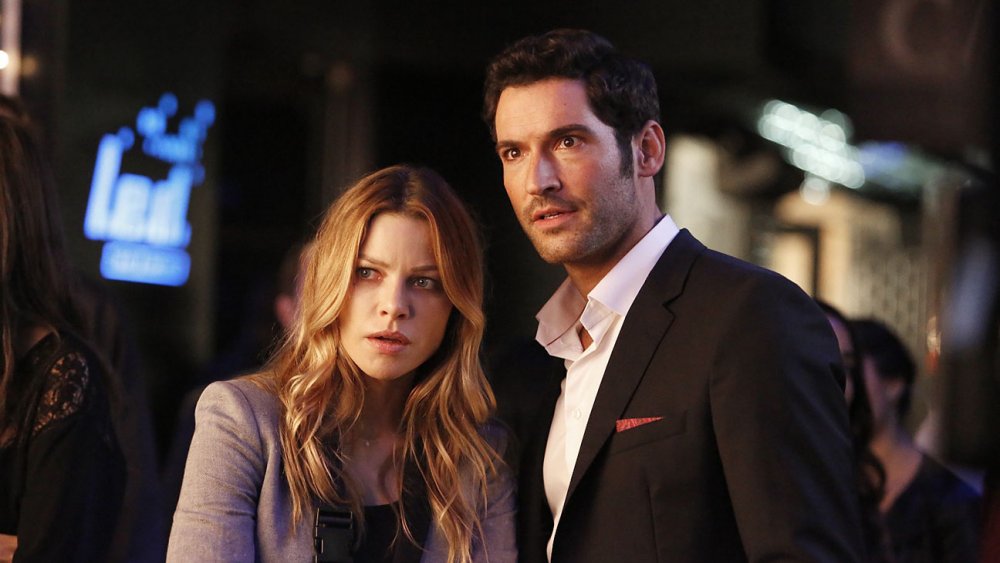 Arguably one of the greatest comic series ever published is Neil Gaiman's The Sandman, which tells the story of Dream of the Endless, who, after a 70-year imprisonment, sets off on a quest to rebuild his kingdom. It's rich with lore and beautifully illustrated, thanks to the likes of artists Mike Dringenberg, Sam Kieth, Jill Thompson, and others, and it's responsible for the introduction of one of the most fascinating depictions of the Lord of Hell ever created: Lucifer, the bored ruler who decides to abandon his throne in favor of milder weather.
That's where Lucifer picks up. The one-time king has set up shop as a nightclub owner in Downtown Los Angeles, and when he inadvertently crosses paths with homicide detective Chloe Decker (Lauren German), he discovers his true calling: as a consultant for the LAPD. The show's first season is admittedly a little rough around the edges (the Fox procedural cop drama format will do that), but as it moves into its later seasons, Lucifer really finds its groove. Tom Ellis plays the titular character with charismatic flair, and along with his demon cohort Mazikeen (Lesley-Ann Brandt), he makes pure evil look like one hell of a good time.
Ragnarok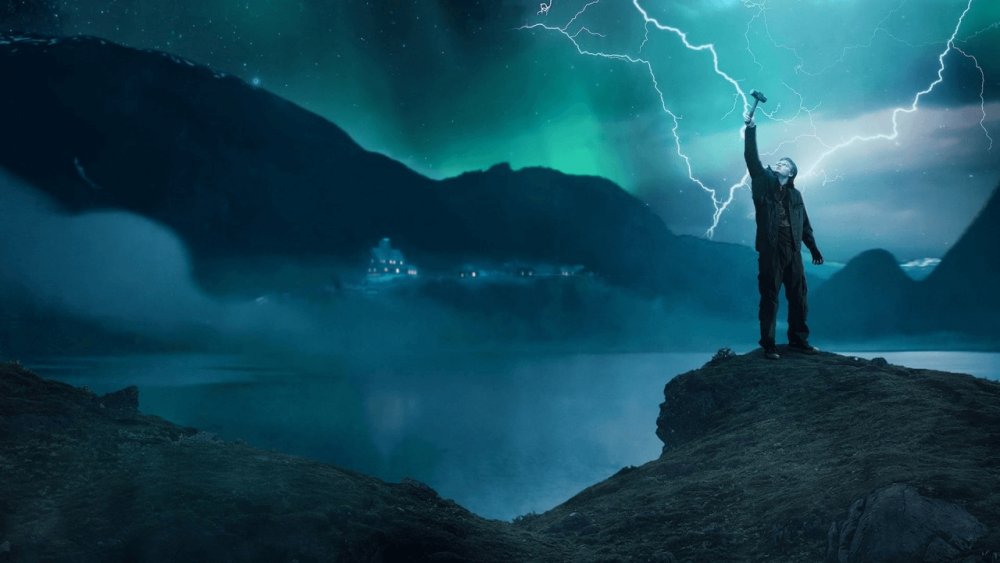 Mention the word "Ragnarok" to a modern audience, and the first thing to come to mind is likely Chris Hemsworth's freshly-shorn Thor battling Hulk in an intergalactic death ring. But if you're interested in the story behind the real Ragnarok — the Norse legend that tells of the end of the world — Ragnarok promises to deliver in a way that doesn't involve Marvel's enormous cache of characters. Instead, the Norwegian series narrows the scope, focusing on awkward teenager Magne (David Stakston), his brother Laurits (Jonas Strand Gravli), and the wealthy Jutul family, who serve as the show's (and the legend's) primary antagonists.
There's a lot to love about Ragnarok. Stakston's Magne is a far cry from the Thor we've come to know on screen: he's thoughtful, considerate, and suffers from a mild learning disorder. He has no idea of the power he'll come to possess, and honestly, it's a refreshing take on the character. The show has its drawbacks, of course — certain storylines feel rushed, while others seem to take too long to go anywhere. But Ragnarok is setting up for something special, and with a season 2 guarantee from Netflix, it's exciting to see where it'll go.
A Series of Unfortunate Events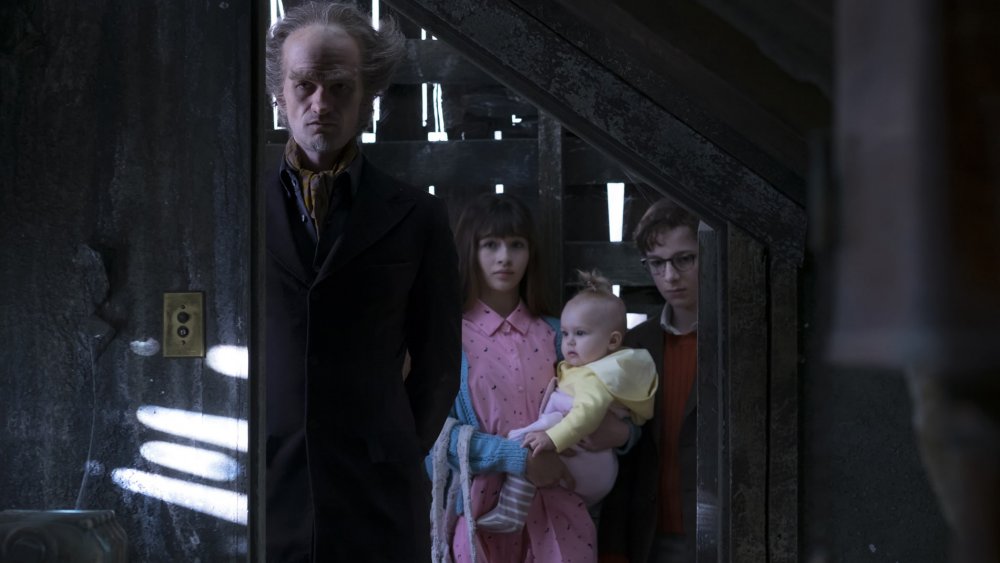 The Baudelaire children — Violet (Malina Weissman), Klaus (Louis Hynes), and Sunny (Presley Smith) — having recently suffered the tragic loss of their parents in a fire, are sent to live with a distant relative, Count Olaf (Neil Patrick Harris). Of course, Olaf is not at all what he first makes himself out to be, and the Baudelaires are thrust into a battle of wits in order to keep him from stealing their family's fortune. In the midst of all of this, they must uncover the truth behind the secret organization their parents had belonged to.
On the surface, A Series of Unfortunate Events could be a near copy of Locke & Key (or, rather, Locke & Key could be its near copy): a trio of siblings fraught by family tragedy, a shady foe who'll stop at nothing to get his hands on their inheritance. But where Locke & Key is intermittently either a creepy horror or a family friendly teen drama, A Series of Unfortunate Events is solidly a dark comedy that successfully pulls from various other genres right out of the gate. Add to that an incredible cast, led by Harris' over-the-top (in the best way) portrayal of the nefarious Count Olaf, and you've got a series that's fun and hilarious, from start to finish.
Dark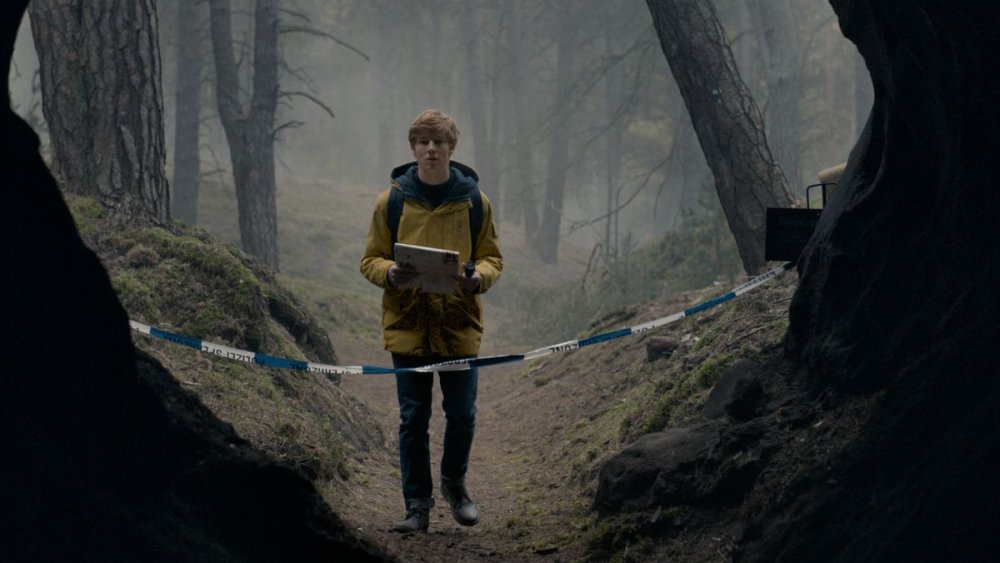 Magical keys aside, at its core, Locke & Key is about a single family's struggle to deal with the tragic loss of its patriarch. Likewise, Dark, which first premiered on Netflix in late 2017, sets its focus on family tragedy — except in the German town of Winden, where the series takes place, that tragedy extends to several families, and through multiple timelines. There are four families at the heart of Dark, each with its own set of secrets. At the beginning of the series, we meet Jonas Kahnwald (Louis Hofmann), a teenager whose father has recently committed suicide; Ulrich Nielsen (Oliver Masucci), a police officer whose brother disappeared years earlier and whose youngest son has just gone missing; and Charlotte Doppler (Karoline Eichhorn), the police chief trying to make sense of things in a town where not a lot does.
Dark is an exercise in near-flawless storytelling, unraveling dark family secrets over the course of several decades. Characters move back and forth in time, their actions having a sometimes profound effect on the lives of past or future family members. It's also beautifully shot, taking full advantage of the areas surrounding Berlin. It may require a few notes (or possibly an entire bulletin board and spool of red yarn) to keep up with its storylines, but once Dark draws you in, you won't be able to turn away.
The Umbrella Academy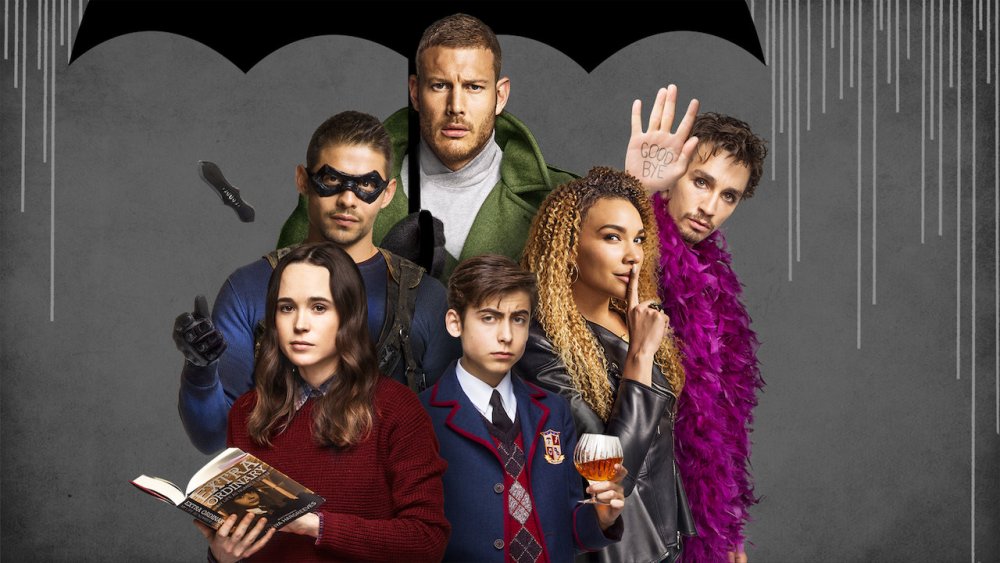 Where familial loss in Locke & Key works to bring its core cast of characters together, the same thing cannot be said for the family at the heart of The Umbrella Academy. Here, while the sudden death of father figure Sir Reginald Hargreeves (Colm Feore) certainly brings the adopted Hargreeves siblings together, it also serves to shine a light on their very, very dysfunctional family dynamic. Oh, and did we mention that they all happen to have some pretty serious superpowers?
Imagine The Umbrella Academy like the X-Men, only instead of the (sometimes) kindly Professor X, there's a cold, demanding drill sergeant in his place. Likewise, the ragtag group of misfits that make up the Hargreeves siblings — Luther (Tom Hopper), Diego (David Castañeda), Allison (Emmy Raver-Lampman), Klaus (Robert Sheehan), Number Five (Aidan Gallagher), Ben (Justin H. Min), and black sheep Vanya (Ellen Page) — are not without their own faults, which (in at least one case) includes the ability to destroy the entire planet.
The Umbrella Academy puts a dark and hilarious twist on the classic comic ensemble, which is punctuated by some pretty stellar cast performances, particularly from Gallagher and Sheehan. For comic fans looking for something truly original, the series won't disappoint.
The Haunting of Hill House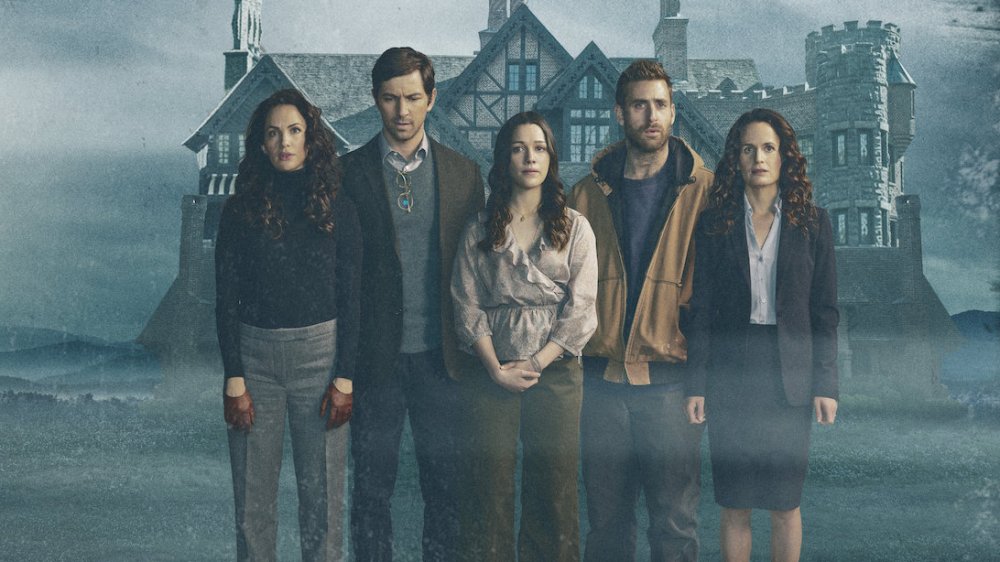 In 1959, Shirley Jackson published The Haunting of Hill House, a gothic horror tale about a paranormal researcher who travels to Hill House with a small group of people in hopes of documenting ghost activity. Since its publication, there have been two feature film adaptations of the story, and while one of them (1963's The Haunting) is generally well-regarded, the other (1999's The Haunting) should have probably never happened. The Haunting of Hill House is the third attempt at adapting Jackson's work for the screen, and although aspects of her original story (a few characters, Hill House itself) remain intact, it is, for the most part, an entirely new story.
The series centers on the Crain family, who once lived in Hill House but were forced to flee in the middle of the night back in 1992. The show works in two separate timelines: the past, where the family is tormented by the ghosts that occupy Hill House, and the present, where the now-estranged siblings must come together to defeat the house once and for all.
The Haunting of Hill House, while certainly terrifying at times, cares less about trying to scare its audience than it does about telling a thoughtful story about a fractured family. Its realistic, often painful portrayal of the Crain siblings' relationships is set against a ghostly background, which makes it that much easier to get invested in each individual's fate.
The Stranger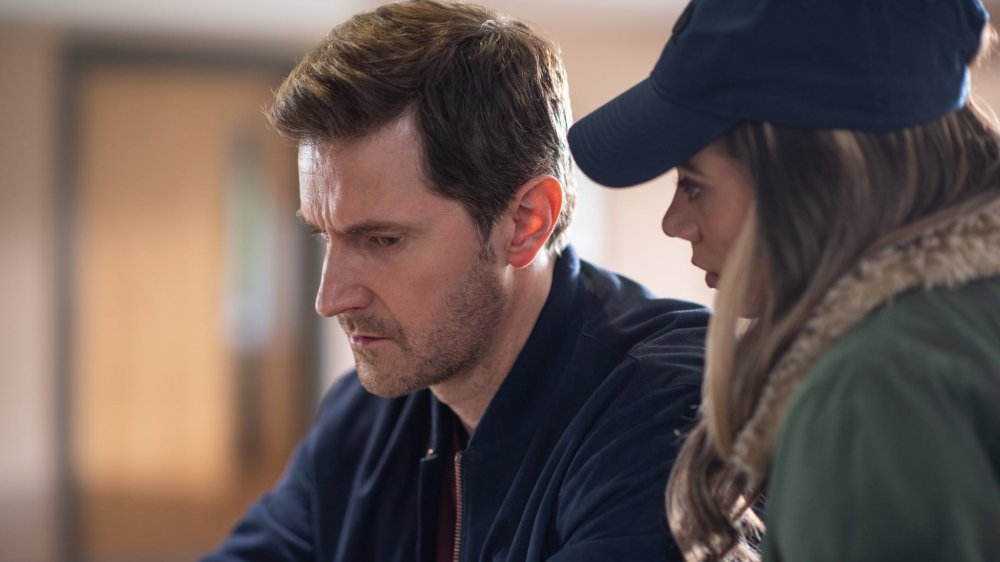 Imagine a complete stranger approached you with information regarding your deepest and most personal secrets, and then used that information to manipulate you and your family. Now imagine you aren't the only one. That's the premise of The Stranger, a British thriller based on the novel by Harlan Coben, which tells the story of Adam Price (Richard Armitage), a family man who comes to discover via a stranger (Hannah John-Kamen) that his wife Corinne (Dervla Kirwan) has lied to him about a failed pregnancy. The revelation sets in motion a series of events that have disastrous consequences not only for Adam, but for others in his town as well.
The Stranger is well-written, well-acted, and delivers enough twists and turns to keep audiences guessing. It's uncertain whether or not there will be a second season, considering its source material ran out with episode 8 (although it wouldn't be the first time a series grew beyond its original concept). If The Stranger does wind up wrapping its run with a single season, rest assured it's a good one — and with only eight episodes, it's a quick binge to get through.
I Am Not Okay with This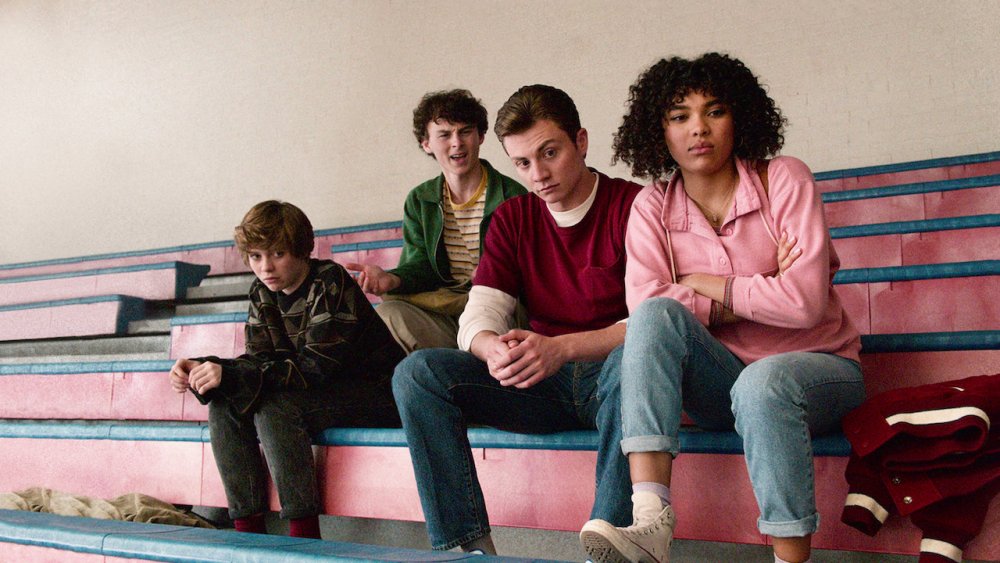 Making it through your teenage years and into adulthood intact is a difficult task as it is. Making it through while also having to contend with budding superpowers that are beyond your control is nearly impossible, but that's exactly what Syd (Sophia Lillis) has to do in I Am Not Okay with This, a coming-of-age dramedy that premiered on Netflix in February 2020. Based on Charles Forsman's graphic novel (he's also responsible for creating The End of the F***ing World), the series shines a slightly more optimistic light on its source material — namely, in terms of Syd's inner monologue, which comes in the form of an appropriately angsty teenage narration. So, too, have the story's side characters, Stanley (Wyatt Oleff) and Dina (Sofia Bryant), been given expanded and more interesting roles in their jump from page to screen.
Despite having a teenage girl with superpowers at the core of the show, I Am Not Okay with This deals more with the trials and tribulations of the everyday, absolutely relatable high school experience. The role of Syd feels tailor-made for Lillis, who's very quickly becoming one of the most in-demand young stars in the industry in the wake of her breakout role as the young Beverly Marsh in the It movies. The show is a firm reminder that we all deal with the same horrible growing-up stuff, superpowers or no.
Raising Dion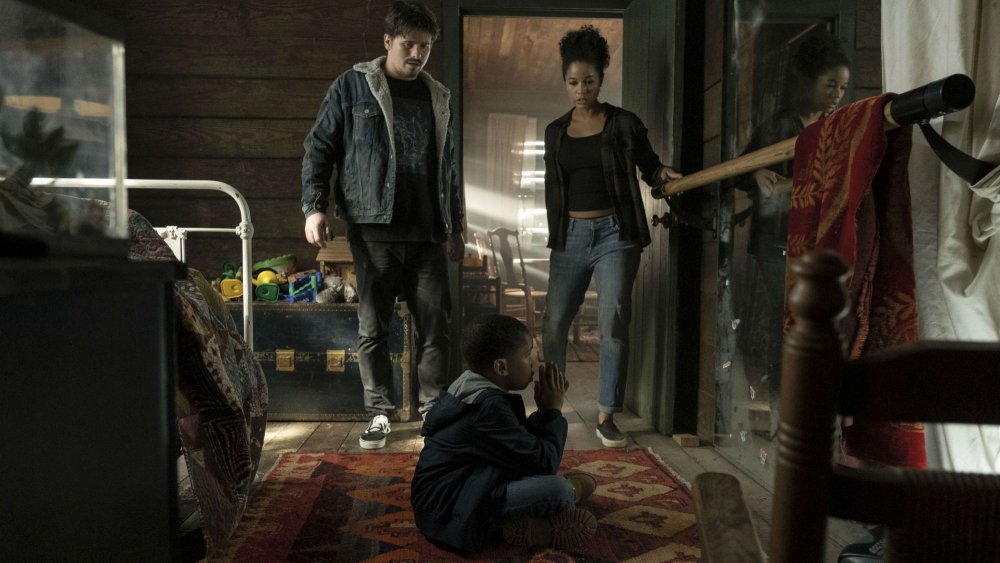 Where many of Netflix's original series deal with superpowers and various other magics from the perspective of kids and young adults, Raising Dion takes an entirely different approach, focusing instead on newly-single mother Nicole (Alisha Wainwright), whose young son Dion (Ja'Siah Young) has begun to manifest magical abilities. With the help of her deceased husband's best friend, Pat (Jason Ritter), Nicole must figure out how to teach Dion to control his powers, while simultaneously keeping him out of the government's clutches.
Raising Dion is a refreshing take on the superhero genre for a number of reasons. Not only is its central focus a person who doesn't actually have powers themselves, but the person who does have powers is at an age where he really has no idea know what to do with them. It's one thing to find out you can control objects with your mind — it's another thing entirely to be able to do it when your mind isn't anywhere near being fully developed. Nicole's struggle is one that many single parents face everyday, only more so. And if she messes things up, the consequences are that much more devastating.
The Society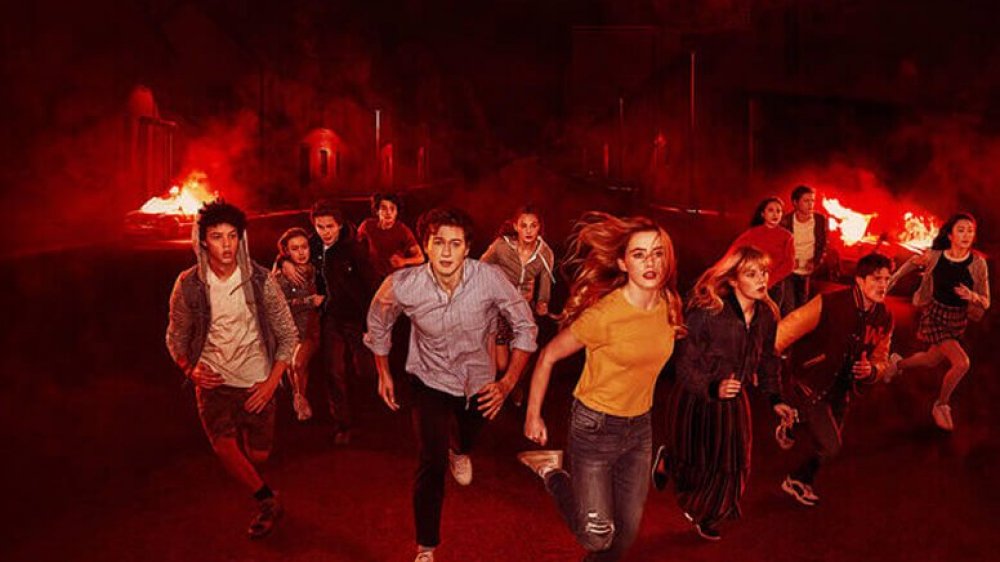 The Society (mostly) doesn't deal in magic or superpowers. Rather, it questions teenagers' ability to self-govern under extraordinary circumstances, and the answer winds up falling somewhere between Sex Education and Lord of the Flies. When the high schoolers of West Ham, Connecticut, are forced to return early from a planned ten-day field trip, they discover that everyone else in town has disappeared. What's more, a forest has grown around the town, blocking off any contact with the outside world (which, for all intents and purposes, no longer exists).
Over the course of its first season, The Society delivers a level of teen drama matched only by the likes of Riverdale, along with a heavy dose of post-apocalyptic politics. But it also shows a side to teenagers that not many series have explored — the idea that, when forced to take on adult roles, they can and will step up. Throw in some parallel universes, and The Society paints a pretty positive portrait of American teens, proving that, like adults, there will always be ill-intentioned members of a group... but they don't make up the majority.
The Order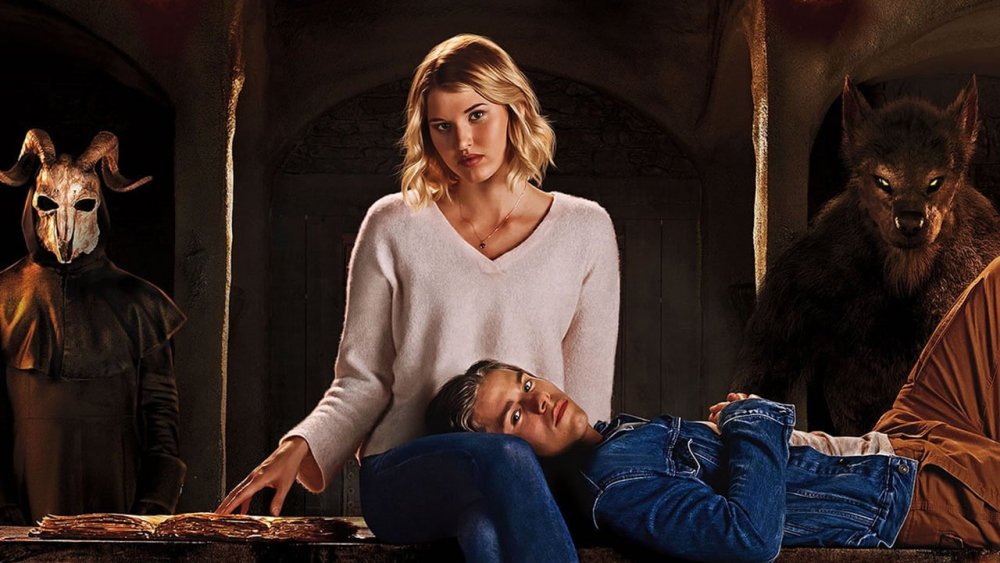 When Jack (Jake Manley) enrolls at Belgrave University, he's soon recruited into an underground magic society called the Hermetic Order of the Blue Rose. As he navigates the Order with the help of fellow student and personal tutor Alyssa (Sarah Grey), he stumbles into a war between werewolves and practitioners of the dark arts.
On its surface, The Order may seem like just another supernatural series with the added bonus of killer werewolves. But the show, which first premiered on Netflix in March 2019 and will see a second season on the streaming platform, approaches the oversaturated supernatural market with a heavy dose of humor, making a standout among its peers. It's fast-paced and entertaining, and its freshman season has set up all the right story points to make for an interesting and fantastic sophomore run. Manley is a solid lead, and his chemistry with Grey gives The Order just enough sexual tension to keep viewers invested, without having to be hit over the head with a forced relationship early on. Like the organization at its core, The Order keeps enough secrets to have audiences wanting more.
Chilling Adventures of Sabrina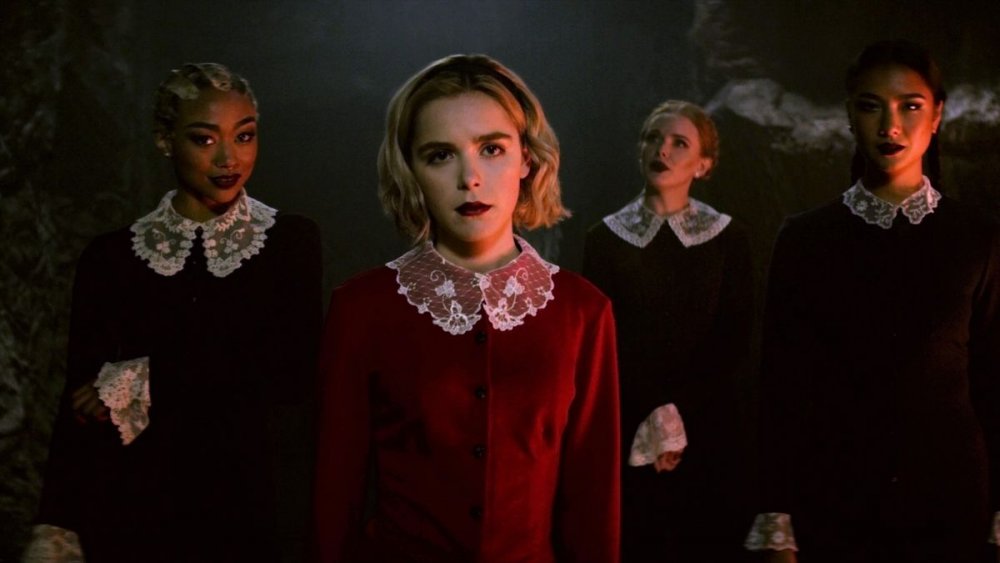 Nineties kids will surely remember Sabrina the Teenage Witch, the campy teen comedy starring Melissa Joan Hart that follows 16-year-old half-witch Sabrina Spellman as she juggles regular high school existence with her newfound world of magic. It was bright and shiny and so, so clean. Chilling Adventures of Sabrina, while based on the same Archie spinoff comic as Sabrina the Teenage Witch, is a far cry from the world of sarcastic black cats and dopey human boyfriends. This Sabrina is dark. Like, really dark.
Kiernan Shipka plays the titular character, a girl born into two worlds who, on her 16th birthday, must decide whether or not to sign her name into the Book of the Beast, effectively handing her soul over to Satan himself. It's a teen drama, sure, but it's like no teen drama you've seen before. There are spells that bring the dead back to life, child murder, overall mayhem, and appearances from some of the most evil characters in religious lore. With the help of her human friends — Harvey (Ross Lynch), Rosalind (Jaz Sinclair), and Theo (Lachlan Watson) — Sabrina walks a tightrope between the mortal world and that of the Devil and his followers. It's stylishly filmed, and while Shipka's lead witch doesn't always make for the most sympathetic protagonist, she's saved by some phenomenal performances from the show's supporting cast of characters, especially her aunts Hilda (Lucy Davis) and Zelda (Miranda Otto) and her cousin Ambrose (Chance Perdomo).
The Magicians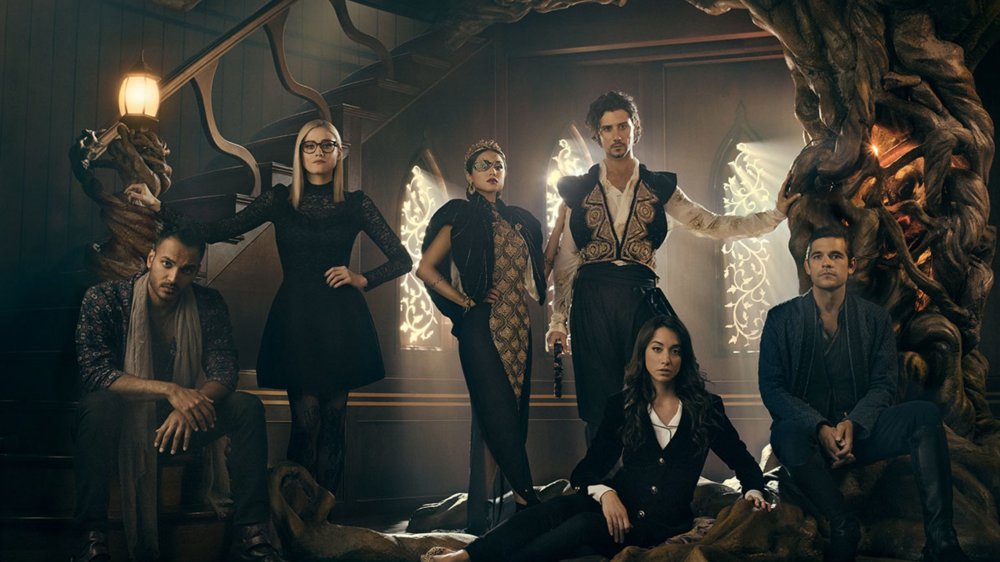 If Harry Potter took place in a college somewhere near Narnia, you would have The Magicians, a series that ran for five seasons on the Syfy Network between 2015 and 2020. Based on the novel by Lev Grossman, The Magicians tells the story of Quentin (Jason Ralph), a young man obsessed with a series of books about a "fictional" world called Fillory who gets accepted to the magical Brakebills University, and soon discovers that his childhood dream world is a reality — albeit a much worse one than he imagined. Along with Eliot (Hale Appleman), Margo (Summer Bishil), Alice (Olivia Taylor Dudley), Penny (Arjun Gupta), Julia (Stella Maeve), and Kady (Jade Tailor), Quentin fights mythical monsters, overthrows a magical government, falls in love, and has some really kinky sex.
The Magicians is smartly written (with the kind of dialogue that will remind viewers of the very best Buffy episodes), well-acted, and boasts an incredible production value for something on Syfy. Despite being centered on magic, the show's greatest feat is in its portrayal of relationships — between friends, lovers, and oftentimes both. Everything about it feels real and relatable, even if it's taking place in a world once run by a pair of man-sheep.