What Evidence Did Kim Find In The Photo On Better Call Saul Season 5?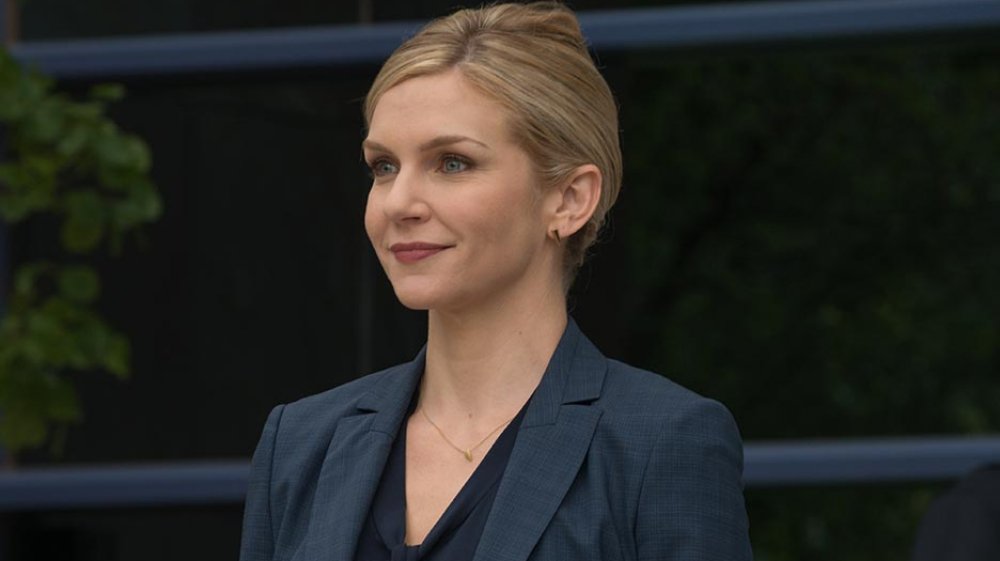 AMC
Contains spoilers for Better Call Saul season 5, episode 5, "Dedicado a Max"
Season 5 of Better Call Saul has officially crossed its Rubicon, and with only three episodes remaining before the Breaking Bad spin-off reaches its penultimate season finale, some critical pieces of the puzzle are starting to fall into place. 
On the season 5, episode 5, entitled "Dedicado a Max," Kim (Rhea Seehorn) and Jimmy's (Bob Odenkirk) Wonder Twins approach to taking down Mesa Verde continues to develop as they discover new photographic evidence that may help bolster their case. Lest we forget, this case pits Kim directly against her boss, Kevin Wachtell (Rex Linn). It was Kim, incensed by the terrible treatment of Mr. Acker (Barry Corbin), who originally recruited her on-again-off-again boyfriend Jimmy McGill to bring the case against Wachtell from the outside.
The photos that Kim glances through at the end of episode 5 represent significant results of her alliance with Jimmy. Although Jimmy has been reaching deep into his bag of tricks to keep Mesa Verde from starting construction on its call center, the snaps are the first hard evidence he produced that might actually be useful to Kim in a court of law. Given the scene's ambiguity, it's no surprise that viewers want to know exactly what Kim saw in those photos and why they are so significant. Here's what we know and what we can extrapolate.
The photos give Kim leverage over Kevin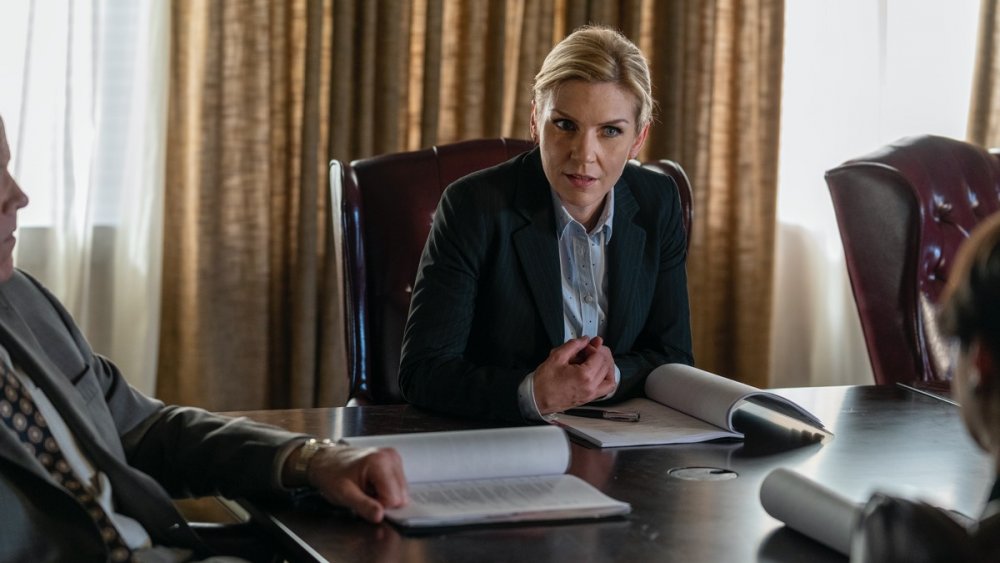 AMC
As Better Call Saul fans know, Jimmy has tried and failed to turn up dirt on Kevin Wachtell. When he went to Mike Ehrmentraut (Jonathan Banks), a character who's had his own interesting moments with photos this season, the hitman flat-out turned him down. Thus, Jimmy was left turning to Sobchak (Steven Ogg), a throwback to season 1. Sobchak broke into Kevin's house on Jimmy's behalf and grabbed the photos. Interestingly, Sobchak doesn't know what he's looking at; he claims that he didn't find anything useful, but forks over the photographs anyway. However, as Kim looks through the photographs, the wide grin that spreads across her face seems to contradict Sobchak's assumption. So, what were in those snaps?
In one photo, we see a person riding a horse that looks suspiciously similar to the Mesa Verde logo. The details of the second photo aren't clear, but it's obvious that the two images in conjunction are helping Kim make some important connections for her case. The most likely scenario? An intellectual property lawsuit. Kim has been racking her brain for a way to strike back at Kevin and put a stop to Mesa Verde's construction plans. If she can demonstrate that the Mesa Verde logo is an infringement on an existing copyright, she may finally have the leverage she needs.
Better Call Saul has always reveled in nuanced subtlety, offering tantalizing clues that reward a careful rewatch. As the case against Wachtell and Mesa Verde heats up, look for more small hints intended for dedicated viewers.