What Rosa Salazar Has Been Up To Since Alita: Battle Angel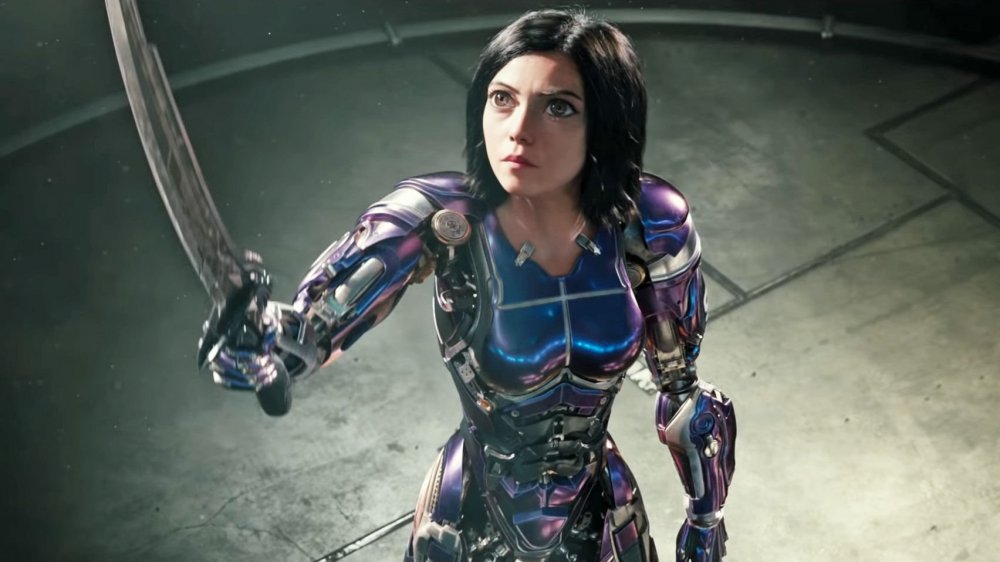 20th Century Fox
Not long ago, the cinematic world was anxiously awaiting the arrival of a bold new sci-fi saga from the minds of visionary genre auteurs James Cameron and Robert Rodriguez. Alita: Battle Angel told the futuristic tale of an advanced, yet long discarded and deactivated cyborg (Rosa Salazar) who is discovered by a mysterious scientist (Christoph Waltz), and brought back into the world of man. As most dystopian future societies are, this world is run by a ruthless band of evil-doers bent on keeping the common folk down. Luckily, the recently resurrected cyborg happens to hold the key to bringing down the baddies and restoring order to the land.
That synopsis may sound like typical dystopian sci-fi fare, but there was certainly nothing typical about Alita: Battle Angel. Not only was the film (adapted from a Japanese Manga series) a tentpole without much of a built-in U.S. fanbase, it was brought to life on the big screen via groundbreaking visual effects that ultimately resulted in a high-style slice of sci-fi cinema that felt as close to live-action anime as we've yet seen. Unfortunately, Alita: Battle Angel never found its audience stateside, and even with a worldwide box office tally of over $400 million, the Cameron-Rodriguez collaboration many thought to be a franchise in the making became a significant flop. 
All but lost in the mix is the stalwart work of Alita's young star Salazar, who — instead of finding breakout success with her first major starring role — found herself on the wrong side of the blockbuster blues. Luckily, the gifted young actor has bounced back and kept quite busy in the wake of Battle Angel's belly flop. Here's what Rosa Salazar has been up to since Alita: Battle Angel. 
Rosa Salazar came Undone for Amazon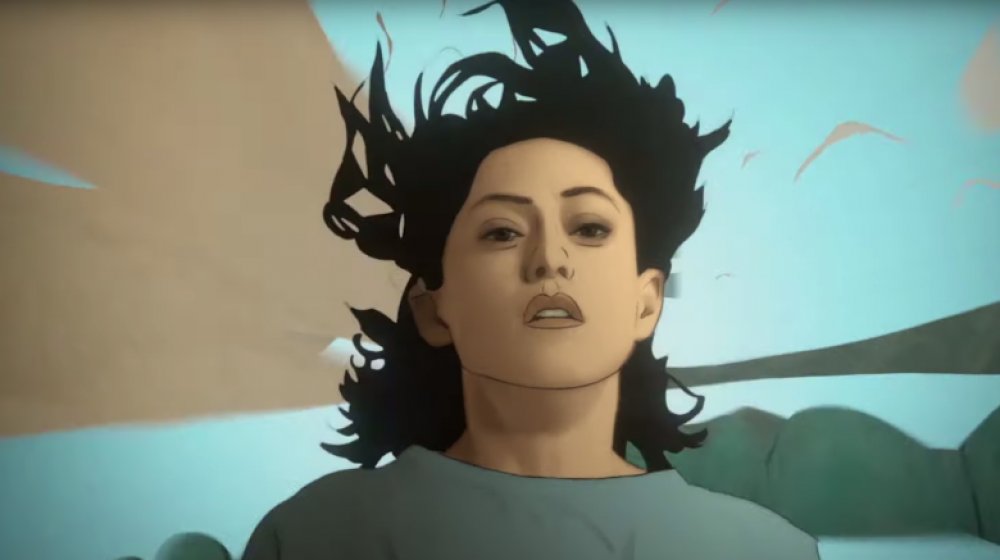 Amazon
After Battle Angel, Rosa Salazar kept herself at the forefront of innovation, claiming the lead in another technically ambitious project. This one, however, made its premiere via the land of streaming — and what can we say about Amazon's psychedelic animated confection Undone but that it really is every bit as ambitious as Battle Angel, and in many ways bests the feature. 
For the record, that has more to do a with character and story than anything. That's because Undone, for all its narrative audacity and mind-melting visuals, actually puts soul-searching spirituality ahead of its enthralling visual aesthetic. At the center of the story is Salazar's Alma, who narrowly escaped death in a horrible car crash only to find herself able to traverse time and space — a mysterious gift she uses to seek the truth about the death of her father. What follows is a reality-shattering saga as visually arresting as it is deeply soulful, and at times laugh-out-loud funny.
As for the visually arresting part, we can tell you that Undone was created using the same rotoscoping technique as Richard Linklater's Waking Life (2001) and A Scanner Darkly (2006). We can also tell you that the tech continues to evolve, and you've never seen it used quite like it is in Undone. Regarding the soulful and laugh-out-lout funny part, consider that Undone was co-created by BoJack Horseman's Raphael Bob-Waksberg. We'll let that last tidbit sink in for all you BoJack fans who have somehow not sought out Undone.

Rosa Salazar troubled with Tribbles on Star Trek: Short Treks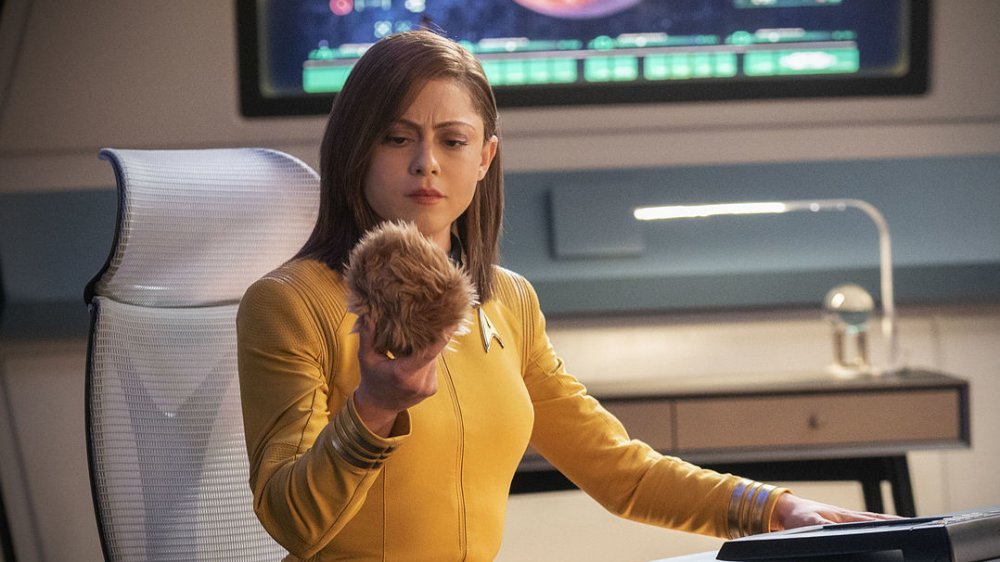 CBS All Access
Those of you who've been following Salazar's career over the years already know that Battle Angel was far from the actor's first foray into the world of big time science fiction. Salazar actually got one of her first big breaks when she appeared as Brenda in 2015's Maze Runner: The Scorch Trials; just a couple of years later, Salazar would also turn up opposite Sandra Bullock in Netflix's divisive apocalypse drama Bird Box. Even after the sting of Battle Angel's underperformance, Salazar has continued diving into the sci-fi realm. 
The actor was recently seen on CBS All Access' mostly brilliant short-form series Star Trek: Short Treks, appearing as the newly-appointed Captain of the U.S.S. Cabot, Lynne Lucero. Also featured in the episode were a few infamous Star Trek co-stars, those rapidly re-producing menaces known as Tribbles. If you haven't checked in with the CBS All Access shorts (inspired by stories and characters from Star Trek: Discovery), Salazar's episode was titled "The Trouble With Edward." 
If you're wondering who Edward is, he's a science officer aboard the Cabot, portrayed by Archer and Bob's Burgers star H. Jon Benjamin. He comes to believe that he can solve a planet's food shortage by genetically altering the aforementioned Tribbles, which he does against his Captain's orders. Now, if you know anything about Tribbles, you know they really are all kinds of trouble. As such, matters spiral wildly, often hilariously, out of control in one of Short Treks' more inspired episodes.   
Rosa Salazar will break indie in No Future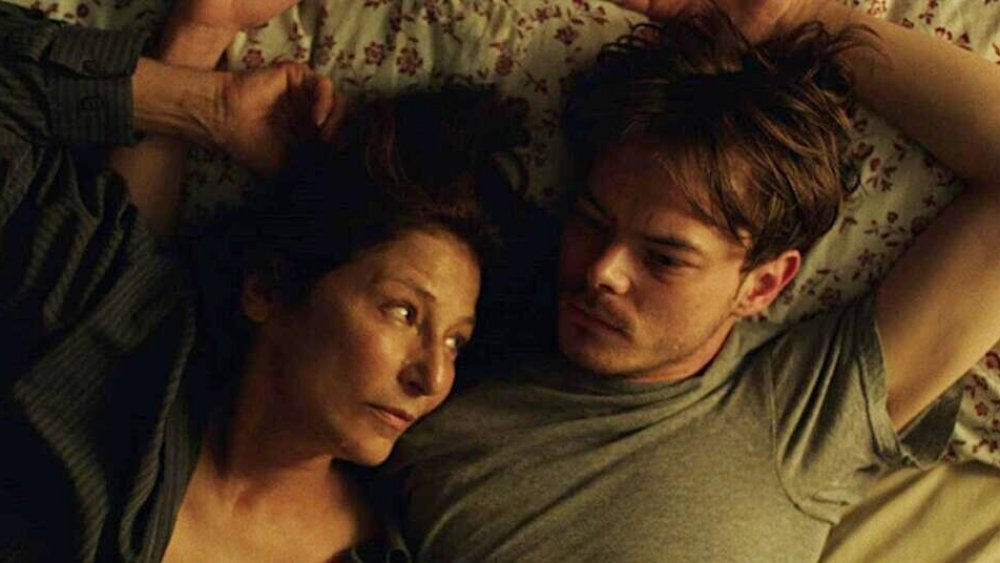 Ten Acre Films
Though Salazar has dipped a toe into the blockbuster realm over the years, one look at her IMDb page will more than confirm that the young actor is an indie enthusiast at heart. It's hardly a surprise, then, that she would again return to her indie roots in the wake of the big budget bombast of Battle Angel; in fact, Salazar has a pair of small-budget features already in the pipeline. One of those features, Pink Skies Ahead, has only recently completed filming, and has yet to set a release date. The second is slated to makes its premiere at the 2020 Tribeca Film Festival.
Titled No Future, the film will see Salazar sharing the screen with an intriguing cast of players, including indie film icon Catherine Keener, Watchmen star Jackie Earl Haley, and Stranger Things up-and-comer Charlie Heaton. Directed by relative newcomers Andy Irvine and Mark Smoot, No Future will feature Keener in the starring role, portraying a grief-stricken mother who enters into a torrid affair with a friend (Heaton) of her recently deceased son. We're not entirely sure how Salazar's character Becca fits into the drama, but it's a safe bet that she'll also be among the departed young man's grieving friends.
Rosa Salazar will seek thrills and chills in Brand New Cherry Flavor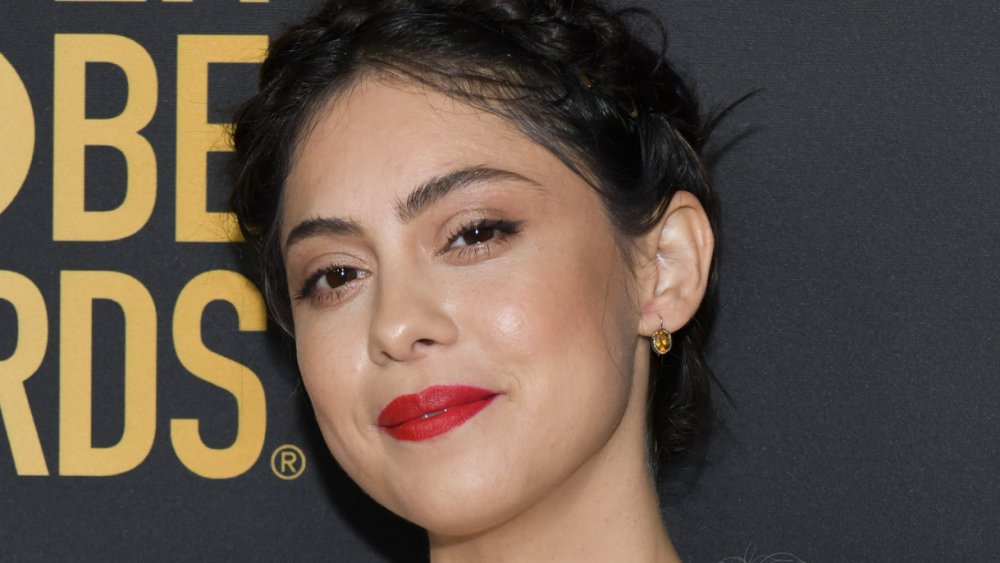 Rodin Eckenroth/Getty Images
After breaking indie for a pair of low budget flicks, Salazar will once again pop up in a streaming series, this time for Team Netflix; she'll take on a starring role in a currently-in-the-works horror series titled Brand New Cherry Flavor (via Deadline). Conceived by esteemed producers Nick Antosca (TV's Hannibal, Channel Zero, and upcoming horror flick Antlers), and Lenore Zion (Ray Donovan, Channel Zero, Billions), the new streaming series is set to unfold in the sun-baked vistas of Los Angeles in the '90s. The series will follow an aspiring filmmaker who, amid personal and career struggles, spirals off on a kaleidoscopic odyssey of revenge sprung from nightmarish, supernatural origins.
Little else is currently known of Brand New Cherry Flavor, but that brief synopsis alone is more than enough to get us hyped for Salazar's next serial outing. She'll be joined by her No Future co-star Keener, Agents of S.H.I.E.L.D. regular Jeff Ward, and The Good Place breakout Manny Jacinto, which is sort of just icing on the cake. As we mentioned, Brand New Cherry Flavor is still before the cameras — and as such, we haven't a clue as to when we might actually get a chance to see Salazar go to the dark side in La La Land. But if you're anything like us, you've already made a note to binge away when the series makes its Netflix debut.