Every John Mulaney SNL 45 Sketch Ranked Worst To Best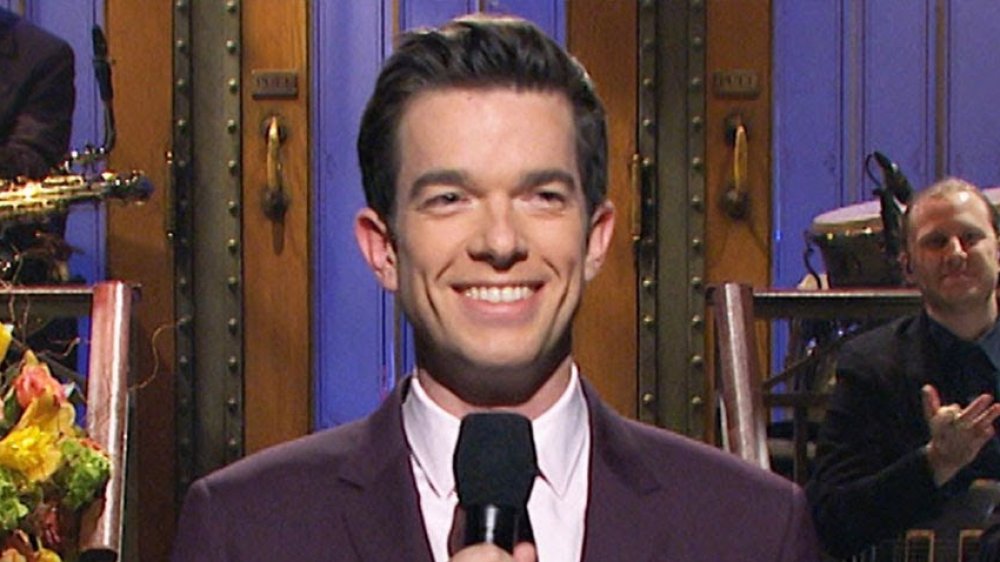 Saturday Night Live has a great roster of repeat hosts who guarantee a good time, and one of those sure bests is comedian John Mulaney, who wrote on SNL for six seasons before moving on to a successful stand-up career. It's always nice to see Mulaney back on the SNL stage, and for his third hosting gig (with Talking Heads legend David Byrne as the musical guest), he reprised some of his tried-and-true sketches, while also bringing some inventive new touches that fit in perfectly with his wry, sharp sense of humor.
Aside from Weekend Update — where hosts Colin Jost and Michael Che touched on everything from the current coronavirus outbreak to the Philly Phanatic and cast member Chris Redd appeared as himself to discuss Black History Month — this leap day episode featured Mulaney pretty prominently, including in the cold open. Though some of the writing in the episode fell a bit flat, Mulaney was a consummate professional as always, bringing his all alongside two incredible performances from Byrne. Here's every sketch of the night, ranked from worst to best.
Jackie Robinson
One of the night's later sketches was also its weakest — "Jackie Robinson," which featured Ego Nwodim as the host of a show focusing on forgotten African Americans throughout history to close out Black History Month. Unbeknownst to most, Jackie Robinson, the baseball player who broke barriers and records throughout his life, had one major detractor — Terence Washington (Kenan Thompson), who became known as the "first black man to boo Jackie Robinson." Between his multiple heart conditions (including a murmur and the fact that it's seriously enlarged) and the fact that Terence's ex-wife once called Jackie "handsome," Terence has a huge vendetta against Jackie, and ends up encouraging other spectators, including Mulaney, to boo him too.
Thompson is always a delight, but even he can't save this dud of a sketch, which doesn't have much of a clear, specific slant or joke and builds to absolutely nothing. Jackie Robinson might have been one of the best baseball players in history, but this sketch was definitely the worst of the episode.
Uncle Meme
Putting Pete Davidson at the center of a standard sketch is always a bit of a risky venture, considering how often SNL's youngest performer breaks on screen. Sure enough, it happened multiple times during "Uncle Meme." During a family gathering where Tyler (Davidson) is home from college, his uncle Ron (Mulaney) confronts him about how Tyler "memed" him, and anyone familiar with meme culture can assume that the situation spun out of control pretty quickly. Ever since Tyler made the first meme, which mocks his uncle's manhood, Reddit has dubbed Ron the "#WhiteCollarVirgin," a moniker to which Ron takes particular umbrage, especially since his daughter is sitting right there.
From a riff on the Joker (which is a pretty stale reference at this point) to a fairly solid joke about how Uncle Ron loves Green Book, this sketch is fairly one-note. While Mulaney sells his rage against his nephew, Davidson's lack of focus and the sketches' lack of substantive jokes places it down at the bottom of the pack.
Cold Open
SNL has been off the air for a couple of weeks, and since the news cycle moves at hyperspeed in this political climate, they had a lot to cover. Apparently, for the show's writing staff, that meant they should cram as many topical jokes into the cold open as they possibly could. Though it begins with Beck Bennett as Mike Pence, who has been chosen to head up the United States' effort to combat coronavirus (which, unfortunately, is not a joke), the sketch also references the recent Democratic debates, bringing on the usual group to play all of the Democratic candidates.
With Rachel Dratch as Amy Klobuchar, Fred Armisen as Mike Bloomberg, Colin Jost as Pete Buttigieg, Larry David as Bernie Sanders, and Kate McKinnon as Elizabeth Warren, the sketch also cast Mulaney as Joe Biden (apparently, both Jason Sudeikis and Woody Harrelson were unavailable this weekend), with the others commenting that he looked "different." (His response? "The surgery is starting to settle.") 
The sketch's highlight was undoubtedly SNL's hyper-exaggerated version of Warren's ruthless attacks on Bloomberg, including that the former Mayor of New York "invented traffic" and even "wrote and directed Cats," but trotting out the same group of guest stars for every cold open is bound to get stale, and it's starting to feel that way by this point. Beyond that, the sketch ran entirely too long, although it may have been a strategy to give Mulaney — who vanished after a few lines — time to change and prepare for his monologue.
Kyle's Transformation
In a pre-taped sketch that definitely felt like it was written by Beck Bennett and Kyle Mooney (who frequently team up), Mulaney pops into Bennett and Mooney's office to discuss a male strip club sketch he wants to write, but when Mooney asks if he can be in it, Bennett and Mulaney share a hearty laugh. Realizing he's being pigeonholed as a dork, Mooney decides to do something about it. After taking over the shared office and hiring Justin Theroux as his trainer with NBC's money, he gets comically ripped and becomes the talk of Studio 8H (even landing the cover of the definitely real SNL Magazine).
The sketch has some decent sight gags — especially Mooney's increasingly ridiculous fake arms and abs — and the twist at the end, which is that Mulaney rewrote the strip club sketch to be about awkward guys (and also that Mooney is fired), is clever. Unfortunately, the sketch still falls firmly in the middle when all is said and done.
Rolf and Liesl
Lampooning a beloved classic is always a good bet for SNL, and this week they took on "Fiddler on the Roof for WASPs," The Sound of Music. With Mulaney as Rolf and Cecily Strong as Liesl, the two begin singing the classic song "Sixteen Going on Seventeen," but with a twist. As it turns out, Rolf isn't seventeen going on eighteen at all; as the sketch goes on, he reveals he's actually 46 years old (after starting at 33), which leads to a much-needed conversation about the "statutory issue" (as Rolf sings, he looked it up and the couple is on the "right side of the cusp"). Not only is Rolf way too old for Liesl, he's extremely poor and kind of a huge loser who still lives with his mother, although he's excited to announce to Liesl that he got a new place with several Nazi roommates, most of whom are "named Hans." By the end of the sketch, the "geriatric telegram boy" is arrested thanks to Captain von Trapp (Beck Bennett) and Maria (Kate McKinnon), though even that couple points out their age difference is a bit suspect as well.
The specificity of this sketch elevates the proceedings, and some incredibly good lines, including when Rolf tells Liesl that in a few months his age will be "the least of her worries" or that she seems older to him because of her "complaining and hefty naturals," and though it's not the best of the night, it's a perfectly serviceable and entirely weird sketch for the end of the evening.
Monologue
It's always a relief when an experienced stand-up comedian hosts SNL, mostly because you know the monologue will be pretty solid. Rather than making a nervous athlete or actor sing a song or perform a dance, SNL always lets comedians do a short set instead, and Mulaney was no exception.
As the first ever Leap Day host and the "first host to have done the least between his second and third time hosting" — according to Mulaney, he's there to promote "March" — Mulaney got off to a strong start. With a bit about how all dads between the ages of 60 and 75 are super emotional and don't have any friends that aren't their wives' friends' husbands, a clever observation about how the most astounding thing about Jesus Christ was that he was 33 years old and had 12 best friends, Mulaney's intense dislike for the Founding Fathers (who he describes as a "weird group of guys"), a clever riff on the order of the Constitutional amendments, and a likely true story about a girl who met Mulaney through the Make a Wish foundation, Mulaney's monologue was basically just an extremely solid stand-up set from this beloved comedian, which is always a pleasure.
The Admiral
In a follow-up to "The Corporal," a sketch they first performed during Jennifer Lopez's episode earlier in the 45th season, "The Admiral" casts Kate McKinnon and Aidy Bryant as sisters sparring, by any means necessary, to win the affections of the Admiral (Beck Bennett). After the two squabble, using snakes and bombs to try to destroy each other, he arrives. Unfortunately, so does their nuisance of a brother, Julian (Mulaney), in a sailor outfit that drives the Admiral wild.
The sisters try to come up with a reason for Julian to leave, but he just sticks around, eating suggestive lollipops and telling the Admiral that since he left home he "got taller," but that he's "down for anything." Even shooting him doesn't work, as it only tears his sleeves and pants off, at which point the Admiral immediately chooses "the twink." Between McKinnon and Bryant's always excellent chemistry (including an endearing moment where the usually inscrutable McKinnon cracks a contraband smile) and Mulaney's commitment to Julian's over-the-top antics, this sketch works, even if it is a retread from a pretty recent episode.
Airport Sushi
Speaking of retreads, "Airport Sushi" is a Mulaney standout that follows in the formula of now-classic skits like 2018's "Diner Lobster" and 2019's "Bodega Bathroom," each of which finds Pete Davidson making a questionable choice followed by an over-the-top musical theater parody. After ordering lobster at a diner and electing to use a bodega bathroom, Davidson is now making perhaps his most upsetting choice yet — buying pre-made sushi at LaGuardia Airport — and before he knows it, half the cast is on hand to sing about his bad decisions.
In the end, it truly doesn't matter that "Airport Sushi" is one in a series, because it's just so outrageously funny. The sketch kicks off with Kenan as a Phantom of the Opera style figure (though he's actually one of the birds that survived pilot Sully Sullenberger's crash landing in the Hudson), Cecily Strong as the regret-filled sushi chef, Kate McKinnon as Auntie "Orphan" Annie (who leads everyone in a song called "DiBlasio" set to the tune of "Tomorrow"), and Bowen Yang as the "Profiled Asian" who shows off his pipes in a song of the same title. 
To top it all off, the sketch features two huge celebrity cameos — Jake Gyllenhaal as the guy who travels in pajamas so that airport security has "easier access to his body" and David Byrne, the "baggage handler who tosses everybody's suitcases into the Long Island Sound." The whole gang finishes with a parody of Byrne's "Road to Nowhere" — though apparently the road leads to Cleveland, which is where every flight at LaGuardia is going — closing this excellent sketch in the most joyous fashion possible.
Saturday Night Live will return on Saturday, March 7 with Daniel Craig as the host and The Weeknd as the musical guest.