Every Jennifer Lopez Sketch From SNL Season 45 Ranked Worst To Best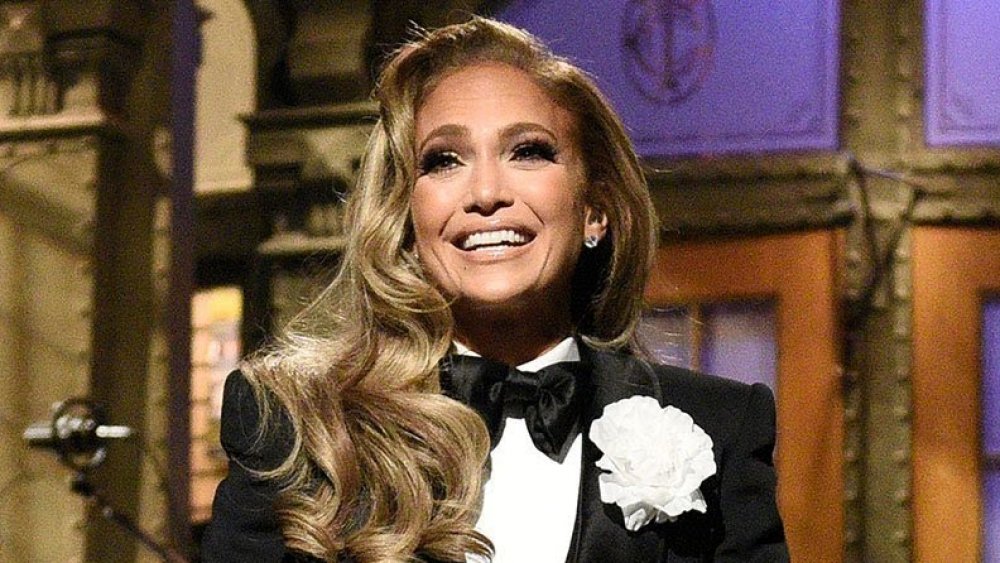 On Saturday, December 7, 2019, Jennifer Lopez returned to Rockefeller Center to host Saturday Night Live for the third time — and for her first in almost 10 years. Lopez is currently at the top of her game — not only is she fresh off a world tour, but she also starred in Hustlers, a comedy-drama featuring one of the best movie scenes of the entire year  — and she brought plenty of energy to her SNL hosting gig alongside musical guest DaBaby.
In addition to the ubiquitous Weekend Update, another installment of "Them Trumps," and a cold open about the recent scandal-marked NATO summit that featured Alec Baldwin (as Donald Trump), Jimmy Fallon (as Canadian Prime Minister Justin Trudeau), Paul Rudd (as French President Emmanuel Macron), and James Corden (as British Prime Minister Boris Johnson), Lopez gave Saturday Night Livee her all — even when some of the sketches simply fell flat. From Christmas carols to ill-fated romances, here are all of Jennifer Lopez's sketches ranked from the very worst to the absolute best.
Hip-Hop Carolers
Christmas carolers are a holiday tradition, and when a family (played by Heidi Gardner, Alex Moffatt, and Kyle Mooney) hear a knock on their door, they invite in a traveling caroling troupe. But this one has a weird twist. Instead of belting out classic Christmas songs, they perform reinvented versions of 1990s hip-hop classics — rewriting the songs ever-so slightly to make them about everything from reindeer to Home Alone's Kevin McAllister.
The idea of SNL's "Hip-Hop Carolers" sketch pretty straightforward, but it simply seems under-rehearsed — at several points, the performers in it seem to stand around waiting for someone else to speak — and the jokes pretty much all miss the mark, including the entirely predictable third-act reveal that DaBaby has been robbing the family while the carolers perform.
Wisconsin Women
"City folk" love to head to the country to experience a more rustic life, and when Heidi Gardner and Alex Moffat's characters head into a Wisconsin hardware store during their vacation, they meet three homegrown Wisconsin women (played by Jennifer Lopez, Cecily Strong, and Kate McKinnon). The employees, who are sick of visitors they call "citiots," try to warn the couple about a bear attack — and ultimately, the store's strangest employee, Kimmy (Chloe Fineman), falls prey to the bear, losing the long hair she's been growing since birth.
McKinnon, Strong, Lopez, and Fineman give "Wisconsin Women" their all, donning absurd wigs and over-the-top Wisconsin accents, but the sketch just never goes anywhere and seems to have trouble choosing a tone. In the end, the whole thing feels stale — and the terrible fake bear costume really doesn't help anything.
Barry's Bootcamp
In what seems to be a spiritual successor to David Harbour's "SoulCycle" SNL sketch from October 2019, Ego Nwodim and Mikey Day take a class at the popular gym Barry's Bootcamp, only to endure a series of pretty offbeat instructors. Some examples: Bowen Yang's character is named Amber — "like the alert" — and he Googles his dad every day because he literally doesn't know where he is. Jennifer Lopez's Patrón "couldn't walk" as a baby, but somehow overcame this seemingly impossible obstacle to become a fitness instructor. And Cecily Strong's Renoir shares way too much information about her boyfriend and asks the class to share their "blood, sweat, tears, and little toots."
It seems like an odd choice for Saturday Night Live to resurrect nearly the exact same premise as the "SoulCycle" skit (just with a different workout), but thanks to full-throated commitment from Lopez and her sketch partners — plus some some hyper-specific jokes — "Barry's Bootcamp" nicely closes out the show without much effort.
Hoops
In this fake infomercial, Jennifer Lopez and Melissa Villaseñor star as "Gino's girlfriend" and "her cousin," who are here to sell you the hoop earrings of your dreams. Donning enormous pairs of hoops, the pair try to sell the audience on hoops that are made of "metal" and will even turn your ears the "color of money." They also list designs you can put in your hoops and occasions during which you can wear them — like "confronting Barbara," "accusing Barbara," and, of course, Saturday mass. For anyone who "looks like garbage a little bit" and wishes they didn't, hoops can help make you look more put-together — "nice, like a rapper's accountant."
Lopez puts all her energy into the skit, but Villaseñor doesn't quite match her energy, flubbing a line or two at the top. Despite hyper-specific details and a quick cameo from "Uncle Johnny" (Alex Moffat) who gets the girls hoops from, well, somewhere, the whole endeavor feels like a flatter version of the aspiring Swarovski Crystal saleswomen or Scarlett Johansson's previous turn as a chandelier saleswoman.
Monologue
Unless the host is a comedian by trade, Saturday Night Live tends to make them sing — and while it's completely unsurprising that the show's producers would let a venerated pop star like J.Lo share her vocal gifts, they gave her some time to hang out with the audience in her monologue before she launched into her rendition of "Santa Claus Is Coming to Town."
Dressed in a tuxedo for her SNL monologue, Lopez is positively brimming with energy about her amazing year, which has brought her success at the box office with Hustlers, possible Oscar buzz, a world tour, and a fiancé (Yankees baseball player Alex Rodriguez). Add in her Fashion Week stint in Milan — where she closed the Versace show in the famous green dress she first wore 20 years ago, which was the reason Google Images exists at all — and the fact that she just turned 50 years old, and Lopez has had a pretty great 2019. (If you can't believe Lopez is half a decade old, you're not alone; when Beck Bennett hears the news from the audience during Lopez's monologue, his head literally explodes.) 
There aren't many outright jokes here, but Lopez's happiness is downright infectious, and bringing in the Rockettes as well as that green dress once again really sells the entire performance. 
The Corporal
"The Corporal," which aired at the beginning of the evening, casts Kate McKinnon and Aidy Bryant in an old film as sisters vying for the attention of the Corporal (played by Beck Bennett), who will soon arrive to whisk one of them away to a better life. As the sisters try to one-up each other with noose necklaces, rifles, and martini glasses overflowing with pills, their third sister (played by Jennifer Lopez), keeps popping in just to look as irritatingly gorgeous as possible. Since she's never seen herself in a mirror, Lopez's character believes her sisters when they tell her that she's the ugliest woman alive. She offers to work as a coat rack or stand inside a birdcage to stay out of the way, but everything she does just makes her look way hotter. Unsurprisingly, by the time the Corporal arrives, he immediately chooses Lopez as the credits roll.
McKinnon and Bryant are both great at period pieces and always make a phenomenal team, so it's no surprise that they sell every single beat of this sketch. Lopez is game to play along as well, vamping her way through it all. Add in a perfect ending, and you've got a solid start to the show.
PottyPM
Does it drive you crazy when you have to go to the bathroom in the middle of the night, which means you have to get out of your warm, cozy bed? Luckily, Kyle Mooney has a solution for you: PottyPM, a crude hookup that lets you relieve yourself into a receptacle without ever having to get up. However, Mooney's salesman character clearly hasn't thought the device through; when Jennifer Lopez's character shows up to ask how it would work for a woman, he's at a bit of a loss. Ultimately, he concludes that the PottyPM is "just for guys" — but not before he exhibits complete cluelessness about the female anatomy, aided by some crude, funny visual aids.
Mooney is a perfect choice to lead this sketch, as he gets increasingly overwhelmed by his confusion, and luckily, Lopez gives him a much-needed out before he can reveal just how little he knows about how women urinate. It's a simple joke with a predictable payoff, but Mooney and Lopez are game to let it get weird, and the clumsy infographics really up the ante.
HGTV's Surprise Home Makeover
Much like Pete Davidson's recurring Saturday Night Live character Chad, Mikey Day's Matt Schatt has a propensity for attracting women way out of his league. After his previous relationship with Margot Robbie (during her hosting stint in January 2019), Matt has apparently moved on to Jennifer Lopez. As Kenan Thompson's character (hilariously named "Becker Cheeks" in this sketch) and his HGTV crew arrive at the Schatt household to award the newest winners of Surprise Home Makeover, it's the crew that receives a huge surprise when they meet Matt's ridiculously hot wife, Jacqueline (Lopez). From there, everyone wonders aloud (and loudly) how Matt could have possibly landed a woman who looks like this, while Jacqueline is simply beside herself with excitement.
As more weird details about Matt emerge — including that Jacqueline proposed to him three times before he said yes and that he's obsessed with Smurfs — the crew becomes more and more confused. This leads to a particularly ridiculous moment where the crew's designer, Brylee (Bowen Yang), manhandles Matt to see if he can, uh, figure out the real reason Jacqueline loves him. (As it turns out, Brylee — and apparently, Matt — come up short.) 
Matt Schatt is a great character for Day, and Lopez is a perfect partner in the sketch, which also lets the rest of the cast really lean into their increasingly frantic disbelief over the happy couple. 
Chad
Some people hate on Pete Davidson for his lackluster performances in otherwise really great SNL sketches, but arguably, he's best utilized as Chad – a witless, brainless guy who somehow attracts the most beautiful women in the world. This time around, Chad is working on Jennifer Lopez's world tour, and after a rehearsal, she finds herself entranced by him, struggling with her attraction even though she just got engaged to Alex Rodriguez.
Davidson and Lopez both hit all the right notes in this sketch — though Chad clearly doesn't think the singer does, bluntly telling her "no" when she asks if he liked what he heard during her rehearsal — and it's also got plenty of great sight gags and jokes, including surprise (blurred) nudity from Davidson and a cameo by A-Rod himself. Davidson might not have the chops or versatility of some of SNL's more talented players like Kate McKinnon or Kenan Thompson, but he has this monosyllabic character down, and he always holds his own opposite whichever absurdly attractive woman joining him in a given sketch.
All in all, the December 7, 2019 episode of Saturday Night Live started strong, and Lopez — a consummate professional — held her own. Unfortunately, the quality of the sketches simply declined as the evening went on, leading to a rather lackluster finish. If you're hopeful that SNL can work towards a strong finish next time, tune in on December 14, 2019, when Scarlett Johansson will host alongside musical guest Niall Horan.