The Truth Behind The Impractical Jokers Guys' Failed TV Pilot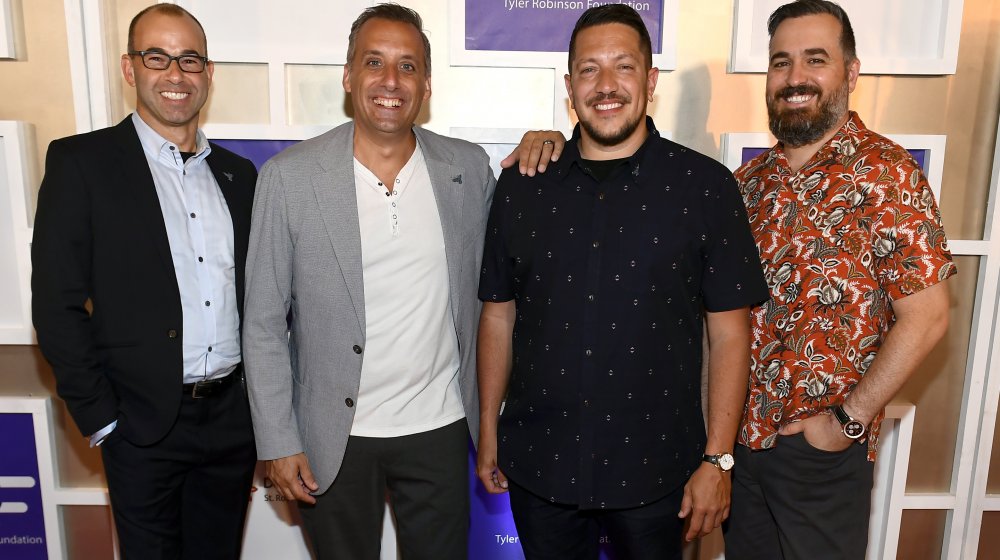 Bryan Steffy/Getty Images
Longtime buddies Joseph "Joe" Gatto, James "Murr" Murray, Brian "Q" Quinn, and Salvatore "Sal" Vulcano are the members of comedy troupe The Tenderloins, but you probably know them as the Impractical Jokers. Beginning in December 2011, the TruTV series have seen the friends put themselves and each other through a never-ending gauntlet of extremely embarrassing interactions with everyday New Yorkers, all of whom have probably seen some craziness by virtue of where they live, but none of whom have been ready for these four lunatics.
In case you've never seen it, the series sees the friends challenging each other to navigate specific scenarios — requesting help from an unwitting mark filling out an increasingly bizarre questionnaire, for example, or completing a simple sandwich order at a deli while being instructed by the others to engage in intensely disruptive behavior — with failure resulting in "punishments" which are generally even more ridiculous than the challenges themselves.
Thanks to the hilarious chemistry and unbridled enthusiasm of its cast, the series has been going strong for eight seasons and counting, and someone even saw fit to hand these weirdos their very own feature film. They've been performing onstage together as The Tenderloins since 1999, and they grew their audience exponentially in the early days of social media — but their careers really took off in 2007, when they won the $100,000 grand prize on the NBC sketch comedy competition It's Your Show.
Television glory quickly followed, but it almost took a much different form. Before TruTV picked up Impractical Jokers, a different network commissioned a pilot for a scripted, single-camera sitcom featuring the foursome — and then passed on it. This turned out not to be a fantastic decision.
The Impractical Jokers could have saved Spike TV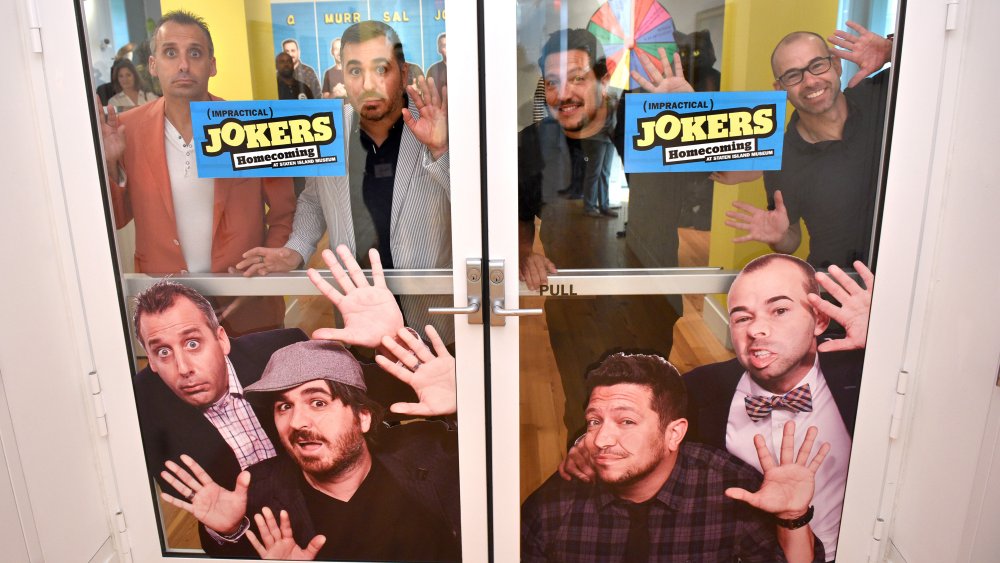 Bryan Bedder/Getty Images
The network that decided it wasn't in need of The Tenderloins' services: Spike TV, which you may recognize as a thing that no longer exists. Technically, it was rebranded in 2018 as Paramount Network, but for practical purposes, it may as well be a different network altogether; while Spike became infamous for airing such disposable dreck as The Joe Schmo Show and 1000 Ways to Die, Paramount is leaning away from that model in an attempt to position itself as a premium cabler on par with AMC and FX (via Variety).
It's interesting to think what might have been had ol' Spike not brushed off The Tenderloins, as Impractical Jokers was at the center of the metamorphosis of its eventual home, TruTV. The WarnerMedia-owned network began life in the early '90s as Court TV, and the time of Jokers' debut, it was still heavily invested in true crime and conventional reality series.
Impractical Jokers, along with The Carbonaro Effect, led the way for TruTV's shift towards lighter, more comedic fare over the last five years or so — which, of course, would never have happened if the guys hadn't first been dumped by Spike. In the end, it worked out for all involved parties; fans of Yellowstone, Paramount Network's most popular series, can be thankful that The Tenderloins weren't around to save Spike from its well-deserved fate on the trash heap of history, and devotees of TruTV's comedic offerings can be thankful that the network isn't still pumping out endless permutations of the seedy crime series that have thankfully fallen out of favor with the public in recent years.
On that note, TruTV has picked up Impractical Jokers for a ninth season, which is expected to debut later this year.