This Cut For Time RuPaul SNL Sketch Is A Must-See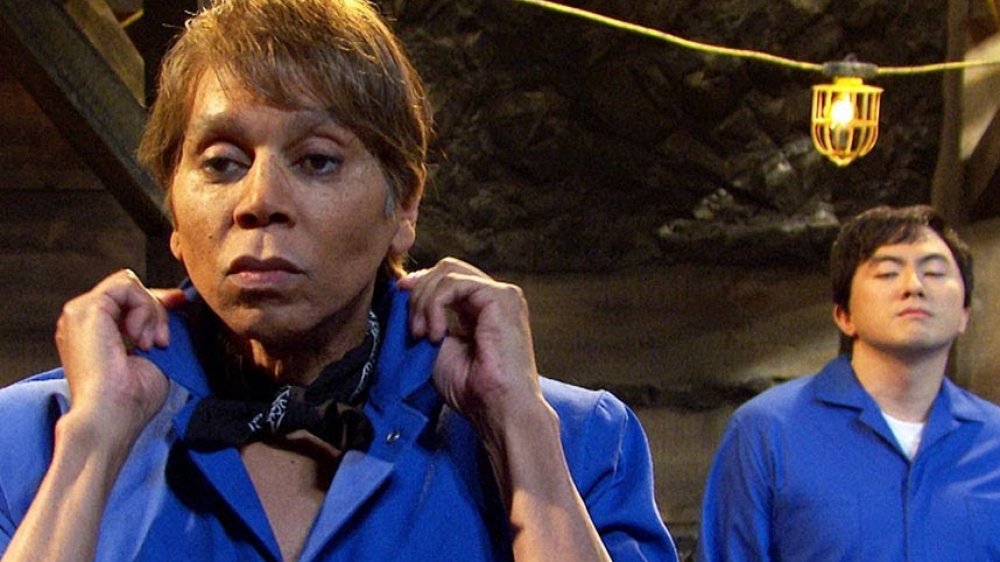 Even though the cast and crew of Saturday Night Live only has one week to pull together a full show of sketches, sometimes there are just too many ideas to include, which happened this past week when host RuPaul took the Rockefeller Center stage. Saturday, February 8 was RuPaul's SNL hosting debut, and clearly, the writers had plenty of ideas for the drag icon.
After a relatively uneven episode — albeit one where RuPaul definitely gave it his all — NBC and SNL released a single sketch that was cut for time, featuring the famous drag queen alongside freshman cast member Bowen Yang. In case you're curious, here's the single sketch that didn't make the cut during RuPaul's SNL hosting gig.
Coal Miners Face-Off
In this sketch, which is a reference to a scene from the classic primetime soap opera Dynasty, a group of coal miners — played by Mikey Day, Alex Moffat, Chris Redd, and Beck Bennett — watch apprehensively as the new guy in the mine, Big Al (Bowen Yang), faces off against the big boss, Big Dom (RuPaul). It turns out that these two have quite the history, and it's not good. Immediately, the two trade verbal barbs, with Al (actually "Alexis") telling Dom, "The lighting in here suits you; there isn't any." Dom (actually "Dominique") responds, "Your coveralls fit you like a glove... the glove of a very fat hand."
Eventually, the two come to (feeble) blows, throwing cups of tea at one another as dramatic music swells in the background. They then settle their differences temporarily, agreeing to work together the next day. 
Ultimately, it's not hard to see why this sketch was cut. With such an insanely specific premise, it's pretty unaccessible to anybody unfamiliar with Dynasty, and the whole thing moves a bit slowly. Still, it's got a great gag at the end – when Al leaves, he swings a furry white cape over his shoulders, only for Bennett's miner to exclaim that it's really his — and features true commitment from Yang and RuPaul.