Every RuPaul Sketch From SNL Season 45 Ranked Worst To Best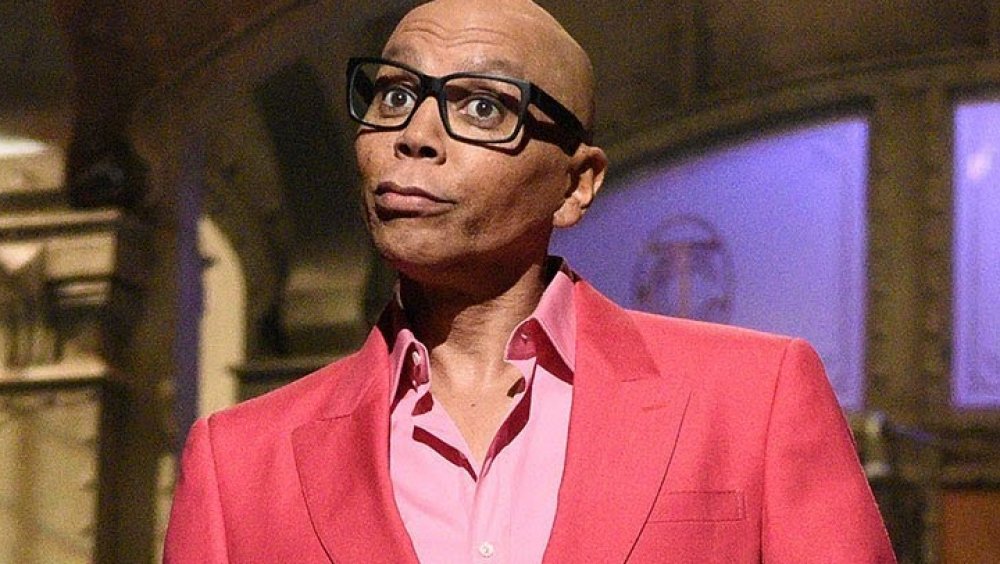 On February 8, 2020, Saturday Night Live continued its 45th season by inviting legendary drag queen, actor, singer, and television personality RuPaul to host for the very first time alongside musical guest Justin Bieber. The host of RuPaul's Drag Race – both the stateside and international versions — brought his game face and a healthy sense of humor to the proceedings, but unfortunately for a pro like RuPaul, the writing in this episode was a bit thin on the ground.
Aside from a commercial parody, a Weekend Update installment that included turns from new cast member Chloe Fineman discussing the Oscars and Cecily Strong playing Michael Che's unhinged neighbor Cathy Anne, and a cold open that skewered the latest Democratic debate, RuPaul appeared in every sketch during his season 45 hosting gig. However, in the end, the sketches didn't do RuPaul much justice. Here are the sketches that stole the show and the ones needed to "sashay away."
Family Charades
When the Baron family (made up of Kate McKinnon, Beck Bennett, Kyle Mooney, and Heidi Gardner) face off against their new neighbors, the Johnsons (RuPaul, Kenan Thompson, Ego Nwodim, and Chris Redd), in a rousing game of Charades, it doesn't exactly go as planned. Between Bennett's weird suggestion that the families bet $5,000 on the outcome — a joke that never goes anywhere in the end — and the fact that the Johnsons are terrible at Charades because they talk the whole time, the Barons are definitely pretty unimpressed by their new friends.
This sketch left viewers feeling pretty unimpressed as well, since it never seems to settle on what the joke really is. Is it that the Johnsons don't know the rules of Charades, or is it that they can seemingly read each others' minds and keep nailing every answer? Regardless, the sketch never gets off the ground.
Thirsty Cops
In this sitcom-style spoof about incredibly inappropriate cops, Pete Davidson's character gets pulled over for texting while driving — only to be hit on over and over again by super sexually aggressive cops, played by RuPaul and Ego Nwodim, who keep trying to figure out if he was driving in a "straight line" or if his journey was a bit more "fluid."
It's a pretty one-note joke — even with clever lines from Nwodim like, "My name is Miranda, and I does it right" — and the sketch's only real saving grace is that Kate McKinnon shows up and also hits on Davidson, making him break every time she opens her mouth. Even with that, however, the skit goes on for way too long, never introducing a twist or second joke.
Check-Splitting
Splitting a check with a larger group can present a challenge, as Aidy Bryant's character Candace quickly discovers after a work lunch. When Candace, the supervisor, suggests that they do an even split, one of her employees, played by Heidi Gardner, protests that she didn't have any wine, but quickly gives up the fight. Luckily for her, two of her co-workers — played by Cecily Strong and RuPaul — stand up for her in the most dramatic fashion possible.
If this sketch's writers were going for pure absurdity, they definitely nailed that. Strong's and RuPaul's characters are two totally out-of-place, insanely dressed, older, and weirdly proper women — who, as it turns out, hadn't said a word before this interaction and are also only temp workers at the office. 
Much like some of the evening's other sketches, there's not really a clear, decisive joke in this one other than how weird these women are, leaving the audience in the dark about what's even really going on. That said, new Saturday Night Live cast member Chloe Fineman gets a solid laugh when she enthusiastically locks the doors to the restaurant until the issue is settled.
Monologue
RuPaul is a consummate professional, and for his monologue, he appeared out of drag and in a perfectly tailored hot pink suit, trying to explain Drag Race to the masses and discussing his storied career. As a long-time New Yorker, RuPaul has seen the city through plenty of ups and downs — as he hilariously put it, when he first moved there, it was mostly seedy clubs and drunks, but it "wasn't all good" — and when he tries to tell a classic New York story, he can only include four elements to make it family-friendly: "Yonkers, correction officer, house of pancakes, feet."
It's no surprise at all that RuPaul is self-assured and confident on stage, and that his Saturday Night Live monologue is undeniably enjoyable. But without any big twists or turns, it's a pretty standard outing, which feels a little frustrating when you think about RuPaul's sheer, undeniable talent.
Old New York Show
Aidy Bryant and Kate McKinnon always shine when they perform together, and on this episode of Saturday Night Live, they team up as Dickie and Madge, two long-time New Yorkers who take over a hotel's public access channel to discuss their glory days. As two clearly unhinged recluses who may or may not be illegally squatting in this hotel room, they're not allowed to leave because former New York City mayor Rudy Giuliani said he'll kick them out if they do — so now, they spend all their time talking about the good old days.
RuPaul joins them as Terry, a friend that they once "met in the Bergdorf dressing room" where they were "all shoplifting silk." Even though the central joke here feels a bit obscure, it's saved by details like the fact that Terry is an "unemployed shoe critic" by day and that all three of them break into plenty of songs. Bryant and McKinnon can save almost any subpar sketch, and "Old New York Show" is no exception.
The Library
RuPaul plays himself in the Saturday Night Live season 45 sketch "The Library," which finds the star reading to children at a local library. If that sounds like a really bad idea, that's because it is. Instead of actually reading children's books like Eloise, Madeline, and The Very Hungry Caterpillar, RuPaul "reads these book girls for filth" — explaining to the eager children that "reading," in the drag world, means insulting others in a clever and playful way.
This sketch works pretty well, letting RuPaul stay firmly in his lane and also allowing other actors to enjoy it. (McKinnon, as a mom, says it's the most fun she's had in years.) While it drags a little towards the end — especially when one of the kids tries to deliver a RuPaul-inspired verbal smackdown, which dies on impact — "The Library" is amusing enough and puts RuPaul's natural talent to work, making it one of the night's highlights.
Chad & RuPaul
In yet another appearance this season (he recently popped up on the episode Jennifer Lopez hosted), Pete Davidson's slack-jawed, dead-eyed recurring character Chad proves irresistible for an in-drag RuPaul, who gets distracted during a magazine shoot when she catches sight of Chad. Declaring that Chad is the future of drag, RuPaul asks him if he's ever tried it — "Nah, just weed and pills," he responds — but throughout the sketch, she turns him into a real queen.
However, all the makeup and wig work in the world can't make Chad a star, which becomes clear when he stumbles off the stage and directly into the craft services table. Though RuPaul tells Chad he can still succeed if he wants to be a drag superstar, he just doesn't, so she lets him roam free. 
Relying on a familiar character can feel lazy, but this sketch offered a nice twist on Chad. Plus, it's always a pleasure to see Davidson play to his strengths.