Dwayne Johnson: Hobbs And Shaw Won't Appear In Fast & Furious 9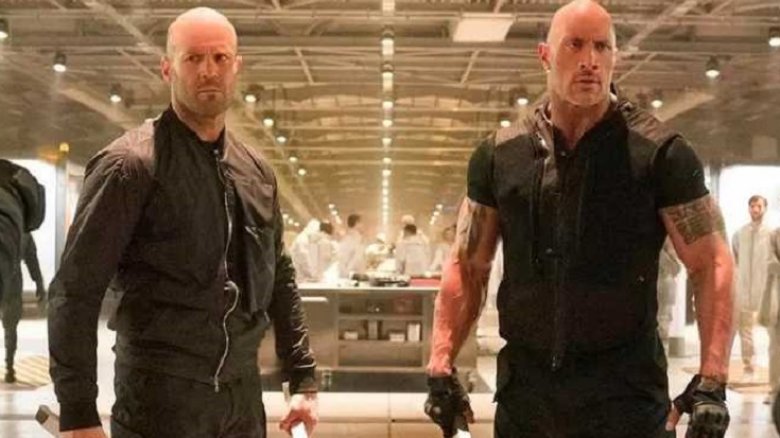 It looks like the next entry in the Fast & Furious franchise will be light a couple of key players. 
Dwayne Johnson has revealed that Luke Hobbs and Deckard Shaw — portrayed by Johnson and Jason Statham, respectively — will be sitting out the upcoming, as-yet untitled Fast & Furious 9. Apparently, Vin Diesel's Dominic Toretto will go solo in leading the ninth installment of the box office-busting franchise, with Johnson and Statham having worked too hard on the spin-off flick Hobbs and Shaw to have any significant involvement. Johnson made the remarks in a conversation with MTV News.
"The plan has always been for the Fast & Furious universe to grow and expand," Johnson said. "As of now, we're not in Fast 9 because they're getting ready to start shooting." Of course, this doesn't rule out a quick cameo or two, but the duo apparently will have zero involvement in the story.
Hobbs and Shaw is looking to be a doozy of a spin-off, with Johnson promising just days ago that the flick would deliver "the biggest showdown the Fast & Furious universe has ever seen." He elaborated just a bit in the MTV interview, gushing over the casting of the beloved and infinitely badass Idris Elba in the role of the film's villain, Mr. Null. "The goal was, who is the actor out there who has the believability that they could go up against not only me, but Jason, and us combined? The guy that's so bad, that he actually becomes really cool... and so, we have the showdown of the summer." Seemingly unable to help himself, Johnson elaborated, "Without giving it away, we have [Mr. Null's] army coming in, that descends upon a little island of Samoa," at which point he was promptly muzzled by producers Dany and Hiram Garcia, who were (fortunately) flanking him during the interview.
Johnson may be bubbling over with excitement over the spin-off flick, but if you're entertaining the notion that this means that his former secret agent and Statham's snarky mercenary may disappear from the main franchise for good, well, not so fast. (Or furious.) "Who knows, with Fast 10 and down the road," he said. "Look, at the end of the day, the truth is, there's unfinished business between Hobbs and [Toretto]. It's unfinished."
Speaking of such things, it's worth remembering that Johnson and Diesel had a well-publicized public spat in 2016, with Johnson taking to Instagram to refer to unnamed co-stars as "chicken sh*t" and "candy asses" and later confirming to Rolling Stone in an April 2018 interview that his remarks had primarily been directed at Diesel. These days, their relationship may not exactly be warm and fuzzy, but the conflict seems to have cooled to the point where the pair could at least be comfortable being on set together again.
"Vin and I had a few discussions, including an important face-to-face in my trailer," Johnson said to Rolling Stone. "And what I came to realize is that we have a fundamental difference in philosophies on how we approach moviemaking and collaborating. It took me some time, but I'm grateful for that clarity. Whether we work together again or not."
Even at that time, he had hinted at the possibility that his availability may be severely limited for the ninth Fast & Furious flick, but seemed confident that Diesel could shoulder the load himself. "Right now I'm concentrating on making the spin-off as good as it can be, but I wish him all the best, and I harbor no ill will there, just because of the clarity we have," he said, adding with a chuckle, "Actually, you can erase that last part about 'no ill will.' We'll just keep it with the clarity."
Ouch, The Rock. Well, all spats among muscle-bound superstars aside, we won't have long to wait to see whether Johnson was just whistling Dixie in terms of the new flick's action quotient. Hobbs and Shaw, directed by David Leitch (Deadpool 2) from a script by series veteran Chris Morgan, recently wrapped production and is slated to hit screens on August 2.