Black Widow Super Bowl 2020 TV Spot Features Avengers Reference
The Avengers weren't Natasha Romanoff's first makeshift family. 
During the 2020 Super Bowl on Sunday, February 2, Marvel Studios dropped a 30-second TV spot for its upcoming film Black Widow — the superhero standalone starring Scarlett Johansson as the titular character. Directed by Australian filmmaker Cate Shortland, Black Widow takes place before the events of 2016's Captain America: Civil War, and sees Natasha separated from her Avengers team and forced to take a trip back to Russia to confront her past. 
The footage, which opens on Johansson's Natasha saying in voiceover that people don't know everything about her, includes a reference to the Avengers, whom she notes "weren't [her] first family." Over shots of her fighting against various baddies and even jumping out of a freshly exploded building, the Black Widow Super Bowl TV spot also features Natasha teasing that she'll make an important choice in the film: "At some point, we all have to choose," she says, "between what the world wants you to be, and who you are." 
This all seems to signal that through returning to Russia, where she trained in the Red Room to become a KGB assassin, and meeting up with her former "family," Natasha will discover who she actually is: evidently someone who fights for justice, whose allegiances lie with the Avengers, and who would give up her life to protect them. That latter-most bit is something Black Widow did in Avengers: Endgame — she tossed herself off the cliff in Vormir so that her fellow Avenger Hawkeye (Jeremy Renner) could obtain the Soul Stone — and it's already been confirmed that the forthcoming solo flick will explain her heartbreaking sacrifice. 
Judging by this new TV spot, it seems that whatever goes on with Black Widow's pre-Avengers family in the film will set her on the path back to the Avengers.
Meet Black Widow's first superhero "family"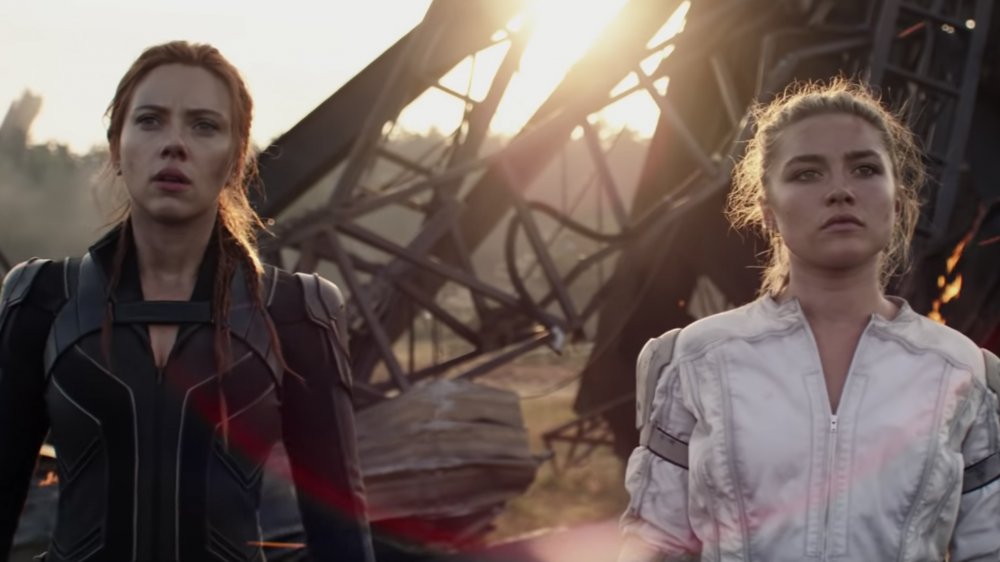 This so-called "family" consists of Florence Pugh's Yelena Belova, a fellow Red Room trainee who carries the Black Widow moniker and whom Natasha views as a sister; David Harbour's Alexei Shostakov (a.k.a. Red Guardian), the Russian answer to Captain America with whom Natasha has a sort of father-daughter bond, despite the Marvel Comics depicting them as husband and wife at one point; and Rachel Weisz's Melina Vostokoff, another Black Widow who trained in the Red Room. 
Both the 2020 Super Bowl TV spot for Black Widow and the previously released full-length trailer for the film have angled the foursome as a father, mother, and two daughters: Alexei and Melina take the parental roles, while Natasha and Yelena are the "children." That's quite a different family dynamic than that of the Avengers squad, which — especially in the Original Six subdivision — positions the heroes as more or less equal to one another. 
Once again having a counterpart in Yelena and two pseudo-superiors in Alexei and Melina could arguably be good for Natasha (every hero needs protecting), but this new footage suggests that something will go awry with her Russian family. What exactly that is remains to be seen — though the presence of Rick Mason (O.T. Fagbenle), Natasha's ally from her time working as an agent of S.H.I.E.L.D., and Iron Man (Robert Downey Jr.), one of Nat's Avengers companions, in the film bolsters the idea that Nat will have a crisis of confidence while both defining and choosing between who the world wants her to be and who she really is.
Black Widow will open in theaters on May 1.