Why Dahj/Soji From Star Trek: Picard Looks So Familiar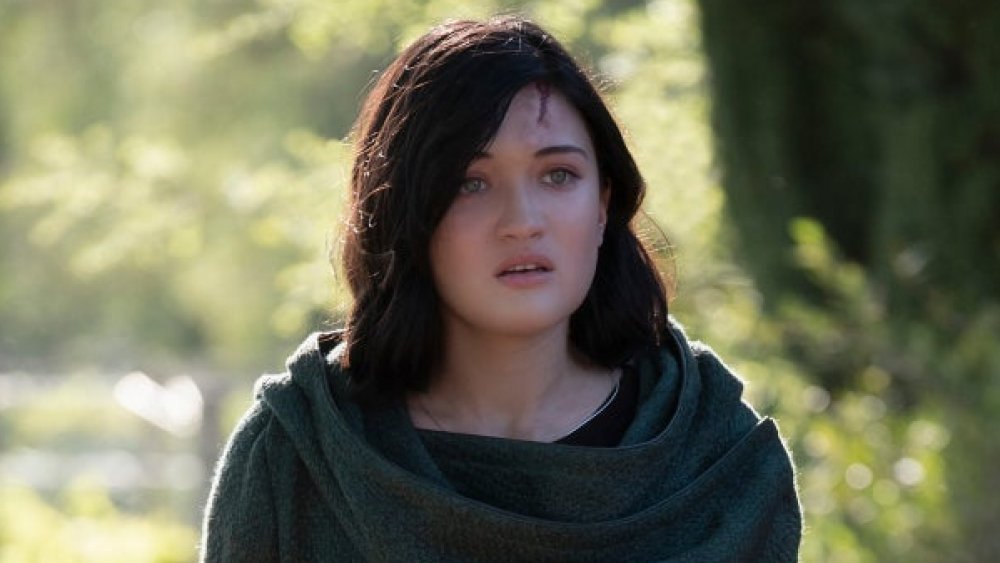 CBS
The CBS All Access series Star Trek: Picard leans into intrigue from the outset, and at the heart of its mystery is an enigmatic woman named Dahj and her twin Soji, both portrayed by Isa Briones. Please be advised that we'll be veering rather quickly into spoiler territory for the first two episodes of Star Trek: Picard, so if you've yet to catch up, you may want to skip ahead.
After she is assaulted and her boyfriend killed by Romulans, Dahj is compelled to track down Picard before almost immediately meeting her end at the hands of her Romulan pursuers. It turns out that said pursuers have a connection to an organization known as the Zhat Vash, which is intent on the destruction of all androids. Not only are Dahj and Soji synthetics, they are the daughters of one particular android which Jean-Luc Picard once knew very well: Data, who served as Lieutenant Commander on the Enterprise during Picard's tenure as its Captain.
While the mystery behind Dahj and Soji's past has yet to be unraveled, plenty of viewers are probably busy trying to unravel a different mystery: just where the heck they've seen Briones before. Her role on Star Trek: Picard is her highest-profile yet, so it's understandable if you're having a bit of trouble putting your finger on it — and of course, we're here to help.
Isa Briones has appeared in some little-known features
There may in fact be a pretty excellent reason that you've had trouble recognizing Briones from her previous work: she's only 21, and she appeared in a couple of smaller features and a TV movie as a child. These include 2008's Brown Soup Thing, her feature debut (in which her most recognizable co-star was the boxer Manny Pacquiao), and 2010's Takers, which boasted the likes of Hayden Christensen, Idris Elba, Matt Dillon, and Paul Walker among its cast. That same year, she also appeared in the TV movie Cutthroat, which also featured her younger brother Teo.
More recently, she's popped up on the big screen in the 2013 feature Lonely Boy, which also paired her with Teo and which starred Lynn Whitfield (The Josephine Baker Story), Melora Walters (Cam, The OA), and Greg Vrotsos (Orange is the New Black). Briones has also appeared in a number of short films over the years — but if you have that nagging feeling that you've seen her face on the small screen recently, then you just may be a fan of the FX anthology series American Crime Story.
Isa Briones appeared in season 2 of American Crime Story
Briones guest-starred during the second season of the series, The Assassination of Gianni Versace, in the penultimate episode, "Creator/Destroyer." She portrayed Elena Cunanan, the sister of Andrew Cunanan (Darren Criss, Glee), the man who gunned down the famed fashion designer on the streets of Miami Beach, Florida, in 1997.
While Briones' role was relatively minor, her striking looks and obvious gifts as an actress may have made an impression on you, and almost certainly made an impression on the producers of Picard, who saw fit to cast her in her first major recurring role on a television series (and a pretty darned high-profile one, at that). Briones is slated to appear in all eight episodes of the first season; while season 2 of Picard has already received the green light from CBS All Access, it's not clear whether she'll return for another go-round as Saji, the offspring of perhaps the most famous android in all of Star Trek... er... lore (fans of Star Trek: The Next Generation will see what we did there).
At any rate, the future looks bright for the young actress, and the way in which she's acquitting herself on Picard will doubtless open up myriad future opportunities. You can catch new episodes of the series streaming on CBS All Access every Thursday.