The Story Of The Coma-Doof Warrior From Mad Max Explained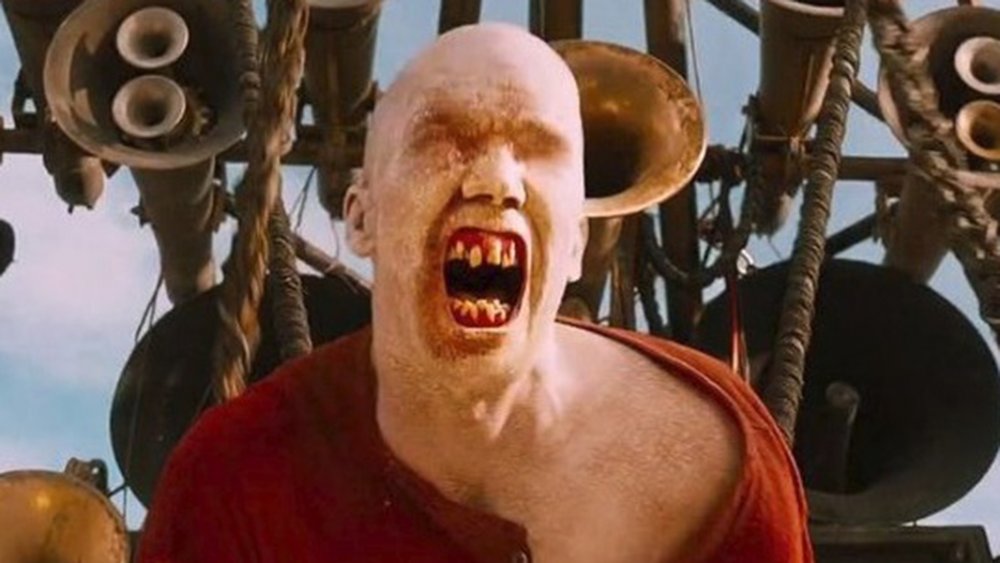 In the history of cinema, few films have arrived with quite as much fiery energy and earth-shattering originality as George Miller's post-apocalyptic epic Mad Max: Fury Road. Even fewer have grown as much in legend and esteem after their initial theatrical run, with many hailing Fury Road as the best film of the 2010s and one of a handful of movies that are practically flawless. 
Miller has continued to garner high praise for crafting unflinchingly austere, vividly realized environments with every Mad Max movie, but something clicked in Fury Road that led it to transcend its admittedly familiar post-apocalyptic setup to become a piece of art worthy of all the study, dissection, and discussion that typically accompanies great works. While spectacle is undoubtedly the driving force, character is also a big part of why Mad Max: Fury Road resonates. While Miller delivers a trove of enigmatic central characters throughout Fury Road – see Charlize Theron's Furiosa, Hugh Keays-Byrne's Immortan Joe, and Tom Hardy's Max — even his second- and third-tier characters get their moment in the film's sun-baked vistas.
That's especially true of the man riding the speaker truck with the flame-throwing guitar: the Coma-Doof Warrior. 
Miller opened up about one of his most memorable character creations in a recent interview with Deadline, revealing the truth about the Coma-Doof Warrior from Mad Max: Fury Road.
The Coma-Doof Warrior has a surprisingly intricate backstory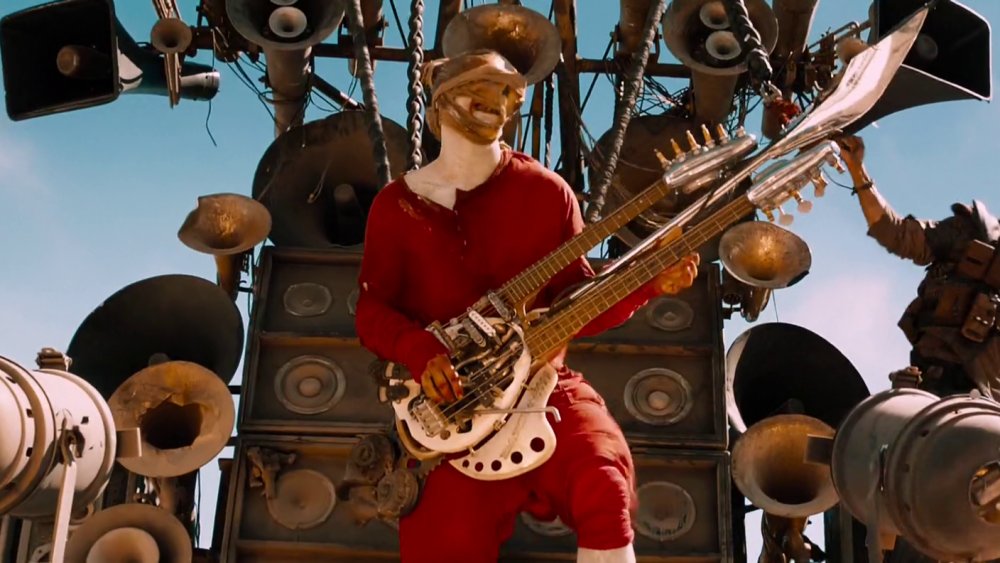 The Doof Warrior doesn't really do much in Mad Max: Fury Road besides ride a speaker truck with a fire-spewing guitar in hand and kick out some face-melting jams while leading Immortan Joe's army of crazed speedsters on their chase to capture Max and his gang. But he doesn't need to do much else to leave a lasting impression. Among diehards, the Doof-Warrior is the epitome of everything Miller has ever done right in the unofficial Wasteland Cinematic Universe, and just the sort of creation that makes said universe feel so authentic even in its insanity. Part of that authenticity comes down to details, according to Miller, who himself laid out a wildly intricate backstory for the Coma-Doof Warrior.
"The approach to the film was, you have to be able to explain everything. Not only all the characters, but every object, how it all found its way into this world and how it survived," Miller told Deadline. "In his case, he was blind from birth. When things started going a bit crazy, he and his mother were left in a mining town. The only way they could survive was to go into a place where there was a competitive advantage to being blind. And that was to go deep down into a mine shaft where they were able to survive. He took what was most precious to him, a musical instrument, probably a guitar."
The man who played Coma-Doof Warrior took that story even further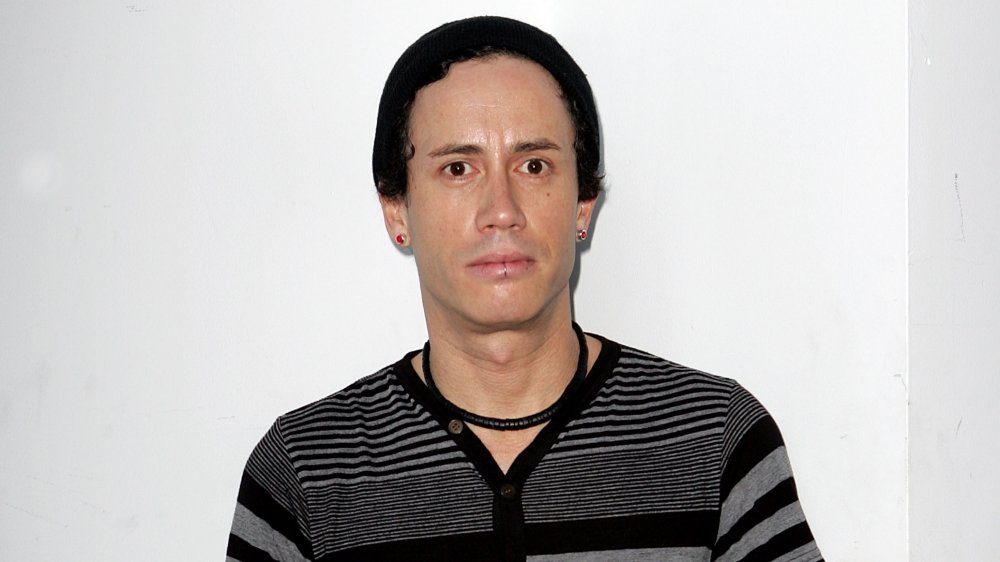 Graham Denholm/Getty Images
That's quite a detailed sketch for a character who doesn't have a single speaking line and serves largely as background color in Mad Max: Fury Road. But that meticulous attention to detail is why those background colors pop with such vivid life. Miller went on to add to the Doof Warrior's lore, explaining: "As they were careening through the wasteland, someone heard this music echoing out of that mine shaft, went down there and luckily they saw him as an asset. I think they killed his mother because she wasn't of any use. They took him and he eventually ended up as the equivalent of the drummer, the fife player or the bagpiper, in Immortan Joe's army."
In wanting to craft as authentic a "bagpiper" as possible, Miller also cast a real guitarist in the role: New Zealand-Australian shredder iOTA. When iOTA stepped into the role, he apparently took the Doof Warrior's backstory even further, adding some particularly grisly details of his own. He told Audiences Everywhere in 2015, "I knew that George had said that Coma was found by Immortan Joe in a Cave and taken under his wing and he learned to be a musician. I kind of embellished that for myself. Basically, my story was that Coma was found with his mother's head, after she had been killed, and he was clinging to it and Immortan Joe came and found him and Coma took her face off and made the mask out of her face, to honor her when he went to war."
It seems iOTA actually found a way to make the Doof Warrior's story even more twisted than Miller himself, which may be the most shocking Doof Warrior news to date.  
What it was like playing the Coma-Doof Warrior in Mad Max: Fury Road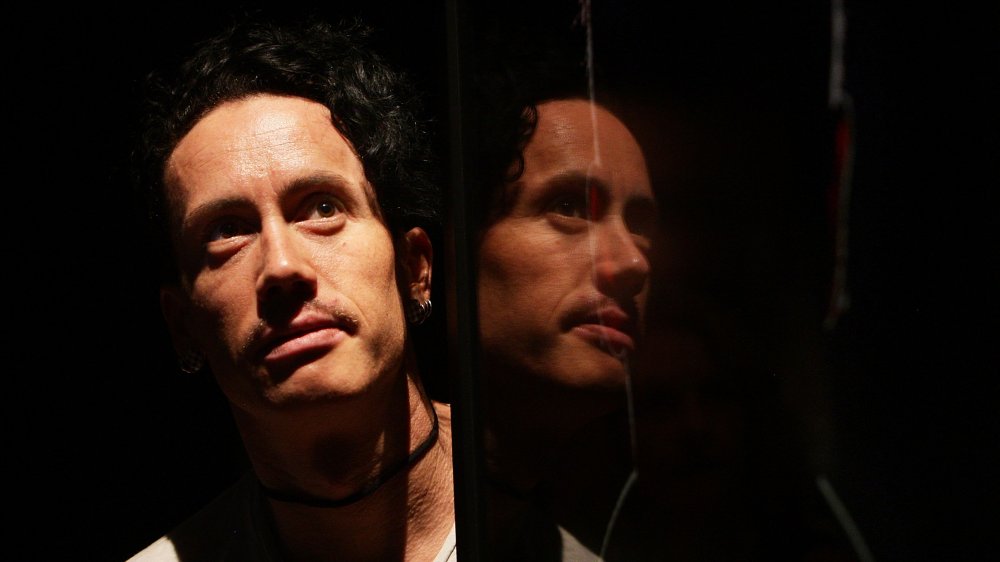 Lisa Maree Williams/Getty Images
iOTA went all-in when gearing up to bring to life the Coma-Doof Warrior in Mad Max: Fury Road — and even prior to landing the role. Chatting with Yahoo! Movies in May 2015, iOTA shared that he went into the audition with dirt rubbed in his teeth, tattered clothes on his body, and black eye makeup on his face. "I just wanted it so bad, so I was going to go all the way. I got in the cab and the guy gave me a funny look," he said. 
Of course, he wound up getting the gig, and iOTA kept the flames of creative passion burning from then on. Shredding the guitar on set for six months was quite a wild experience, and iOTA poured his whole soul into the performance. 
"I just sort of got up there and jammed. Whatever I could come up with. It's a double-neck guitar, so it's a bass and six-string electric, but there's a base that I'm standing on and below that is a partial amplifier, so it's blaring, and it's totally squealing all the time. You're just thrashing on it, and making noise. I'm playing Zeppelin or Soundgarden or AC/DC or whatever I was feeling inspired to do," he said. "I was screaming my head off. The whole thing was just mind-boggling. I was just walking around set with my jaw open the whole time. It was incredible. And just tearing through the desert on that truck was really something else. You've gotta try it."
Mad Max: Fury Road isn't the only place you've seen iOTA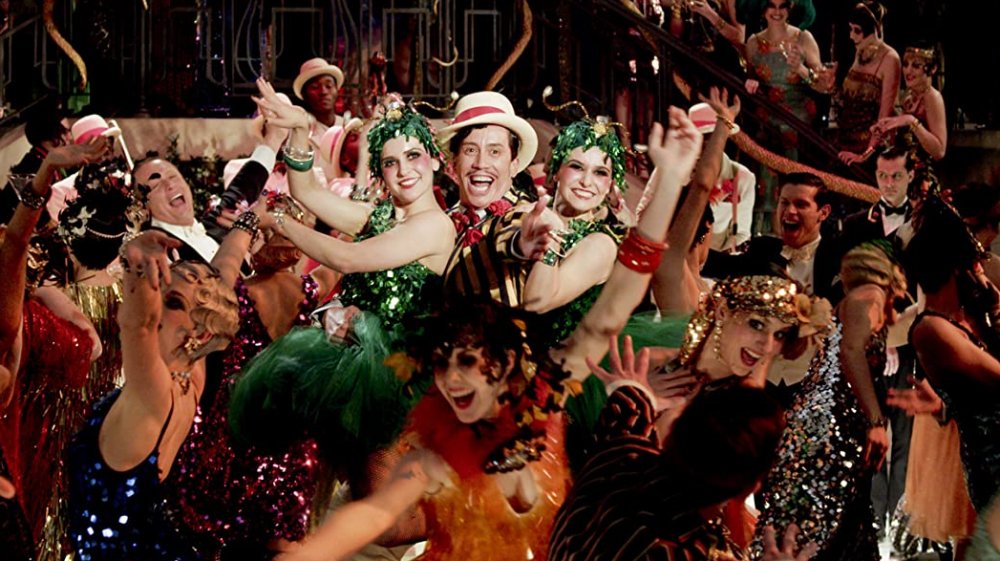 Warner Bros.
While the face iOTA bears in Mad Max: Fury Road to portray the Coma-Doof Warrior, he actually has a recognizable one himself sans prosthetics and makeup. Movie fans may recall seeing iOTA appear as Trimalchio the Orchestra Leader in 2013's The Great Gatsby, writer-director Baz Luhrmann's modern take on F. Scott Fitzgerald's novel of the same name. 
Though he appeared only briefly in the star-studded affair — the flick featured Leonardo DiCaprio as the titular millionaire Jay Gatsby, Tobey Maguire as Gatsby's pal Nick Carraway, Carey Mulligan as Gatsby's object of undying affection Daisy Buchanan, and Joel Edgerton as Daisy's rough and adulterous husband Tom Buchanan — iOTA made a memorable mark on this era's Great Gatsby adaptation.
Theatre fans in Australia may also recognize iOTA's handsome mug from the stage productions of Berlin (in which he played an angel), The Rocky Horror Show (in which he portrayed Frank-N-Furter), B-Girl, Smoke & Mirrors, and even Hedwig and the Angry Inch (as none other than the titular character). He even went up against — and beat — Hugh Jackman for Best Male Actor in a Musical at the Helpmann Awards, essentially the Australian equivalent of the Tonys, in 2007. Jackman was up for the award for his work in The Boy From Oz, but iOTA's performance in Hedwig and the Angry Inch won everyone over.
George Miller says the Coma-Doof Warrior might be back in a future Mad Max flick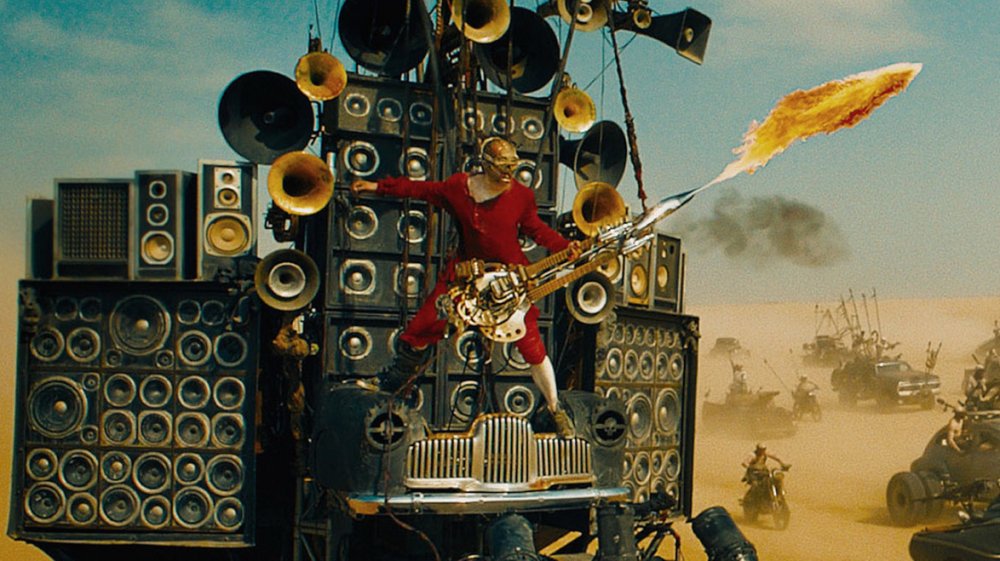 Now that we know the sordid details of the Doof Warrior's life, it's all the more surprising the character has gained such popularity since the release of Mad Max: Fury Road. But it appears a fire-spitting guitar and a massive speaker truck are all one needs to stand out in the Wasteland. Popularity aside, it's worth noting that the Doof Warrior was (wittingly or not) actually on the wrong side of the action in Fury Road. As such, it certainly appeared that he met a suitably ignoble end by the film's final moments. 
According to Miller, the Doof Warrior's death wasn't entirely certain even as he was eventually blown off of his sonic chariot by a very large boom. In fact, Miller admitted to Deadline that in its ambiguity, said boom may not have been the end of the Coma-Doof Warrior after all. He even teased that we might see the character return in the next chapter of Mad Max madness: "I would like to think he's still alive, somehow."
That's hardly an admission that the Doof Warror will definitely be back in George Miller's next Mad Max flick, but it's enough to spin speculation that he'll be shredding through the Wasteland sometime in the near future. That all hinges on whether Miller and Warner Bros. finally come to an agreement about the truckload of loot Fury Road hauled in at the box office and get the sequel before cameras, of course. And when that inevitably happens, it should be fascinating to see how Miller and company explain the Doof Warrior's return.