How The Black Widow Movie Characters Should Really Look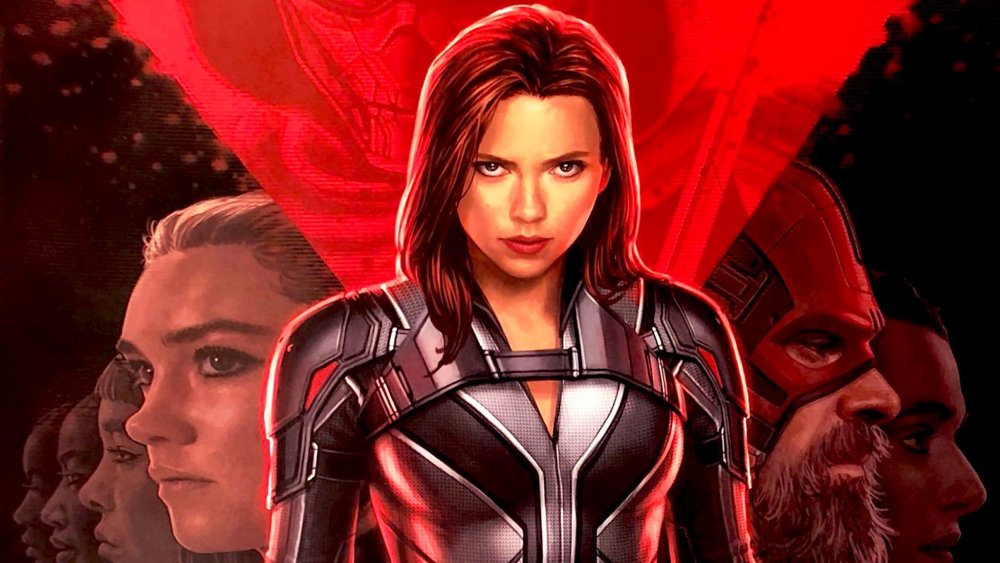 But first, who is Black Widow exactly?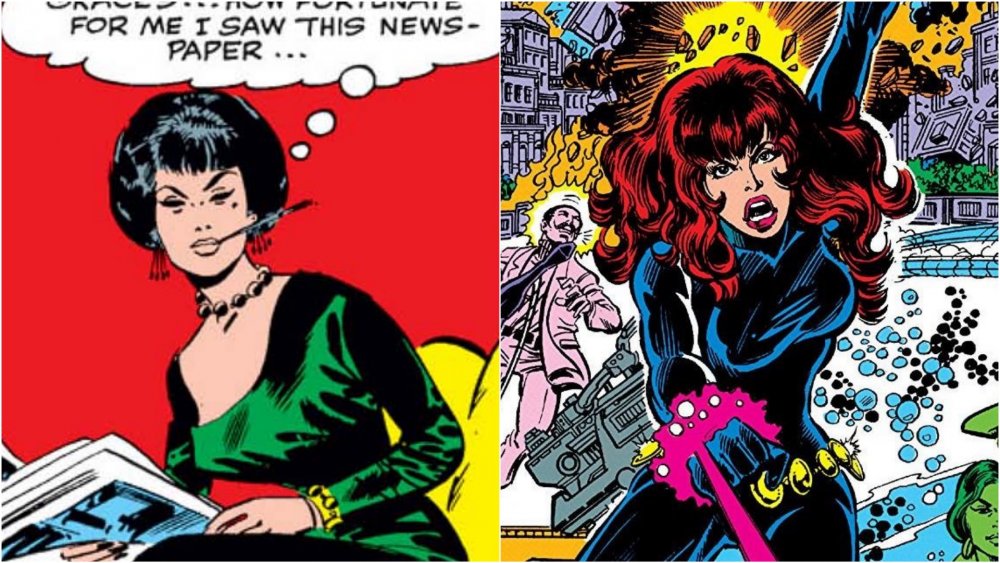 Natalia Alianovna "Natasha" Romanova, a.k.a. Natasha Romanoff, was created by Stan Lee, Don Rico, and Don Heck in 1964 as femme fatale "Madame Natasha," sent by Khrushchev to seduce and distract Tony Stark. After being foiled by Iron Man, Black Widow goes on the run for months, avoiding a return to Russia and a confrontation with her superiors over her failure. In these early appearances, Natasha's look is definitely more "spy" and less "supervillain." It's when the character returned in June 1966 as a brainwashed supervillain in Avenger #29 that she got her first "costume," which included fishnet stockings, a cape clasped with a "B" around her neck, and a mask. After a few more years, Black Widow decided to reinvent herself as a superhero — by going after Spider-Man during one of his J. Jonah Jameson-imposed "public menace" sprees, no less — and donned the black catsuit so commonly associated with her image in the comics as well as the MCU.
Black Widow MCU style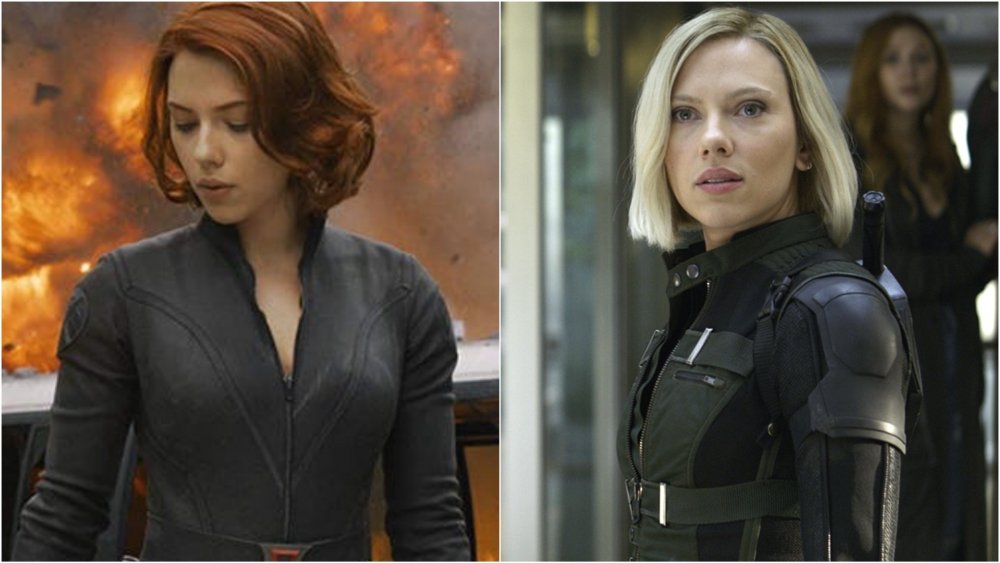 So far, Marvel hasn't exactly been adventurous when it comes to Black Widow's look in the MCU. Just about the only part of her appearance to change has been her hair, which has gone through a few different styles and colors — most notably when she went from redheaded to blonde after the events of Captain America: Civil War, which put her at odds with the United States government and made her a fugitive along with the rest of Cap's crew. Although she's been known to wear office attire or even an evening gown when she's under cover or on assignment, her battle suits throughout the first decade of the franchise have pretty much all been basically black. That promises to change with the Black Widow movie, which is poised to pull back the curtain on Natasha's mysterious past prior to joining up with the Avengers.
Black Widow's traditional black suit
The trailer for Black Widow mostly shows us Natasha in civilian clothes with a few exceptions — including a spectacular shot of her dropping through the air above some sort of wreckage while trying to avoid debris, bad guys, and bullets. The sequence features a variation on the sleek, black catsuit that has become part of Black Widow's appearance. This version of her costume looks slightly more armored and streamlined, but it isn't yet clear just how different this iteration of her classic black suit compares to what we've seen the character wear in previous films. Black Widow's suit has been tailored a little differently in every MCU movie. It remains to be seen how — or if — this costume might serve the plot of the film beyond its utility.
Black Widow's white suit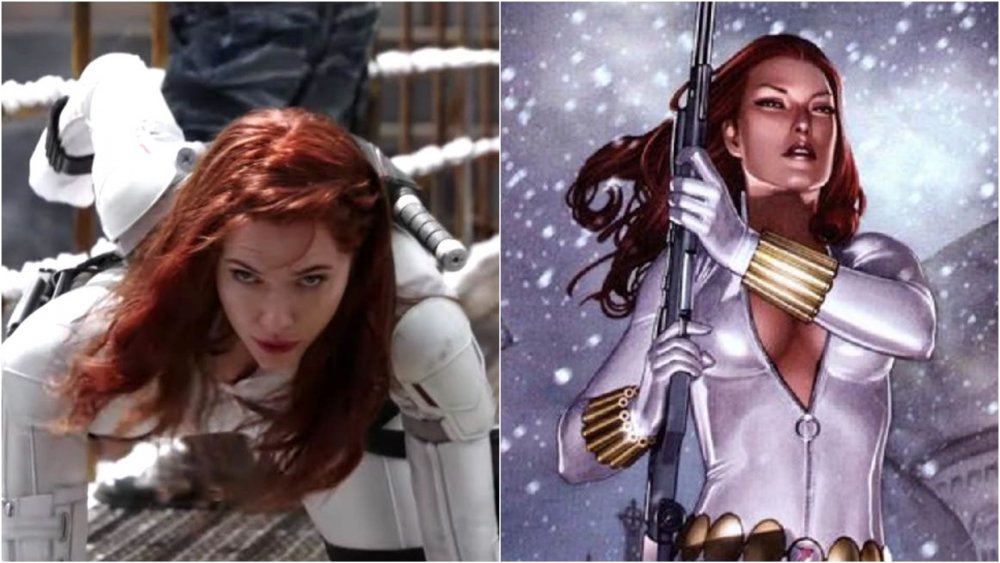 One Black Widow suit we haven't seen in previous MCU films is what has become known in the comics as the "tactical suit," first introduced to audiences in the 2010 four-issue miniseries Black Widow: Deadly Origin. It was designed specifically to blend into snowy landscapes, so the suit's utility in the Russian tundra is undeniable — and we can assume from the trailer that at least some of the film takes place in Russia. Black Widow's seen briefly in the white suit several times in the trailer, including when she lands on the snowy bridge at the 1:22 mark, at the dinner table with other members of the cast at the 1:36 mark, and that awesome shot of her firing an RPG from a helicopter at the 1:49 mark. Whether or not she spends much time in white throughout the Black Widow movie, this is a nice nod to the character's illustrious comics past.
Florence Pugh as Yelena Belova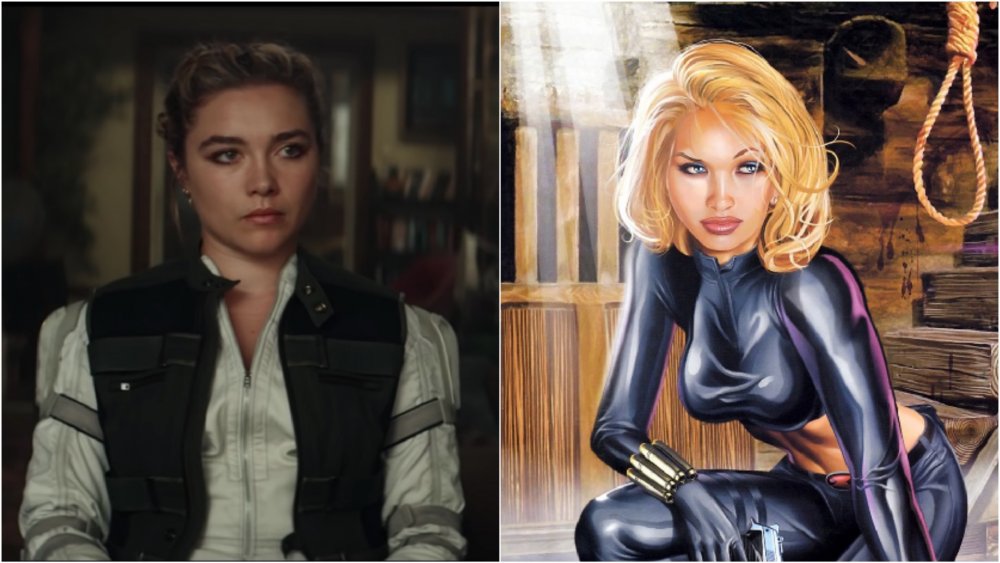 One of the new characters being introduced in Black Widow is Yelena Belova, a fellow spy who's a graduate of the infamous "Red Room" where Natasha was trained as a girl. Essentially, she's another Black Widow. We don't know exactly where the MCU Yelena's allegiances lie, but we do know the character is being played by Florence Pugh (Midsommar, Little Women). Belova's first comic appearance came in Eternals vol. 2's fifth issue in 1999, and in the years since, she's co-headlined several miniseries with Natasha under the Black Widow mantle. The Marvel Knights Black Widow series in 1999 was also the first appearance of the Red Room in Black Widow lore. In comics form, Yelena likes to wear crop tops and spandex, not exactly practical when fighting. Judging by what we've seen in the trailer, Pugh's Yelena dresses more appropriately for combat.
Rachel Weisz as Melina Vostokoff/Iron Maiden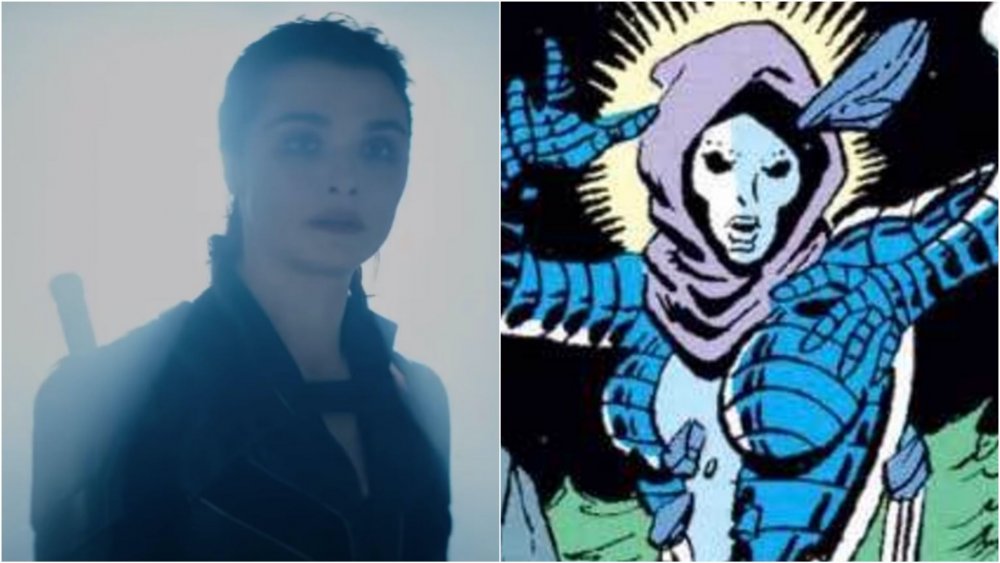 Rachel Weisz joins the ranks of Academy Award-winning actors in the MCU by playing Melina Vostokoff in the Black Widow movie. While it's not exactly clear what role the character plays in the narrative of the film, the trailer seems to indicate that she's some kind of mentor or mother figure to the Black Widows. She appears to be someone involved with the Red Room — and directly involved in their training. In the comics, Vostokoff is known as the Iron Maiden, a Russian assassin with deep ties to Natasha. Her costume of choice is a flexible full-body armor that increases her strength as well as protecting her from damage. We don't see any of that in the trailer, but time will tell if the Black Widow movie version of Vostokoff is one that'll be familiar to fans of the comics.
O.T. Fagbenie as Rick Mason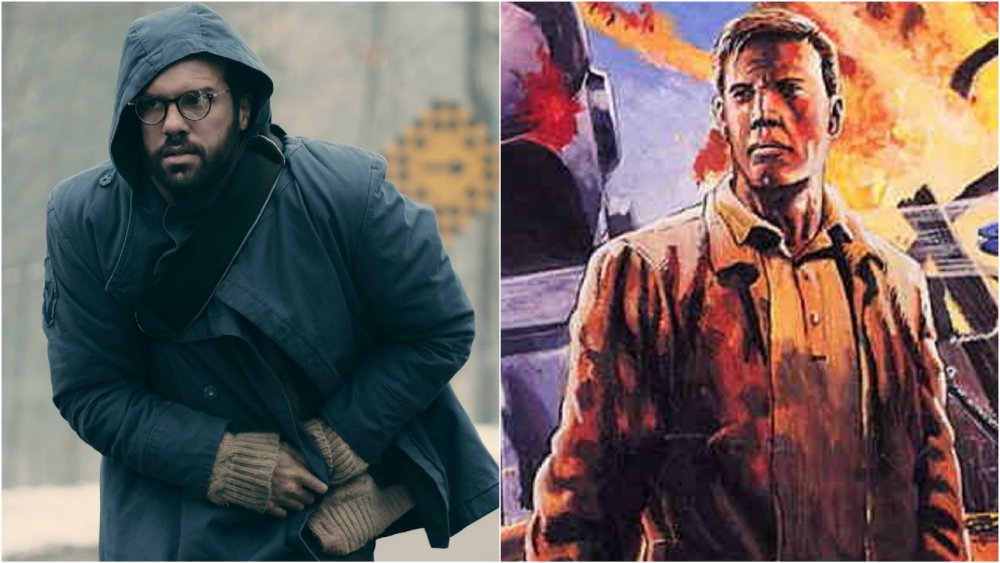 One of the characters we don't see in the Black Widow trailer is Rick Mason, but we know he's in the movie because the actor listed as playing Mason, O.T. Fagbenle (The Handmaid's Tale), was on stage with the rest of the cast at the 2019 San Diego Comic-Con announcement of the film. Mason is a comics character we haven't yet seen in the MCU — a freelance mercenary and ex-S.H.I.E.L.D. agent. The MCU will portray him somewhat canonically, but as Fagbenle says, they've added a previously non-canon love interest in Natasha. We don't know how far Mason's character will be fleshed out in Black Widow, but on the printed page, he has connections to the KGB, Nick Fury, and Denis Nayland (a possible character in MCU's upcoming Shang-Chi and the Legend of the Ten Rings). In the comics, Mason's just a regular shady guy, no super suit involved, so Marvel shouldn't have any problem translating him from book to screen with a measure of accuracy.
David Harbour as Alexei Shostakov/Red Guardian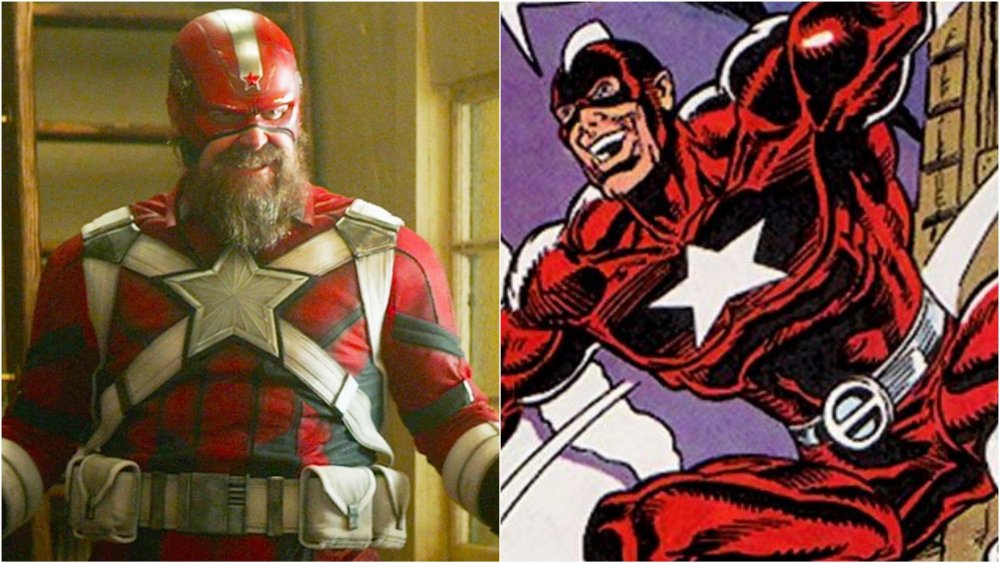 One of the more striking characters in the Black Widow trailer is Alexei Shostakov, also known as Red Guardian. He's the Russian version of Captain America, portrayed by David Harbour (Stranger Things). Although there have been multiple Red Guardians throughout Marvel Comics history, Harbour is playing one of the more... complicated men to wear the costume. 
Shostakov's backstory is a mile long, but the highlights include being married to Natasha; dying and coming back as a robot, then as a zombie; and even taking over Clint Barton's Ronin identity. In the MCU's Black Widow, Shostakov seems to be a father figure to Natasha and Yelena as he's seen sitting around the dinner table with the two Black Widows and Rachel Weisz's Melina Vostokoff. We see Harbour trying on his costume, evidently after an extended period of time, and being happy that it "still fits." This version of Shostakov is clearly past his combat prime — and neither a robot nor a zombie — but he's still got a red suit with a star on his chest.
William Hurt as Thaddeus Ross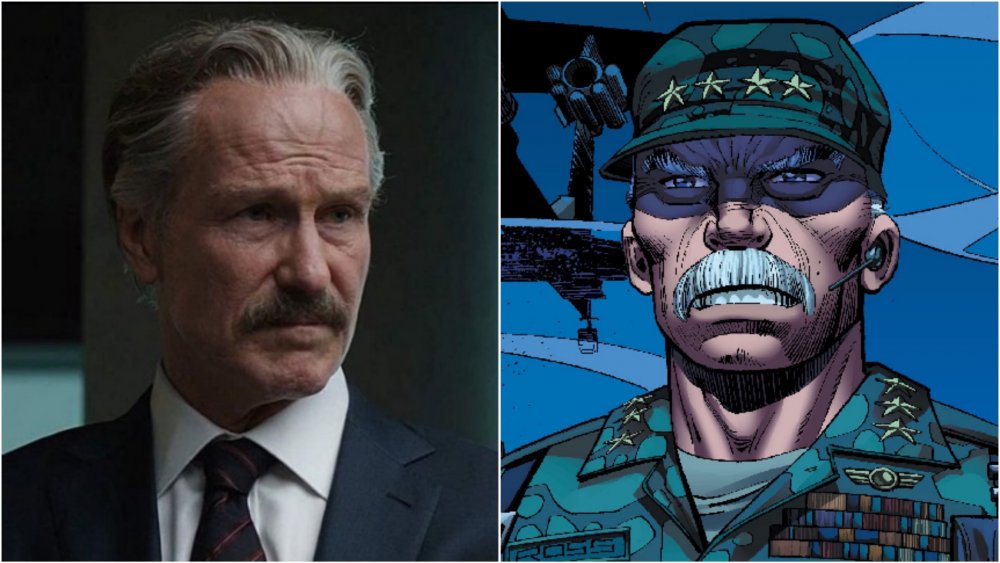 General Thaddeus E. "Thunderbolt" Ross is one of the oldest supporting characters in Marvel Comics history — he's been around since the first issue of The Incredible Hulk in 1962. William Hurt has portrayed Ross in multiple MCU movies, making his first turn as Ross in 2008's The Incredible Hulk. First seen as a Lieutenant General in the U.S. Army, Ross returned in 2016's Captain America: Civil War, now the Secretary of State. Like the MCU's Ross, the character has hunted the Hulk in the comics — but on the page, he's undergone some severe transformations. In his obsession to defeat the Hulk at any cost, Ross himself "hulked" out as Red Hulk, hoping to match his nemesis pound for pound. Things didn't work out, of course, and, after cutting a swath through much of the Marvel Universe, Ross settled into an uneasy hero role, albeit one with extreme anger issues. Chances are slim to none that we're actually going to see William Hurt pick up a humongous gun and hulk out in an MCU movie, but it sure is fun to think about.
The Taskmaster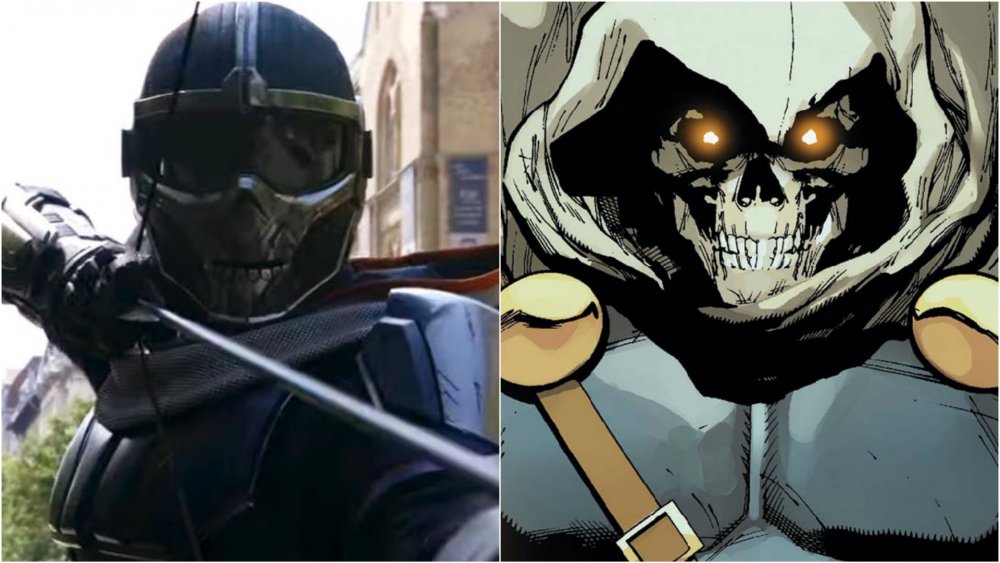 Marvel hasn't told us just who's playing the villainous Taskmaster in Black Widow, but the trailer shows him in action — and he has some pretty sweet moves. The illustrated version of the Taskmaster has a super complicated backstory, but then, doesn't everyone in Marvel? Tony Masters was a S.H.I.E.L.D. agent who was exposed to the Nazi version of the super-soldier serum that turned Steve Rogers into Captain America — but in Masters' case, it enhanced his "photographic reflexes," giving him the power to instantly learn, mimic, and mirror an opponent's fighting style. That's made him exceptionally difficult to beat as he's torn his way through a series of superheroes, including Deadpool, the Punisher, and a few select Avengers. A mercenary by trade, Taskmaster wears a skull mask in homage to Santa Muerte, the Catholic personification of Death. His appearance in the trailer, complete with the mask, tracks with the way Marvel interprets their characters onscreen: faithful to the spirit of the comics, if not slavish in execution.
And the rest of the cast...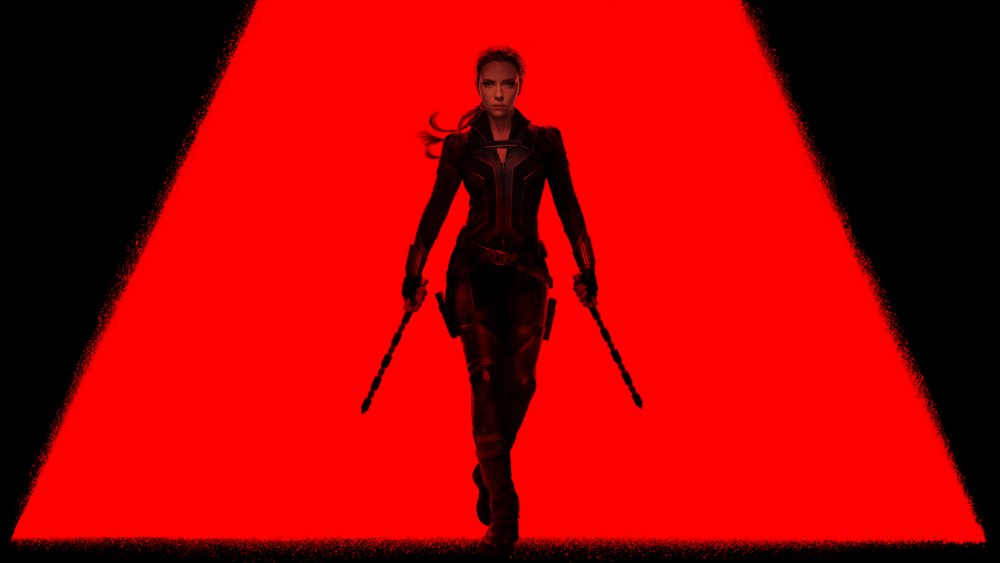 Several Black Widow cast members have yet to reveal their roles, and quite a few actors are listed with suspiciously generic character names. For example, martial artist and stuntwoman Michelle Lee will almost certainly be playing Monica Chang-Fury, the Black Widow of Marvel's Ultimate line, S.H.I.E.L.D. agent, and ex-wife of Nick Fury. You can bet that Black Widow will feature the Red Room to some degree, and there's a good chance that several as-yet-unnamed Black Widows will be there. Additionally, this movie is poised to feature quite a few S.H.I.E.L.D. agents or officers, and there are a ton of possibilities in this area. We'll just have to wait until July 2021 for the release of Black Widow to find out who's who — and whether the MCU has reinvented the looks of the characters or if they've stayed relatively faithful to the way they look in the comics.