You Season 3 - What We Know So Far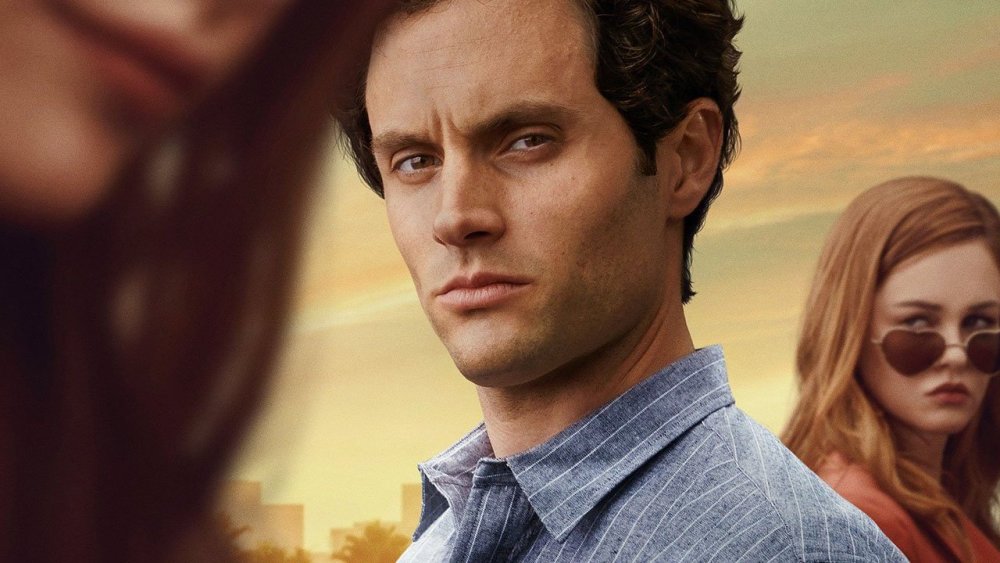 Netflix
Contains spoilers for You seasons 1 and 2
Hello, you.
When Netflix acquired the psychological thriller series You from Lifetime, it became an irresistible hit that had all corners of the internet buzzing. Based on Caroline Kepnes 2014 novel of the same name and starring Gossip Girl alum Penn Badgley as the seemingly perfect Nice Guy bookstore manager Joe Goldberg, the freshman season of You followed Joe's increasingly violent, psychopathic behaviors on his quest to win the heart of New York University graduate student and aspiring writer Guinevere Beck, played by Elizabeth Lail. 
Joe's desire to fall in — and remain in — love with Beck took the pair to some dangerously dark places. Long story short, Joe stalked Beck relentlessly and killed her toxic ex-boyfriend Benji (Lou Taylor Pucci), her best-friend-slash-admirer Peach Salinger (Shay Mitchell), and then Beck herself — framing the murder on Beck's therapist (with whom she was having an affair) Dr. Nicky (John Stamos) after she found out Joe is a serial killer who locks many of his victims inside a soundproof plexiglass book vault held in the basement of the bookstore. Joe's plan was almost seamless... until his ex-girlfriend Candace Stone (Ambyr Childers) — the one he believed he killed prior to meeting Beck — surfaces very much alive, telling Joe they have "unfinished business."
You season 2 was a guarantee before season 1 even premiered on Lifetime or became a much-adored Netflix Original series (and one of the darkest Netflix shows you can find). When it finally dropped on the streaming platform on December 26, 2019, fans were instantly reminded of all the things that makes the show so grimly captivating. On the new season, Joe has moved to Los Angeles and assumed a new identity, Will Bettelheim, in a bid to escape Candace. He vows not to repeat the past, but soon betrays his own promises by falling in love with... Love Quinn (Victoria Pedretti) — a widowed chef whose parents own a health food store called Anavrin, where Joe works.
The second season of You featured no shortage of twists and turns: Candace finds Joe in Los Angeles and starts dating Love's twin brother Forty (James Scully), Joe kills a sex criminal celebrity comedian named Henderson (Chris D'Elia) who threatened the lives of his neighbors Delilah (Carmela Zumbado) and Ellie Alves (Jenna Ortega), and it's revealed that Love is a whole lot more twisted than she let on — she's a murderer just like Joe, and accepts him for the serial killer he is, which surprisingly turns him off. You season 2 ended with Joe and Love settling down in suburbia, anxiously awaiting the birth of their child. But as much as Joe tried to convince himself that he and Love are soulmates, and as much as he genuinely wants to be a father, he finds his new surroundings chilling. And, in true Joe fashion, he can't let go of his desire to latch onto another "you." 
Badgley himself let it slip that You isn't ending there, and The Hollywood Reporter confirmed in January 2020 that season 3 of the series is officially in the works.
Details are scarce for now, but here's everything we know so far about You season 3.
What's the release date for You season 3?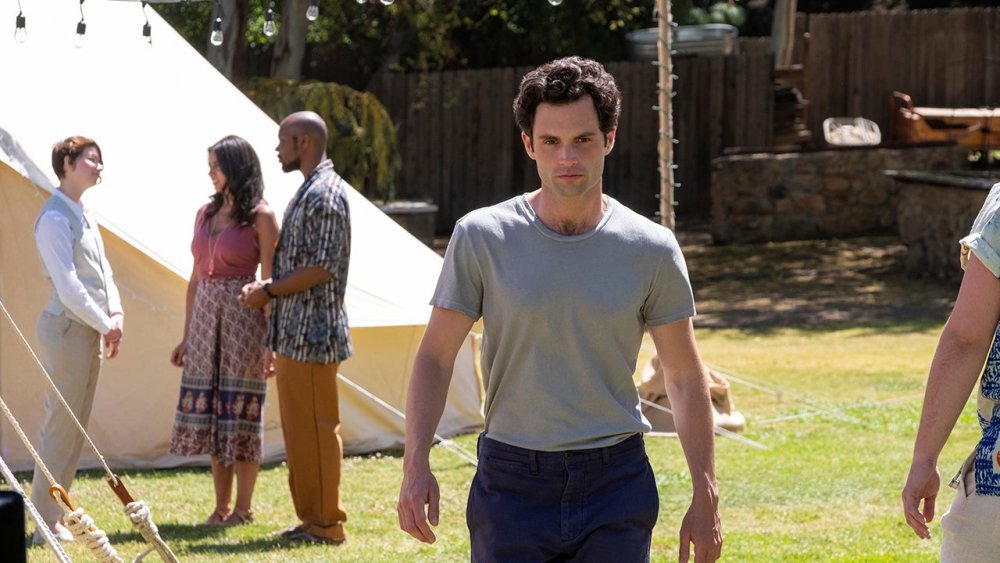 Netflix
Good news, You fans: season 3 has a release date. Well, a release window. According to The Hollywood Reporter, You season 3 will drop on Netflix sometime in 2021. It will run for 10 episodes — the same as season 1, but three fewer than season 2.
Netflix is shaking up the content distribution pattern by scheduling You season 3 to premiere in 2021. The first season of You first aired on Lifetime on September 9, 2018, then began streaming on Netflix on December 26, 2018. One year to the exact day later, You season 2 hit the streamer. One could have easily expected You season 3 to air on December 26, 2020, but alas, the streamer is taking this year off to let the show breathe.
Who's in the cast of You season 3?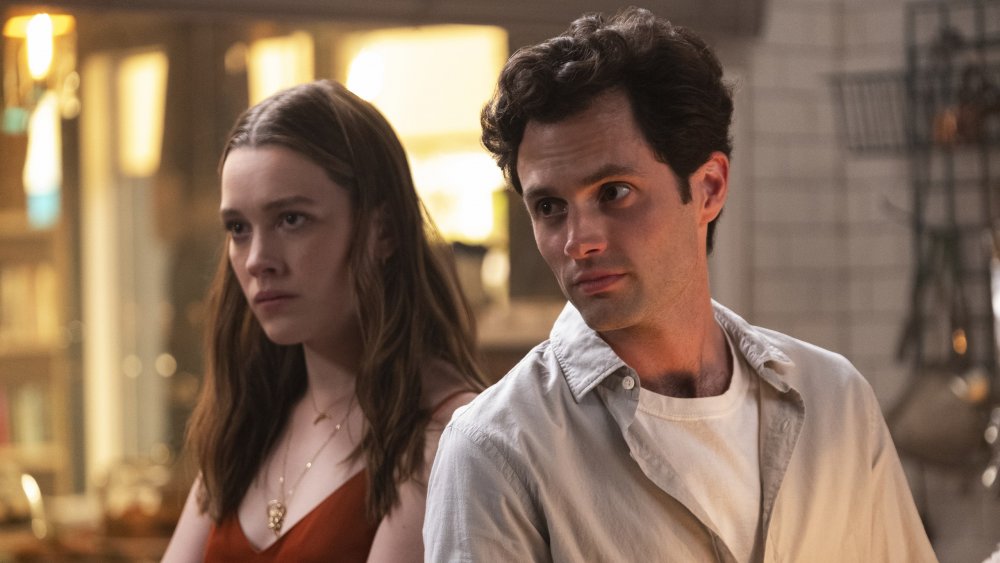 Netflix
As far as the cast of You season 3 is concerned, Penn Badgley and Victoria Pedretti are effectively guaranteed to reprise their respective roles as Joe Goldberg and Love Quinn. After all, You wouldn't be You without Joe Goldberg and his capital-C creepy ways, and now that his life is irrevocably intertwined with Love's, she'll be sticking around for the long haul. 
Love's twin brother Forty won't be back to stir up any trouble, though, as Officer David Fincher (Danny Vasquez) shot and killed him on the season 2 finale — walking in on him holding a gun to Joe's head after finding out the whole, unadulterated reality of who Joe is and what he's done. 
People who will almost certainly be back for You season 3 but who probably won't cause Joe or Love any grief are Love's parents, Dottie (Saffron Burrows) and Ray Quinn (Michael Reilly Burke). Burrows' Dottie was a far more prominent figure on You season 2 than Burke's Ray, having one-on-ones with Joe on a number of occasions and even showing up in the final montage in which Joe and Love are settling into their new suburban home, so fans should expect to see the wealthy socialite on the upcoming season. That's a good thing for Joe and Love, since Dottie has powerful connections with law enforcement and has covered up a number of murders — including Love and Forty's au pair (who sexually assaulted Forty when he was just 13), Candace (whom Love murdered), Delilah (another of Love's victims), and Henderson (Joe's second slaying of You season 2). 
Other faces who might pop up on You season 3 are those of Love's friends — the expert acupuncturist Gabe Miranda (Charlie Barnett), the stay-at-home mommy blogger Sunrise Darshan Cummings (Melanie Field), and the powerful literary agent Lucy Sprecher (Marielle Scott), to whom Sunrise got married on the You season 2 finale. Jenna Ortega's Ellie could circle back to Los Angeles as well, though that might be risky for her after her sister's murder-made-to-look-like-a-suicide. But perhaps Ellie will need to visit sunny California again to ask Joe for more money, since he's been supporting her financially, or because there's been a new development in Delilah's death case (despite the Quinns exercising their power to ensure Joe and Love aren't tied to it at all). 
The real Will Bettelheim, played by Robin Lord Taylor, may also head to L.A. from the Philippines with his new wife Gigi, possibly to tie up some loose ends he left behind. Additionally, we could see Andrew Creer back as Milo Warrington, Love's former flame with whom she has unfinished business of her own, or John Stamos back as Dr. Nicky, who has accepted his fate as a prisoner framed for Beck's murder.
Of course, the biggest casting question regards who will play Joe and Love's neighbor — the one shown in the very last moments of You season 2, and the one to whom Joe has begun to develop a fatal attraction. Viewers never saw her face, so the possibilities are endless when it comes to the actress who might portray her.
What's the plot of You season 3?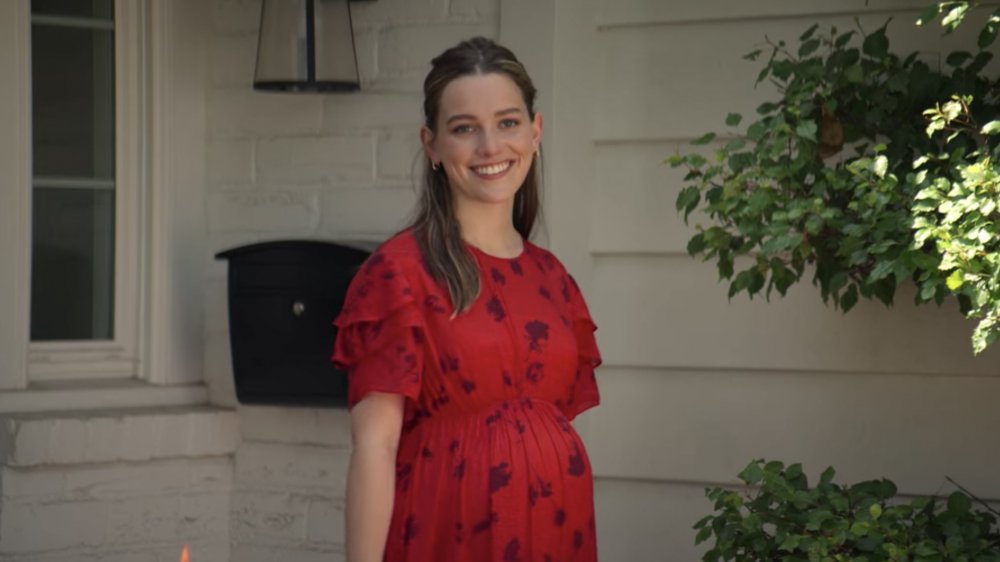 Netflix
Penn Badgley may have slightly loose lips when talking about the future of You, but neither he nor anyone else involved with the show has discussed explicit details about the plot of You season 3. The only concrete intel from which we can grease our speculation machines are what You series co-creator Sera Gamble has said about season 3, what You novel collection mastermind Caroline Kepnes has shared about what's coming next, and what the You season 2 finale set up.
Ahead of You's sophomore season arriving on Netflix, Gamble teased to Cosmopolitan UK that the show's team already had an idea in mind for season 3, and that she hoped they would have the opportunity to see that plan through to fruition. "I will say that we have an idea for season three that is SO exciting that people talk about it in the [writer's] room every day," she said. "So my fingers are crossed... I'll just say, I hope we get the chance to keep making the show."
Also thinking ahead is Kepnes, who was confirmed in May 2019 to be writing the third and fourth installments of her You novel series. The first season of the show adapted her 2014 book You, while the second translated the sequel novel Hidden Bodies for the small screen. While both took some creative liberties — for example, Hidden Bodies ended with Joe going to jail, which doesn't happen on the Netflix series — it's clear that as You continues, it will use Kepnes' novels as source material.
Though she couldn't reveal any juicy information about what the third You book entails, Kepnes did share with Entertainment Weekly in December 2019 that Joe has a new attitude this time around. "Joe is really proud of himself because a lot of people in his position descend into darkness after having been through what he's gone through in book two and then in the beginning of book three. And he decides that he's going to be a better person and he's very proud of himself for that," she said. "Having dealt with Love's family and dating someone with this close relationship with their twin brother, he's very focused on the idea that he should be the one with the family. But yeah, the main thrust of it is that he's very proud of his strength."
This seems to indicate that Joe might have his head screwed on straight (or as straight as it can be for a guy like him) on You season 3 if the episodes will closely follow Kepnes' new story. However, the season 2 finale of the series suggests something else: that he's going to fall into the same pit of obsession with his mysterious new neighbor that he did with Beck and Love. Granted, the start of season 2 saw Joe trying to be a better person — and season 3 may very well show him doing the right thing and taking care of Love and their child — but it seems basically guaranteed that he'll slip back into his old bad habits, especially when remembering Badgley's hint that Love isn't "the same kind of person" now. Maybe Joe will grow bored of her and want someone more exciting? It's happened twice before, so it doesn't feel like a stretch to say that fans should expect more chaos, more dead bodies, and more Joe being, well, Joe on season 3 of You.
You season 3 theories: Who is Joe's neighbor?
Netflix
Beyond a release date, casting information, and plot details for You season 3, all fans really want to know is who Joe's neighbor is. The closing shot of You season 2 showed her — from Joe's perspective as he spies on her through a slit in the fence in his backyard — lounging by her pool, reading a book, and scrawling notes on a pad of paper. Beside her were two books: Aldous Huxley's Brave New World and a non-fiction work entitled A Guide to Jane Austen. Joe says — well, thinks – in voiceover to her, "This is just the beginning. Because this is where I had to be exactly where I had to be to meet you. There you were with your books and your sunshine, so close but worlds away. I will figure out a way, a way to get to you. See you soon, neighbor." 
Who could this woman be? We'd like to point out that that both of the woman's books have white tabs near the bottom of their spines — a sign that they were checked out from a library instead of purchased at a bookstore or online. This suggests that the woman, who has a wedding ring on her left hand, is possibly a student or a professor of literature. Perhaps she's someone Beck knew from New York, a literary buff who moved to California to get her Ph.D. after finishing grad school at NYU. There's not a lot suggesting that this isn't the case, but there's a more convincing theory about who Joe's neighbor really is.
Many You fans believe that the woman actually isn't some seductive stranger who will sweep Joe off his feet. Rather, the idea goes that the sundress-wearing neighbor is Joe's mother, Sandy Goldberg (Magda Apanowicz), who put a nine-year-old Joe into foster care after he shot his father while trying to protect her. This would explain the wedding ring (Sandy got remarried), why she's living in California (she started a new life after leaving Joe), and potentially even why she's studying literature (maybe she wanted to feel connected to Joe, who always loved books and reading). 
The "Joe's neighbor is actually his mom" theory has three major sub-theories: Joe tracked Sandy down, Sandy tracked Joe down, or this is all a big coincidence. Twitter user @KeioshaDreams is one of the prominent proponents of the first school of thought, writing on Twitter, "I'm telling y'all the woman at the end is going to be Joe's mom and not a new girl he's obsessed with. I think she disappeared and started a new family and Joe finally decided to track her down for obvious reasons... He's absolutely stalking his mom in S3." Options two and three seem equally likely as the first, but fans won't know what's really going on with Joe's neighbor until You season 3 hits Netflix — at some point in the future.