Beyoncé's Part Of The Reason Why There's No Baby Yoda Merch Yet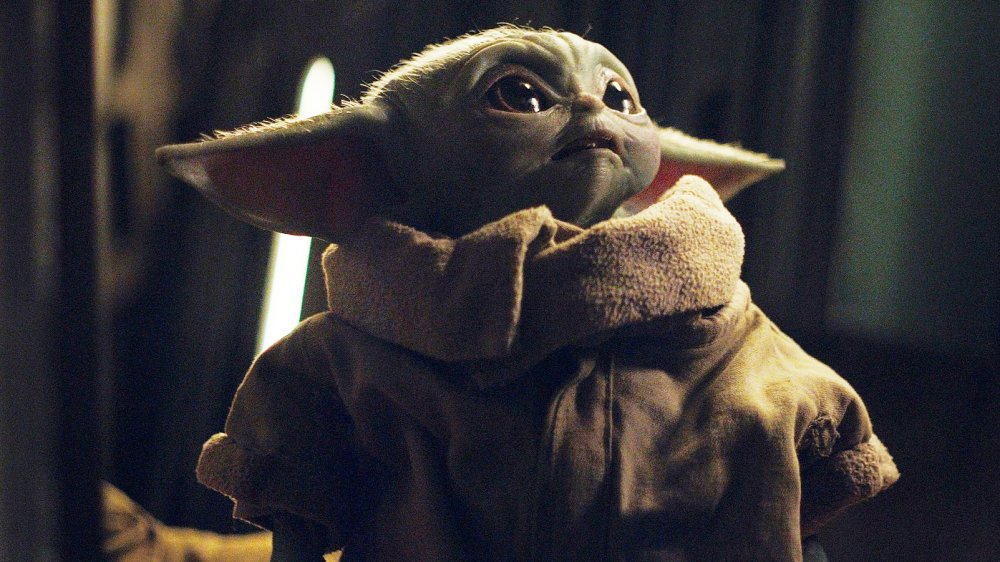 Lucasfilm / Disney
We may receive a commission on purchases made from links.
Dying to snuggle a plush Baby Yoda of your very own? Sad that that you can't order one online or pick one up at Target yet? Blame Beyoncé.
That's right, it's all Queen Bey's fault that you won't be able to get your hands on any Baby Yoda merch for months. Well, sort of — it's a funny story.
You see, the dearth of Baby Yoda merchandise is due to the fact that Jon Favreau, the creator of the hit Disney+ series The Mandalorian (the show that actually gave us Baby Yoda, in case you forgot), made the decision to keep the floppy-eared tot's reveal a secret. Little BY, as we like to call him, showed up at the very end of the series' first episode. He had been the titular bounty hunter's target, but as soon as Mando laid his helmeted gaze on the little kiddo, he began to feel conflicted. Over the course of the next couple episodes, it would become apparent that Mando's new, er, mandate was a simple one: protect the cute little bugger at all costs. (To be fair, Baby Yoda's cuteness wasn't the only thing that prompted a change of heart; his use of the Force to save Mando from a rampaging Mudhorn the size of a bus probably had something to do with it.)
At any rate, as you may be aware, it takes quite some time for merchandise to be designed and produced — and in order for Baby Yoda merch to be available straight away after The Mandalorian debuted, it would have to have been in the pipeline for months. This means that the little dude's existence would have been known to the general public long before the series dropped — either because somebody involved with the design and manufacturing process would have spoiled it, or (more likely) the show's promotional materials would have given it away.
Of course, nobody involved knew (though they probably should have guessed) that little BY would become such an overnight sensation, so in the absence of some outside influence, it's likely that Favreau would have gone the traditional route and had Baby Yoda merch ready to roll as soon as The Mandalorian made its debut. Enter: Donald Glover, the ridiculously talented rapper/singer/actor with whom Favreau worked on Disney's live-action remake of The Lion King.
Speaking with The Hollywood Reporter, Favreau revealed that Glover's counsel on the matter — which invoked Beyoncé's recent marketing strategies as an example — cemented his decision to keep Baby Yoda a secret. 
"We were talking about music and pop culture and he was saying that what people really like now is to be surprised, because it doesn't happen that much," Favreau explained. "When Beyoncé did an album, she would just put it online and everybody would react to it. Just putting it out there spurred a conversation that would become more viral and bring more genuine attention than any marketing."
The advice of Glover, who in addition to being ridiculously talented is also pretty damn smart, stuck. Somehow, Favreau convinced Disney to take a pass on potential millions upon millions of dollars in holiday toy revenue in the interest of taking a chance that might result in the kind of buzz that money simply can't buy. Improbably, it worked — and here we are, not even two months later, with every other meme featuring Baby Yoda's cute green mug, and the little tot whipping the pants off of literally every Democratic presidential candidate in social media mentions.
When will Baby Yoda merchandise be available?
Of course, you can find a small selection of shirts and other apparel featuring "The Child" online if you look hard enough, and there's always homemade, bootleg stuff available on sites like Etsy. But if you want to get your hands on an action figure or a plush doll, you're going to be waiting for awhile.
Take, for example, Hasbro's Star Wars Black series action figure (pictured above). Even if you go right to the source —ShopDisney.com — you'll be met with a message saying that the toy is expected (not guaranteed) to be available by May 4, 2020. (Yes, yes, we know; Star Wars Day. May the fourth be with you!)
When it comes to plush toys, ShopDisney has got you covered with an 11" plushie that can be pre-ordered for delivery on or about March 1. Amazon has a slightly different and more lifelike version, complete with its little floating crib — but since it's listed as "currently unavailable" with no indication "when or if" it'll be in stock, all we can say is "good luck."
What about Funko Pops? Those have got to be coming out soon, right? Not so much. They can be pre-ordered on Amazon, but won't be released until May 15. Sure, you can find the previously mentioned apparel along with stuff like bumper stickers and phone cases, but those just aren't very cuddly.
Look, we know that the wait will seem long, and we hate to be the bearer of this bad news. As we've just explained at length, though, we are not to blame. Donald Glover and Beyoncé are to blame; take it up with them.