Every Eddie Murphy Sketch From SNL Season 45 Ranked Worst To Best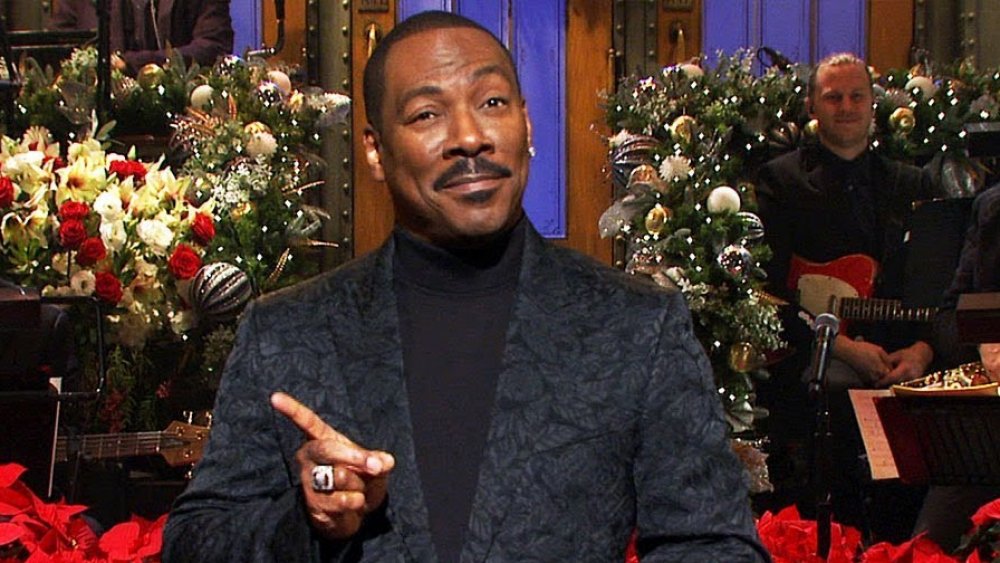 After plenty of time away, Eddie Murphy made his triumphant return to 30 Rockefeller Center alongside musical guest Lizzo on Saturday, December 21 to host Saturday Night Live's Christmas episode (and final episode of the year). Murphy, who was a cast member on Saturday Night Live for four years before exiting in 1984, went on to build an enormously successful career on the big screen and the stage (his stand-up specials, including Delirious and Raw, are some of the best around). Seeing him return to his roots was a pleasure for new and old SNL fans alike.
Beyond a cold open focusing on the latest Democratic debate — in which Kate McKinnon pulled off an insane quick change to play both Senator Elizabeth Warren and Speaker of the House Nancy Pelosi, and Jason Sudeikis stepped in for Woody Harrelson to play Joe Biden — Murphy shined in the episode, seeming right at home in Studio 8H. From recurring characters to surprise Weekend Update cameos, here's every Eddie Murphy sketch from SNL season 45 ranked from the absolute worst to the very best.
North Pole News Report
Christmas is on the line in this live report from the North Pole, where elves must run from a fire and other disasters in Santa's workshop. With reporter Donnie Chestnut (Mikey Day) calling in to speak to anchor Rick Sugarplum (Alex Moffatt), the program tries to get to the bottom of the problem, but everyone's constantly interrupted by a screaming Eddie Murphy in an elf costume, who won't say his name and who produces evidence like a severed leg to prove that a polar bear has been eating elves.
As the last sketch of the night, "North Pole News" feels like a last-minute idea. Though mishaps at Santa's workshop is a concept that sounds like it should succeed, the sketch simply never comes to anything. Murphy's histrionics are entertaining at times, but in the night's weakest sketch, even the comedian's raw talent couldn't save this particular segment.
Masked Singer
In a short, sweet take on the hit NBC competition show The Masked Singer – in which celebrities don enormous costumes to hide their identities and perform popular hits — audiences cheered the return of another famous Eddie Murphy character, Buckwheat. Dressed as corn on the cob before he reveals himself, Buckwheat butchers several popular songs, but the judges love it.
The judges — which include Bowen Yang as Ken Jeong, Melissa Villaseñor as Nicole Scherzinger, Kate McKinnon as Jenny McCarthy, and Beck Bennett as Robin Thicke — welcome Buckwheat back to the stage, saying they missed him over the past 30 years. He's happy to be back as well, and ultimatel reassures the judges that they don't ever need to worry about good ol' Buckwheat; wherever he is, he'll be "o-tay." 
While it was nice to see Buckwheat again on Saturday Night Live's "Masked Singer," compared to the return of Murphy's other characters, this sketch wasn't all that memorable.
Holiday Baking Championship
During Eddie Murphy's SNL season 45 hosting gig, the evening offered audiences the "Holiday Baking Championship" sketch. In the riff on baking shows, a panel of judges — which includes Beck Bennett, Aidy Bryant, and Ego Nwodim — must evaluate cakes based on contestant's most beloved childhood Christmas memories, which goes just about as well as you might think. 
Cecily Strong, who based her cake on Frozen's Elsa for her daughter, reveals a monstrosity that she immediately destroys. (When asked if there's garlic in the cake, she says there probably is, because she "blacked out" while she was baking it and made pasta instead.) Heidi Gardner's cake is the only one that looks as it should, though it gets overlooked time and time again. Kyle Mooney's Cinderella-inspired castle is, well, a bit suggestive. Finally, Eddie Murphy's cake is inexplicably inspired by Sonic the Hedgehog: it's brown, contains human teeth, speaks in tongues, and, at some point, catches on fire.
The sketch has several good laugh lines, including Murphy berating his somehow-alive cake and Strong saying her cake sucks because she's "bad." All in all, however, "Holiday Baking Championship" will probably be best remembered for Murphy's slip-up — right as the sketch came to a close, the comedian let a profanity slip by the censors. Considering that the most exciting moment of the sketch was an accident, it's safe to say this segment isn't particularly special without it.
Eddie Murphy's SNL monologue
Unsurprisingly, the Saturday Night Live band left Eddie Murphy to his own devices for his monologue — during which he riffed about fatherhood and his new film, the underappreciated Dolemite Is My Name. He peppered in an incredibly risky joke about the fact that he's now a stay-at-home dad and his former contemporary, the utterly disgraced Bill Cosby, is now in jail. In a pitch-perfect impression of the once-beloved Cosby, Murphy asked, "Who's America's dad now?" (A small reminder: Cosby was sentenced and jailed in 2018 for multiple sex offenses.) 
However, Murphy wasn't alone for long. Several of his famous friends arrived to help him out during his monologue — like Tracy Morgan (marking his second monologue appearance during the 45th season of SNL), Chris Rock (who was excited to be there because his kids are huge Lizzo fans), and Dave Chapelle (who lit up what appeared to be an actual cigarette on stage). All of the comedians wrote pretty awful-sounding sketches that they wanted Murphy to perform, and though he passed on all of them, Murphy said he was happy to have his buddies with him. (Towards the end, Beck Bennett even attempted to join the group, but was immediately tossed out by Kenan Thompson, who apologized and urged the comedians to continue). 
Despite the huge celebrity cameos, Murphy's SNL season 45 monologue is just okay (especially compared to some of the sketches that followed), placing it firmly in the middle of the pack.
Weekend Update
During Weekend Update, as Colin Jost and Michael Che rounded up their weekly report on the biggest headlines, a gatecrasher appeared: Murphy's incensed, furious take on the children's character Gumby. Enraged that he was left out of all the sketches during the evening, Gumby berates Jost (whom he calls "trailer boy") and Che (whom he repeatedly calls "a black bastard"), says he can do whatever he wants because he's "Gumby," and hits on Lizzo.
Weekend Update can be a bit of a slog with Jost and Che at the helm, and wisely, this interruption lets the two take a back seat to Murphy, who tells them (in character) that he's "passed kidney stones with more personality" than the two of them. Overall, Murphy's wild character was a very welcome addition to a super-sized segment, which also included appearances from Cecily Strong as Fox News anchor Jeanine Pirro and a few words from Pete Davidson.
Black Jeopardy
It's always great to witness the return of Saturday Night Live's "Black Jeopardy" — which features Kenan Thompson as Darnell, the host of an alternate version of Jeopardy — and this installment was a double whammy thanks to Eddie Murphy's returning character, Velvet Jones. As the quiz show continued with categories like "White People" and "My Last Nerve," Murphy's Velvet Jones kept trying to turn the whole thing into an infomercial for his books, which include titles like "I Wanna Be a Ho," "A** for Cash," and his most modern tome, "How to Be an Instagram Ho."
"Black Jeopardy" is always snappy and fun, and adding Velvet Jones into the mix was a perfect match for this familiar concept. The end result was a solid sketch that showcased Murphy's beloved character, Thompson's deadpan humor, and a series of incredibly clever, specific jokes.
Mr. Robinson's Neighborhood 2019
In the first sketch of the night, Eddie Murphy resurrects one of his iconic characters Mr. Robinson, checking back in on the alternative children's show host who's still in his old home. However, as the neighborhood has gentrified — which Mr. Robinson describes as a magic sensation that makes all the black people "go away" — he must depend on the word of the day: "squatter's rights." As he explains his new way of living, Mr. Robinson shouts down his rich white neighbors when they accuse him of stealing their new TV from the lobby (spoiler: he actually did do that) and ignores a stranger at the door claiming to be his long-lost son.
It's always nice to see a classic SNL character return, and the Mr. Robinson character is ripe for the picking now that the world has changed so dramatically since his debut. Wisely, the writers kept the "Mr. Robinson's Neighborhood 2019" sketch short and snappy, not belaboring the point and crafting an excellent first sketch of the evening.
Home for the Holidays
The only pre-taped sketch during this episode of Saturday Night Live turned out to be one of the episode's best highlights, as Eddie Murphy and Maya Rudolph (who appeared in the cold open as former Democratic Presidential candidate Kamala Harris) welcome their entire family to their house for Christmas. When Murphy stands up at dinner to raise a glass to his loved ones, the camera cleverly cuts back and forth between his emotional speech and the real moments that inspired his speech — from a fight with his wife over the whole family staying at their house to Kenan Thompson's loud, weird grandfather to an argument with their daughter, Ego Nwodim, about her white fiancé, Mikey Day. (When she asks if they don't want her to marry him because he's white, Murphy shouts, "Yes!", all while Day sits in the corner witnessing the meltdown.)
Heading home for the families can be fraught for sure, and to that end, this sketch is relatable. It hits all the right notes and closes on an emotional beat with the tagline, "To all our families: we love you, even when we don't." Murphy, Rudolph, and the rest of the players in the sketch nail every laugh line with aplomb, making it one of the best offerings of the entire evening.
Saturday Night Live will take a break during the holiday season, but it'll return in 2020. Kylo Ren himself, Adam Driver, is set to host the first show of the new year on January 25 alongside musical guest Halsey.