Every Will Ferrell Sketch From SNL Season 45 Ranked Worst To Best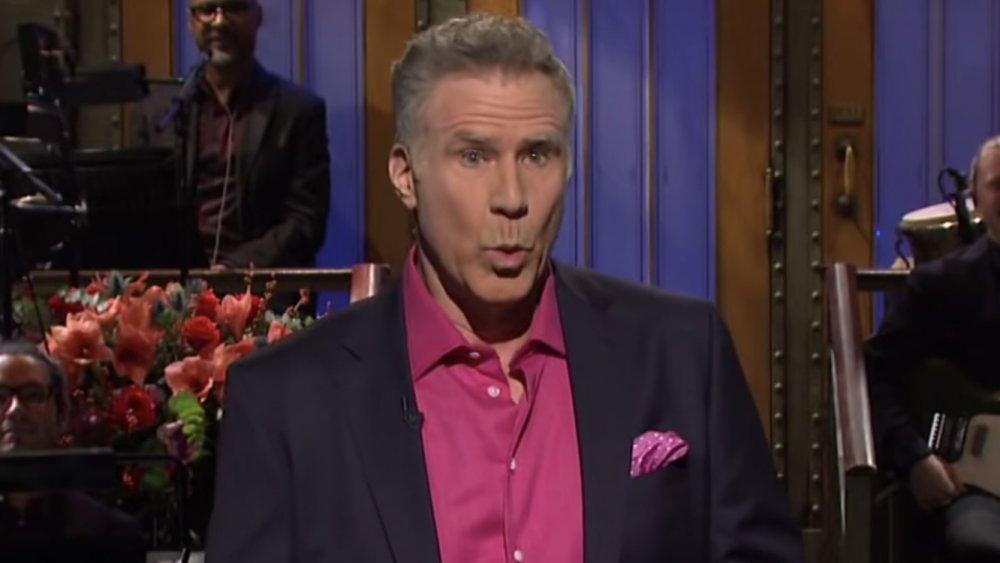 Saturday Night Live loves welcoming back its former cast members for hosting gigs, and few of the show's ex-players have become as beloved in their post-SNL career as Will Ferrell. Ferrell — who went on to star in comedy classics like Anchorman, Elf, Stepbrothers, and more after ending his seven-year stint on Saturday Night Live — returned to host on November 23, 2019 alongside musical guest King Princess. In doing so, Ferrell officially joined the Five-Timers Club, which also includes famous members like Steve Martin, Melissa McCarthy, and Alec Baldwin. 
During his fifth time hosting, Ferrell didn't reprise any of his iconic SNL characters — which include impressions of famous figures like Alex Trebek and James Lipton, as well as original visions like the Dodge Stratus Dad or the guy who really wants his son to "get off the shed" — but he was clearly game for anything, bringing his considerable comedic chops to play alongside the current cast of SNL. Here are all of his sketches from the evening, ranked from the absolute worst to the very best.
First Thanksgiving
Saturday Night Live has come under fire in recent years for, to put it plainly, a lack of diversity and sensitivity towards its non-white writers and performers. After Maya Rudolph left the show in 2007, the series didn't feature a black female cast member until Sasheer Zamata joined in 2014 — and the show boasted exactly zero Asian-American cast members until Bowen Yang came on board at the beginning of the show's 45th season. (Unfortunately, his casting was marred a bit by the now-infamous Shane Gillis scandal, but luckily, Yang has proven that he can rise above the controversy.) These are just a few incidences of SNL's apparent lack of inclusion, which makes one of the first sketches of Will Ferrell's recent hosting night all the more disappointing.
"First Thanksgiving" makes several weird choices — not the least of which is casting white people (like Ferrell) as Native Americans — and follows Disney's troubling Pocahontas narrative by positioning John Smith (played by Beck Bennett) as Pocahontas' (Melissa Villaseñor) "boyfriend" who's spending his first Thanksgiving with her family. (Some historical context: the real Pocahontas was taken to England by her husband, John Rolfe, and rebaptized as "Rebecca." She then died just one month later at roughly 20 years old.) The "First Thanksgiving" sketch is offensive right off the bat, but its decisions to remark on the racial insensitivity of the sketch and end up turning the whole thing into a poop joke is questionable at best. Worst of all, it's simply not a particularly funny sketch.
Cold Open: Trump Impeachment Press Conference
In the fraught political climate of 2019, Saturday Night Live leans on Donald Trump content pretty much every week, which requires Emmy-winner Alec Baldwin to continually reprise his long-running gig as the 45th President. Will Ferrell's recent episode was no exception, and the cold open featured not just Baldwin as Trump but also Ferrell as Gordon Sondland, the Trump-appointed ambassador who now famously dished on the President's alleged misdoings during the public impeachment hearings.
Baldwin is, without question, an incredible comedic actor, but his Trump impression does seem to be getting tired — bolstered by the fact that Baldwin himself said as recently as September 2019 that he actually hates doing it. Also dragging the cold open down were Ferrell's awkward appearance as Sondland and several low-hanging and predictable jokes; plenty of comedians have riffed on Trump's Sharpie scrawlings and his weird habit of holding press conferences next to a running helicopter, but pretty much all of their takes have been cleverer than this one. Add in a few very visible line stumbles, and you've got a characteristically lackluster cold open for Ferrell's episode.
Heinz Ad
Saturday Night Live always features a few pre-taped commercials, and for Ferrell's latest episode, the show went with a Thanksgiving-themed ad about the embarrassing noises that come out of nearly-empty ketchup bottles. (Perhaps the most puzzling part of this ad is why anyone would need ketchup on their Thanksgiving table in the first place, but we digress.) In order to remedy this embarrassing and familiar problem, Heinz releases a new line called Heinz Relax, which doesn't make fart noises, but, well, much weirder ones.
Ferrell gives the sketch his all, of course, but the one-note joke and weird premise just never come together in the end, making "Heinz Ad" one of the episode's weaker notes.
Cinema Classics: The Wizard of Oz
Saturday Night Live stalwart Kenan Thompson didn't have a ton to do during this episode, but he did show up for another round of Cinema Classics, a current SNL standby that lampoons one of the least offensive and safest staples around — old movies. In this installment, we're treated to a bizarre alternate ending for the 1939 Judy Garland classic, The Wizard of Oz. 
This time, when Dorothy (Kate McKinnon) wakes up in her bedroom after her fantastical adventures in Oz, she must confront not just her family, but also several friends and neighbors about whether or not they were in her dream, what they looked like, and what they were wearing. Naturally, some of the town's more diminutive residents — including Dr. Pickens (Ferrell) and others played by Redd, Chloe Fineman, Bowen Yang, and Kyle Mooney — are pretty offended at their role as Munchkins. Beyond the world of the sketch, it's easy to imagine the visuals of several actors shuffling around on their knees might come off as offensive all by itself. 
Once again, though Ferrell fearlessly commits to the premise here, the sketch is ultimately forgettable at best and vaguely problematic at worst.
Ventriloquist
Sometimes, SNL aims for the easiest possible joke — a tendency perfectly on display in "Ventriloquist," which aired towards the end of the evening. Later time slots are usually reserved for weirder and more off-color sketches, and after watching this one, it's pretty unsurprising that it was one of the last sketches to air.
As Wally Culpepper, a ventriloquist who performs alongside his dummy Chip, Ferrell characteristically commits to the sketch to an insane degree, especially when Wally's set takes a particularly odd turn. After a normal start to their routine, Chip starts pleading for help from the audience, begging them to help him escape from his, well, uncomfortable fate and telling the entire room that they're complicit in crimes and his constant torture if they don't speak up. (In case you don't get the joke yet, the whole sketch culminates in Ferrell slathering his entire arm in Vaseline.) 
Ferrell gets some solid laughs out of a pretty disturbing premise — and it's to his credit that the sketch isn't as upsetting as it might have been were it performed by a lesser comedian — but "Ventriloquist" definitely isn't one of the night's standout sketches when all is said and done.
2020 Democratic Debate
As the jam-packed Democratic primary rages on in advance of the 2020 election, SNL has regularly lampooned the crowded field of candidates — letting its core cast members like Kate McKinnon, Colin Jost, Chris Redd, and Cecily Strong play Elizabeth Warren, Pete Buttigeig, Cory Booker, and Tulsi Gabbard, respectively. Unsurprisingly, in this episode's "2020 Democratic Debate" skit, SNL top brass packed the rest of the roster with top-notch guest stars — including Rachel Dratch as Marianne Williamson, Fred Armisen as Michael Bloomberg, Maya Rudolph as Kamala Harris, Larry David as Bernie Sanders, and Woody Harrelson as Joe Biden, the last of whom has reprised his role as the former Vice President ever since he hosted the show in September. Of course, Ferrell was on hand as well to play Presidential hopeful Tom Steyer, while Villaseñor completed the sketch as moderator Rachel Maddow.
It's always pretty much a slam-dunk for SNL to stack its stage with impressive guest stars, but the sketch also boasts some pretty great sight gags and running jokes — like Harris' desperation to seem "hip" (played to perfection by Rudolph) to Harrelson's shiny, fake Biden teeth to Buttigeig's diminutive height (demonstrated by Jost seemingly kneeling behind his podium). Then there was Ferrell's unhinged take on Steyer, who wandered around the stage making insane and unimpressive points while desperately trying to seem relatable. Overall, we've seen many versions of this sketch before, but it was still a welcome addition to the episode.
Monologue
SNL's monologues can be wildly successful or total let-downs depending on the performer and their material, but since Ferrell is such a 30 Rock pro at this point, we knew we were in good hands from the moment he stepped on stage. 
In a characteristically off-beat monologue, Ferrell is just excited to be there... until he spots a super-famous face in the audience: Deadpool star Ryan Reynolds. Once Ferrell sees Reynolds, he's rendered too starstruck to deliver any of his lines, lapsing into a bizarre Tracy Morgan impression and constantly screaming lines from Backstreet Boys songs. (The situation escalates even more when Reynolds mentions that his real-life wife, Blake Lively, is a huge Ferrell fan, which sends the star into a complete tailspin.) 
Reynolds is a nice addition to the scene, particularly as he gets more and more alarmed by Ferrell's behavior, and the whole thing is heightened particularly well by an appearance from Morgan himself. It comes as no surprise that Ferrell sells every single insane beat perfectly, and the cameos really push the monologue over the edge.
Party Song
Harkening back to the era of musical digital shorts led in the 2000s and beyond by SNL cast members like Andy Samberg, Cecily Strong and Mikey Day tell us the poppy story of a party they throw when their parents go out of town. Much to Strong and Day's delight, everyone from the jocks to the geeks shows up, but they also end up with a totally unexpected guest: Zach's (Day) A.P. English teacher, Mr. B (Ferrell). 
On the bright side, Mr. B isn't "creeping on girls," but he is being pretty weird, watching Shawshank Redemption in the middle of the party and loudly asking Zach about his family photos. Then, the night takes a turn once he gets a call from his wife (which he ignores) — and before too long, Mr. B is cracking open beers once everyone has left at 3 A.M., warning Zach to enjoy his teenage years and saying he would "kill [his] own mother for a time machine." The sketch perfectly avoids any overtly horrifying overtones while beautifully parodying a broken man's mid-life crisis, all set to a ridiculous, upbeat song.
Pizza Ad
Will Ferrell is always at his best when he gets to play an everyman with a dark side, and the SNL writers put this talent on amazing display in "Pizza Ad," which was bolstered by yet another pitch-perfect performance from perpetual standout Kate McKinnon. As a couple asked to appear in a Bertucci's pizza ad alongside their kids (Mooney and Heidi Gardner), Ferrell and McKinnon are excited at first until the director (Day) asks McKinnon to tone down her NSFW feelings about the pizza. 
At first, it seems like the sketch fully belongs to McKinnon, who shuts down emotionally and walks off the set after getting that first note from the director, but Ferrell really digs into his part as well, painting a picture of a man who literally can't survive or function in any way without his wife. (In one of the sketch's most memorable moments, he admits that he once hired an escort to help him turn on the oven while his wife was out of town.) Ferrell and McKinnon let the sketch heighten to absurd and hilarious results, all of which are made even funnier when you catch a glimpse of the Bertucci's logo in the corner of the screen.