The One Rise Of Skywalker Scene That's Being Censored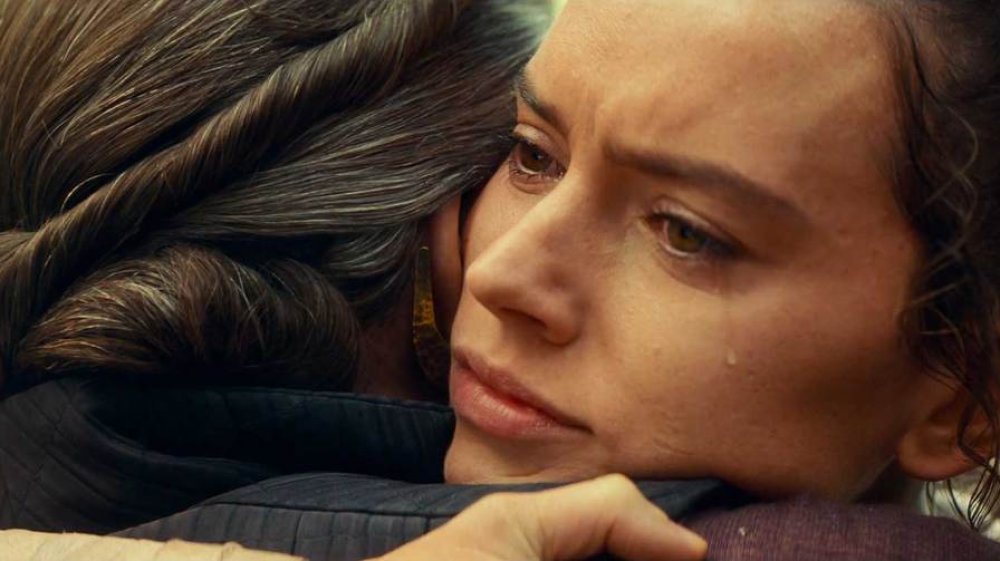 Contains spoilers for The Rise of Skywalker
After years of waiting, Star Wars fans can now officially see The Rise of Skywalker, the final chapter of the iconic franchise that has spanned nine films and inspired several generations of movie-goers. Unfortunately for certain audiences, there's a significant piece of this sprawling galactic tale that they won't be able to see.
Several people who have seen The Rise of Skywalker in the United Arab Emirates' most populous city, Dubai, have told The Hollywood Reporter that they weren't able to watch the series' first same-sex kiss. Taking place at the end of the film and featuring two female members of the Resistance, the moment marks a historic first for the Star Wars franchise, but one completely removed for UAE viewers who previewed the 142-minute film. 
This wouldn't mark the first time the United Arab Emirates or another nation within the region has censored a scene — or even an entire movie — based on its representation of LGBTQ+ identity or depiction of sexuality. Back in 2011, both Black Swan and Love and Other Drugs were banned by the country's censors for "excessive sexual content," while Ang Lee's 2005 romantic drama Brokeback Mountain was banned in the UAE after a four-month review, with the final decision made based on the country's laws against homosexuality. Titles like Carol and Freeheld were also banned for similar reasons. Additionally, a version of Wolf of Wall Street, Martin Scorsese's 2013 biographical black comedy crime film starring Leonardo DiCaprio, had around 45 minutes (nearly a quarter of the three-hour movie) cut out entirely — essentially rendering the moving unviewable for many who tried to watch it. 
Another recent Disney title, Black Panther, earned the distinction of being the first film to screen theatrically in Saudi Arabia after the country lifted a 35-year ban on movie screenings. However, around 40 seconds of that film, which included a kiss between stars Chadwick Boseman and Lupita Nyong'o, was cut from its run in the country. A source told THR that the decision followed a "nightmare" negotiation during which Saudi Arabian officials requested so much of the film be removed that Disney was convinced it wouldn't have been worth showing. 
Historically, films featuring varying degrees of violence — including more recent superhero flicks like Avengers: Endgame and Joker – have been able to pass censors, while scenes that reference or have themes of profanity, sex, drugs, or religion tend to see cuts. The United Arab Emirates, which is located at the southeast end of the Arabian Peninsula and has a population of more than nine million, is among several within the surrounding region wherein members of the LGBTQ+ community have limited or extremely restrictive rights. Homosexuality is officially illegal in several countries within the Middle East as well. As a result, same-gender relationships are rarely — if ever — portrayed in films. 
Because the UAE sells around 17 million movie tickets annually and Dubai is a hub for regional distribution, it's likely that the version of The Rise of Skywalker without the same-sex kiss will be the one that's distributed throughout the region, which as a whole is among the top ten global markets for Hollywood. The regional distributor of Disney titles and the Mouse House itself have yet to confirm, deny, or otherwise comment on THR's reports — meaning means that for now, what we know about the scene being censored is all based on the words of movie-goers.  
The scene wasn't cut in another market known for censoring LGBTQ+ content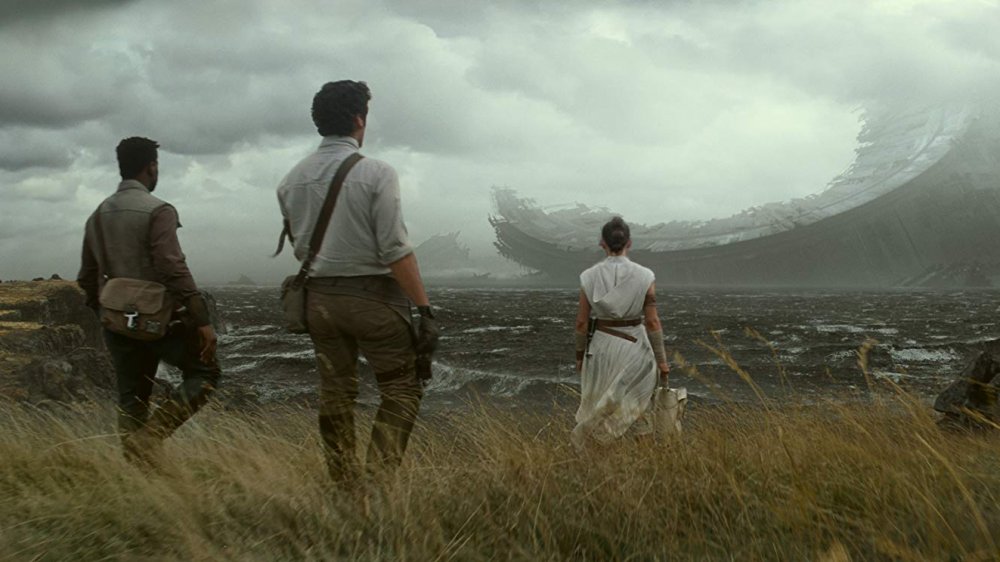 Disney/Lucasfilm
While the scene may have been removed from the UAE run of The Rise of Skywalker, it surprisingly wasn't censored in China, which also has a long history of eliminating on-screen references or portrayals of LGBTQ+ identity. Reports from attendees at Rise of Skywalker preview screenings in both Beijing and Shanghai — just a day before UAE audiences noted the cut in their version — confirmed that moment had been retained (via THR).
In more recent years, China's stance on releasing LGBTQ+ content has been inconsistent. Back in 2005, director Ang Lee's Brokeback Mountain was banned China (just as it was in the UAE), while Michael Fassbender's same-sex kiss in 2017's Alien: Covenant was among the five minutes of the film removed for its Chinese theatrical release. On the flip side, the country opted not to censor in the live-action adaptation of Beauty and the Beast a male-on-male dance moment that director Bill Condon had touted as a groundbreaking, "exclusively gay" scene. Interestingly, not only was the scene not cut, but it also received no "parental warnings."
While no official reason was given for why China's censors were laxer on that movie, many American audiences were critical of the scene in Beauty and the Beast having even constituted as LGBTQ_ representation when the moment was so brief and seemingly devoid of any confirmation of the character's sexuality. Josh Gadd — who played Gaston's sidekick LeFou, the character Condon touted as gay — said before Beauty and the Beast's 2017 release that "there was nothing in the script that said 'LeFou is gay,'" but that "as subtle as it is, I do think it's going to be effective and I do think it's important."
While some celebrated the moment, others outright blasted it — and The Rise of Skywalker's very own LGBTQ+ moment is receiving similar treatment from fans. 
Fan response to the historic moment in The Rise of Skywalker is a mixed bag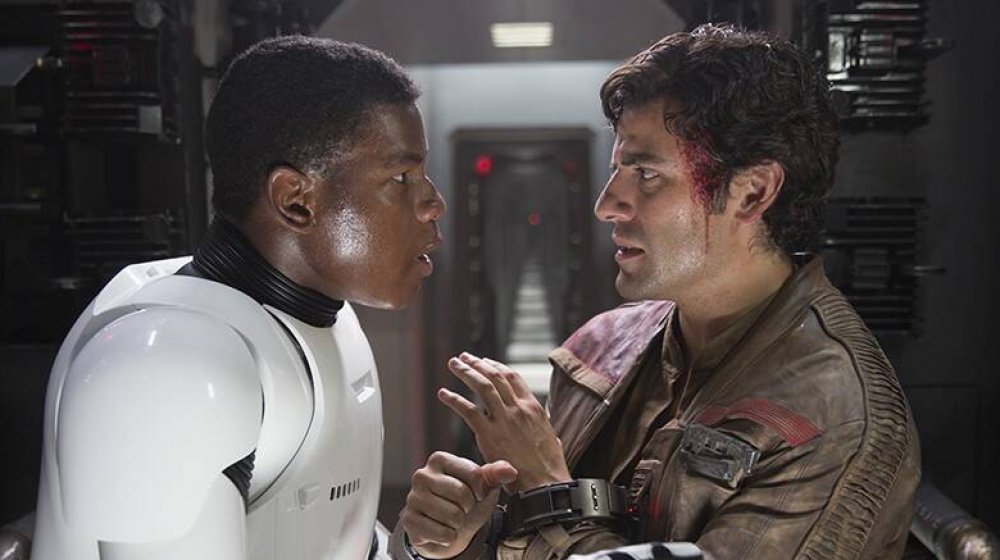 Disney/Lucasfilm
Details around the scene were mostly kept under wraps until the film's release, but The Rise of Skywalker director J.J. Abrams had hinted at the moment between the Resistance members during the film's press tour. Speaking to Variety, Abrams shared his enthusiasm for getting to portray a non-heterosexual couple for fans who had rather vocally clamored for representation within the franchise since 2015's The Force Awakens. 
"In the case of the LGBTQ community, it was important to me that people who go to see this movie feel that they're being represented in the film," Abrams told the outlet.
But it wasn't quite the representation that many fans had asked for and a handful of the film's stars had supported. For years, a group of viewers had openly shared their hopes of seeing the final trilogy's leading men, Poe Dameron (Oscar Isaac) and Finn (John Boyega), spark a canonical romantic connection. Isaac revealed that while he had no control over that particular character development decision, he "hoped and wished" for the films to take Finn and Poe's relationship in a romantic direction. Boyega also spurred fan interest in a relationship between the two characters before the latest film's debut, sharing a cheeky Instagram video in which he penned — with ink and quill — a long-winded, romantic-esque letter to his "dearest Oscar." 
While fans may not have gotten the exact romantic relationship they were hoping for in The Rise of Skywalker, some have excitedly came out in support of the on-screen moment they were given. On Twitter, one fan wrote of the kissing couple, "I'm ready to stan them forever." Another tweeted, "OMG THAT LESBIAN KISS AT THE END IM LIVING IT AINT MUCH BUT ITS THERE YALL."
Still, there are some who have been critical of the moment, citing that Abram's hint at the LGBTQ+ moment and characters before the film's release felt like baiting fans eager for representation. The Mary Sue managing editor Kaila Hale-Stern wrote that the scene is one of those "blink-and-you-miss-it 'queer moments' that feel like they were included in an attempt to pacify vocal fans, but end up infuriating us because they are such throwaway inclusions for such an important topic." 
In an industry where LGBTQ+ representation isn't internationally accepted even as it's steadily expanding on American screens, what's clear from the fan response and the UAE's decision to cut the historic moment is that the film was never going to please The Rise of Skywalker'sentire audience.